Corn dishes for Thanksgiving are a "thing" in the South. and a Southern corn pudding ranks right at the top. This Old Fashioned Corn Pudding, is really more like a corn custard, studded with little extras like bacon, green chiles and monterey jack cheese. If you want corn dishes for Thanksgiving, or any other occasion, you'll want to try this savory, rich, make ahead corn cheese recipe.

I grew up in Virginia and my grandmother used to make many traditionally Southern dishes that my Dad remembers fondly today. One of them was her Southern corn pudding. Hers was a simple corn custard, made with cream and eggs as well as fresh corn. When my Dad told me he was jonesing for some corn dishes for Thanksgiving, I knew this was one he'd love with a few twists… like smoky bacon, monterey jack cheese and fire roasted hatch green chiles.
Ingredients For Old Fashioned Corn Pudding
Corn On The Cob
Green Chiles
Sugar
Kosher Salt
Bacon
Eggs
Milk
Monterey Jack Cheese
I've taken this Southern corn pudding in a slightly new direction by adding some South-western flavors… Hatch green chiles are a favorite of mine and I have a steady stash that comes my way, thanks to my good friend, Nola. You can find hatch chiles in a can at the supermarket, but if you've got access to the fire roasted variety, use them in this corn custard.
How To Make Southern Corn Pudding
Remove the husks and silk from the ears of corn.
Use a sharp knife or corn shaver to remove the kernels from the cob. Transfer to a bowl.
Hold the stripped corn cob in one hand over the bowl. Turn the knife over so that the dull side is facing down. Firmly press the dull side of the knife at the top of the cob and run it firmly down the length, releasing any corn milk into the bowl. Repeat around each corn cob.
Add the chopped hatch green chiles, sugar and salt to the corn mixture.
Whisk together the eggs and milk in a separate bowl.
Stir in about 3/4 of the crumbled bacon and cheese.
Transfer the corn custard to individual ramekins or a casserole baking dish.
Sprinkle the southern corn pudding with the remaining cheese and bacon.
Place the ramekins or casserole in a larger pan with 2″ sides. Place the pan into the oven and carefully fill the pan with warm water so that the water reaches about halfway up the sides of the pan. The water bath will cook the corn cheese recipe without curdling the milk and yield a smoother, creamier consistency.
Bake until the corn pudding is set and a tester stuck into the middle comes out clean.
Let the corn pudding rest for a few minutes before serving.
If you want to do this as a make-ahead dish — and who wouldn't want make ahead corn dishes for Thanksgiving — you can. Here's how:
For Make Ahead Corn Cheese Recipe:
Make the recipe as directed and remove individual ramekins or casserole dish from the water bath after baking.
Let the Old Fashioned Corn Pudding cool to room temperature, then cover lightly with plastic wrap and refrigerate.
When you're ready to serve Southern corn pudding, Place the casserole or ramekins on a baking sheet.
Top each ramekin or the whole casserole with aluminum foil over the plastic wrap and heat in a 300° oven for 15-20 minutes until warm. Serve immediately.
I like to make old-fashioned corn pudding in a casserole dish when it's just the family, however, when we're having company, or if it's for a special occasion, I think these little ramekins make the corn custards look elegant and it gives each of the diners "their own special dish". Who doesn't like that, right? If you're looking for unique corn dishes for Thanksgiving, this one should be on your short list.
Corn Custards Are Great Corn Dishes For Thanksgiving
This is a creamy, luscious and flavorful green chile, corn cheese recipe. The custard is soft and lush and the smoky crumbles of bacon give just the right amount of salty bite. Depending on how hot (or not hot) your green chiles are, this dish could have some fire, or taste relatively mild. Make sure you check the heat of your chiles before you start — so you don't end up with a surprise.
More Thanksgiving Corn Recipes: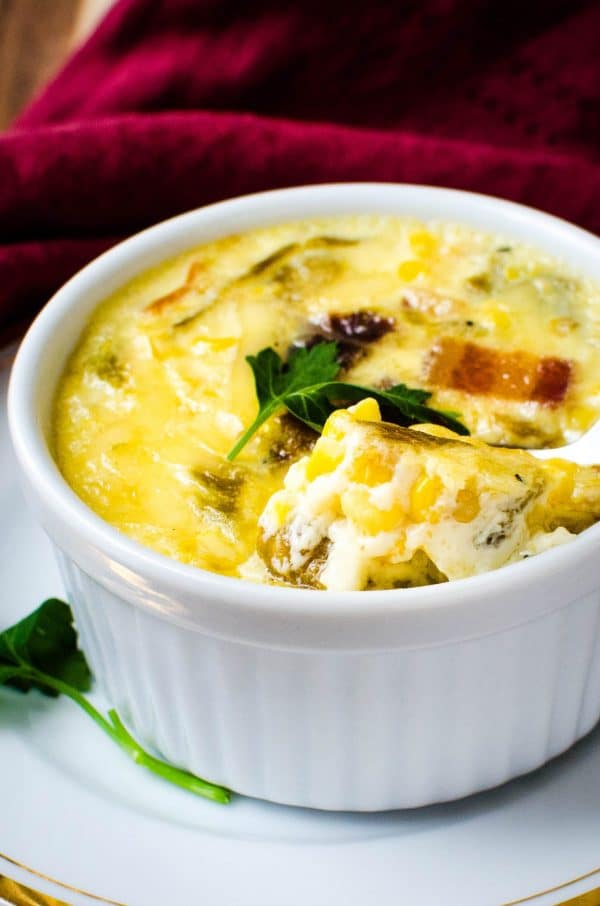 Garlic & Zest is a participant in the Amazon Services LLC Associates Program an affiliate advertising program designed to provide a means for sites to earn advertising fees by advertising and linking to Amazon.com.
Bacon Green Chile Corn Pudding
A lush, slightly sweet corn custard with bits of roasted hatch chile, crispy bacon and melty Monterey Jack! A deliciously different side dish and my Dad's favorite!
ingredients
3

corn on the cob

1/2

cup

green chiles

preferably fire roasted, peeled, seeded and chopped

1/4

cup

sugar

3/4

teaspoon

kosher salt

4

bacon

thick cut, cooked & diced

2

eggs

2

cups

milk

1

cup

monterey jack cheese

shredded
instructions
Preheat the oven to 350°. Spray a baking dish or individual ramekins with vegetable spray and set inside a larger baking pan with at least 2" sides.

Shuck the corn cobs, removing the silk and using a sharp knife, cut the kernels off the cobs and transfer to a large bowl. Hold a corn cob over the bowl and run the back of the knife along the corn cobs to scrape out extra milk and flesh. Add the chiles, sugar and salt and mix to combine.

In a small bowl, whisk together the eggs and milk and transfer to the corn mixture. Add 3/4 of the bacon and cheese and stir to combine. Pour the corn mixture into the baking dish or ramekins and top with remaining cheese and bacon.

Add hot water to the larger baking pan so that it reaches about halfway up the outside of the corn pudding dish.

Bake for 40-50 minutes for a single large casserole and 30-40 minutes for individual ramekins.
Nutrition
Calories:
207
kcal
|
Carbohydrates:
16
g
|
Protein:
9
g
|
Fat:
12
g
|
Saturated Fat:
5
g
|
Cholesterol:
66
mg
|
Sodium:
444
mg
|
Potassium:
220
mg
|
Sugar:
11
g
|
Vitamin A:
330
IU
|
Vitamin C:
3.4
mg
|
Calcium:
180
mg
|
Iron:
0.5
mg
Pin "Southern Corn Pudding with Bacon and Green Chiles" For Later!