Looking for an Old Bay shrimp recipe with layers of flavor? This grilled shrimp caesar salad with creamy caesar dressing is all that! Not only is the spicy grilled shrimp seasoned with Old Bay, so are the croutons. The creamy caesar dressing is my favorite cheaters version which uses bottled mayonnaise to start the emulsion. It has lots of garlic, a bit of lemon and of course, anchovies for a salty, umami bite.
Grilled Shrimp Caesar Salad Is A Florida Favorite
Living in South Florida, I can't tell you the number of times I've seen a grilled shrimp caesar salad on the menu at local waterfront dining spots. It always sounds so good and I'm usually swayed by the prospect of hot off the barbecue spicy grilled shrimp and a crunchy romaine salad with creamy caesar dressing. I mean, who wouldn't succumb to that? Sometimes the shrimp caesar's are really good, other times, meh. Thing is, it's easy to make at home — and make it the way you like!
Make Your Own Creamy Caesar Dressing
I like to make my own dressings and this creamy caesar dressing recipe, which has been on the website for years, is my go-to every time. I don't use raw eggs in this recipe the way you do with the "classic," because my sister-in-law had a very bad episode with a raw egg caesar and to me, it's just not worth the risk. This caesar salad dressing replaces the egg with mayonnaise to start the emulsion. It's garlicky and bright with lemon zest and yes, it includes sardines for a salty, briny finish. The key to this dressing is to FOLLOW THE DIRECTIONS. Measure the ingredients and SLOWLY add the oil to the blender. If you try to wing it, you won't get the same thick, creamy result. 🙁
Croutons have always been one of my favorite parts of a shrimp caesar, but I've found that many times the croutons are WAY TOO BIG, measuring a full cubic inch. Consequently, you might get 5-6 behemoth croutons on your salad, however, you definitely don't get that satisfying crunch in every bite. My "croutons" are smaller and torn, like shreds of bread rather than uniform blocks.
Making Old Bay Seasoned Croutons:
Use a sturdy day old sourdough bread and tear or cut it into large chunks.
Pulse them in a food processor two to three times, until they're torn into jagged, bite-sized bits. Don't process too much or you'll make breadcrumbs. (One of my favorite breads for this is Trader Joe's Sourdough bread.)
Transfer the bread to a baking sheet and drizzle with olive oil.
Toss the bread and olive oil together until lightly coated.
Add the Old Bay seasoning and salt. Toss again with your hands.
Spread the bread out in an even layer and bake.
Stir the croutons a few times during the baking to ensure even cooking.
Cook until the bread crumbles are golden and crispy.
Remove from the oven and set aside.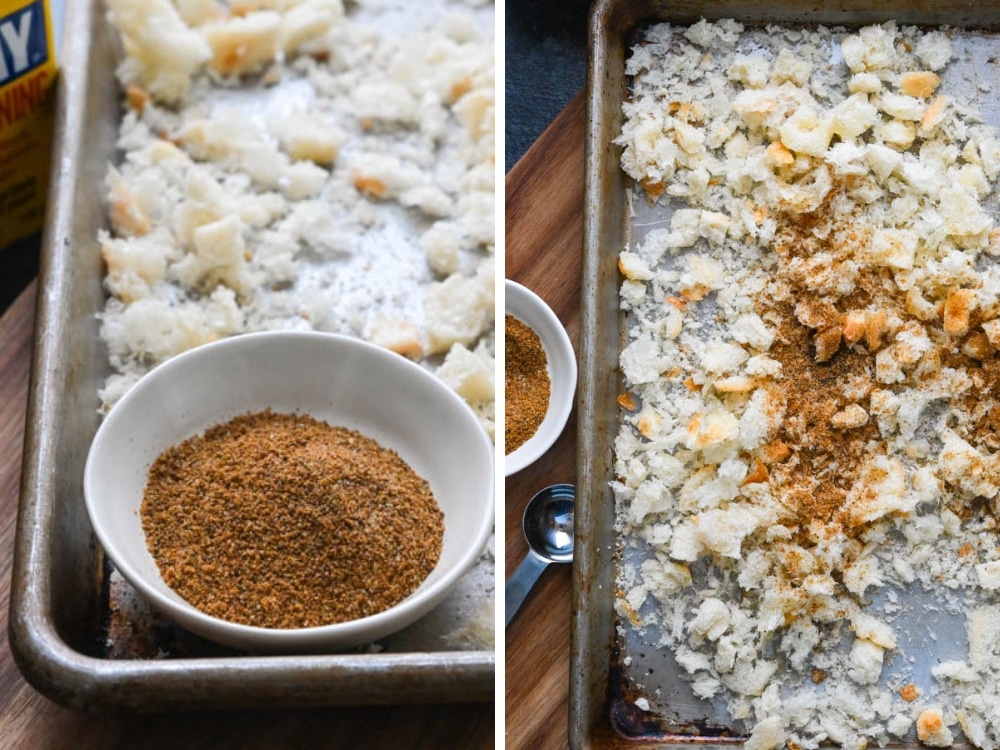 Old Bay Shrimp Recipe
I grew up near the Chesapeake Bay in Virginia, consequently, Old Bay seasoning is practically woven into my DNA. Naturally, when I think of seafood in general, my mind immediately zigs to Old Bay seasoning. It's not overly spicy and always lends that distinctive Virginia/Maryland flair that reminds me of home.
For the spicy grilled shrimp — use the best quality shrimp you can get. We are fortunate here in South Florida with an abundant supply of uber-fresh seafood. For this grilled shrimp caesar salad, I bought a pound of fresh gulf shrimp (U20-30).
Peel and devein the shrimp:
Remove the swimmers and shell, leaving the last segment of the shell and tail intact.
Run a sharp knife lightly along the length of the top of the shrimp, from tail to — well — I mean the head's not there, but until you run out of shrimp.
Gently pull apart the shallow cut and remove the "vein". (This is the shrimp's digestive tract and you can eat it if you want, but I like to remove it for aesthetic reasons).
Continue in this manner until you've peeled and deveined all the shrimp.
Seasoning Spicy Grilled Shrimp
Seasoning the shrimp is as easy as tossing it with some olive oil, Old Bay seasoning, salt and a bit of cayenne pepper for heat. The cayenne is optional, so skip it if you don't want to "feel the burn" or add extra if you're into that kind of punishment. Personally, I like a kick on my shrimp caesar.
Thread the shrimp onto skewers by first going through the top segment of the shrimp and then puncturing just above the tail segment. Skewering in two separate spots will prevent the shrimp from spinning around on the skewer and will definitely make it easier for your grill-master to cook.
Grill the Old Bay shrimp until the shellfish is pink and opaque, but not so much that it dries out. You want it to stay moist.
Assemble The Grilled Shrimp Caesar Salad
Fill a salad bowl with cleaned and dried romaine lettuce.
Add about half of the caesar dressing and toss to coat. If the salad seems too dry, add more dressing and toss again to coat. (You can always add more dressing, but it's tough to take away…)
Add Parmigiano Reggiano cheese and toss again to coat.
Divide the salad among plates or shallow bowls.
Top each liberally with Old Bay seasoned croutons and spicy grilled shrimp. (note: you can leave the shrimp on the skewers for individual diners to remove, or take them off and arrange on the salad.
This grilled shrimp caesar salad might remind you of a beach vacation. I live here and that's what it reminds me of. Pour a chilled sauvignon blanc or even a cold cerveza and imagine that island breeze kissing your face. Your welcome — a feels-like vacation for a lot less than the price of a plane ticket!
Garlic & Zest is a participant in the Amazon Services LLC Associates Program an affiliate advertising program designed to provide a means for sites to earn advertising fees by advertising and linking to Amazon.com.
Grilled Shrimp Caesar
This caesar salad has layers of flavor from the tasty caesar dressing to the old bay spiced bread crumbs and grilled spiced shrimp.
INGREDIENTS:
FOR SEASONED BREADCRUMBS:
1 ½

cup

day old bread - from baguette, italian loaf or sourdough

crusts trimmed

1

tablespoon

olive oil

1 ½

teaspoons

Old Bay seasoning

¼

teaspoon

salt
FOR SHRIMP:
1

pound

medium shrimp

peeled and deveined

2

teaspoons

olive oil

2

teaspoons

Old Bay seasoning

⅛

teaspoon

cayenne pepper

optional

¼

teaspoon

salt
FOR CAESAR SALAD:
1

head

romaine lettuce

washed, dried and torn into bite sized pieces

1/3-1/2

cup

Caesar dressing

recipe link on this site or use your favorite Caesar dressing

½

cup

parmesan cheese

freshly grated
DIRECTIONS:
MAKE THE BREADCRUMBS:
Preheat the oven to 350°.

Trim the crusts from the bread and tear the bread into small chunks. Transfer to a mini prep food processor and pulse several times until the bread is shredded, but not cut into fine breadcrumbs. You want small pieces of torn bread -- smaller than a normal crouton.

Transfer the bread to a baking sheet and drizzle with olive oil. Add the Old Bay seasoning and salt and toss to combine. Bake in a single layer until the crumbs are browned and crisp, about 8-10 minutes. Set aside to cool.
FOR THE SHRIMP:
Heat the grill to a medium high heat, about 450°-500°.

Peel and devein the shrimp and place into a bowl. Drizzle with olive oil and toss to coat. Sprinkle the Old Bay Seasoning, cayenne pepper (if using) and salt over the shrimp and toss until well coated.

Thread the shrimp onto skewers so that you're piercing the flesh at the top of the shrimp as well as closer to the tail. This will prevent them from flopping around on the skewer and the grill.

Grill the shrimp for 2 minutes on one side, flip and grill for an additional minute or two on the other -- cooking until the shrimp are pink and cooked through, but still juicy and tender. Transfer the skewers to a sheet pan.
MAKE THE SALAD:
Place the romaine lettuce in a large salad bowl. Add the caesar dressing and toss to combine. If lettuce looks too dry, add a bit more dressing a little at a time until its well coated but not goopy.

Add the grated parmesan cheese to the salad and toss to coat. Divide the salad among 4 plates and sprinkle with breadcrumbs. Remove the shrimp from the skewers and divide between each serving. Serve with additional grated parmesan cheese if desired.
NUTRITION:
Calories:
377
kcal
|
Carbohydrates:
12
g
|
Protein:
31
g
|
Fat:
22
g
|
Saturated Fat:
4
g
|
Cholesterol:
301
mg
|
Sodium:
1676
mg
|
Potassium:
507
mg
|
Fiber:
4
g
|
Sugar:
3
g
|
Vitamin A:
13775
IU
|
Vitamin C:
10.9
mg
|
Calcium:
405
mg
|
Iron:
5.2
mg
Pin "Grilled Shrimp Caesar Salad with Creamy Caesar Dressing" For Later!
More Seafood Salads: