Scott is my grill-master.  I give him due credit for just about everything prepared on the Weber.  This bacon is no exception.  In fact, it was his idea.  He's made his own bacon before and was jonesing for some thick, hand-cut slices of cured and smoked pork belly.  I admit, I liked his thinking, but the only way I was going to give-up valuable refrigerator space for a week, was if I got to share the process with you.
He agreed to my terms and a few days later I came back from Costco with a 10-pound slab of pork belly.  OK – it was a little more than we needed, so we trimmed it to about 7 pounds and saved the rest for another recipe…   Making your own bacon might seem like a daunting prospect — and unnecessary when you can get some pretty good bacon at your local market, but there is really nothing that compares to from-scratch, applewood smoked bacon.  Nothing.
Curing the meat is the easy part.  Simply mix the ingredients for the cure and massage it into the pork belly until it's completely coated.  Put the belly into a large zip-top storage bag and tuck it into the refrigerator for a week, flipping it once every day.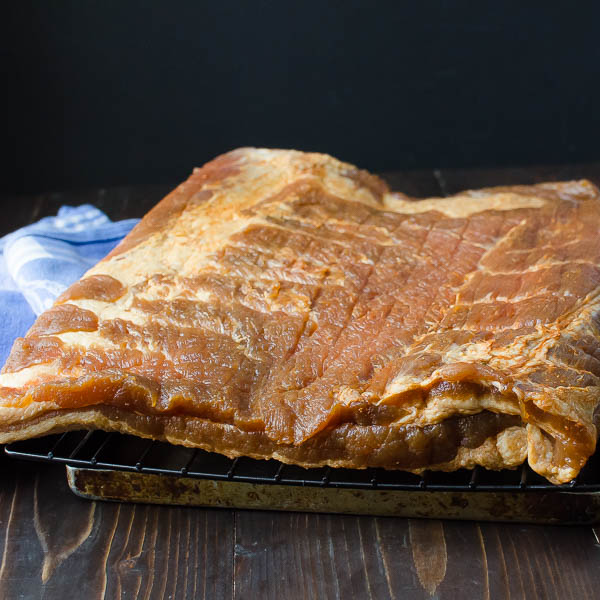 After hanging out for a week in the fridge, rinse the pork belly with fresh water to remove all the cure and use paper towels to dry it completely.   Set a rack over a sheet pan and place the pork belly on the rack, uncovered in the refrigerator for at least 6 hours and up to 24.  Then get ready to smoke!
This is where Scott really took charge…  He's got a pretty good handle on how to keep the smoker going low and slow and that's key.   About 160°-170° is a good range for smoking.  He tended to the bacon for the better part of 3 hours –  and it was dark when he finally pulled it from the smoker.  But it was beautiful.  And it smelled so good.  For that matter, Scott smelled like bacon too — which isn't a bad thing.  We wrapped it up for slicing the following morning.
To slice the bacon, you either need your own industrial Hobart slicer – or a long, thin, sharp knife.  We cut enough to feed our brunch guests and cooked it my favorite way – in the oven, to avoid the spurts, spatters and the perils of hot grease.
One thing you'll notice, is how flat the strips are — that's due to the smoking temperature — the bacon is actually completely cooked when you pull it from the smoker, therefore, it doesn't get that crinkly look you're used to from supermarket bacon which is cold-smoked and not fully cooked.
In any case, this bacon is outrageously good!  It's smoky and meaty and exactly what you want next to your eggs in the morning – or on your BLT!  So clear out some space in the fridge and hop to it!  YOU WANT THIS!
Homemade Bacon
Ever Cured and Smoked your own BACON? Get the easy step-by-step instructions and wow your family and friends! You're on your way to porky nirvana!
Ingredients
1/4

cup

brown sugar

1/4

cup

kosher salt

1/4

cup

honey

1

teaspoon

cayenne pepper

2

tablespoons

smoked paprika

1/2

teaspoon

ground cumin

2

teaspoons

curing salt

Prague powder or Insta Cure

5-7

pounds

pork belly
Special equipment
2

gallon

zip top storage or freezer bag
Instructions
In a medium bowl combine the brown sugar, kosher salt, honey, cayenne, paprika, cumin, and curing salt, stirring until well mixed.

Rinse the pork belly with cool water and pat dry with paper towels. Place the belly in the plastic bag and add half of the curing mixture to the top of the belly. Use your hands to rub it into the flesh, evenly coating. Flip over and rub the remaining curing mix onto the other side of the pork belly. Seal the bag, removing as much air as possible. Place the pork into a shallow baking dish, to catch any leaks and refrigerate. Flip the belly once a day for the next 7-10 days.

Remove the pork belly from the cure and thoroughly rinse the pork. Use several paper towels to COMPLETELY dry the pork belly on all sides. Place a rack over a baking sheet and rest the pork belly on the rack. Refrigerate uncovered for a minimum of 6 hours or overnight.

Now at this point, the bacon has cured. It can be sliced and cooked and will be absolutely delicious, but it won't have that smoky flavor that we all associate with bacon. To achieve that flavor, you have to smoke your pork belly.

Add 3 cups of wood chips (apple, cherry, hickory) to a large bowl and fill with water. Submerge them in the water by placing a plate or some other weighted surface on top of the chips -- pressing them into the water. Soak for an hour.

Meanwhile prepare the smoker according to your manufacturer's instructions. Preheat the smoker to 170°. Add wood chips according to the manufacturer's directions.

Place the pork belly directly on the grate and smoke until the internal temperature reaches 155° - this will take 3-4 hours depending on how large of a pork belly you have. Steve Raichlen recommends using an instant read thermometer and inserting it into the side of the pork belly to take the temperature reading.

When the bacon is cooked, transfer to a wire rack and cool to room temperature. Wrap it in plastic wrap and refrigerate overnight.

To cook, preheat the oven to 400°. Line a baking sheet with aluminum foil and place a wire rack on top of it. Set aside.

Use a long, thin, sharp knife to slice the bacon. Lay the slices on the wire rack next to each other, but not touching. Bake for 15-20 minutes (maybe longer depending on how thick your slices are) or until crisp.

Transfer to a platter lined with paper towels. Serve.
Nutrition Facts
Homemade Bacon
Amount Per Serving
Calories 408
Calories from Fat 360
% Daily Value*
Total Fat 40g 62%
Cholesterol 54mg 18%
Sodium 968mg 40%
Potassium 155mg 4%
Total Carbohydrates 4g 1%
Protein 7g 14%
* Percent Daily Values are based on a 2000 calorie diet.
  More Smoky Favorites:
SaveSave
SaveSave