No matter what time of year you enjoy a turkey dinner, invariably it leads to the question: "What to do with leftover turkey," am-I-right? Turkey vegetable soup is a good option, but here's a fun twist with alphabet pasta. Yup, you guessed it Turkey Alphabet Soup! The kids love it and so do grownups! Pinky swear! I'll show you how to make turkey soup that's so easy and delicious, you'll want to cook a turkey every month, just so you'll have the leftovers for this healthy comfort food.
Before we start with the alphabet soup, let's talk about the broth. I highly recommend making homemade turkey stock from leftover turkey bones and the carcass.
Homemade stock has body, richness and flavors that can't be replicated with store bought broth. This is my go-to turkey stock recipe and it's a good place to start.
Bonus: It's really easy to make… no more than simmering turkey bones with vegetables and aromatics and straining the broth. Of course, canned chicken stock will work in a pinch… I'm not the food police.
Ingredients:
Onions
Celery
Carrots
Olive Oil
Salt
Bay Leaves
Leftover Turkey Meat
Mini Alphabet Pasta
Fresh Parsley
Now doesn't this sound like a grocery list your Mom or Grandmother would make? No weird or fancy ingredients. Just pure, simple flavors that'll transport you back to your childhood. This turkey vegetable soup with little alphabet pasta will make you smile.
How To Make Turkey Soup
Heat the olive oil in a large dutch oven over medium heat.
Add the celery, onions, carrots and kosher salt and stir together.
Cook for 2-3 minutes until the vegetables becomes tender and the onions and celery start to take on a translucent look.
Add the homemade turkey stock and bay leaves.
Heat to a boil, then reduce heat to a simmer and rest the lid on the pot so it's slightly askew and steam can escape. Simmer for 10 minutes.
Add in the diced leftover turkey and alphabet pasta and return to a simmer, stirring occasionally.
Cook until the pasta is just at al dente and remove from heat.
Stir in the parsley and serve.
Pretty straightforward, right?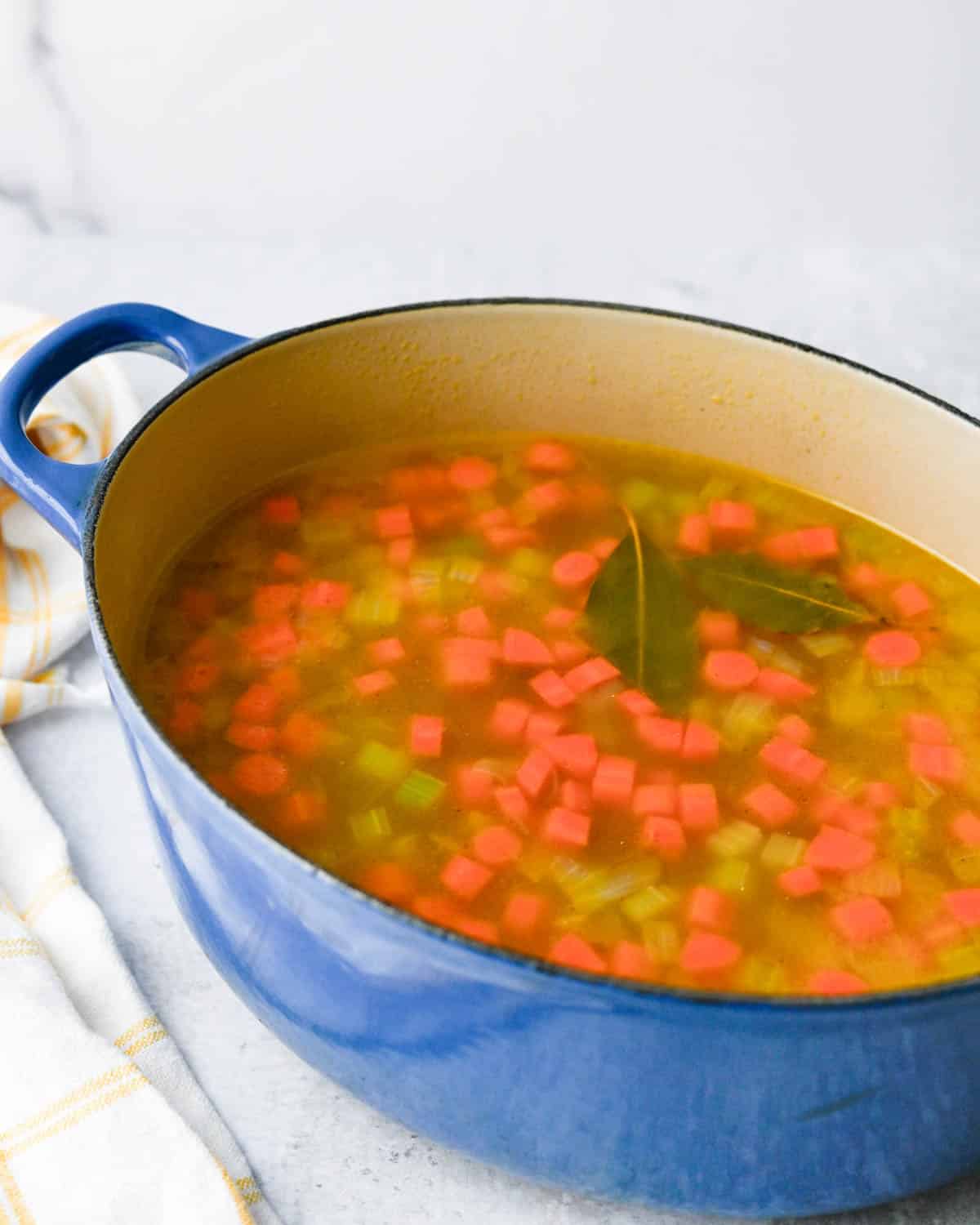 FAQ's
How Much Turkey Meat Do I Need?
About 3 cups of turkey will give you a balanced proportion of turkey to vegetables and pasta. Remove the turkey from the bone and dice it into small bite-sized pieces. You can augment with extra vegetables if you're short on turkey.
What Other Kinds of Vegetables Can I use For Leftover Turkey Vegetable Soup?
Mushrooms (Saute in olive oil separately before you cook the carrots, onions and celery. You may want to clean the pot after cooking the mushrooms so they don't discolor your broth (they tend to make it more brown).
Peas (If adding frozen peas, stir them in at the last minute to keep them bright green).
Lima Beans – Add frozen lima beans at the same time you add the turkey and pasta.
Squash Butternut, Acorn, Delicata would all be good in this soup. Peel and seed them first, then cut the squash into 1/2″ dice. Cook with the celery, onions and carrots.
Spinach Swirl in fresh baby spinach just before serving. it will wilt as it comes into contact with the hot broth.
Kale Finely chop the kale and add it at the same time you add the turkey and alphabet pasta.
Escarole Roughly chop escarole and add it at the same time you add the turkey and pasta.
Leeks Saute chopped leeks along with the onions, carrots and celery and proceed with the recipe.
Parsnips Peel and chop the parsnips into 1/2″ dice. Sauté with the onions, carrots and celery and proceed with the recipe.
Green Beans Cut green beans into bite sized pieces and add them at the same time you add the chicken and pasta.
Potatoes – skip the pasta and go with a true turkey vegetable soup. Add peeled diced waxy potatoes (1/2″ dice) at the same you saute the onions, carrots and celery.
What Can I Use Besides Alphabet Pasta?
You can use any other small or short pastas, however, you'll want to adjust your cooking times according to the package directions.
Other Pastas To Use In Turkey Vegetable Soup:
Orzo
Ditalini
Pastina
Mini Farfalle
Orecchiette
Elbow Macaroni
Small Shells
Rotini
Fine Egg Noodles
Pearl Couscous
Can I Use Other Grains Instead of Pasta?
Absolutely. However, I'd cook them separately in water according to the package instructions and add them at the end because the cooking times vary widely. I recommend:
Long Grain White Rice
Brown Rice
Farro
Quinoa
Khorasan Wheat
Wild Rice
Where Did All My Leftover Turkey Stock Go?
Keep in mind that as pasta sits in hot broth, it will continue to soak up the liquid, so in my opinion, it's best to enjoy the turkey alphabet soup the day you make it. However, if you don't mind the pasta a little on the soft side, you can store the soup refrigerated. You may need to add more stock when reheating though — as the pasta really does act like a sponge.
I like a fresh sprinkle of parsley stirred in at the end for extra color and freshness. Of course, if you're substituting other vegetables, you may not need to add it.
My daughter (who is 24 and well past the age of alphabet soup) absolutely LOVED this homemade leftover turkey soup. She begged me to package some up so she could take it to work for lunch — and like a good Mom, I obliged her. Make some for your family, it's gonna be a hit!
MORE What To Do With Leftover Turkey:
In case you have other leftovers from your Thanksgiving table, check out THESE fun ways to use them…
More Thanksgiving Leftover Recipes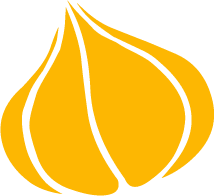 Tried this recipe? Leave a rating and review.
Your comments and shares are invaluable to me and the thousands of readers who use this site daily. If you've made the recipe, leave a star rating and review. We want to hear how you liked it.
We'd love it if you shared the recipe with your friends on social media!
Leftover Turkey Alphabet Soup
A quick and easy soup for the whole family. Use up your Thanksgiving turkey remains with this tasty, classic recipe.
INGREDIENTS:
1

large

onion

chopped

3

stalks celery

chopped

4

carrots

chopped

1

tablespoon

olive oil

½

teaspoon

kosher salt

8

cups

homemade turkey or chicken stocks

(can use storebought)

2

bay leaves

3

cups

diced leftover turkey meat

(preferably breast meat)

1

cup

mini alphabet pasta

(or pastini, orzo or fine egg noodles)

¼

cup

fresh parsley

chopped
DIRECTIONS:
Place a large dutch oven over medium high heat. Add the olive oil and when the oil is hot, stir in the chopped onion, celery,carrot and kosher salt. Cook for 2-3 minutes until the vegetables start to get tender and the onions and celery look translucent.

Stir in the turkey stock and heat to boiling. Reduce heat to a low simmer and cook for 10 minutes with the lid resting askew on the pot.

Stir in the diced turkey and alphabet pasta or other pasta and return the heat to a rapid simmer, stirring occasionally. Cook until the pasta is just al dente and remove from heat. The pasta will continue to absorb the broth. Serve.
NUTRITION:
Calories:
333
kcal
|
Carbohydrates:
36
g
|
Protein:
28
g
|
Fat:
8
g
|
Saturated Fat:
2
g
|
Cholesterol:
56
mg
|
Sodium:
761
mg
|
Potassium:
732
mg
|
Fiber:
2
g
|
Sugar:
9
g
|
Vitamin A:
7044
IU
|
Vitamin C:
8
mg
|
Calcium:
45
mg
|
Iron:
2
mg
Pin "Leftover Turkey Alphabet Soup" For Later!