Whether you're looking for a hangover breakfast, breakfast for a group or just an easy sliders recipe, these Leftover Turkey and Egg Oven Sliders are the answer. Piled high with turkey, prosciutto, cheese and egg on a toasty slider bun, this easy breakfast sandwich casserole is a winner.
Breakfast is probably my favorite meal of the day, because it's simple and straightforward. Whether it's yogurt and fruit or an egg based start to the day, breakfast is usually pretty simple. This easy sliders recipe will keep it hassle free, even if your making breakfast for a group. Oven sliders are indulgent and universally loved. There's just something homey about a slider casserole, you know? Stuffing that casserole with eggs, leftover turkey (from Thanksgiving, maybe) or deli turkey, cheese, avocado prosciutto and tomato is heavenly.
Conversely, if you've been out too late or imbibed too much, you're likely to appreciate the simplicity of an easy sliders recipe as the ultimate hangover breakfast. After all it starts with scrambled eggs and cheese on a warm slider bun… need I say more?
I've made this recipe in a square casserole dish because we only had four diners. However, if you've got a crowd, double the recipe and arrange your rolls in a 9″ x 13″ baking dish. Split the rolls in half crosswise and top with shredded cheese (I used a combination of cheddar and monterey jack) Top the cheese with ultra thin slices of prosciutto or ham. Make sure that when you're layering the meats that you're loading each bun individually. If you lay out a whole sheet of prosciutto across several rolls at a time, it'll be difficult to pull them apart for serving.
Next comes the turkey layer. As with the prosciutto, add the turkey slices to each individual slider bun for easy removal. This is actually thinly sliced smoked turkey from our Thanksgiving bird — and it's fabulous in this easy sliders recipe. Top the turkey with with gently scrambled eggs. You want the eggs cooked in large curds and they should still be slightly wet when you add them to the oven sliders (they continue to cook in the oven.)
Cover the oven sliders with the top half of the slider rolls and brush them with the butter sauce, then sprinkle on sesame seeds (optional).
A little something for everyone, this butter sauce is a mixture of melted butter, dijon mustard, maple syrup, worcestershire sauce and cayenne pepper. Sprinkle with sesame seeds then wrap the casserole tightly in tin foil and bake. If you're making breakfast for a group, the smell of this baking easy sliders recipe alone should call the crowd to the table.
While the oven sliders are heating up, prep the toppings. You can add whatever you'd like, but don't skip the mashed avocado and sliced tomatoes. They're essential for this hangover breakfast. Remove the foil about 15 minutes into baking, so the rolls can get golden and toasty.
When you're ready to serve, have your guests smear the avocado onto the top half of their roll and insert a slice of tomato. This easy breakfast sandwich will be a crowd favorite. Pinky swear.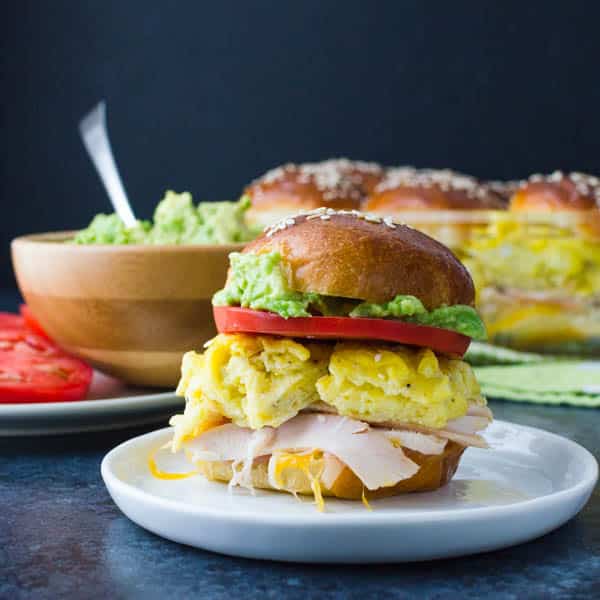 Smoked Turkey Breakfast Sliders
Use your leftover Thanksgiving smoked turkey (or deli sliced smoked turkey) for these savory breakfast sliders.
ingredients
9

slider rolls

1 1/2

cups

shredded cheese

I used monterey jack/cheddar blend

4

slices

prosciutto

optional

1

pound

thinly sliced smoked turkey

cut into pieces that will fit individually on a roll

2

teaspoons

butter

6

eggs

salt & pepper to taste
FOR THE BASTING BUTTER:
3

tablespoons

butter

melted

2

teaspoons

worcestershire sauce

1

tablespoon

maple syrup

1

teaspoon

dijon mustard

pinch

cayenne pepper
FOR GARNISH:
3

plum tomatoes

sliced

2

avocados

mashed
instructions
FOR THE BASTING BUTTER:
In a small bowl, whisk together the melted butter, worcestershire sauce, maple syrup, dijon mustard and cayenne pepper. Set aside.

Preheat the oven to 350°. Cut 9 slider rolls in half to separate tops and bottoms. Lay the bottoms in an 8x8" square casserole dish.
SCRAMBLE THE EGGS:
In a medium bowl, whisk the eggs with salt and pepper. Heat a medium saute pan over medium heat and add the butter to melt. Add the eggs and let sit for 30-45 seconds.

When the bottom of the eggs are set, drag a spatula across the bottom of the pan from the 12 o'clock to 6 o'clock position, then from 9 o'clock to 3 o'clock - folding the eggs into large curds. When the eggs are 90% set, remove them from the heat.
ASSEMBLE THE SLIDERS
Top the rolls with the cheese. Tear the prosciutto into pieces and divide the over each individual slider roll (Do not lay whole slices of prosciutto across the rolls, because they won't naturally break apart when lifting out the buns).

Top the prosciutto with several slices of smoked turkey.

Top the turkey with the eggs and top with the other half of the slider rolls. Use a pastry brush to baste the tops of the rolls with the butter sauce. (You don't have to use all the butter sauce on the tops -- if there's some leftover, let your diners add additional to their rolls if they'd like.

Sprinkle the tops with sesame seeds. Cover the casserole with tin foil and place in the hot oven. Bake for 12-15 minutes, then remove the foil and continue to bake for another 10 minutes.
PREP THE TOPPINGS:
While the sliders are baking, slice the tomato and transfer to a serving plate. Mash the avocado with a fork and transfer to a serving bowl.

Serve sliders with any leftover butter sauce, sliced tomato and mashed avocado. (Note: to serve avocado, remove the top of the slider and spread it over the top half of the roll.)
Nutrition
Calories:
299
kcal
|
Carbohydrates:
18
g
|
Protein:
18
g
|
Fat:
16
g
|
Saturated Fat:
7
g
|
Cholesterol:
164
mg
|
Sodium:
283
mg
|
Potassium:
157
mg
|
Fiber:
1
g
|
Sugar:
4
g
|
Vitamin A:
450
IU
|
Vitamin C:
0.2
mg
|
Calcium:
144
mg
|
Iron:
1.9
mg
Pin "Leftover Turkey and Egg Oven Sliders" For Later!