Moist Pumpkin Bread Recipe
Want a quick and easy, spiced pumpkin bread? Try my Aunt Lynne's famous ultra moist pumpkin bread recipe. Richly spiced with cinnamon, nutmeg, allspice, mace and cloves, this classic fall quick bread is the best! Use canned pumpkin purée and pantry ingredients for this simple recipe that makes 3 loaves of the most sought-after seasonal fall treat. Great for gift giving, this classic recipe also happens to be a dairy free pumpkin bread.
My Aunt Lynne has been making this tender, redolently spiced and super moist pumpkin bread recipe since I was a kid and it's always been a favorite in our family.
Her recipe (which she shared with me many moons ago) started my holiday baking tradition. At the holidays, I'd make multiple batches of these spiced pumpkin loaves to gift to friends, co-workers and neighbors, making me a very popular person.
If you relish accolades, make a batch of this easy, homemade spiced pumpkin bread and prepare for an onslaught of "oohs, aahs and pleading requests of 'can I have the recipe?'"
Ingredients for ultra-moist pumpkin bread recipe
Granulated Sugar
Vegetable Oil
Eggs
Pumpkin Purée you can use canned or learn to how to make pumpkin purée.
All Purpose Flour
Baking Soda
Baking Powder
Salt
Cinnamon
Cloves
Nutmeg
Allspice
Mace
Water
You're probably familiar with all of the standard ingredients in this spiced pumpkin bread recipe, with one notable exception. Mace.
Mace is the lacy outer sheath of whole nutmeg. It's considered to be a softer, more floral and delicate flavor than nutmeg itself and can be used instead of or in addition to nutmeg. As with most spices, grinding it yourself will produce the best, most aromatic and flavorful results, but you can get it already ground. If you purchase the pre ground variety, I'd advise buying the smallest container and store it for up to a year before replacing it with a new one.
If you don't have mace, you can skip it THIS TIME. But you'll want to have some on hand for your next batch of this lovely moist spiced pumpkin bread (which will probably happen a few days after your first batch).
As with most spiced quick breads, this recipe is really simple to make with just a few pantry ingredients. You'll love this one because it makes a large quantity of batter, which you can use for large or small loaves or even muffins. I recommend using a stand mixer to blend the ingredients, because this spiced pumpkin bread recipe makes quite a lot of batter.
If you're working with a hand mixer, just be sure to use a very large mixing bowl (about 5 quarts) and rubber spatula to scrape down the sides and blend the sweet spiced pumpkin batter.
How to make Aunt Lynne's moist spiced pumpkin bread
In a medium mixing bowl, combine the flour, baking soda, baking powder, salt, cinnamon, cloves, nutmeg, allspice and mace and whisk to combine.
In a stand mixer or large mixing bowl with a hand mixer, blend the granulated sugar, oil and eggs until very well blended and pale yellow.
Add the pumpkin purée and mix to combine.
Add the flour mixture a little at a time and mix just to combine.
While the mixer is running, slowly add the water in a steady stream until the liquid is blended with the batter.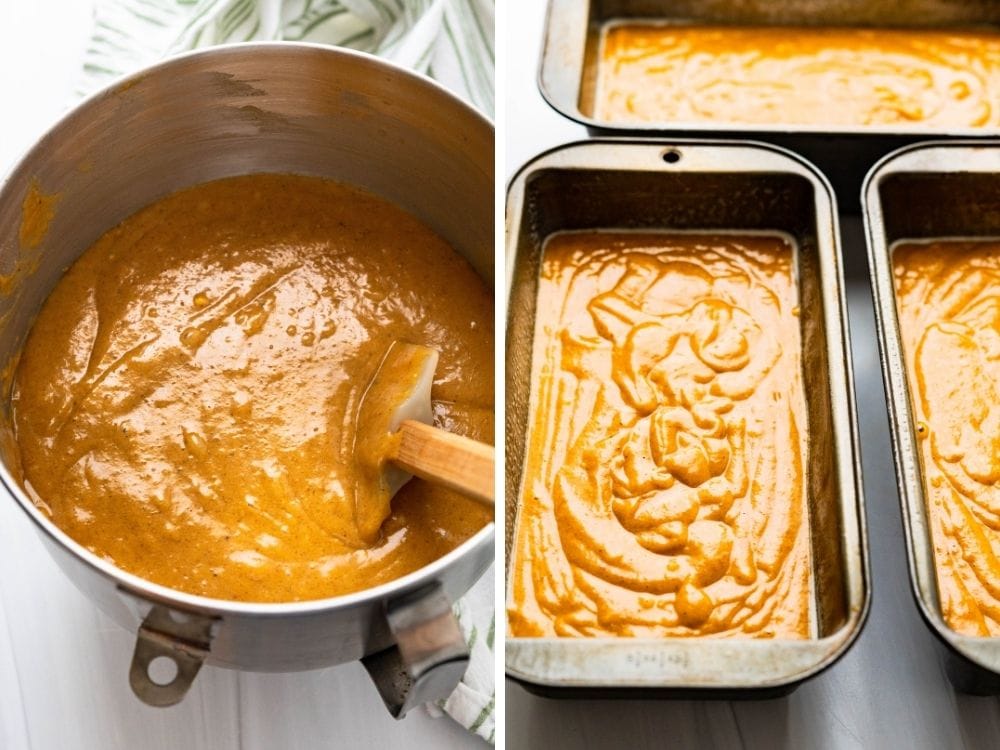 This pumpkin bread recipe is so moist, you'll want to give yourself a little insurance to make sure the loaves pop out of the pan easily. Here's what I recommend:
Prepping the loaf pans
Cut pieces of parchment paper to fit the bottom of three 4 1/2″ x 8 1/2″ loaf pans.
Spray the pans liberally with nonstick spray and press the parchment into the bottom of each pan. Lightly spray the parchment.
Divide the batter evenly between each loaf pan.
Use a knife to make a long "slash" through the middle of the batter. This is known as scoring and it's used frequently with yeast doughs as an artistic flourish. I've noticed that it works to create a rubbly, rustic finish in this spiced pumpkin bread and also can give you a visual sense of how moist the pumpkin bread is after its baked.
I usually use an 8 1/2″ x 4 1/2″ loaf pan to make these breads and I get 3 loaves from that recipe. But you can use larger or smaller pans, depending on what you want, but the baking times will vary. Here's a guide for different pan sizes.
Baking times for different pan sizes
8 1/2″ x 4 1/2″ loaf pans – makes 3 loaves. Bake for 40-50 minutes.
9″ x 5″ x 3″ loaf pan – makes 2 loaves, usually bakes for 50 to 60 minutes.
3 1/2″ x 5″ mini loaf pan – usually bakes in 25-35 minutes
Standard muffin pans – usually bakes within 20-25 minutes
Mini muffin pans – usually bakes within 15-18 minutes.
Note: When filling the loaf pans or muffin tins, fill to about 2/3 full. This will allow the spiced pumpkin bread to rise as it bakes without overflowing the baking tin.
How to know when it's done
I always use visual cues first to check for doneness of cakes, breads and muffins.
About 5 minutes before the pumpkin bread is supposed to be done, wiggle the pan. If the center of the loaf jiggles like jell-o, it's likely going to need at least 10 more minutes of baking.
If you press your finger, lightly into the center and it doesn't spring back, it's definitely going to need more time.
The most reliable way to tell is to use a cake tester or wooden skewer plunged into the center of the loaf to test for doneness. If the cake tester comes out clean, with just a few crumbs attached, it's finished baking, but if there's wet batter clinging to it, it's going to need some more time. Give the spiced pumpkin breads about 8-10 more minutes, then check them again.
Spiced pumpkin bread FAQ's
How long will the pumpkin bread last?
Each loaf can be kept for up to 4-5 days, wrapped or covered.
Does pumpkin bread need to be refrigerated?
No. It can stay out at room temperature, but if you want to keep it longer, you can refrigerate it. Though, it's best enjoyed at room temperature.
Can you freeze the bread?
Yes. This bread freezes well for up to 2 months.
How can it be dairy free pumpkin bread if it has eggs?
There are no milk products in this recipe, which is why it's technically dairy free. (I think people get confused because of those old "food pyramids" where eggs were always included under "dairy".)
Makes the whole house smell amazing
My cousin, Katrina, LOVES this fragrant, spiced pumpkin bread so much, she makes this recipe at least 5 or 6 times a year — and not just in the fall. Moist "autumn" pumpkin bread in July is a "thing" with her! As it bakes, the entire house is filled with amazing holiday aromas and in her opinion, there's no point in waiting for a "certain time of year" to enjoy her favorite treat. I concur.
More pumpkin recipes you might like: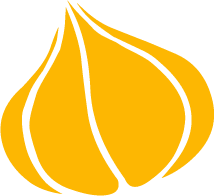 Tried this recipe? Leave a rating and review.
Your comments and shares are invaluable to me and the thousands of readers who use this site daily. If you've made the recipe, leave a star rating and review. We want to hear how you liked it.
We'd love it if you shared the recipe with your friends on social media!
Aunt Lynne's Famous Pumpkin Bread
This is what Thanksgiving tradition is all about.
INGREDIENTS:
3

cups

sugar

1

cup

vegetable oil

4

eggs

beaten

15

ounces

pumpkin puree

not pumpkin pie filling

3½

cups

flour

1

teaspoon

baking powder

2

teaspoons

baking soda

1

teaspoon

salt

1

teaspoon

cinnamon

½

teaspoon

cloves

1

teaspoon

nutmeg

1

teaspoon

allspice

½

teaspoon

mace

⅔

cup

water
DIRECTIONS:
Preheat oven to 350°. Prepare 3 medium loaf pans by spraying with vegetable spray and lining the bottom each pan with a piece of parchment paper. Spray parchment with vegetable spray. Set aside.

In a large mixing bowl or the bowl of a stand mixer, combine the sugar, oil and beaten eggs. Mix to blend, then add the pumpkin and mix well.

Sift together the dry ingredients and add to the wet ingredients, mixing until just combined. Add water a little at a time and blend until smooth.

Pour into the loaf pans and bake for 45-55 minutes, or until a cake tester comes out clean. Cool to room temperature, then remove from pans.
RECIPE VIDEO:
NOTES:
You can freeze the loaves for up to a month in plastic wrap and freezer paper!
NUTRITION:
Calories:
182
kcal
|
Carbohydrates:
39
g
|
Protein:
2
g
|
Fat:
1
g
|
Saturated Fat:
1
g
|
Cholesterol:
27
mg
|
Sodium:
199
mg
|
Potassium:
46
mg
|
Sugar:
25
g
|
Vitamin A:
40
IU
|
Calcium:
15
mg
|
Iron:
1
mg
Pin Aunt Lynne's Famous Pumpkin Bread for later!"