If you love curry and want an easy seasonal fall soup recipe, this is the one. Curried Pumpkin Soup uses real roasted pumpkin, delicata squash, butternut squash, fennel and apples for a creamy pumpkin soup that's layered with flavor and as smooth as velvet. Customize this roast pumpkin soup by using your favorite curry powder. Try sweet or medium Maharaja styles or even hot curry powder for a spicy pumpkin soup that leaves a tingle on your tongue.
There is nothing so seasonally alluring as a rich, creamy roast pumpkin and squash soup. This simple recipe is one my husband RAVES about and I usually make a version of it at least twice every fall. I use classic fall gourds for this soup, like delicata squash, butternut and sugar pumpkins.
Are sugar pumpkins the same as jack-o-lanterns?
No. Though you can eat jack-o-lanterns, the flesh tends to be stringy and watery and not as good for eating. Sugar pumpkins are smaller, sweeter and less stringy and fibrous. They're ideal for pies and work particularly well in creamy pumpkin soups like this.
The easy way to prepare pumpkins and squash for soup
Pumpkins and squash can sometimes be a bit unruly and difficult to work with. I used to start my squash soups by peeling the individual squash, removing the seeds and dicing them into small chunks to sauté. However, this method invariably tempts fate.
I can't tell you the number of times, the pumpkin or butternut squash would slip and I'd end up with a gash in my finger. Or the squash was too big to hold in one hand while peeling with the other (#lilliputianfingers).
Why roast the pumpkin and squash?
I've learned the hard way that the best method to prep squash and pumpkin is to ROAST IT FIRST. No peeling. No chopping. Just slice the pumpkin and squash in half, scoop the seeds and plunk down on a baking sheet to cook.
The flesh gets super soft and makes it so much easier to scoop out and add to the soup.
Don't burn yourself
Obviously, you'll want to let the pumpkin and squash cool a bit before handling. (You don't want to burn yourself on a steaming hot curcubita).
What you need for this curried pumpkin soup recipe
All you need for curried roast pumpkin soup are simple seasonal squash and veggies with a few pantry staples and spices. Here's the list:
Delicata Squash
Butternut Squash
Apple
Onion
Fennel
Carrots
Olive Oil
Cumin Powder
Curry Powder
Turmeric
Kosher Salt
White Pepper
Maple Syrup
Orange Juice
Light Cream
What's the best curry powder to use for curried pumpkin soup?
It really depends on your personal tastes. I get my curry blends from Penzey's Spices. They're inexpensive and the flavors are amazing.
Sweet Curry – gives a mild sweet flavor. You may not need as much maple syrup if using sweet curry.
Maharaja Curry Powder – has a little more depth and spice, more of a medium blend that goes really well in this roast pumpkin soup.
Hot Curry Powder – has a serious kick and will make your mouth tingle from the first bite. I used hot curry in this batch.
How to make roasted pumpkin soup
Halve the squash and pumpkins and scoop out the seeds. Brush the halves with olive oil and roast, flesh side down until tender.
While the pumpkin and squash roast, chop the aromatics (onions, fennel, carrots, apples) and sauté them in a heavy pot or dutch oven until tender.
Add the ginger, curry powder, cumin, turmeric, kosher salt, white pepper and stir to combine. Cook for a minute or two until very fragrant.
Scoop the flesh from the pumpkin and squashes and add to the pot.
Stir in the vegetable stock and bring to a simmer. Cook for 15 minutes so the flavors can develop.
Puree the soup with a stick blender or work in batches with a regular blender or food processor until the soup is smooth and creamy.
Stir in the orange juice, maple syrup and cream. Taste for seasonings and adjust as necessary.

What's the best stock to use for curried pumpkin soup?
If you're using store-bought (nothing wrong with that) I recommend a low sodium vegetable (or chicken) stock. Many regular store-bought broths are loaded with extra sodium and can over salt the dish. Look for stock or broth that has less than 300 mg of sodium… Remember you can always add more, but it's tougher to take it away.
Want a good homemade stock recipe? Try one of these:
As you can see, this soup comes together pretty quickly. It's just a matter of roasting the pumpkins and squash, sautéing the vegetables with the curry powder and spices and simmering with a bit of broth. A quick blend and you're ready to eat.
What are the extras for?
You may be wondering about the maple syrup, cream and lime juice… They seem like disparate flavors, what are they for? Their purpose is twofold.
Flavor. Despite the odd-sounding combo, they really do work – the maple syrup adds an earthy sweetness, cream amplifies the richness and satiny mouth feel and a squeeze of lime juice just before serving, balances the richness and adds depth.
Tempering. These ingredients have another function — mediating the spice. Each works differently and together they work in concert.
Add something sweet – like the maple syrup that's already in the recipe. Sweets (like syrup, honey or sugar absorb the spiciness and help to quell the fire.
Add cream or milk – because capsaicin is fat soluble, adding milk or cream will help ease the burn.
Add an acid – Ingredients like lemon or lime juice or even vinegar help to neutralize the pH levels in spicy foods.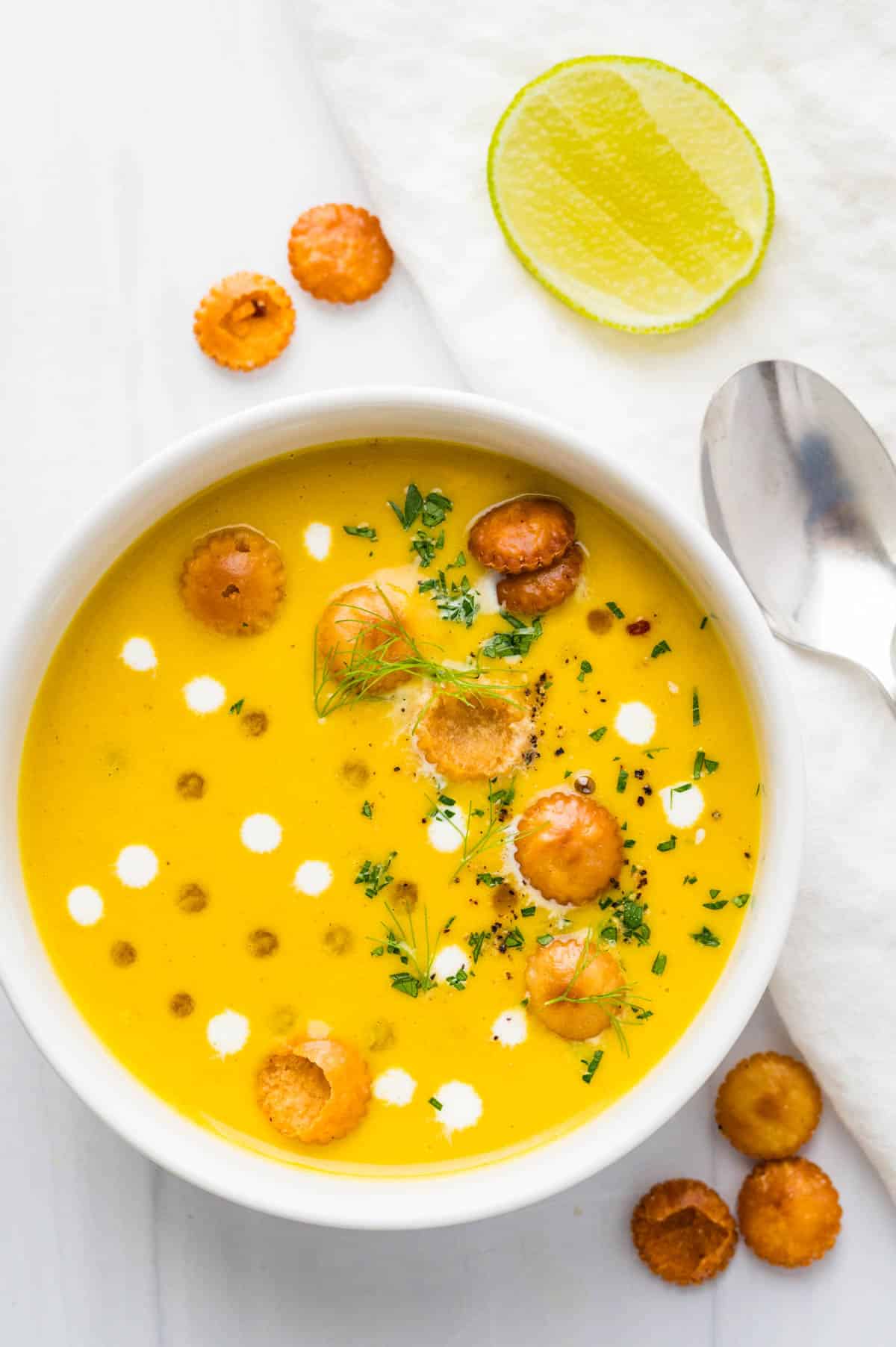 The flavors in this curried pumpkin soup really POP. Spices hit every part of the tongue and the velvety texture is so lush and creamy, you'd think you were in a fancy restaurant.
What to serve with curried squash and pumpkin soup:
I like to garnish this soup with some of the seasonings that have already gone into it.
Maple syrup – just a drizzle or drop.
Cream – swirl it in for a pretty effect.
Lime juice – a squeeze adds a bright, fresh pop to the soup and plays well with the curry and cumin flavors.
Roasted squash or pumpkin – About a tablespoon of roasted caramelized squash for each serving (diced finely).
Fennel fronds – (just a few of the reserved fronds, scattered over the top).
Fresh herbs – parsley, mint or cilantro will add a brightness to the soup.
The time is now to make your own creamy batch of curried pumpkin and squash soup.
You May Also Like These Creamy Fall Soups: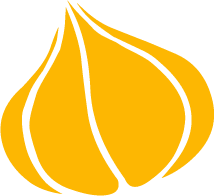 Tried this recipe? Leave a rating and review.
Your comments and shares are invaluable to me and the thousands of readers who use this site daily. If you've made the recipe, leave a star rating and review. We want to hear how you liked it.
We'd love it if you shared the recipe with your friends on social media!
Curried Pumpkin Soup
Use those little sugar pumpkins to make this creamy fall pumpkin bisque. Hot curry will add heat, while sweet curry makes this a milder soup.
SPECIAL EQUIPMENT:
stick blender or regular blender
INGREDIENTS:
2

tablespoons

olive oil

divided

1

sugar pumpkin

about 2 pounds

2

delicata squash

1

small

butternut squash

about 1 pound

3

apples

granny smith, honey crisp and gala are good for this, peeled, seeded chopped

½

bulb fennel

chopped

1

medium yellow onion

peeled and chopped

2

carrots

peeled and chopped

2

teaspoons

freshly grated ginger

1

teaspoon

cumin powder

½

teaspoon

kosher salt

1

tablespoon

curry powder

hot, marharaja or sweet – you're choice

½

teaspoon

white pepper

¼

teaspoon

turmeric

6

cups

homemade vegetable broth

or low-sodium store bought

¼

cup

maple syrup

½

cup

orange juice

1

cup

cream
SERVE WITH:
squeeze of lime juice

drizzle of maple syrup

drizzle of cream

fresh parsley

chopped

toasted pepitas

pumpkin seeds

fresh cilantro

chopped
DIRECTIONS:
Preheat the oven to 400°. Cut the pumpkin, butternut and acorn squash in half vertically. Scoop out the seeds and discard.

Lightly brush the cut side of all the squash with about 2 teaspoons olive oil and place cut side down on a baking sheet. Roast for 30-40 minutes or until the squash is soft and tender.

While the squash is roasting, heat the remainder of the olive oil in a heavy pot or dutch oven and add the onion, fennel, apple and carrots. Sauté for 3-5 minutes until the onion and fennel start to get tender and translucent.

Add the ginger, cumin, salt, curry powder, white pepper and turmeric and stir, cooking for about 1 minute until it's fragrant.

Scoop the flesh from the various squash and sugar pumpkin and add them to the pot, stir to combine. Add the vegetable stock and bring to a boil. Reduce heat to a low simmer, cover the pot and cook for 15 minutes.

Using a stick blender, regular blender or food processor puree the contents of the pot until very silky smooth.

Stir in the maple syrup, orange juice and cream. Season to taste and serve with your choice of garnishes. (The lime juice really makes this dish sing).
NOTES:
Note: if you use hot curry powder and it's too spicy for you a little extra cream and maple syrup will help tame the fire.
NUTRITION:
Calories:
340
kcal
|
Carbohydrates:
57
g
|
Protein:
5
g
|
Fat:
14
g
|
Saturated Fat:
7
g
|
Cholesterol:
41
mg
|
Sodium:
893
mg
|
Potassium:
1588
mg
|
Fiber:
8
g
|
Sugar:
26
g
|
Vitamin A:
29435
IU
|
Vitamin C:
62
mg
|
Calcium:
173
mg
|
Iron:
3
mg
Pin "Curried Pumpkin Soup" For Later!