If you're a fan of old-fashioned, homemade apple butter, you'll love this simple twist on that classic. Maple Pumpkin and Apple Butter – with a shot of bourbon that deepens the flavors, but doesn't taste like alcohol. It's a lightly spiced, not too sweet breakfast spread made simply with apples and pumpkin, no refined sugars and a balanced blend of seasonal spices. I'll show you 3 ways to make this fruity spiced pumpkin jam. Which one is right for you?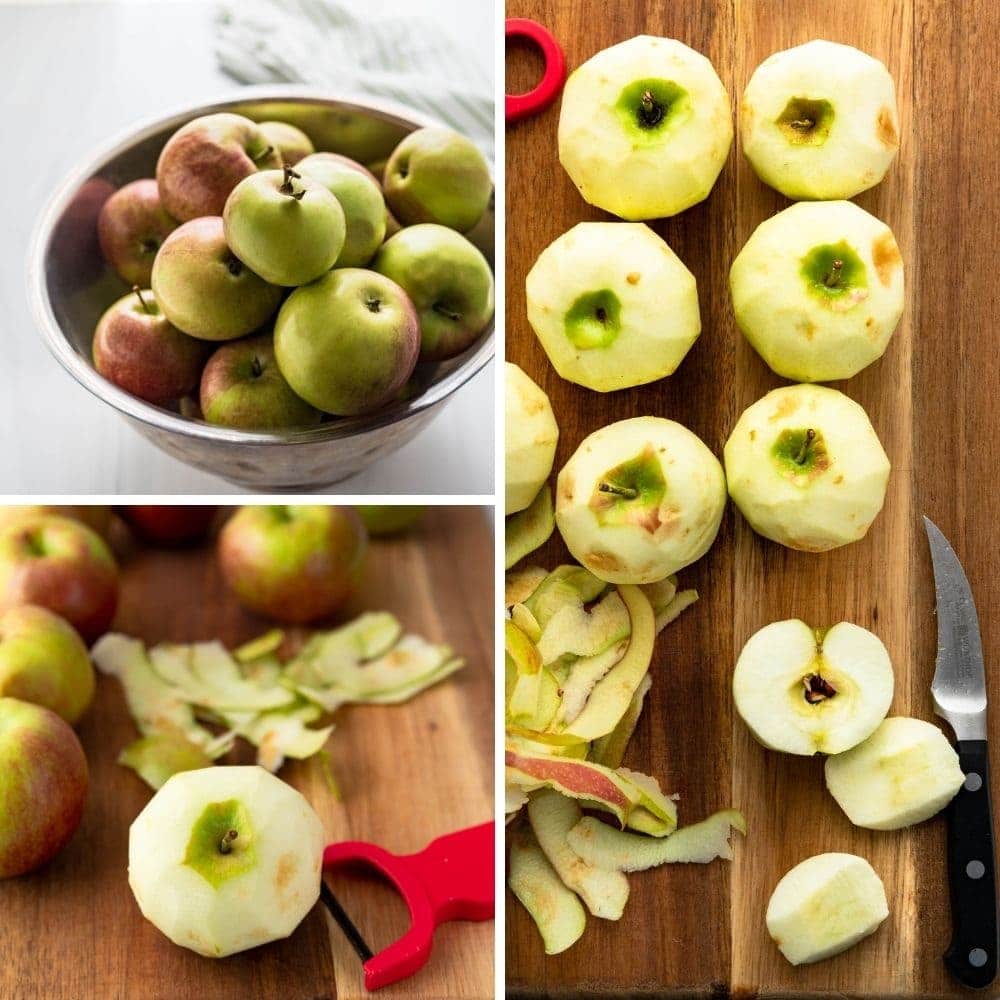 What is Apple Pumpkin Butter?
It's a cross between apple butter and pumpkin butter. Frankly, I'm not sure it's even a "thing" but flavor-wise, it works. This spread isn't as heavily spiced as a most pumpkin jams or as sweet as traditional apple butters. In my opinion is a nicely balanced blend of both.
Ingredients for spiced fall fruit spread
Apples (I used McIntosh)
Pumpkin Purée (homemade or store-bought)
Bourbon
Lemon Juice
Water
Maple Syrup
Cinnamon
Ground Ginger
Allspice
Ground Nutmeg
This recipe swaps pure maple syrup for the typical refined sugars found in most fruit spreads, allowing the natural flavors of pumpkin and apple to really shine through. Maple syrup is more rich and distinctive than plain sugar as well, giving this simple fruit spread even more layers of flavor.
Best apples for apple butter
I recommend using apples that cook down quickly for this recipe. My personal preference are McIntosh apples (check out my McIntosh applesauce) because they fall apart easily when cooked and the flavor is sweet, tart, and distinctive.
Check out this guide for the best apples for homemade applesauce (and apple butter)
ProTip: If you use a firmer apple, you may need to cook them for 5 minutes longer in the Instant Pot or up to 10-12 minutes longer on the stovetop.
Obviously, the better the fruit tastes, the better the spread will be, so be sure to use an apple variety you enjoy.
Don't worry if your apples have a few blemishes or bruises on them, the fruit spread be pureed, anyway and no one will notice.
Can I use canned pumpkin?
Yes. Just be sure not to use pumpkin pie filling — it's not the same thing. If you've got the time, try it with homemade pumpkin puree. The flavor is similar but the color is brighter and sunnier.
3 ways to cook fruit butter
You can use any method you choose to simmer and concentrate the pumpkin and apple for the fruit butter. Here's a breakdown of each cooking option.
Stovetop:
The stovetop requires a little more babysitting than a pressure cooker or slow cooker, because it should be stirred occasionally, but you can monitor the progress of the fruit spread simply by lifting the lid and taking a peak (which I like) plus, the whole house smells wonderful as it cooks. Moreover, you can easily halve the recipe if you don't want to make as much. Just use a smaller saucepan to simmer the fruit.
Instant Pot
Theoretically, the Instant Pot method cooks fastest, but when you take into account the time it takes to build up the pressure in the pressure cooker and release pressure when it's done cooking — I'd call it about equal with the stovetop method. That said, you won't have to stir it as it cooks. If you love your Instant Pot, use it (I've included instructions). Do not halve the recipe if using the Instant Pot. With half the ingredients, the fruit can scorch more easily because there's less liquid in the cooker. It needs a full batch to work.
Slow Cooker
You can also cook down the apple and pumpkin spread in a slow cooker. Just combine all the ingredients, set it low and cook for 6-8 hours. Again, you would want to make a full batch because most slow cookers hold a big volume. The bonus here is that you can stir and monitor the progress of the apples breaking down (each type of apple cooks a little differently depending on water content and its structure). The slow cooker also has the added benefit of making the house smell warm and cozy.
How to make apple pumpkin butter
Combine ingredients and cook down until the apples get soft and fall apart easily. (Choose the method that works best for you, above).
Puree the fruit until smooth (with an immersion blender or in a food processor or regular blender).
Return the puree to the cooking vessel and simmer until most of the liquid has evaporated. PRO TIP: You can test if the liquid has evaporated by running a wooden spoon across the bottom of the cooking vessel and seeing how long it takes for the fruit spread to fill the void. (See picture below).
Cool to room temperature and store in a sealed container in the refrigerator for up to 3 weeks.
What does pumpkin and apple fruit spread taste like?
This fruity jam tastes like fall. It's a tad tangy, with a back note of rich, smooth pumpkin. The spices enhance the seasonal flavors and are well balanced but not overpowering in the confiture.
How sweet is it?
This recipe uses about half the amount of sweetener (maple syrup instead of sugar) compared to other apple and pumpkin butter recipes out there. This swap makes the fruit spread lightly sweet instead of cloying with a flavor that's irresistible.
Does it taste like bourbon?
No. The bourbon gives this pumpkin jam a more complex profile. That said, the alcohol cooks off and you can't taste the bourbon as an individual ingredient. Instead it blends cohesively in the fruit spread.
What can I do with pumpkin apple butter?
Great with Grandma's Puff Fry Bread
Swirl it into yogurt.
Use a few spoonfuls to flavor oatmeal.
Serve it with sliced English cheddar cheese and crackers for an appetizer.
Use instead of jelly for your next PB&J.
Make a pumpkin apple grilled cheese by spreading 2-3 tablespoons on sourdough bread and topping with a few slices of White American or Cheddar cheese. Toast in a cast iron pan or on a panini press.
Serve instead of cranberry sauce with your holiday turkey or ham.
FAQ'S
What's the difference between applesauce and apple butter?
Apple butter is really just a concentration of applesauce with additional spices and seasonings. Typically apple butter has more sugars than applesauce and of course, applesauce is a side dish, where apple butter is a fruit spread like a jam. This pumpkin apple spread is very different from applesauce because of the pumpkin puree, maple syrup and bourbon. You won't find that in a regular applesauce.
What if I avoid alcohol? Do I have to use the bourbon?
No. You can skip the bourbon if you like and replace it with either water or unsweetened apple juice or apple cider.
Does pumpkin apple spread need to be refrigerated?
Yes. Transfer the fruit spread to a sealed jar with a lid and refrigerate. It will keep for up to 3 weeks in the refrigerator. You can also freeze the apple pumpkin butter for up to 3 months.
Can you eat pumpkin apple butter by itself?
Yes, a quick spoonful is delicious, but try some of the other ideas above.

More jams and spreads you might like:
Maple Pumpkin Apple Butter with Bourbon
This easy apple pumpkin butter is lightly spiced, not too sweet, and made with maple syrup instead of sugar. A tasty seasonal fall spread for toast, biscuits and muffins.
ingredients
5

pounds

McIntosh or other quick cooking apples

peeled, quartered and cored

15

ounces

pumpkin puree

not pumpkin pie filling

1/2

cup

bourbon

1

cup

pure maple syrup

2

tablespoon

lemon juice

1/4

cup

water

2

teaspoon

cinnamon

1/2

teaspoon

ground ginger

1/2

teaspoon

ground allspice

1/2

teaspoon

ground nutmeg
instructions
FOR THE INSTANT POT
Add the ingredients to the Instant Pot and stir. Turn on the pressure to high and cook for 12 minutes. Let the pressure naturally fall in the pressure cooker.
FOR THE STOVETOP:
Add the ingredients to a large pot or Dutch oven and stir to combine. Bring to a boil. Reduce heat to a simmer and cook for 20-30 minutes, or until the apples are soft and falling apart, stirring regularly every 5-10 minutes or so.
FOR THE SLOW COOKER:
Add the ingredients to the slow cooker and stir to combine. Turn the slow cooker onto low and cook for 6-8 hours or until the apples are falling apart and very soft, stirring occasinally.
PUREE THE PUMPKIN APPLE BUTTER:
Use an immersion blender to puree the apples and pumpkin mixture until smooth. (If you don't have an immersion blender, you can pulse the fruit mixture in a food processor or blender).
CONCENTRATING THE FLAVORS:
IN THE INSTANT POT:
Turn the instant pot to the saute function. Cook, stirring the apple pumpkin butter frequently so it doesn't scorch, until most of the liquid in the apple pumpkin mixture has evaporated and the pumpkin butter has thickened. You can tell if it's thick enough by quickly drawing a wooden spoon along the bottom of the IP so that the pot is visible and the butter doesn't automatically fill in the gap. This can take 15-20 minutes.
ON THE STOVETOP:
This is my preferred method because I'm not crazy about the "saute" function on the IP (I hate the way the cooking vessel spins inside the pressure cooker)– and I have better control on my stovetop. Transfer the pumpkin apple puree to a large pot or dutch oven and add the maple syrup and the remaining bourbon. Stir to combine.

Bring the fruit purée to a moderate simmer, then turn the simmer to low and place the lid partway on the pot so that steam can escape. Simmer until the pumpkin butter thickens and most of the liquid has evaporated, stirring occasionally. You can tell when its done by dragging a wooden spoon quickly across the bottom of the pan, so that it leaves a streak where the pan is visible and doesn't immediately fill back in. About 15 to 20 minutes.
IN THE SLOW COOKER:
Turn the slow cooker to high and cook, stirring regularly until most of the liquid has evaporated and the apple pumpkin spread is thick and concentrated. You can tell when its done by dragging a wooden spoon quicky across the bottom of the slow cooker, so that it leaves a bare streak on the bottom of the slow cooker. It should take a few seconds for the fruit to slide back into the streak to fill the void.
STORAGE:
Cool to room temperature and transfer to airtight containers with a tight fitting lid. Refrigerate. I like using glass jars with screw on lids. Pumpkin apple butter will last for up to 3 weeks in the refrigerator or can be frozen in small batches for up to 3 months. Do not freeze in glass jars, only in plastic containers.

Serve over toast, biscuits and muffins.
Notes
Makes about 3-4 cups of pumpkin apple butter. Each serving is about 2-3 tablespoons.
Nutrition
Calories:
98
kcal
|
Carbohydrates:
22
g
|
Protein:
1
g
|
Fat:
1
g
|
Saturated Fat:
1
g
|
Sodium:
2
mg
|
Potassium:
131
mg
|
Fiber:
2
g
|
Sugar:
18
g
|
Vitamin A:
58
IU
|
Vitamin C:
5
mg
|
Calcium:
22
mg
|
Iron:
1
mg
Pin "Easy Homemade Pumpkin Apple Butter" for later!