This quick and easy red berry chia seed jam only needs 10 minutes of cooking time to make a tasty, fresh, light and healthy spread for your favorite toasts, biscuits, yogurts and oatmeal. No special equipment needed for this simple fruity confiture. I used strawberries and raspberries, but you can use whatever fresh berries you like for your chia seed jam.
The beauty of chia seed jam
I don't do a lot of canning or preserving. Or should I say any. Maybe it's because I've never had a garden that overwhelmed me with its bounty, thus — I've never had a need to learn this crafty skill. And I don't need to for a homemade chia seed jam. The chia seeds do the heavy lifting for me.
Ingredients for fresh berry jam
Strawberries
Raspberries
Orange Juice
Lemon Juice
Honey
Sugar
Chia Seeds
How long will fresh chia seed jam last?
This is more of a "fresh fruit jam" – and will last about 2 weeks in the fridge. Sorry, it won't last till next spring in your refrigerator but it's not meant to. This sweet-tart blend is for eating right now. And if you make enough – you can gift it too – just remind your recipient to put it in the fridge and not on the pantry shelf.
What I like about this, aside from the very berry fruit forwardness and the natural thickening of the chia seeds, is my ability to control the amount of sweetness in the jam. I used honey and a little regular sugar, but you could use one or the other. And when I say simple, I mean it.
How to make chia seed jam with fresh berries
Cook down the fruit with a little orange juice, until it gets saucy.
Transfer the fruit to a blender and add your sweeteners and a squeeze of lemon and whir it up in the blender.
…and, that's it. Well, put it in the fridge to thicken… and THAT'S IT.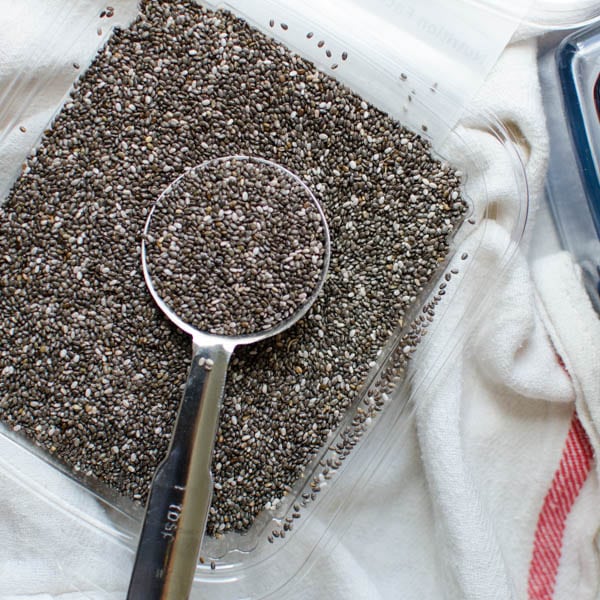 Are chia seeds healthy?
Yes! In fact, I added chia seeds at this point for two reasons – the first were the health benefits.
Chia has fiber, protein and omega-3 fatty acids, zinc, potassium, plus they're naturally gluten-free.
Chia seeds as a natural thickener
The second (and the real reason I added them), when chia seeds are added to liquid, they take on a kind of gloopy quality (that's the fiber – think Metamucil) which is kind of gross except, hello – we're talking about jam here. It's supposed to be jelled! Since I didn't add any pectin to this fruit, it needs something to act as a binder and thickener. Ta-da! Behold, the Chia seed! Read more about how chia seeds thicken in this article.
Now, just so I don't set unrealistic expectations – though chia seeds are thickeners, this fresh fruit jam is definitely looser than the store bought stuff, but it will thicken as you refrigerate it. I also think it has more versatility than just plain-old, pigeon-holed jam.
What can I do with fresh fruit chia jam?
It's tasty on your toast or muffin
Love it swirled it into yogurt
As a topping for pound cake with whipped cream
Or sandwiched between hazelnut shortbread cookies for a tarty-fruit bite.
And if there's any left, wrap a bow around the jars and give some as holiday gifts – so other people can fight over the last of it.
More homemade jams, fillings and spreads you might like: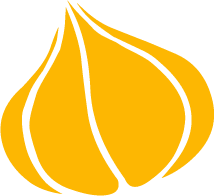 Tried this recipe? Leave a rating and review.
Your comments and shares are invaluable to me and the thousands of readers who use this site daily. If you've made the recipe, leave a star rating and review. We want to hear how you liked it.
We'd love it if you shared the recipe with your friends on social media!
Red Berry Chia Jam
This fresh jam doesn't use pectin — the chia seeds help to thicken it!
INGREDIENTS:
16

ounces

strawberries

hulled, cut into quarters

6

ounces

raspberries

2

tablespoons

orange juice

optional

2

tablespoons

lemon juice

2

tablespoons

honey

1

tablespoon

sugar

2

tablespoons +1 teaspoon

chia seeds
DIRECTIONS:
In a heavy bottomed saucepan, heat the strawberries, raspberries and orange juice over medium high heat until the fruit starts to break down and soften, about 5-10 minutes. Remove from heat and transfer the fruit to a food processor or blender. Pulse 2-3 times to process the fruit. Add the lemon juice, honey and sugar and pulse 2-3 times to combine.

Set aside for about 5 minutes to cool slightly. Add the chia seeds and pulse 2-3 more times to combine.

Using a funnel, transfer the jam to clean storage jars. Let jam cool to room temperature, then seal the jars and refrigerate.

Spoon jam onto toast, into yogurt or on sponge cake.
NUTRITION:
Calories:
37
kcal
|
Carbohydrates:
7
g
|
Potassium:
72
mg
|
Fiber:
2
g
|
Sugar:
4
g
|
Vitamin A:
10
IU
|
Vitamin C:
21.2
mg
|
Calcium:
21
mg
|
Iron:
0.4
mg
Don't Forget To "Pin It" For Later!