Here's a deliciously different Pumpkin Cranberry Bread. Instead of a quick bread, this yeast pumpkin bread is leavened with yeast and studded with dried and fresh cranberries plus crunchy nuts. This pumpkin walnut bread is a delicious fall bread treat and great for morning toast with a smear of butter.
You are probably all pumpkin bread-ed out by this point, right? I understand. There's only so much holiday spice one person can take. So actually, this recipe is well-timed for two reasons. First, we just finished the last of Aunt Lynne's Famous Pumpkin Bread. Second, this isn't your typical sweet-pumpkin-bomb. This Pumpkin Cranberry Bread (not to be confused with my cranberry nut pumpkin loaves) is a pumpkin yeast bread – more like your favorite raisin bread than the typical sugary bites offered during the holidays.
This bread is definitely less sweet, but with a homey childhood aroma, that I can't quite put my finger on. They say that the sense of smell is closely linked with memory — more so than any of our other senses. All I know is that as these pumpkin walnut loaves were baking, I was transported to my 8-year-old self.
Anyway, the dough for the pumpkin cranberry bread is relatively simple to make, but because of the rises – it does take some time. Make the dough on one day, and let it rise and then form it and bake it the next day. (If you're looking for a quick bread, try one of the loaves I mentioned above.)
3 Fruits For Pumpkin Walnut Bread
This bread has the advantage of fresh cranberries, which pop and ooze their puckery goodness into pockets of the bread as well as dried cranberries and sweet golden raisins. The walnuts add that little bit of crunch – which for me is a must (but if you're not inclined, you can certainly skip).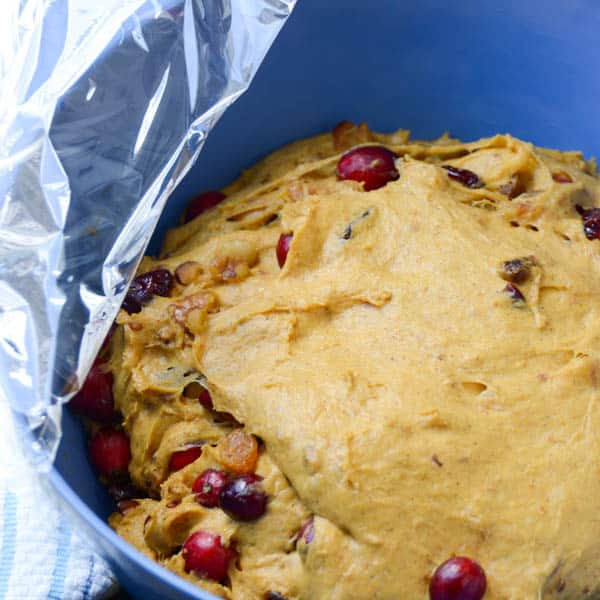 Yeast Pumpkin Bread Dough Rises Overnight
After the dough has rested overnight, prep it on the counter by divvying it up into 3 sections. Form each section of pumpkin cranberry bread dough into a rectangle with the long side measuring the length of your baking pan and roll them into a log. (See photo below).
Then plunk them in the pans and bake! The chewy bread, dotted with tart, sweet and crunchy is sublime. Great right from the oven but I like mine toasted.
More Pumpkin Bread Recipes:
More Yeast Bread Recipes:
Pumpkin Cranberry Walnut Bread
Begin making this bread the day before as it requires overnight resting before the second rise and bake the next day.
ingredients
2 2/3

to 3 cups bread flour

1

teaspoon

cinnamon

1/2

teaspoon

nutmeg

1/2

teaspoon

salt

2

tablespoons

tepid water

80-90 degrees

1

package

active dry yeast

5

tablespoons

unsalted butter

at room temperature

1/3

cup

sugar

1

cup

pumpkin puree

homemade or canned (not pumpkin pie filling)

1

large

egg

at room temperature

3/4

cup

walnuts

toasted, chopped

1/2

cup

golden raisins

1/2

cup

dried cranberries

2/3

cup

fresh cranberries
instructions
Whisk 2 2/3 cup of flour with the cinnamon, nutmeg and salt and set aside.

Pour the water into a small bowl and sprinkle the yeast on top of it. Whisk with a fork and set aside until creamy - about 5 minutes.

In a stand mixer with the paddle attachment cream the butter and sugar together on medium speed. Add the pumpkin and egg and beat until blended. Mixture will look curdled.

Set the mixer to low and add the yeast, then add the flour mixture 1/2 cup at a time until it starts to form a dough and comes together. Scrape the dough off the paddle and switch it out for the dough hook. (If your dough doesn't come together, add 1-2 more tablespoons of flour).

Mix /kneed on a medium low speed for 10-15 minutes, scraping the sides and hook occasionally with a rubber spatula. Dough will be soft and sticky. Add the walnuts, raisins and dried cranberries and mix on low to combine it with the dough, about 1 minute. Add the fresh cranberries and mix gently just to incorporate.

Scrape the dough into a lightly oiled bowl, cover tightly with plastic wrap and let rise for 2 hours or until doubled in size.

When the dough has doubled, fold it over on itself a few times to deflate, wrap it tightly and refrigerate overnight.

At least 6 hours before you want to begin baking, remove the dough from the refrigerator and let it come to 64 degrees on an instant read thermometer (about 3-4 hours). Dough will be a little cool and spongy.

Lightly butter three 5 3/4 x 3 1/4 x 2 inch loaf pans.

Working on a lightly floured surface, divide the dough into three equal pieces and pat each into a 5x7 rectangle. Starting at the short end, roll the dough toward you and seal the seam by pressing it with your fingertips. Place each roll, seam side down into the pans.

Cover the pans lightly with a kitchen towel and allow to rise at room temperature for 1 1/2 to 2 hours or until nearly doubled in size.

Place the oven rack in the center of the oven and preheat the oven to 350 degrees. Bake the loaves for about 35 minutes or until deep golden brown. Remove from the oven and cool on a rack for 5 minutes before turning the breads out of the pans to cool completely.
Nutrition
Calories:
163
kcal
|
Carbohydrates:
18
g
|
Protein:
2
g
|
Fat:
10
g
|
Saturated Fat:
3
g
|
Cholesterol:
28
mg
|
Sodium:
105
mg
|
Potassium:
135
mg
|
Fiber:
2
g
|
Sugar:
13
g
|
Vitamin A:
3345
IU
|
Vitamin C:
1.9
mg
|
Calcium:
21
mg
|
Iron:
0.7
mg
Pin "Pumpkin Cranberry Bread" For Later!