Who doesn't love a basket full of soft dinner rolls on the table? Rolls with a little crust and a tender crumb. Buttery, rich and light. When you make this garlic herb parker house rolls recipe, the meal feels special. So whether you're making these easy homemade yeast rolls for a holiday meal or just a special weekend dinner, your guests will appreciate the effort.
Updated Recipe For Easy Homemade Yeast Rolls
This recipe has been updated since its original post in 2015. I've come across an easier technique for forming the rolls which I had to share with you — and the dough for this garlic herb parker house rolls recipe is a dream to work with, making some of the best dinner rolls we've had in a while. The recipe starts with the garlic herb mixture, gently bathed in melted butter until fragrant and then mixed with warmed milk and a farm fresh egg. Make sure the wet ingredients aren't hotter than 115° — you don't want to risk killing the yeast in the next step.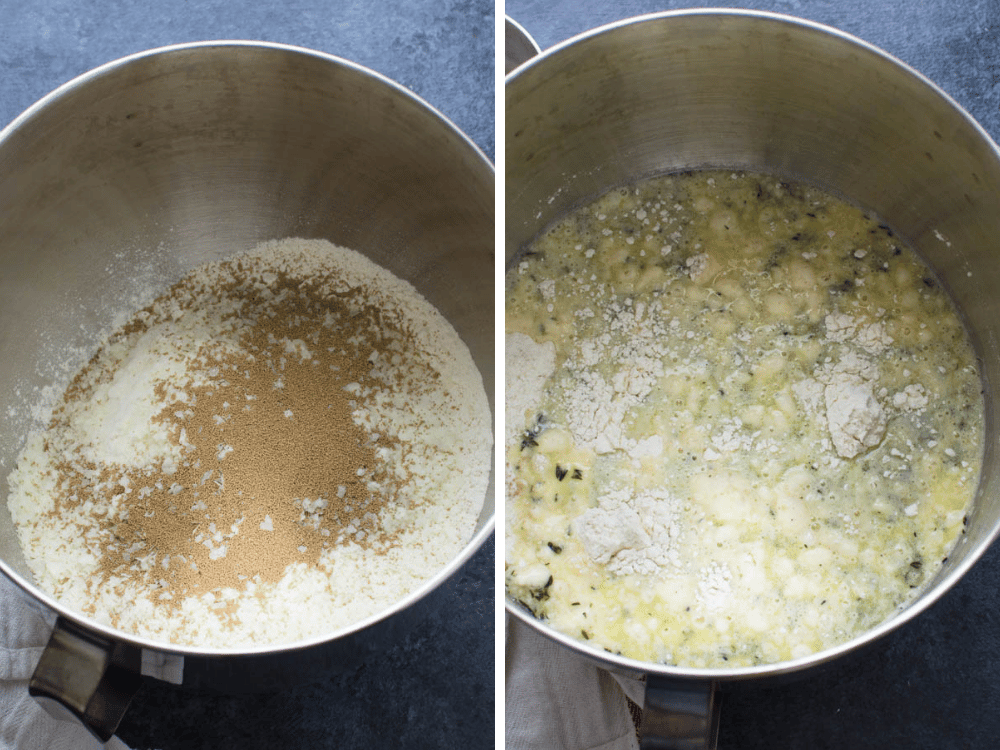 Combine the flour with salt, sugar and yeast (Note: This recipe uses slightly more than 1 packet of yeast) and mix in the wet ingredients. Use a stand mixer with a dough hook to mix and knead the dough for these easy homemade yeast rolls about seven minutes.
If you're making them by hand, knead the dough for about ten minutes, or until smooth and elastic. It takes about 90 minutes for the dough to rise the first time.
In the original Parker House rolls recipe, the directions call for cutting the rolls into rounds, buttering them liberally and then folding them over onto themselves and arranging in a pan. It's a messy, finicky, cuss-inducing endeavor. So when I found this technique, (by King Arthur Flour) I was intrigued and had to try it.
Easier Method To Make Parker House Rolls Recipe:
Instead of fussing with rounds of dough, roll or pat half of the dough into an 8″ x 12″ rectangle — get our your ruler…
Use a pizza cutter to cut the dough in half, vertically.
Brush the top of the dough with melted butter.
Fold the dough over on itself, leaving about a 1/4″ – 1/2″ gap.
Use the pizza cutter to slice the rolls into 3″ rolls.
Repeat with the other half of the dough.
Arrange in a 13 x 9″ pan with the long end of the rolls running the length of the pan.
Cover and let rise for an additional 45-60 minutes.
Bake.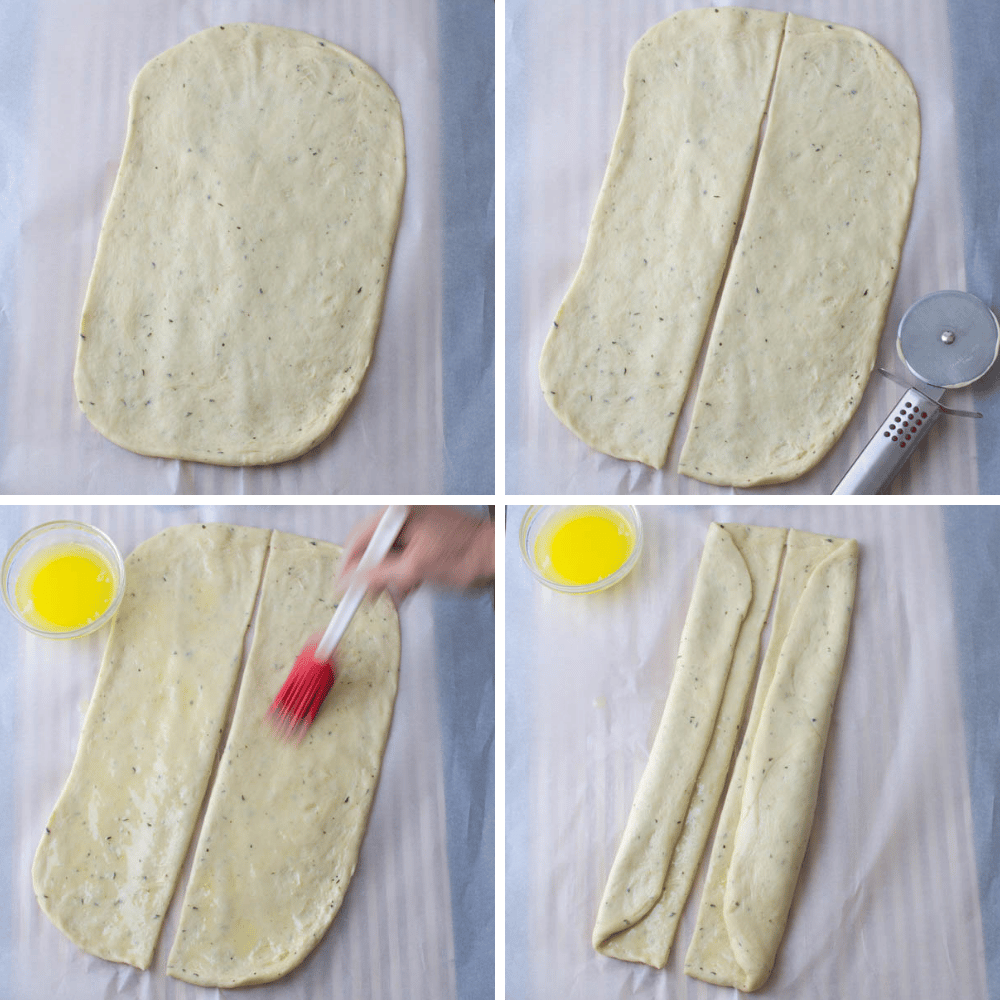 I love using the pizza cutter when working with pastry, like in this Raspberry Cream Cheese Braid from last Christmas. It's essentially an extension of your hand and unlike working with a knife, there's no pull and tug on the dough when you slice. Letting the dough rise a second time ensures soft dinner rolls that are tender and lush.
I'm completely sold on this technique and oh-ma-GAWD… it makes the best dinner rolls. While the rolls may not be completely uniform, that's part of their charm and a tell-tale sign that you've made the effort to make dinner rolls from scratch.
After baking the parker house rolls recipe, brush on more butter for a simple finish (or if you want more a garlic herb forward roll add more garlic and herbs to the melted butter before brushing it over the top of the hot rolls).
This is good eating! And if you like these dinner rolls, I'm betting you'll also want to check out my Homemade Crescent Rolls! Or these easy no yeast, no knead Cheddar Chive Popovers. Enjoy!
Garlic & Zest is a participant in the Amazon Services LLC Associates Program an affiliate advertising program designed to provide a means for sites to earn advertising fees by advertising and linking to Amazon.com.
Garlic Thyme Parker House Rolls
Who doesn't love a yeasty roll with dinner? These are rich and buttery, flaky and tender. It takes a bit of finagling with the dough and butter, but if they don't look perfect, who cares?
ingredients
3

tablespoons

unsalted butter

2

cloves

garlic

minced

1

tablespoon

fresh herbs

chopped (I used thyme, but you can also use rosemary or sage)

1

cup

milk

1

large

egg

3

cups

unbleached all purpose flour

2 1/2

teaspoons

instant yeast

(that's one package of yeast + 1/4 teaspoon)

3/4

cup

instant mashed potato flakes

1 1/4

teaspoons

salt

3

tablespoons

sugar

4

tablespoons

melted butter

divided

2

cloves

garlic

minced (optional)

1

teaspoon

fresh thyme

minced (optional)
instructions
Add the butter, garlic and thyme to a small skillet. Heat over medium low to medium heat until butter melts and is a little bubbly and thyme and garlic are fragrant. (don't brown the garlic). Remove from heat and let cool.

In the mixing bowl of a stand mixer or large mixing bowl, combine the flour, yeast, potato flakes, salt and sugar. Whisk to combine and set aside.

Add the milk to a 2 cup glass measuring cup and microwave in 30 second bursts to take the chill off the milk. (You don't want the milk to go over 115 degrees otherwise, it could kill the yeast.)

Add the butter mixture and egg to the milk and whisk to combine.

Pour the milk mixture into the flour mixture and mix together until combined. Knead for 7 minutes if using a dough hook and stand mixer or knead for 10 minutes by hand, until dough is smooth.

Transfer dough to a lightly greased bowl and cover with a clean dish towel. Let rise for 90 minutes.

Divide the dough in half.

On a lightly greased work surface, roll or pat the dough into a 8" x 12"rectangle.

Use a pizza cutter to cut that dough in half to form two 4" x 12" rectangles.

Brush the dough with 3/4 tablespoons of the melted butter, then gently fold one half of the dough over the other, vertically, leaving the bottom dough protruding about 1/2" more than the top.

Do the same with the other rectangle of dough.

Use the pizza cutter to cut the rectangles into 3" lengths. Arrange the dough in a lightly greased 13 x 9" pan so that the longer edge of the rolls goes along the longer edge of the pan. Repeat with the other half of the dough. and fill the rest of the pan with the remainder of the rolls so there are 4 rows of 4 rolls each. Lightly brush the tops of the rolls with 3/4 tablespoon melted butter

Cover with a dish towel and let rise an additional 45 minutes to an hour. Towards the end of the rise, preheat the oven to 350°.

Bake the rolls for 20-25 minutes or until golden brown.
FINISHING GARLIC HERB PARKER HOUSE ROLLS RECIPE:
Traditional Parker House rolls are brushed with melted butter just before serving. (That's what I've done here)

For more garlic herb flavor on the soft dinner rolls, melt the butter in a pan over medium low heat and add the additional chopped garlic and thyme. Cook for about a minute, just to soften the garlic and take away some of the bite, then brush the garlic herb butter over the hot rolls and serve.
Nutrition
Calories:
168
kcal
|
Carbohydrates:
24
g
|
Protein:
4
g
|
Fat:
6
g
|
Saturated Fat:
3
g
|
Cholesterol:
26
mg
|
Sodium:
222
mg
|
Potassium:
100
mg
|
Fiber:
1
g
|
Sugar:
3
g
|
Vitamin A:
215
IU
|
Vitamin C:
3.1
mg
|
Calcium:
27
mg
|
Iron:
1.3
mg
Pin "Garlic Herb Parker House Rolls Recipe" For Later!
More Soft Dinner Rolls: