Want a quick and easy skillet dinner recipe? This simple sauerkraut and sausage recipe makes a hearty, flavorful skillet dinner that's ready in about 30 minutes. I borrowed some of the hallmark methods of a traditional French Choucroute Garnie for this sausage sauerkraut blend. For instance, the tart and tangy sauerkraut is moderated with chopped apple, caraway seeds, chicken broth and a little white wine, so the flavors are softer. I used bratwurst for this one pan meal, but you can swap out your favorite sausages with this simple skillet sauerkraut and potatoes recipe.
What is choucroute?
This simple skillet dinner is a riff on the classic French choucroute my grandmother used to make. Choucroute Garni is a classic Alsatian dish made with assorted spare ribs, sausages and pork cuts, cooked slowly with mounds of sauerkraut and potatoes. If those ingredients make you think of German food, consider that Alsace sits on the border with Germany, so it's no surprise that these regional flavors are show up in both locales. A traditional choucroute recipe is a real production and when my grandmother prepared hers, it was a feast for the whole family. This sausage sauerkraut skillet dinner is much more manageable (serves 4) and is perfect for busy weeknights.
Ingredients for sausage sauerkraut skillet
Bratwurst (or other sausage)
Sauerkraut
Potatoes
Apple
Olive Oil
Pancetta (or Bacon)
Onion
Caraway Seed
White Wine
Kosher Salt
Black Pepper
Sauerkraut and sausage choucroute is a traditional fall and winter dish and it's one I make at least twice a season. You start by layering the flavors in the skillet.
How to make a one-pan sauerkraut and sausage skillet dinner
Heat the olive oil in the skillet and add the pancetta (or bacon) until it crisps and the fat is rendered.
Remove the pancetta and add the sausages to the skillet and cook to get a nice brown sear on them. (They don't have to cook fully through at this point, because they'll cook fully later on.)
Remove the bratwurst and add the onions and potatoes and cook until the onions are tender and potatoes start to take on some color.
Rinse and drain the sauerkraut very well and add it to the potatoes along with the broth, white wine and caraway seed.
Return the sausages to the skillet with sauerkraut and potatoes and bring to a boil, then reduce heat, cover the skillet with a lid and simmer for 15 minutes.
Good for sauerkraut haters
My husband never liked sauerkraut… not even on a hot dog, but when he had my grandmother's sauerkraut and sausage choucroute recipe, it surprised him how much he enjoyed it. I know many people who aren't too crazy about sauerkraut, but I think that's because they've never had it prepared like this.
How to make sauerkraut less sour-krauty
The key to a mild, flavorful kraut is rinsing the sauerkraut under running water and draining it very well. This step washes away the salty, tangy brine and will automatically give the pickled cabbage a softer flavor. Combine that with the chicken broth and white wine and the flavors meld together perfectly. It's not harsh and acerbic the way you might be used to — and that makes all the difference.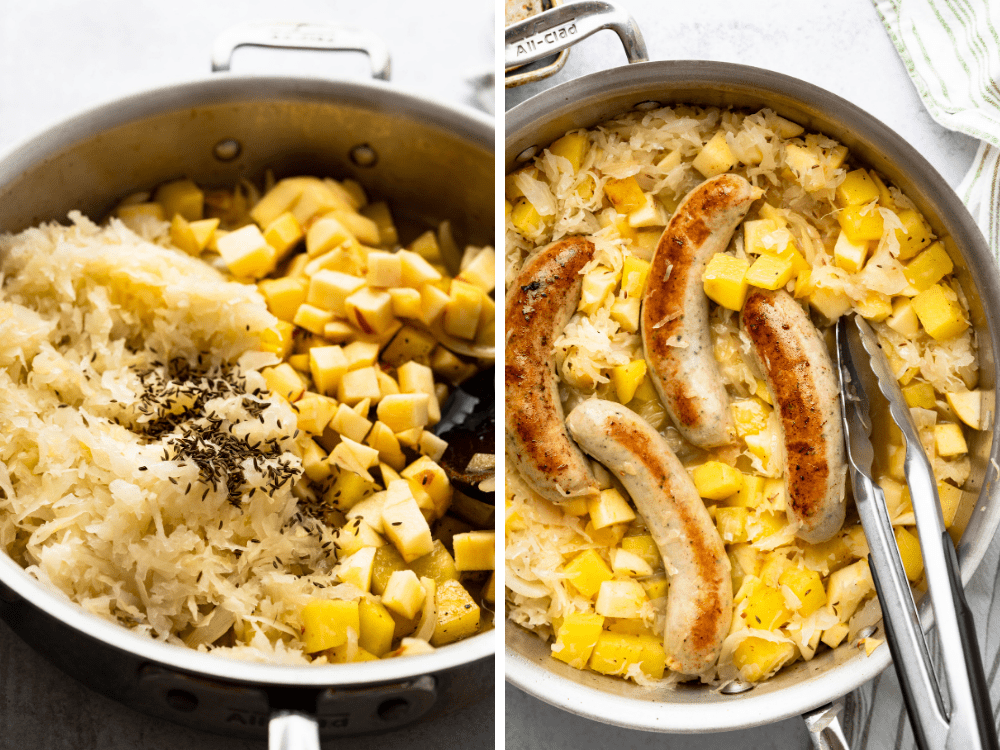 About sausage
I recommend using a classic German bratwurst for this one pan dinner. Bratwurst is a finely minced, mild pork or veal sausage that's traditionally flavored with ginger, coriander and caraway. The mild, meaty flavor of brats is delicious in this combination. That said, you can use other sausage varieties — anything from a smoked beef sausage to a polish kielbasa would work well.
Can I use italian sausage?
No. Avoid using Italian sausage in this recipe, it will clash with the sauerkraut and apples. Smoky sausages are the best in this skillet meal. Save the Italian sausage for your next ragout.
What goes with sauerkraut and sausage skillet dinner?
Mustard. In the same way that mustard pairs with hot dogs, it's a classic combo for this one-pan choucroute supper. Since this dish has its roots in France, a French brown mustard that's spiked with white wine and whole mustard seed would be my first choice. Otherwise, look for a spicy brown or pommery variety, even ones spiked with horseradish for more kick. Yes, you can use plain yellow mustard too. If you're diners have different tastes, put out several varieties and let them choose.
Rustic is code for casual
Because this is meant to be a rustic, mid-week skillet dinner, I usually bring the pan right to the table to serve. Sprinkle on the crispy pancetta (or bacon bits) and dig in. This warm, cozy fall meal will surprise you with its heartiness and simplicity. It may not be much to look at, but trust me, the flavor is THERE.
Other one pan and skillet dinner recipes you might like:
Skillet Choucroute
A quick and easy 30 minute meal that's ideal for Fall and winter.
equipment
10 to 12" skillet with lid
ingredients
1

tablespoon

olive oil

2

ounces

pancetta

diced

1

medium

onion

peeled and thinly sliced from root to tip

1

pound

bratwurst sausages

can substitute other smoked sausage, but avoid Italian sausage.

1

pound

potatoes

can use yukon, white or red potatoes, peeled and 1/2" dice

1/2

teaspoon

kosher salt

1/4

teaspoon

black pepper

1

medium

apple

peeled and diced into 1/2" dice

1 1/2

teaspoons

caraway seed

1

pound

sauerkraut

preferably the refrigerated kind in the pouch

1/2

cup

chicken broth

1/2

cup

dry white wine
SERVE WITH:
pommery or whole grain mustard
instructions
Heat the olive oil over medium high heat in the skillet until very hot. Add the pancetta and cook, stirring occasionally until crisp and has rendered its fat. Transfer the pancetta to a small dish lined with paper towels to drain.

Place the sauerkraut in a strainer and rinse well with cold running water. Lightly press on the sauerkraut to force out any excess liquid. Set aside.

Carefully place the bratwurst into the hot skillet and cook for 3-5 minutes, flipping occasionally until the sausages are browned (they don't have to be fully cooked yet, because they're going back in the pan to simmer). Transfer the sausage to a sheet pan.

Add the onions and potatoes to the pan. Season with salt and pepper and cook for 4-6 minutes until the onions soften and the mixture is fragrant. Add the apples, caraway seed, sauerkraut, white wine and chicken broth. Stir to combine.

Transfer the sausages back to the skillet and nestle them into the sauerkraut mixture. Bring to a boil, then reduce heat to a simmer. Cover and cook for 15 minutes.

Serve with pommery mustard. Great with a crusty piece of bread, European butter or a semi soft cheese like Port Salut or Chaumes and chilled (Alsatian) white wine.
Nutrition
Calories:
553
kcal
|
Carbohydrates:
18
g
|
Protein:
19
g
|
Fat:
43
g
|
Saturated Fat:
14
g
|
Cholesterol:
93
mg
|
Sodium:
2204
mg
|
Potassium:
759
mg
|
Fiber:
5
g
|
Sugar:
8
g
|
Vitamin A:
45
IU
|
Vitamin C:
23
mg
|
Calcium:
83
mg
|
Iron:
3
mg
Pin "Sausage Sauerkraut Skillet Dinner" for later!