Pan Roasted Dijon Chicken Breasts
If you've been searching for a moist chicken breast recipe, then these Pan Roasted Chicken Breasts will deliver. Augmented with oven roasted vegetables and an easy dijon sauce, it's the best baked chicken breast I've had without going to a restaurant.
Chicken can be tricky when you're baking it. It can get rubbery or worse… dry. My moist chicken breast recipe uses a time honored technique of searing the chicken (essentially sealing in the juices) on the stove top then roasting it in a very hot oven — to cook it through. These Pan Roasted Chicken breasts with savory Dijon Sauce are moist and flavorful every time.
On those rare occasions when I actually go out for dinner, I am always drawn to those simple comfort foods — like a piece of roast chicken with a simple sauce. Then I rethink my decision because — chicken? Really? I can make that at home. But too often, I don't do it like the restaurants. I'll do grilled, souped, braised — but not a simple pan roast. Ironically one of the easiest way to prepare chicken. These Pan Roasted Chicken Breasts with Dijon Sauce are easy to make and taste like you're dining out.
Chicken with wine sauce is a French-inspired dish that starts with seasoning. Kosher salt and pepper along with a healthy dose of Herbes de Provence is a savory blend of herbs including oregano, thyme, basil, sage, rosemary, savory and of course, lavender grown in Provence, a sun-drenched region in Southeastern France that borders Italy and the Mediterranean Sea (#doesntsuck).
For you, I admit, I went a bit fancy and carved my chicken in airline cuts — essentially a skin-on boneless chicken breast with the drumstick portion of the wing still attached. To me, this is the heighth of chicken sophistication. You can eat the entirety of the chicken breast including the crispy skin without having to be bothered with the bones — and then there's that bonus chunk of dark meat on that little drumette — best baked chicken breast ever. Ask your butcher to do this for you, or break down your own chicken (I did) for an elegant presentation. If you don't have the time or temerity for that — just use a skin-on, boneless chicken breast.
Steps For Searing Pan Roasted Chicken Breasts:
Coat the chicken breasts with the seasoning and heat up your skillet. The trick to pan roasting is to get a good sear on the chicken before finishing it off in a hot oven. That means you start with a screaming hot pan… before the chicken ever touches it. The oil should immediately moiré and slick across the pan — not quite smoking, but close. That's how you know it's ready.
The next step is to put the chicken in the pan and LEAVE IT ALONE. Don't futz. Don't poke. Don't prod. Leave it ALONE. Let the fat render while the skin crisps. When it's ready to be flipped, it'll let you know by releasing from the pan.
Flip the chicken breasts and continue cooking for another few minutes.
Transfer the chicken to a plate and add the potatoes and onions, tossing to coat with the oil and rendered chicken fat.
Add sliced lemon and place the chicken back in the skillet on top of the vegetables.
Roast in a hot oven until done.
Transfer the chicken and vegetables to a platter and tent with aluminum foil.
Making Dijon Sauce:
Whisk together the dijon and butter in the hot skillet. (You want to use the same skillet you cooked the chicken in, so you can build upon those flavors).
Add the wine and continue stirring/whisking over a medium – medium-high heat until the liquid is reduced by half.
Add the chicken broth and and whisk to combine.
Add the fresh thyme and simmer until the liquid is reduced by half.
Discard thyme stems and pour sauce over chicken.
To me the best baked chicken breast is a moist chicken breast and this chicken with wine sauce is a recipe that yields flavorful results with a minimum of effort… that's my kind of dinner. If it sounds good to you, try these Pan Roasted Chicken Breasts with Dijon Sauce yourself and let me know how you like it (send me a note with a photo or tag me @garlicandzest, so I can share your creation with other readers in the weekly newsletter! And if you like this one, check out this Citrus Orange Garlic Mojo Chicken — it's a one-pan wonder too!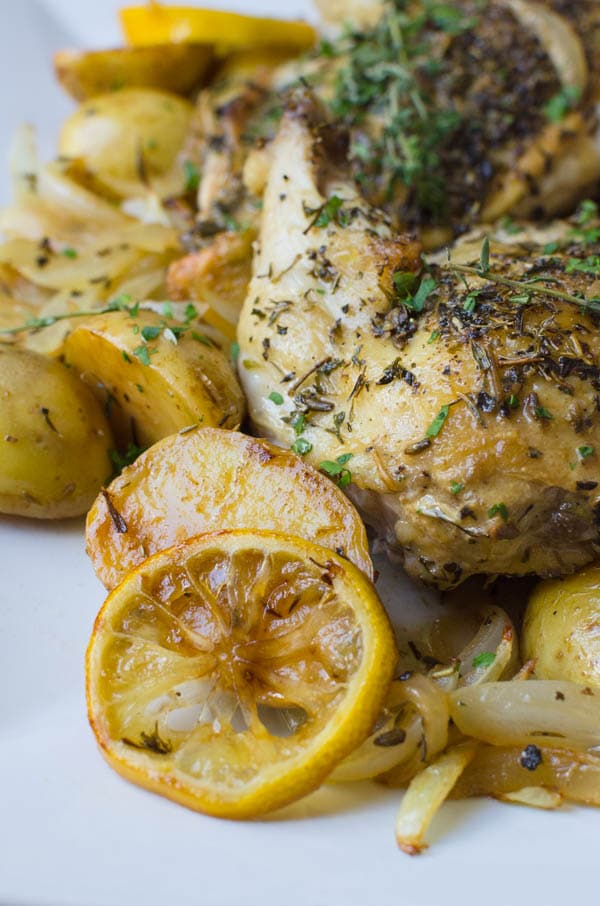 Garlic & Zest is a participant in the Amazon Services LLC Associates Program an affiliate advertising program designed to provide a means for sites to earn advertising fees by advertising and linking to Amazon.com.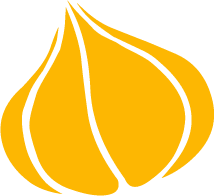 Tried this recipe? Leave a rating and review.
Your comments and shares are invaluable to me and the thousands of readers who use this site daily. If you've made the recipe, leave a star rating and review. We want to hear how you liked it.
We'd love it if you shared the recipe with your friends on social media!
Pan Roasted Chicken Breasts with Dijon Wine Sauce
A quick and easy dinner that tastes much fancier than the prep would lead you to believe.
INGREDIENTS:
2

skin-on, boneless chicken breasts

(preferably airline cut – with the drumstick of the wing still attached)

3

tablespoons

olive oil

divided

1

teaspoon

kosher salt

½

teaspoon

black pepper

1

tablespoon

herbes de provence

1

medium

onion

sliced into thin wedges

½

pound

dutch baby or mini yellow potatoes

1

lemon

thinly sliced

1

tablespoon

butter

1

heaping teaspoon

dijon mustard

¼

cup

white wine

⅔

cup

chicken stock from rotisserie chicken

or low sodium broth

2

tablespoons

parsley

chopped
DIRECTIONS:
Preheat the oven to 425°.

Pat chicken breasts dry with a paper towel. Drizzle 1 tablespoon of the olive oil over the chicken breasts. Season both breasts with the salt and pepper. Sprinkle with Herbes De Provence and press into the flesh of the chicken. Set aside.

Heat a 10″ skillet over medium high heat. Add remaining two tablespoons of olive oil. When oil is hot, but not smoking add the chicken breasts, skin side down. Cook for 3-4 minutes without touching or agitating the chicken. Use a pair of tongs to flip the chicken and continue to cook for an additional 2 minutes. Transfer the chicken to a plate.

Add the onions and potatoes and cook for 3-4 minutes or until onions are slightly softened and start to take on some color. Turn the potatoes, cut side down onto the pan. Add slices of lemon and arrange so the lemon is in contact with the pan's surface.

Place the chicken breasts on top of the vegetables, skin side up and transfer to the hot oven. Roast the chicken for 15-20 minutes or until juices run clear.

Transfer chicken and vegetables to a serving platter and tent with aluminum foil.

Place the pan back on the stovetop over medium high heat (use an oven mitt – (the handle will be 425°). Add the butter and dijon to the pan and whisk to combine. Add the white wine and cook down until reduced by half. Add the chicken broth and simmer until reduced by half.

Drizzle sauce over the chicken and vegetables. Sprinkle with parsley to serve.
RECIPE VIDEO:
NUTRITION:
Calories:
586
kcal
|
Carbohydrates:
28
g
|
Protein:
28
g
|
Fat:
37
g
|
Saturated Fat:
9
g
|
Cholesterol:
87
mg
|
Sodium:
1327
mg
|
Potassium:
917
mg
|
Fiber:
4
g
|
Sugar:
3
g
|
Vitamin A:
680
IU
|
Vitamin C:
34.6
mg
|
Calcium:
82
mg
|
Iron:
4.8
mg
"Pin It" For Later!