Need a delicious simple syrup for fruit salad? This guava flavored simple syrup uses pink guavas, a vanilla bean and cinnamon stick for a delicious guava vanilla simple syrup that's like ambrosia for fruit and balanced in cocktails.
This guava vanilla simple syrup is the jumping off point for a multitude of recipes, so if you've got guavas, get ready and if you don't — find some. My guava syrup has a tropical, seductive nose without being overly cloying. It's a great flavored simple syrup for drinks and desserts.
Why Guava Syrup?
It's that time of year again. Guava season.
Not that guava season is impactful to those living in the Northeast or Midwest or Pacific Northwest — but here in South Florida — specifically at my parent's house in the Keys — guava season is a thing.
It's my fault. I bought them a strawberry guava tree about five years ago — and that tree produces so much fruit that for a solid month or two, Mom's kitchen becomes a guava processing plant — churning out guava jam, guava barbecue sauce, guava puree, guava cheesecake, guava pastries, you name it.
Of course, Mom also bestows shopping bags full guavas on neighbors, friends and ME. So here we are. Brace yourself. This year, I'm starting with a guava vanilla simple syrup, the basis for many summer cocktails, fruit salad dressings, desserts and the like. Before you start any guava recipe, you'll need to peel and seed the fruit. I use a vegetable peeler to remove the skin and scoop the seeds out with a spoon.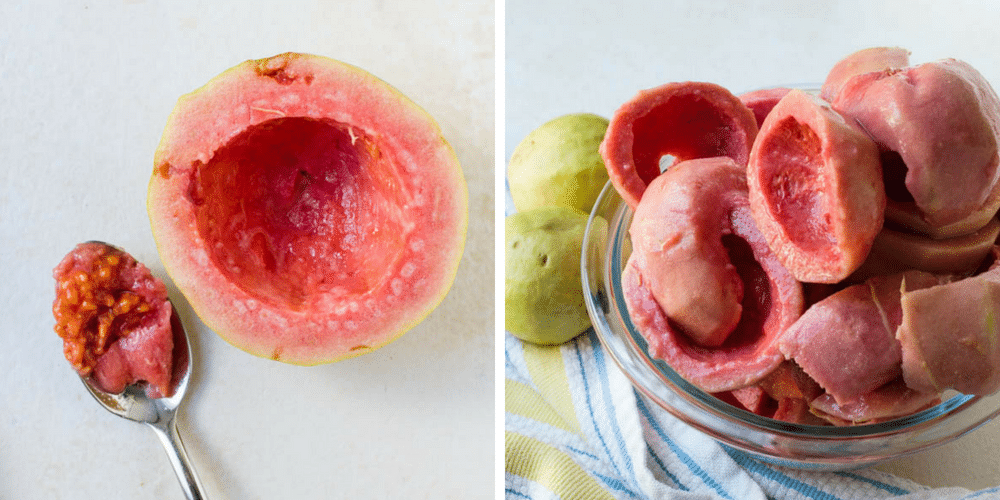 Ingredients:
Fresh Guavas – you need about 1½ pounds – and though I make this with the pink guavas, you can also use the yellow guavas for this simple syrup.
Vanilla Bean – split and seeded (you'll use both for the guava simple syrup)
Cinnamon Stick – don't substitute ground cinnamon, as it would be overwhelming.
Sugar – granulated white sugar is best so that the natural color of the guavas shines through. Brown sugar would turn the hue to a brownish one.
Water – straight from the tap.
How To Make Guava Vanilla Simple Syrup:
Cut the guava into chunks and transfer to a sauce pan.
Split a vanilla bean in half lengthwise and use the back of a knife to scrape out the seeds. Add the vanilla seeds and vanilla bean to the pan.
Add sugar and a cinnamon stick and cover with water.
Bring to a boil, then reduce the heat and simmer for 15 minutes.
Remove from heat and let the syrup steep for an additional 20 minutes.
Strain the guava vanilla simple syrup through a mesh strainer.
Then use a fine mesh strainer to strain the guava syrup a second time, ensuring that there's no pulp or other remnants in the syrup.
Store the guava syrup in an airtight container.
For this flavored simple syrup, don't press on the poached guava or mash it. You want it to stay somewhat intact and just infuse the vanilla simple syrup with it's tropical notes. The pink guava will add a subtle color that's more blonde than pink, unlike that rhubarb ginger simple syrup that was like pantone 485.
Strain the simple syrup twice. The first filter removes the big stuff — chunks of fruit, vanilla and cinnamon stick from the guava syrup.
The second strain, which goes through a much finer sieve, takes away any pulp or stray bits that may have gotten through on the first go-round, eventually leaving you with a lightly perfumed guava vanilla simple syrup that's sweet and tropical. To me, the vanilla in the simple syrup softens and rounds out the guava flavor. In the vein of what grows together goes together, this combination works incredibly well.
Try this guava vanilla simple syrup over a bowl of cut fruit, in this Guava Limeade for a summer refresher or brushed over sponge cake with fresh fruit and whipped cream. There are so many possibilities. What will you make with it?
Another thing: I didn't just toss away that vanilla simple syrup poached guava, so don't get upset with me. Puh-Lease! Instead, it became the base for a unique homemade guava sherbet.
More flavored simple syrup recipes: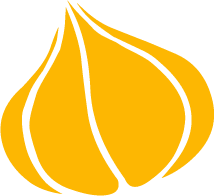 Tried this recipe? Leave a rating and review.
Your comments and shares are invaluable to me and the thousands of readers who use this site daily. If you've made the recipe, leave a star rating and review. We want to hear how you liked it.
We'd love it if you shared the recipe with your friends on social media!
Guava Vanilla Simple Syrup
A tropical simple syrup for cocktails and smoothies, dressing tropical fruits even, drizzled over french toast. What will you use it for?
INGREDIENTS:
1 ½

pounds

ripe pink guavas

about 8

1 ½

cups

sugar

4

cups

water

1

vanilla bean

split and seeds scraped

1

cinnamon stick
DIRECTIONS:
Peel the guavas with a vegetable peeler. Cut them in half, crosswise and use a spoon to scoop out the center portions of the fruit to remove the seeds. Discard the seeds. Cut the guava into 1″ -2″ pieces.

In a large saucepan, combine the guava, sugar, water, vanilla seeds and vanilla bean as well as the cinnamon stick. Bring to a boil, then reduce heat and simmer on medium low for 15 minutes. Remove from heat and let the guava syrup steep for 20 minutes.

Place a large strainer over a large bowl and carefully pour the fruit and simple syrup into the strainer. Reserve fruit for another use.

Set a fine mesh strainer over a large jar and strain the remaining sediment from the simple syrup. Let the syrup come to room temperature and transfer it to a jar with a tight fitting lid. Refrigerate for up to 1 week.
RECIPES USING GUAVA VANILLA SIMPLE SYRUP
NUTRITION:
Calories:
102
kcal
|
Carbohydrates:
25
g
|
Protein:
1
g
|
Sodium:
4
mg
|
Potassium:
177
mg
|
Fiber:
2
g
|
Sugar:
22
g
|
Vitamin A:
265
IU
|
Vitamin C:
97.1
mg
|
Calcium:
12
mg
|
Iron:
0.1
mg
"Pin It" For Later!