Candied Almonds with Cinnamon Sugar
Candied almonds are a crunchy, flavorful snack, so good you'll want to eat them by the handful. The delightful cinnamon coating adheres to the almonds without being sticky or greasy. These sugared nuts have a festive tingly flavor thanks to cinnamon and a hint of cayenne pepper. Sugared spiced almonds make great hostess gifts during the holidays.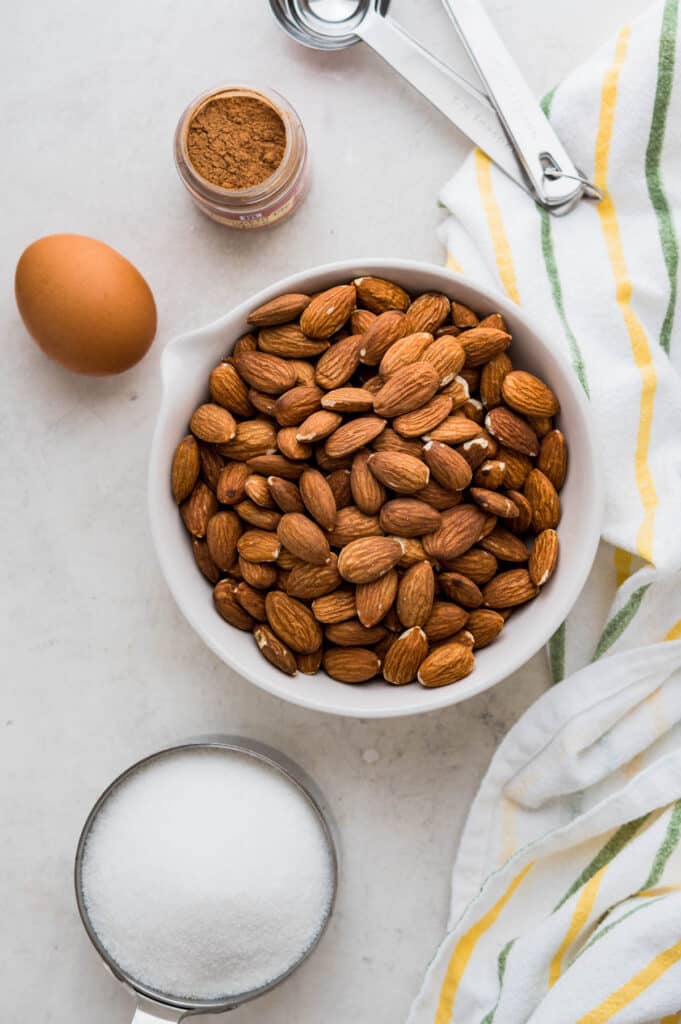 Spiced nuts have always been a popular item for munching. Go to any Christmas market, carnival or street fair and there's always a vendor selling candied almonds or other cinnamon spiced nuts.
They're one of my favorite holiday food gifts, and I've got several versions in constant rotation, like these Christmas nuts, curried coconut cocktail nuts and Mexican hot chocolate spiced nuts.
Most spiced almond recipes I've seen call for coating the nuts in oil before being tossed in the spice blend.
I don't like that method because of the "sticky factor." You know, that layer of oily film that coats your fingers and hands, staining your clothes.
That's what you'll love about these cinnamon-spiced almonds. It's all flavor with no greasy fingers.
How? The secret is a frothy lacquer with egg whites that act as the glue for the cinnamon sugar coating.
The spices don't cling to your fingers — or anything else — and since there's no oil, there's no oily residue. The egg white also gives the almonds a delightful crunch after they've baked and cooled.
Why you'll love these candied almonds
Only seven everyday ingredients.
No sticky hands.
Makes 4 cups of cinnamon almonds.
Great for gifting.
Quick and easy recipe.
Easily customizable.
Ingredients you'll need for cinnamon almonds
Whole Raw Almonds – I buy them in bulk from Costco.
Egg Whites – the egg white is the "glue" so the cinnamon sugar blend will stick to the nuts.
Vanilla Extract (or Water) – thins the egg whites slightly so they aren't goopy on the nuts.
Granulated Sugar – to "candy" the nuts.
Cinnamon – gives the candied almonds a holiday vibe.
Salt – balances the flavors in the candied nuts – you don't need a lot.
Cayenne Pepper – to add a hint of heat. This makes the candied almonds irresistible.
How to make cinnamon sugared almonds:
In a large bowl, combine the egg white and vanilla (or water).
Use a whisk and beat the egg whites until they're light and frothy (about 1-2 minutes).
Add the almonds and use a rubber spatula to fold the nuts into the egg white mixture until they're entirely coated, and there is NO liquid remaining in the bottom of the bowl.
Mix the sugar, cinnamon, cayenne pepper, and salt in a separate bowl.
Mix to combine and pour over the nuts.
Fold the cinnamon spice mixture into the almonds until the nuts are completely coated, and no dry bits of cinnamon sugar are left in the bowl.
Spread the cinnamon almonds into a single layer on a prepared baking sheet lined with parchment paper and bake for 10 minutes at 350°.
Flip the nuts and arrange them again into a single layer.
Bake for an additional 10 minutes. Remove the sugared nuts from the oven and set aside to cool completely.
Break the spiced almonds into bite-sized clusters and store them in an airtight container.
Pro-Tips for making candied almonds:
The key to these nuts being well coated and crunchy without any gloopy, wet areas is to make sure the egg whites are whisked really well. They should be very foamy and light without a lot of liquid left in the bottom of the bowl.
The almonds should be tacky but not wet when you coat them with the egg-white mixture (see the photo above.)
If any liquid is left in the bottom of the bowl, add another 1/2 cup of almonds and toss again until they're well coated and tacky-moist. This will ensure the cinnamon spice mixture sticks to the almonds without the sugar dissolving in the egg white liquid.
When adding the spice mix to the egg white coated nuts, don't stir. Instead, fold them in an over-under motion using a large rubber spatula. This helps to cover the almonds evenly with the spice blend, leaving no excess cinnamon sugar in the bowl.
Candied almonds can take many forms and that's another reason you'll love this recipe. The variations are endless.
Cinnamon sugared almonds: substitutions and variations
Instead of traditional roasted cinnamon almonds, swap them for another spice blend. It's great with apple pie or pumpkin pie spice instead of plain cinnamon.
If you have people sensitive to cayenne pepper, omit it.
You can also make these spiced sugared nuts with pecans, walnuts, cashews, macadamia nuts, or hazelnuts. Even try a mixture of several types. Avoid peanuts as their flavor can be too strong and compete with the cinnamon spice mixture.
Swap vanilla extract for an almond extract for a more intense almond flavor.
After roasting, cinnamon almonds need to cool to room temperature.
Hot from the oven, the candied almonds aren't super crunchy; however, cooling the nuts to room temperature gives them a delightfully crisp, crackly chew.
How to store candied almonds:
To keep them that way, store sugared nuts in an airtight container and if you have a vacuum sealer, this is a great way to use it.
Vacuum sealing removes the air and keeps the candied almonds super crunchy for up to a month or more.
FAQs
Can I roast cinnamon almonds on tin foil?
I don't recommend it because you'd have to spray with foil with vegetable spray, so the nuts don't stick, but they need to be flipped halfway through roasting. Parchment paper is my first choice because the nuts won't stick, and it's easy with no cleanup. A Silpat or silicone mat is another good option.
Why are my candied almonds soft?
There are three reasons this can happen. First, they haven't cooled to room temperature. If the nuts are still warm when you eat them, they won't be as crunchy as when thoroughly cooled to room temperature.

Another reason could be that they haven't baked long enough.

Finally, if the candied almonds weren't spread in a single layer when roasting or clumped together on the baking sheet, they wouldn't finish cooking in the time allotted.

If you have a small baking sheet, you may need to roast the nuts in several batches or use two sheet pans or cookie sheets.
Are glazed and sugared almonds the same thing?
Sort of, but not really. When I think of glazed nuts, I think of a smooth, shiny, caramelized coating. Sugared almonds are coated with granulated sugar that hasn't been caramelized. Thus, the nuts have a rubbly rustic appearance.
What can I use candied almonds for?
These sugared nuts are a delicious treat that can be eaten out of hand. Keep a stash in your purse or desk drawer for snacking emergencies.
Press candied almonds along the bottom or top edge of frosted cakes and cupcakes as a delicious, beautiful edible decoration.
Sprinkle a handful of sugared spiced almonds onto salads for a sweet crunch. You can swap them for the candied nuts in this pear gorgonzola salad, this persimmon one, or even replace the sliced almonds in this green salad.
Add roughly chopped sugared almonds to ice cream and sundaes.
Need an easy hostess gift? Fill a 2-cup canning jar with these cinnamon roasted almonds and tie them with a ribbon. They're also perfect for holiday gift-giving for friends and neighbors.
Skip the marshmallows for your sweet potato casserole and sprinkle on some chopped candied almonds instead (add them just before serving so they stay super crunchy).
Stir chopped cinnamon sugared nuts into cookies or muffins.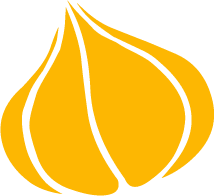 Tried this recipe? Leave a rating and review.
Your comments and shares are invaluable to me and the thousands of readers who use this site daily. If you've made the recipe, leave a star rating and review. We want to hear how you liked it.
We'd love it if you shared the recipe with your friends on social media!
Candied Almonds with Cinnamon Sugar
Irresistibly, crunchy, sweet and gently spiced with a kick at the end, these cinnamon sugared nuts are destined to be your family favorite. We love candied almonds for snacking and they make a wonderful food gift idea.
INGREDIENTS:
1

egg white

from a large egg

1

teaspoon

vanilla extract

or water

4

cups

whole raw almonds (not roasted or salted)

I get the big bag from Costco

1

cup

granulated sugar

1

tablespoon

cinnamon

or use pumpkin spice or apple pie spice

1 ½

teaspoons

fine sea salt

or 1 teaspoon iodized salt

1/4-1/2

teaspoon

cayenne pepper

optional depending on how spicy you like it.
DIRECTIONS:
Preheat the oven to 350° F. Line a half sheet pan with parchment paper and set aside.

In a medium bowl, combine the sugar, cinnamon (or other spice), salt and cayenne pepper. Whisk well to combine.

Add the egg white and vanilla extract or water to a large bowl and use a whisk to whip it into a frothy, airy, light foam. Add the almonds and use a spatula to completely coat the nuts with the foamy egg whites. They should be tacky but not soaking wet.

Pour the cinnamon sugar mixture over the nuts and use a rubber spatula to fold and coat the nuts completely with the sugar mixture and there's no leftover dry bits in the bowl.

Spread the sugared almonds in a single layer on the prepared baking sheet. Bake for 10 minutes.

Flip the nuts using a spatula and rearrange them into a single layer. Bake for an additional 10 minutes.

Let the candied almonds cool to room temperature, then break apart and store in an airtight container, or portion into jars for gifting. Note: If you have a food saver, the nuts will last longer if you vacuum seal them in a jar or bag.
NUTRITION:
Calories:
257
kcal
|
Carbohydrates:
21
g
|
Protein:
8
g
|
Fat:
18
g
|
Saturated Fat:
1
g
|
Polyunsaturated Fat:
4
g
|
Monounsaturated Fat:
11
g
|
Trans Fat:
0.01
g
|
Sodium:
149
mg
|
Potassium:
268
mg
|
Fiber:
5
g
|
Sugar:
14
g
|
Vitamin A:
15
IU
|
Vitamin C:
0.04
mg
|
Calcium:
102
mg
|
Iron:
1
mg
Pin it for later!