People are finicky about cranberry sauce. I think it heralds back to what they grew up on and what they're used to. In our family, it was two extremes. Thanksgiving at my paternal grandparents meant Myne's "famous" cranberry relish. I think it came from the Cuisinart cookbook – she would combine a bag of cranberries with a whole orange (peel and all), some sugar and nuts – I think walnuts or pecans — and zhuzsh them around in the cuisinart until it resembled a chunky relish. My child's mind couldn't get away from the fact that she didn't peel the orange first. Not my idea of a Holiday Cranberry Sauce.
At my maternal grandparents house, it was a completely different story. They are from Martinique in the Caribbean. Thanksgiving wasn't a holiday they celebrated growing up, so there were no personal connections as to what to make. They did what many Americans did, they bought that can of Ocean Spray Cranberry sauce, opened one end and waited for it to slurp and slide out of the can. They may have sliced it to serve, I really can't recall (kind of a self preservation thing — blocking particularly painful memories).
Either way, cranberry sauce or relish – this obligatory side dish was, to me, a culinary dead zone on our Thanksgiving tables. I would take a little — because I had to, but I never went back for more.
When I started hosting my own Thanksgivings, I decided that my cranberry sauce would be different. It would be something spicy and tangy and sweet. Something that would get eaten on that day, and if there were leftovers, they would be added to a turkey sandwich, or swirled into plain yogurt, or just eaten with a spoon right from the tupperware container (I may have done that).
I tried several incarnations of cranberry sauce from the simplest (on the back of the cranberry bag) to ones that called for all kinds of fruit and nut combinations. Then, I found a recipe in Bon Appetit magazine — and have been making a version of it for every Thanksgiving holiday since. It's sweet, but not cloying, it's spicy — but not overly so and instead of watering it down with, well, water — it calls for wine. Pick me! Pick me!
It's crazy good! I know I'm not going to turn you can-happy-cranberry-sauce-lovers into devotees of homemade, but for the sake of the other diners — You must, must, must make this!
If you're an apple fan, definitely give the Lightly Spiced Cranberry Sauce with Apples a go too. It's also spoon-licking good.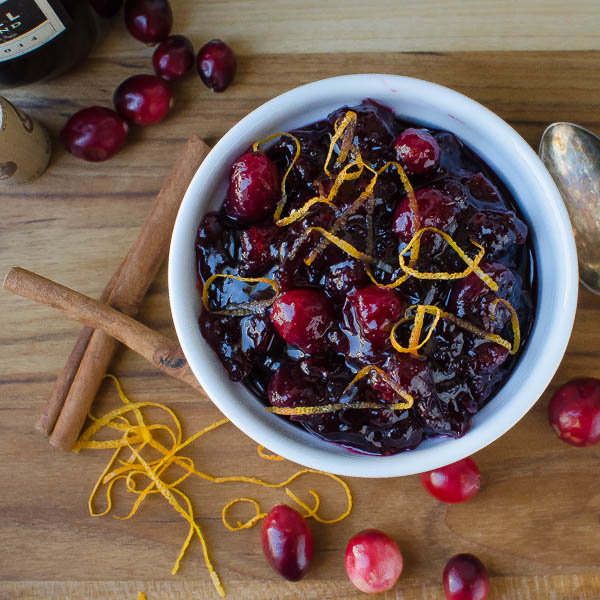 Holiday Cranberry Sauce
This recipe has been updated since the first time I posted it. I've altered the sugar amounts slightly and the cooking method has been tweaked. Still as good as ever!
ingredients
1 1/2

cups

red wine

I like a red zinfandel or syrah

3/4

cup

white sugar

1

cup

golden brown sugar

packed

6

whole cloves

6

whole allspice berries

2

cinnamon sticks

1 3

x1 inch strip orange or tangerine peel

I used tangerine

1 12

ounce

bag fresh cranberries
instructions
Into a medium saucepan, combine the sugar, brown sugar, cloves, allspice berries, cinnamon sticks, orange peel and wine. Bring to a boil over medium heat, stirring occasionally, until the syrup has reduced to about 1 3/4 cups -- about 10 minutes. Place a fine mesh strainer over a 2 cup measuring cup and pour the syrup through. Discard the solids and pour the syrup back into the pot. Add the cranberries and cook over medium high heat stirring occasionally until the cranberries burst, about five or six minutes. Remove from heat and cool to room temperature before transferring to a storage container and refrigerating until ready to serve.
Notes
Can be made one week ahead of time.
Nutrition
Calories:
159
kcal
|
Carbohydrates:
35
g
|
Sodium:
7
mg
|
Potassium:
88
mg
|
Fiber:
1
g
|
Sugar:
31
g
|
Vitamin A:
20
IU
|
Vitamin C:
4.1
mg
|
Calcium:
26
mg
|
Iron:
0.4
mg
Don't Forget To "Pin It" For Later!
SaveSave
SaveSave
SaveSave