Maple Pecan Cinnamon Granola
Confession: I made this granola back in November, but I was so busy with cookies, spiced nuts and holiday fare, I didn't have time to post it until now. Besides, January seems an appropriate time for granola, don't you think? I mean, you need something to put on your sugar-free, non-fat, plain yogurt — right??? So here it is – Maple Pecan Cinnamon Granola!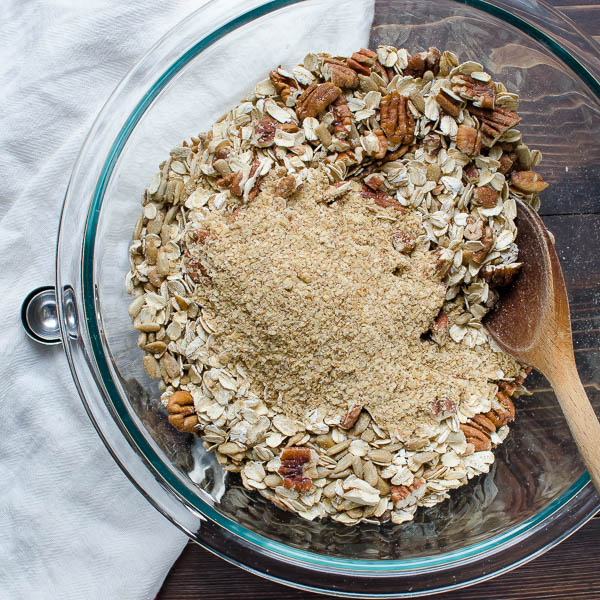 I made this granola the day after Emily returned to college after Thanksgiving Break. Why do I remember this so distinctly, you might ask… Well, after she'd driven the 4 hours back to Tampa and unloaded and unpacked the 3 months worth of dirty laundry which had miraculously been washed and folded over the course of the long weekend, Emily realized that she had left the charging cord for her laptop in her room. The charge on her computer might last 1-2 days without it. With papers, projects and tests looming, she was in crisis mode.
She called in a panic, asking me to PLEASE, PLEASE, PLEASE ship her the charger — "Can you overnight it??? "
Seriously?
I told her I'd do what I could, shaking my head… deep breaths… and I went back to making the granola. Afterwards, when I was finished with the photos, I packed it into several jars — and since there was plenty, I also packed a jar for Emily and I stuck it in the box along with her charging cord and a few other items that she had mistakenly left behind. (Go figure!)
A few days later (2-day Priority Mail was cheaper than overnight), I got the call… "Thank you, Mom!!!!" She was happy to get her cord back, but absolutely over-the-moon to find a little care package of granola tucked into the box. She gushed about how thoughtful it was and how she was squirreling it away from her roommates… With that amount of enthusiasm, you would have thought I'd bought her a new computer!!!
Note to all Moms & Dads: Do Not Discount The Power Of A Care Package! You score major points — even if all you're sending is granola!
More Homemade Granola Recipes:


Garlic & Zest is a participant in the Amazon Services LLC Associates Program an affiliate advertising program designed to provide a means for sites to earn advertising fees by advertising and linking to Amazon.com.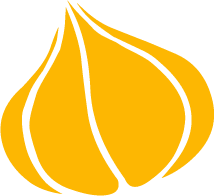 Tried this recipe? Leave a rating and review.
Your comments and shares are invaluable to me and the thousands of readers who use this site daily. If you've made the recipe, leave a star rating and review. We want to hear how you liked it.
We'd love it if you shared the recipe with your friends on social media!
Maple Pecan Cinnamon Granola
Homemade and easy to make Maple Pecan Cinnamon Granola with dried cranberries and sunflower seeds is delicious on yogurt or for a snack!
INGREDIENTS:
2 ½

cups

rolled oats

not quick cooking or instant

1

cup

pecans

roughly chopped

½

cup

sunflower seeds

shelled

⅓

cup

wheat germ

½

cup

brown sugar

firmly packed

½

cup

pure maple syrup

⅓

cup

canola oil

1

teaspoon

cinnamon

scant 1/4 teaspoon

salt

1

cup

dried cranberries
DIRECTIONS:
Preheat the oven to 300°. Line two large baking sheets with parchment paper and set aside.

In a large bowl combine the oats, pecans, sunflower seeds and wheat germ, stir to combine.

In a small saucepan, add the brown sugar, maple syrup, canola oil, cinnamon and salt. Heat over medium-medium high heat, stirring constantly until brown sugar dissolves (do not boil.) Pour the maple syrup mixture over the oats and stir until well coated.

Divide the granola between the two sheet pans and spread into a single layer. Bake for 10 minutes, stir the granola, spread out into a single layer and bake for another 10 minutes, until golden and fragrant.

Remove from the oven and cool for 1-2 minutes before adding the dried cranberries and tossing together. Cool to room temperature and transfer to airtight storage containers. Will keep for about a week to 10 days.
NOTES:
Store at room temperature in an airtight container.
NUTRITION:
Calories:
161
kcal
|
Carbohydrates:
20
g
|
Protein:
2
g
|
Fat:
8
g
|
Sodium:
2
mg
|
Potassium:
102
mg
|
Fiber:
2
g
|
Sugar:
12
g
|
Vitamin C:
0.1
mg
|
Calcium:
23
mg
|
Iron:
0.8
mg
Pin "Maple Pecan Cinnamon Granola" For Later!