29 Mouthwatering Holiday Dishes
Raise your hand if you've ever served Thanksgiving on disposable plates. I won't judge, but let's be honest, the food is only half the battle on this holiday. I mean, how many people have a dining table that seats 20? Or matching china, flatware and crystal for a crowd? I don't. But I know someone who does… and this year, I'll rent the essentials. In this post, along with 29 Mouthwatering Holiday Dishes curated from my archives and some of my favorite bloggers, I'll share some stunning decorating options for your holiday table.
I just found out that our local party rental company has much more than tables and linens. In fact, at a recent Holiday Glam event, hosted by my friend Heather McMechan of Local Mom Scoop and Kelly McCleod of Bloomingdales, I was introduced to the ladies at Atlas Party Rental and came away with 4 solid reasons to rent your tablescape finery this Thanksgiving!
Make a statement with a beautiful, elegant tablescape. Choose your look whether contemporary or traditional, sophisticated or relaxed. I don't know about you, but my table always looks the same from one year to the next — I've only got one set of china! It's fun to switch it up!
Have enough seating and tablespace for everyone — instead of having your Aunt sit on an office chair with wheels or setting up a rickety card table for extra guests – wouldn't it be nice to have ample seating for the entire guest list?
Let someone else wash the dishes. This one is BIG, friends. Most rental companies will only ask you to box up their dishes, flatware and crystal — you don't have to clean it first, just scrape the food off the plates and load it into a crate. That alone makes renting a no-brainer!
It doesn't have to cost a fortune! In many cases renting dishes, flatware and crystal is about the same price as buying premium disposable plates at Costco – SERIOUSLY??? And it's so much more elegant.
With these compelling reasons in mind, I've interspersed this roundup of festive fare with snapshots of some gorgeous tablescape options that will take your holiday table from drab to fab! Just be sure to invite me over!
THE SALADS:
Roasted Butternut Squash Salad by Green Healthy Cooking.
Anjou Pear & Blackberry Salad & Warm Bacon Vinaigrette by Home and Plate.
Blue Cheese Wedge Salad with Bacon by Veggie Balance.
THE SOUPS:
Creamy Lobster Bisque by Garlic & Zest.
Miso Squash Soup with Brussels Sprouts and Apple by Food Nouveau.
THE MAIN COURSE:
Chinese Style Roasted Turkey Breast by Omnivores Cookbook.
Parmesan Apple Stuffed Turkey Tenderloins by Garlic & Zest
Maple Mustard Ham by Green Healthy Cooking.
THE VEGETABLES: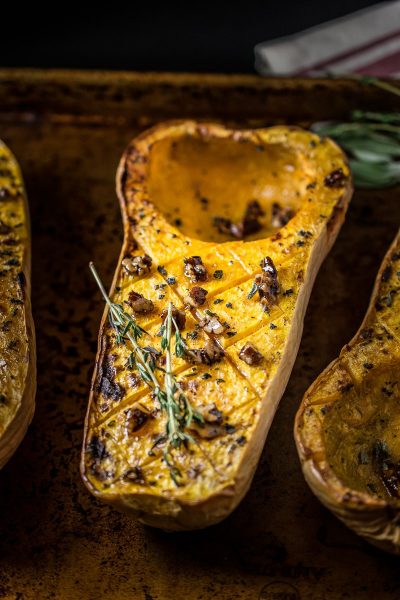 Roasted Butternut Squash with Maple Pecans by Culinary Ginger.
Orange Dijon Haricot Verts with Crispy Shallots by Garlic & Zest.
Roasted Parmesan Potatoes by Girl Gone Gourmet.
Holiday Brussels Sprouts with Bacon and Cranberries by Savory Tooth.
THE SIDES:
Sweet Potato Casserole with Molasses Candied Nut Crunch by The Organic Dietician.
Vegetarian Slow Cooker Stuffing by Killing Thyme.
Sausage and Currants Stuffing by My Kitchen Love.
Cranberry Jello Salad by Dinner At The Zoo.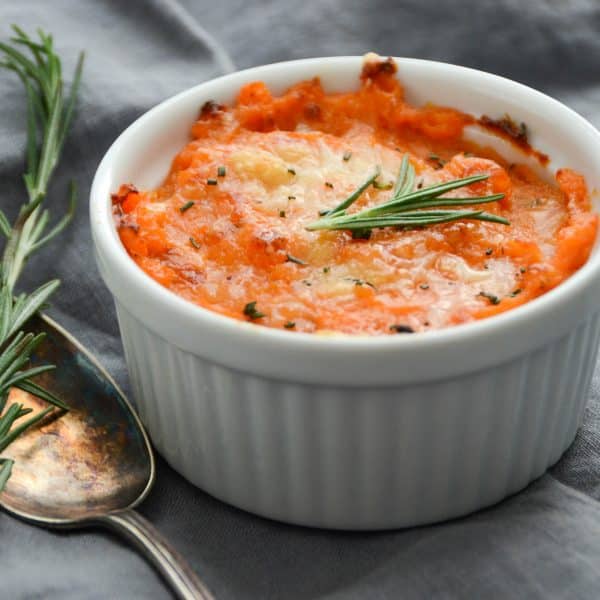 Twice Baked Sweet Potato Gratin by Garlic & Zest.
Hard Cider Cranberry Sauce by A Nerd Cooks.
Italian Sausage Stuffing by Savory Tooth
THE ROLLS:
Anadama Rolls by Garlic & Zest.
Rosemary Rock Salt Dinner Rolls by My Kitchen Love.
THE DESSERTS:
Fall Apple Cream Cheese Rustic Pie by A Side of Sweet.
Pumpkin Spice Cheesecake with Bourbon Maple Whipped Cream by What A Girl Eats.
Apple Fig Crostata by Lavender and Macarons.
Lemon Chess Pie by Meg Is Well.
Bourbon Pumpkin Pie with Black Sesame Crust by The Road To Honey.
Pumpkin Tiramisu with Molasses Cookie Crumb by The Seaside Baker.
Pumpkin Creme Brûlée from Foodtastic Mom.
Persimmon Pie by Forest and Fauna.
Bon Appetit!
Tablescapes by Atlas Party Rental. I was not compensated for this post.
Want More Holiday Roundups? Check out these 16 Last Minute Valentine's Recipes.
SaveSave