Add some desert flair to drinks, cocktails and so much more with this easy prickly pear syrup. It's softly sweet, lightly tangy and will give an electric pink-purple hue to anything you pair it with.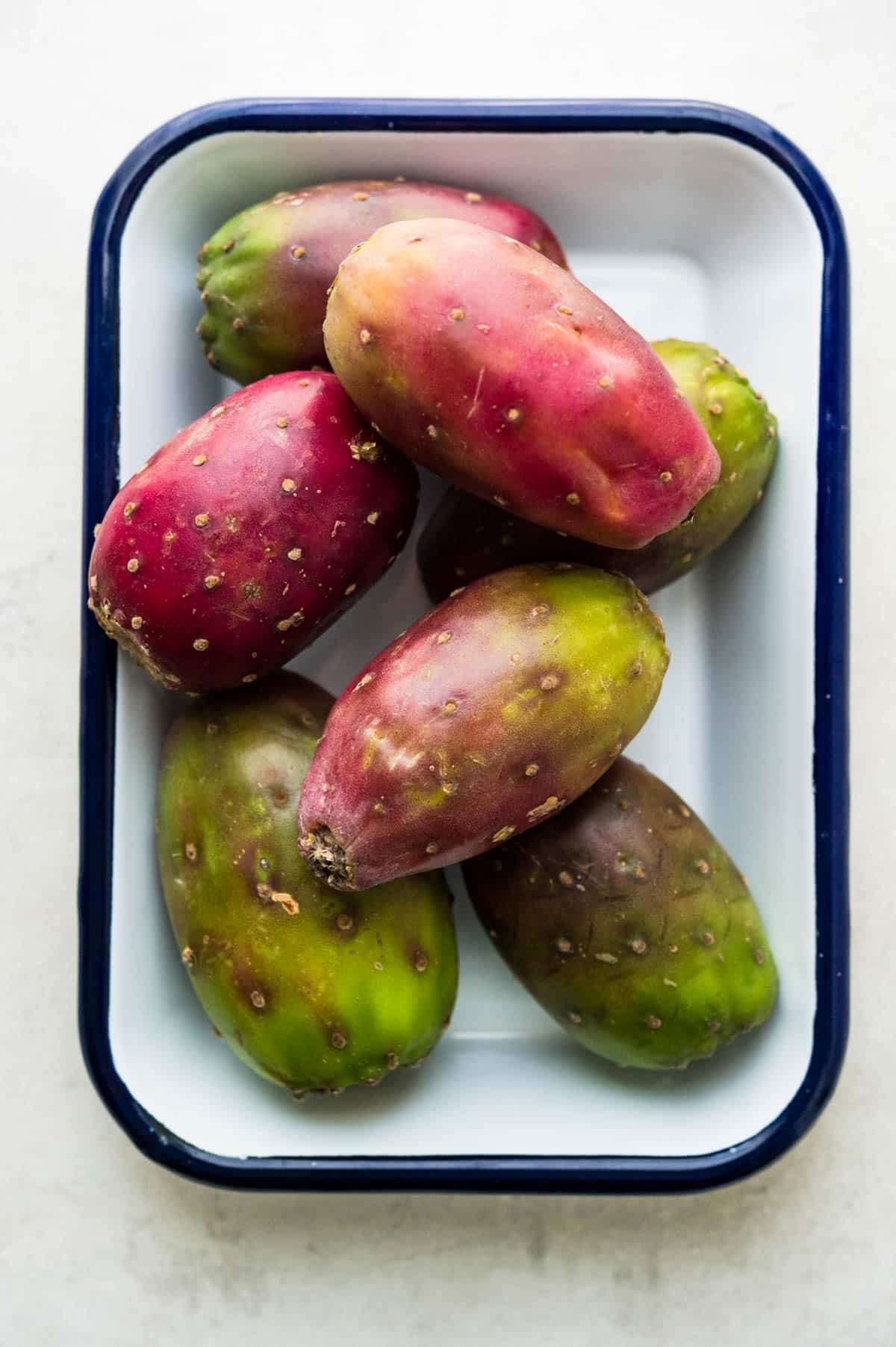 If you've never tried a prickly pear, it tastes like a cross between watermelon and bubblegum. It's softly sweet and alarmingly bright (in color). Not so much the outside of the fruit as the inside.
WOW your friends with the pantone-pink hue and use this simple syrup to make jaw-dropping prickly pear drinks and cocktails.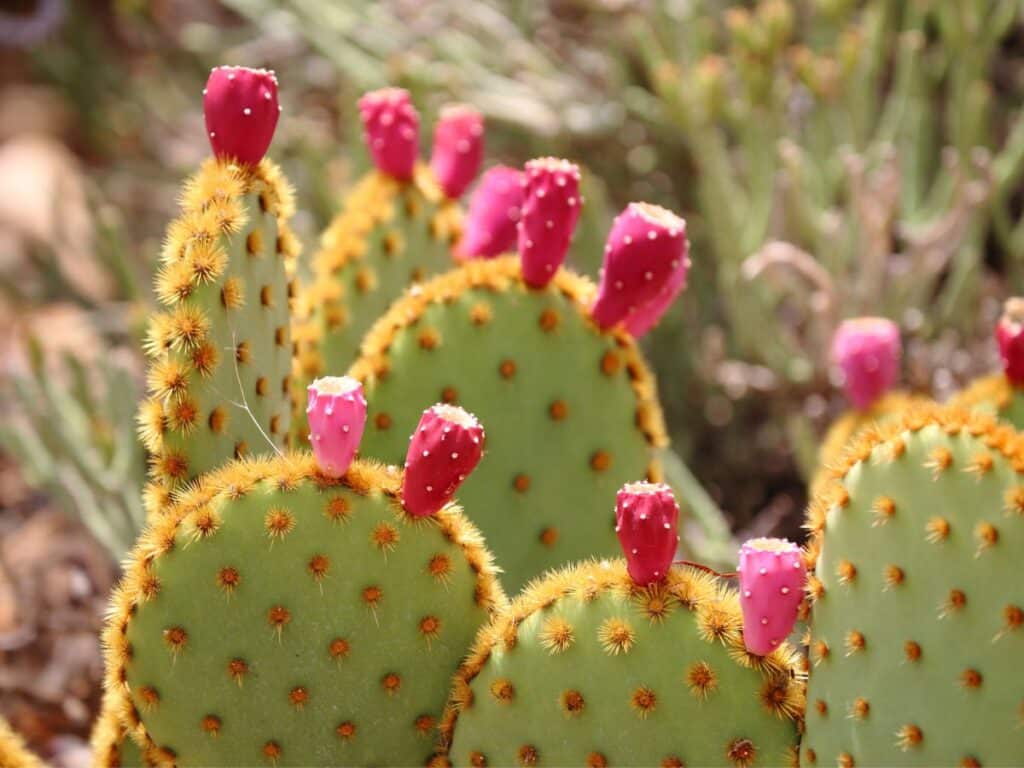 What are prickly pears?
Prickly pears are the fruit of the nopales cactus found in the American Southwest from Central Texas to Southern California.
The cactus' produce beautiful flowers, which are pollinated and subsequently bud and develop into fruit, known as "tunas" (in Spanish) or figure de Barbary (French).
Prickly pears are harvested from September through December, so look for them in your markets.
Anatomy of a desert prickly pear.
Before we make the prickly pear syrup, let's talk about the elephant in the room… The dreaded spines and glochids.
Prickly pears in their natural state have two types of spines (it's a cactus after all). The first type are the razor sharp ones that stick out from the fruit and look like needles that you'll naturally want to avoid.
The second type of spine are more insidious — because you don't really see them, they're so small and innocuous.
They're called glochids and they cover the fruit with tiny, hairlike prickles that's not unlike fiberglass. It sticks in your fingers (or any bit of skin unlucky enough to come into contact with it) and will pretty much make you miserable.
I found this description, which says it feels "like you are having a tiny hole drilled into your skin. By a laser. A laser that is ON FIRE."
I'll pass on that.
Harvesting tunas
Handling prickly pears is a thorny issue ?. If you're harvesting your own fruit, you probably already know that you'll want to wear some seriously tough gloves and protective material to prevent being jabbed by the sharp cactus spines.
Many folks recommend not touching the tunas at all and instead using a pair of tongs to twist the fruit off the cactus and then removing the tough spines with a pair of pliers or tweezers.
Glochids are a different story. The trick to removing them is burning them off.
This video shows one way of doing it, but I've also seen blowtorches used. It's quick, easy and painless. If you don't have a gas burner, just be sure to use a pair of tongs and wear rubber gloves when handling the fruit and cutting it open.
Store-bought fruit
Now, all that said, I've found that most major supermarkets don't want to be held liable for embedding their customers' hands with barb-like hairs that irritate and can cause granulomatous dermatitis.
Consequently, they remove the ominous spines and burn off the glochids FOR YOU.
Thank you very much! I literally picked up these prickly pears with my BARE HANDS and was no worse for the wear.
If you don't have a prickly pear cactus growing in your yard, I'd recommend saving yourself the trouble and buying your tunas at the grocery store.
How does prickly pear taste?
The fruit is quite mild and very softly sweet like a cross between watermelon and bubblegum. It's not an in-your-face flavor, the way you might expect given the blindingly bright color of the interior.
The flesh of the prickly pear is soft and you can eat it directly from the fruit with a spoon.
However, it's studded with tons of tough seeds, which I'm told are edible, but I'd rather save my expensive dentistry for necessary root canal surgery rather than a broken tooth caused by a seed.
Instead, I opt for this simple syrup recipe to enjoy the fruit.
Ingredients you'll need for prickly pear syrup
Prickly Pears (about 1 1/2 pounds)
Granulated Sugar
Water
Citric Acid
How to make prickly pear syrup at home:
Slice the prickly pears in half and scoop out the flesh.
Transfer it to a saucepan and use a potato masher to crush the fruit and seeds.
Add sugar and water and bring the mixture to a boil.
Reduce the heat to a low simmer and cook for about 15 minutes.
Let the syrup steep and cool for another 15 minutes.
Strain the prickly pear syrup through a regular mesh strainer to remove the pulp and seeds.
Strain it a second time through a fine mesh strainer to remove any excess pulp and sediment to ensure a clear, not cloudy, prickly pear syrup.
Store the simple syrup in the refrigerator.
I'm sure there are other ways to do this, but I've found that crushing the fruit with a potato masher is a simple way to break apart the flesh of the tunas. It only takes a minute or so and the result is a pulpy magenta mass.
The sugar dissolves quickly in the syrup mixture but the extra cooking and steeping time give the prickly pear syrup the opportunity to really infuse with flavor and color.
Pro-Tips on straining the prickly pear syrup
You might think it's overkill to strain the syrup twice, but here's why I recommend it:
The first strain removes most of the pulp and all of the seeds. The second strain removes the remaining gooey, pulpy layer that's leftover.
When you're straining the prickly pear syrup the first time, you can stir the mixture to help the syrup pass through the mesh, but don't press on it with your spoon as it can make the resulting simple syrup a little cloudy.
In order to give the syrup more depth and roundness, it needs some type of acidity. That's where the citric acid comes in. Just a little bit makes all the difference in this prickly pear syrup recipe.
It gives the syrup a light tartness that actually enhances the flavor of the fruit and makes it something you want to taste over and over. Without it, the flavor is fairly bland.
After the prickly pear simple syrup is strained, just whisk in the citric acid. It dissolves almost instantly.
Where to find citric acid
You can find citric acid in most grocery stores. But depending on your market, you may need to look in a few different places.
The most obvious would be in the baking or canning aisle (citric acid helps balance the pH levels and acts as a preservative). You can also check in the Kosher section where it may be called "sour salt".
Of course, when all else fails you can buy it online (affiliate link).
Swaps and substitutions
Can I use frozen prickly pear puree to make the syrup?
Yes. Use about 1 cup of the puree in the syrup recipe.
What if I can't get citric acid?
You can substitute lemon or lime juice (add it one tablespoon at a time and taste after each until you get it where you like). Keep in mind that lemons and limes have distinct flavors on their own, so you won't get a true-tasting prickly pear syrup. The citric acid only adds tartness, not flavor.
How long will prickly pear syrup last in the refrigerator?
This should keep for a month or more in a sealed jar when refrigerated.
Can I freeze prickly pear syrup?
Yes and this is a great way to enjoy the fruit all year round. Pour the simple syrup into ice cube trays to freeze. Remove the ice and transfer to a zip-top freezer bag. Take out one or two cubes when you need them. (Note: standard ice cube trays hold 2-3 tablespoons, per cube.)
What can I use prickly pear syrup for?
Obviously, you'll want to use prickly pear syrup for drinks and cocktails. Look what happened when I added it to plain sparkling water (above).
That said, don't feel constrained to use the vibrant simple syrup exclusively for beverages.
Dress a dish of vanilla ice cream with a few spoonfuls of syrup.
Make popsicles! Your kids will love them!
Toss with fresh fruit (keep in mind, this syrup will turn any fruit a bright pink color).
Stir into plain yogurt for breakfast with berries and granola.
Use a little syrup to flavor (and color) a pan sauce for chicken or pork.
Use prickly pear syrup to make a sorbet or ice cream.
Get creative and use it for Halloween with the glaringly bright color (and tag me @garlicandzest if you do).
The possibilities are endless.
More simple syrup recipes you'll love: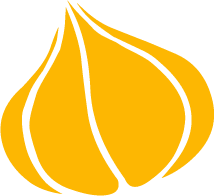 Tried this recipe? Leave a rating and review.
Your comments and shares are invaluable to me and the thousands of readers who use this site daily. If you've made the recipe, leave a star rating and review. We want to hear how you liked it.
We'd love it if you shared the recipe with your friends on social media!
Prickly Pear Syrup
Prickly pears are lightly sweet, pleasantly fruity with the most glaring magenta flesh you've ever seen. I use them to make prickly pear simple syrup for jaw-dropping drinks and cocktails.
SPECIAL EQUIPMENT:
potato masher

mesh strainer

fine mesh strainer

or cheese cloth
INGREDIENTS:
1 ½

pounds

prickly pears

about 6-7

1

cup

sugar

1 ½

cups

water

1 ½

teaspoons

citric acid

or 2 tablespoons lemon or lime juice (or to taste).
DIRECTIONS:
Slice the prickly pears in half lengthwise and scoop out the seedy pulp. Transfer to a saucepan.

Use the potato masher to mash the pulp and seeds together, then add the sugar and water. Bring to a boil. Lower the heat to a low simmer and cook for 15 minutes or until the sugar is dissolved and the mixture is syrupy. Remove from heat and let the prickly pear steep and cool for another 15 to 20 minutes.

Place the mesh strainer (the ones with the larger holes) over a bowl or glass measuring cup that will hold all of the syrup. Pour the warm prickly pear syrup through the strainer. You can stir the pulp, to get the last bit of syrup to go through, but don't press on the seeds. You want to keep the syrup as clear as possible.

Place the fine mesh strainer over another glass measuring cup or bowl and strain the prickly pear syrup again, this will remove any final sediment.

Add 1 teaspoon citric acid and whisk to combine. Taste for the flavor. If you think it needs more citric acid, add another 1/4 to 1/2 teaspoon until it's the way you like it.

Store the prickly pear simple syrup in a glass jar with a tight fitting lid in the refrigerator. It should last for a month in the refrigerator.
RECIPE VIDEO:
NOTES:
Each serving is about an ounce.
NUTRITION:
Calories:
45
kcal
|
Carbohydrates:
11
g
|
Protein:
0.4
g
|
Fat:
0.1
g
|
Saturated Fat:
0.01
g
|
Polyunsaturated Fat:
0.02
g
|
Monounsaturated Fat:
0.01
g
|
Sodium:
8
mg
|
Potassium:
88
mg
|
Fiber:
1
g
|
Sugar:
10
g
|
Vitamin A:
155
IU
|
Vitamin C:
3
mg
|
Calcium:
56
mg
|
Iron:
0.2
mg
Pin it for later!