If you swoon for mango and flip for coconut or if citrus, papaya and guava are your "thing" you won't want to miss the intense the flavor and aroma of fresh passion fruit. These wrinkled, purple orbs with a white, almost papery interior, house a golden, gelatinous goo that's like a concentrate of all of those tropical flavors in one. Passion fruit pulp also makes a fabulous passion fruit syrup that's seductive in desserts and makes indescribably lush cocktails.
Passion fruit has long been a favorite of mine, as much for the look of these lightweight plum-colored spheres as the full-on sensory assault they produce. Fresh passion fruit is very tropical and one whiff of passion fruit pulp will have you salivating. Read my post on these Passion Fruit Tartlets to understand the reaction this fruit invokes.
The olfactory response from this tropical fruit is unlike any other, hitting the limbic system in your brain, tugging out long forgotten feelings and memories of childhood and beach vacations… or maybe that's just me. Sultry aroma aside, the flavor is all-consuming, affecting every region of your taste buds. You can scoop and slurp the pulp directly from the fruit (the seeds won't hurt you), however, to extend the flavors for more traditional applications, make a passion fruit syrup.
What Is Simple Syrup?
Most simple syrups are just equal parts sugar and water, heated together until the sugar is dissolved. This basic syrup can be used in everything from cocktails to cakes. Infusing one with passion fruit is just as easy and produces liquid gold that will transform your favorite drinks, desserts, smoothies and fruit salads.
Passion Fruit Syrup Ingredients
Sugar
Water
Passion Fruit Pulp
Rum (optional)
To Make Simple Syrup From Fresh Passion Fruit
Add sugar and water to a small pot and bring to a boil.
Stir occasionally until sugar is dissolved.
Remove from heat.
Slice four fruit in half and scoop the passion fruit pulp into the simple syrup.
Let the fruit steep in the syrup for two hours.
Set a fine mesh sieve over a glass measuring cup with a spout and pour the the contents of the pot into the sieve.
To avoid a cloudy simple syrup, don't press on the solids. Just let the syrup drain naturally into the measuring cup.
Transfer to a glass storage container with a lid. Add the rum (optional) if using.
Refrigerate until ready to use.
What To Do With Passion Fruit Syrup
Soak lady fingers for a tropical tiramisu.
Infuse a bundt cake.
Drizzle over your morning yogurt.
Toss with fresh citrus fruit.
Add to a vinaigrette and drizzle over grilled shrimp.
Mix a few tablespoons into coconut rice.
Infuse into a smoothie.
More Flavored Simple Syrups:
If this passion fruit syrup has your mind thinking, "Hmmm, wonder what other types of simple syrups I can make?" my foodie friends have lots of ideas for you. Check them out:
Honeysuckle Simple Syrup via Sarah at Champagne Tastes which she uses in her Lavender Lemon Bourbon Sour.
Rhubarb Ginger Simple Syrup which gives my Rhubarb Ginger Gin Rickey its distinctive color.
Mint Simple Syrup from Leah and Jay over at Gastronom Blog. It's perfect for their Blueberry Mint Sorbet Sparkling Rosé Float.
Thyme Simple Syrup which Greg at My Wife Can Cook uses for his Strawberry Thyme Margaritas — YUM!
And here's a Guava Vanilla Simple Syrup that I like in these Guava Limeades .


Garlic & Zest is a participant in the Amazon Services LLC Associates Program an affiliate advertising program designed to provide a means for sites to earn advertising fees by advertising and linking to Amazon.com.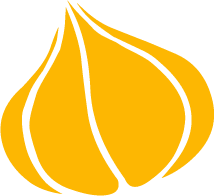 Tried this recipe? Leave a rating and review.
Your comments and shares are invaluable to me and the thousands of readers who use this site daily. If you've made the recipe, leave a star rating and review. We want to hear how you liked it.
We'd love it if you shared the recipe with your friends on social media!
Passion Fruit Simple Syrup
This is the simple syrup you want for all your tropical cocktails, mock-tails or anything that deserves an ambrosial kick.
INGREDIENTS:
4

ripe passion fruit

(ripe passion fruit are very wrinkly)

½

cup

water

½

cup

sugar

1

tablespoon

rum

(optional)
DIRECTIONS:
In a small saucepan, bring water and sugar to a boil. Stir until the sugar is dissolved and remove from heat.

Cut the passion fruit in half and scoop the seeds into the sugar water (simple syrup). Stir and let the passion fruit steep in the simple syrup for about 2 hours.

Place a fine mesh sieve over a glass measuring cup and pour the contents of the saucepan through the sieve. Do not press on the seeds — you want the simple syrup to be clear and if you press, it can become cloudy.

Transfer the simple syrup to a clean storage jar (I like the ball canning jars). Refrigerate. Simple syrup will last up to two weeks, refrigerated as is or you can add a tablespoon of rum to the syrup to store it a little longer.
NUTRITION:
Calories:
125
kcal
|
Carbohydrates:
29
g
|
Protein:
1
g
|
Sodium:
17
mg
|
Potassium:
197
mg
|
Fiber:
5
g
|
Sugar:
22
g
|
Vitamin A:
720
IU
|
Vitamin C:
17
mg
|
Calcium:
7
mg
|
Iron:
0.9
mg
Pin "Passion Fruit Syrup" For Later!