Sweet Tart Passion Fruit Curd
This easy passion fruit curd recipe uses whole passion fruit to achieve a silky smooth curd that's fragrant and lush. Sweet Tart Passion Fruit Curd is delicious on sponge cake or dolloped into fruit tarts.
Passion fruit is such an exotic tropical fruit, don't you think? Its essence is more tart than sweet with an aroma so distinct and specific, it's immediately recognizable.
You can buy passion fruit pulp (in the freezer section) or passion fruit nectar in cans at the grocery store, but if you can get your hands on the actual fruit, that's a prize worth celebrating.
And if you can get the real stuff, don't just toss it into a smoothie or cocktail. Instead, turn it into this luscious, sweet-tart passion fruit curd.
Look at that gorgeous fruit! With a wrinkled, rosy skin and just a hint of the sweet perfume, you probably wouldn't give much thought to these if you saw them in the market. But slice one open and its impossible to ignore its heady fragrance. If there is such a thing as a "sexy" fruit — this is it!
Trouble is, they're loaded with seeds! Tons of little black seeds floating in that gelatinous goo that is the passion fruit.
To separate the goo from the bad, whiz them around in a blender, pulsing several times.
This will break the seeds from their membranes so you can collect the nectar.
Just place a fine mesh strainer over a bowl (or a glass measuring cup) and pour the mashup through the sieve.
Stir and press on the seeds until you've extracted all of the pulp and juice. Now you've got something to work with!
To make the curd, separate the yolks from the whites and add them to a large saucepan along with the passion fruit juice and sugar.
Cook, stirring constantly until the curd starts to thicken. Make sure your temperature doesnt get too high, you don't want to scramble the eggs. Remove from the heat and add the butter one tablespoon at a time, stirring until it melts completely before adding another knob.
Just to be sure that there's no egg particles left in the curd, strain it once more. It may seem like overkill, but trust me, you'll weed out some solids that don't belong in your velvety curd.
What do you do with passion fruit curd? Here's a few ideas:
Add a few dollops to a slice of pound cake with fresh berries
Spoon it onto scones.
Fold it into whipped cream and use it as a filling for profiteroles.
Spread it over a sponge cake and roll into a jelly roll.
Sandwich between meringue cookies.
Or (my favorite) lick it right off the spoon.
The flavor is just as intense as it's bright yellow color indicates and this luscious passion fruit curd is impossible to resist.
More passion fruit recipes:
More curd recipes:

Garlic & Zest is a participant in the Amazon Services LLC Associates Program an affiliate advertising program designed to provide a means for sites to earn advertising fees by advertising and linking to Amazon.com.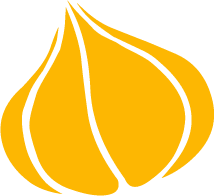 Tried this recipe? Leave a rating and review.
Your comments and shares are invaluable to me and the thousands of readers who use this site daily. If you've made the recipe, leave a star rating and review. We want to hear how you liked it.
We'd love it if you shared the recipe with your friends on social media!
Sweet Tart Passion Fruit Curd
If you love lemon curd, you will flip for this passion fruit version!
INGREDIENTS:
7

large egg yolks

6-7

passion fruit

1

cup

sugar

pinch

salt

10

tablespoons

cold unsalted butter

cut into chunks.
DIRECTIONS:
Slice each passion fruit in half and scoop the pulp into a blender. On low speed, pulse the blender to separate the seeds from their gelatinous membrane, but not enough to puree the seeds. Rest a fine mesh sieve over a small bowl and pour the passion fruit into the sieve. Use the back of a spoon to press out the juice, stirring and pressing several times, until you're just left with pulp and seeds in the sieve. Discard pulp and seeds. You should have about 1/2 cup of passion fruit juice.

In a small saucepan, combine the egg yolks, passion fruit juice and sugar. Stir constantly over medium heat until the sugar dissolves and the sauce thickens enough to coat the back of a spoon.

Remove from heat. Add salt and butter, one chunk at a time, stirring after each addition until the butter melts.

Place a clean sieve or fine mesh strainer over a small bowl and pour the curd into the strainer. Stir the curd, pushing gently through the sieve (you're removing any egg solids from the curd by straining a second time — and ensuring a silky smooth texture). Transfer curd to a serving bowl and press a piece of plastic wrap to the top of the curd to avoid a skin. Refrigerate until chilled. Can be made one day ahead.
NOTES:
Store in a sealed container in the refrigerator for up to one week.
NUTRITION:
Calories:
334
kcal
|
Carbohydrates:
40
g
|
Protein:
4
g
|
Fat:
18
g
|
Saturated Fat:
10
g
|
Cholesterol:
208
mg
|
Sodium:
27
mg
|
Potassium:
239
mg
|
Fiber:
6
g
|
Sugar:
32
g
|
Vitamin A:
1475
IU
|
Vitamin C:
19.1
mg
|
Calcium:
32
mg
|
Iron:
1.5
mg
"Pin It" For Later!