Fruit curd has always been a favorite of mine. It's easy to make and the flavor is intense. An eye-opening jolt of sweet-tart sunshine. This Calamondin fruit curd uses Calamondin/calamansi fruit for a unique, tropical, citrus curd that's a great springboard for many calamondin recipes.
What are Calamondin/Calamansi Fruit?
Calamondin/calamansi fruit are tiny citrus fruits ubiquitous throughout the Philippines and surrounding locales in China, Borneo and Taiwan. You can find them stateside too. Sold as ornamentals, these dwarf calamondin trees produce lots of fruit traditionally used in Filipino cuisine. You'll find plenty of calamondin recipes online, including these calamondin cookies, calamondin pie, even calamondin juice (aka Filipino lemonade).
Calamondin fruit curd is probably one of my favorite uses for this unique citrus fruit. Also known as calamansi fruit, calamondin are a cross between mandarin oranges and kumquats. They smell like a tangerine with the puckery, tart flavor of a lime and I have two small fruit-producing bushes in pots on my back patio. My mother has two trees, which are heavy with fruit. Needless to say, we're constantly looking for calamondin recipes and this calamondin fruit curd is a no-brainer.
For the uninitiated, calamondin fruit curd is a sweet, tart, eye-popping revelation. It can be the filling for tarts and cake rolls, dolloped on muffins or pound cake and (let's be honest) eaten directly from the spoon. The flavors are so intense that every part of your tongue will stand at attention. If you enjoy lemon curd, calamondin fruit curd will have you swooning.
With only half a cup of calamondin juice (about 10-15 whole calamondins) you can make about 2 cups of this curd.
How To Make Calamondin Fruit Curd:
Cut the calamondins in half and juice them. If you're plucking them straight from the tree, they'll yield quite a bit of juice for their size.
Strain the juice of seeds and pulp with a fine mesh strainer.
Combine the fresh juice with sugar, egg yolks and butter in a small saucepan over medium low to medium heat.
Whisk constantly until the sugar has dissolved and the curd begins to thicken slightly. NOTE: You want the sugar to dissolve without scrambling the eggs. That's why we have it on a lower heat. It takes about 10 minutes of constant whisking and watching to dissolve the sugar.
Remove the pot from the heat and add the butter a tablespoon at a time. Be sure not to add more butter until the previous pat has been completely incorporated.
Whisk in a pinch of salt.
Transfer to a glass jar and refrigerate until ready to use.
I mentioned before how calamondin fruit curd is fabulous straight from the spoon, they shine as a filling for tarts, cakes or with berries.
More Calamondin/Calamansi Recipes:
More Fruit Curd Recipes: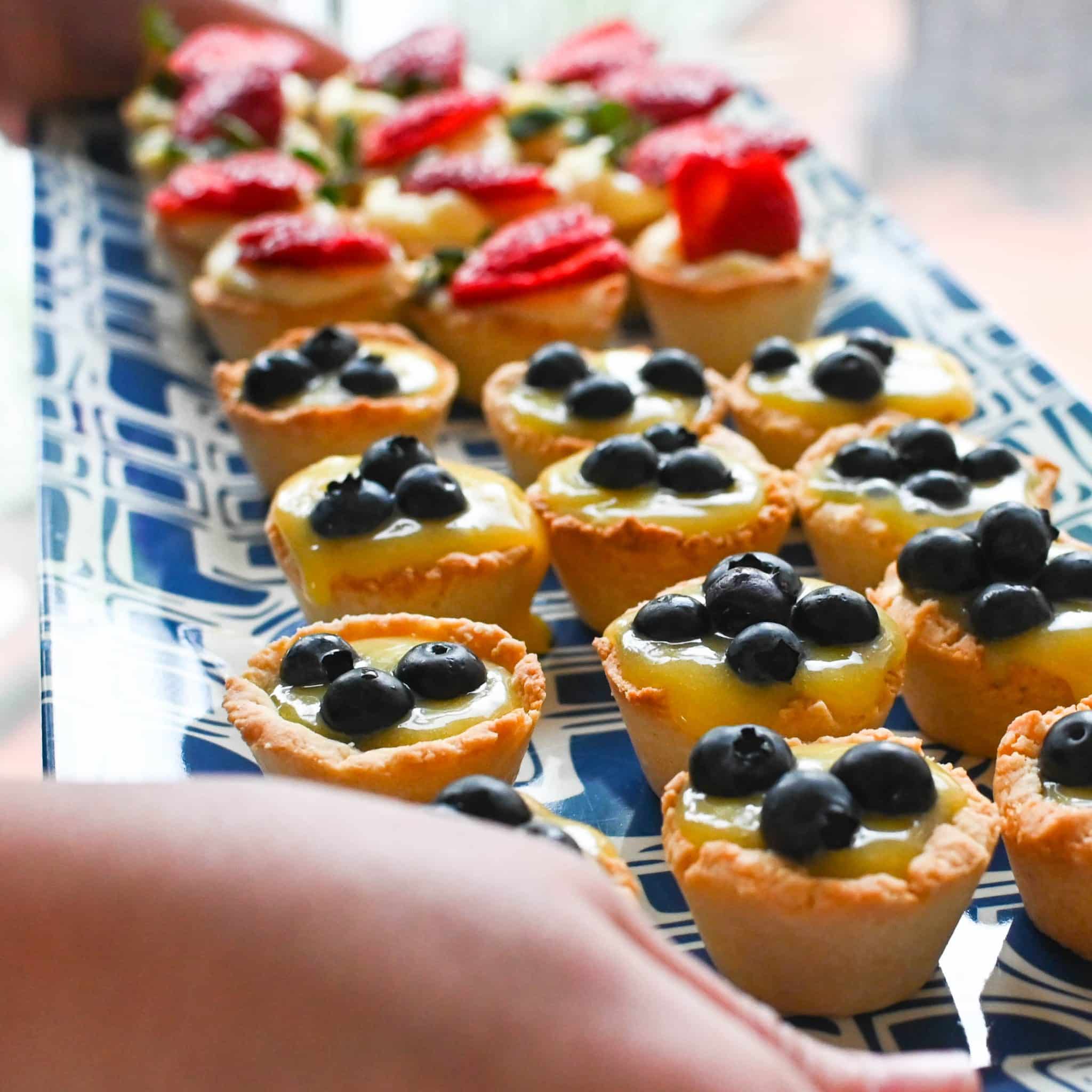 Garlic & Zest is a participant in the Amazon Services LLC Associates Program an affiliate advertising program designed to provide a means for sites to earn advertising fees by advertising and linking to Amazon.com.
Calamondin Curd
Sweet, tangy and tart, this Calamondin Curd is delicious over pound cake, as a filling for mini tartlets or just by the spoonful. Decadent!
ingredients
1/2

cup

calamondin juice

(from about 12-15 calamondins)

1

cup

sugar

5

large

egg yolks

8

tablespoons

unsalted butter

pinch

salt
instructions
In a small saucepan over medium low to medium heat, combine the calamondin juice, sugar and egg yolks. Whisk to combine and continue stirring constantly until the sugar has dissolved and the mixture has thickened a little.

Remove from heat and whisk in butter 1 tablespoon at a time. Do not add more butter until the previous pat has been completely incorporated into the curd.

Add the salt and stir to combine. Transfer the curd to a storage container and refrigerate several hours or overnight, until ready to use.
Notes
Makes about 2 cups of curd.
Nutrition
Calories:
237
kcal
|
Carbohydrates:
26
g
|
Protein:
1
g
|
Fat:
14
g
|
Saturated Fat:
8
g
|
Cholesterol:
145
mg
|
Sodium:
7
mg
|
Potassium:
39
mg
|
Sugar:
26
g
|
Vitamin A:
540
IU
|
Vitamin C:
4.8
mg
|
Calcium:
20
mg
|
Iron:
0.3
mg
Pin "Luscious Calamondin Curd" For Later!