Champagne Passion Fruit Cocktail
Instead of the standard mimosa for your next Sunday brunch, why not jazz it up with these simple champagne passion fruit cocktails? The passion fruit syrup perfumes this easy bellini recipe and takes it way beyond the ordinary.
Anthony Bourdain
I read Anthony Bourdain's memoir, Kitchen Confidential, Adventures In The Kitchen Underbelly, when it was first published. In that book, he pulled back the curtain on fine dining, giving us a glimpse into the real restaurant kitchen experience and derided brunch as the bottom of the barrel for chefs and line cooks. His particularly descriptive take on hollandaise had me avoiding eggs benedict for years. Here's an excerpt:
"While we're on brunch, how about hollandaise sauce? Not for me. Bacteria love hollandaise. And hollandaise, that delicate emulsion of egg yolks and clarified butter, must be held at a temperature not too hot nor too cold, lest it break when spooned over your poached eggs. Unfortunately, this lukewarm holding temperature is also the favorite environment for bacteria to copulate and reproduce in. Nobody I know has ever made hollandaise to order. Most likely, the stuff on your eggs was made hours ago and held on station. Equally disturbing is the likelihood that the butter used in the hollandaise is melted table butter, heated, clarified, and strained to get out all the breadcrumbs and cigarette butts. Butter is expensive, you know. Hollandaise is a veritable petri-dish of biohazards."
–Anthony Bourdain, Kitchen Confidential: Adventures in the Culinary Underbelly
If that doesn't give you pause, I don't know what will. I'm not saying I never go out for brunch, but all things being equal, I'm just as likely to stay home and make my own — complete with mimosas, or this guava tangerine version, bloody mary's, and my new favorite, this champagne passion fruit cocktail.
What's In A Bellini?
This easy bellini recipe isn't like most, which typically call for fruit puree mixed with champagne (or — let's be honest — a drinkable prosecco, cava or sparkling wine for under $10/bottle). Puree can be a little thick and heavy — and who wants the pulp sitting like sediment in the bottom of their champagne flute? Instead I use a homemade passion fruit syrup. It's made with real passion fruit, steeped in just-made simple syrup and strained to a golden, shimmery, tropical elixir. Am I over-selling?
Flavor and aroma of passion fruit
These bellinis have a great nose and are completely different from the standard mimosa because of the passion fruit. Passion fruit, to me, is a complex mix of all your favorite tropical fruits combined into one, heady, olfactory-assaulting bliss, that's so unique, one taste and you'll be hopelessly smitten. The passion fruit syrup takes a few hours of hands-off time to make, however, once it's done, this easy bellini recipe is as quick and easy to assemble as your standard mimosa.
Customize to your tastes
Everyone has their own particular tastes and the beauty of this cocktail is that you can customize it to suit yours.
Make your champagne passion fruit cocktails as sweet as you like it, by adding more or less passion fruit syrup.
If you want/need a little extra hair-of-the-dog, whose to say a drop of rum, or vodka would hurt.
Want to make it a mocktail instead of a cocktail? Mix with sparkling white grape juice or bubbly water.
Garnishing bellinis
The finale for me is an extra spoonful of the actual passion fruit seeds. This identifies your champagne cocktail as something "not orange juice, grapefruit juice or other citrus." People will ask, "What's that floating in my drink?"
To which, you'll reply (in your best Ina Garten voice) "Passion fruit seeds, from my vine in the garden — but if you don't have your own cultivated vine — store-bought is fine!" LOL. 🙂
These champagne cocktails would be ideal for Easter or Mother's Day brunch. I advise making the passion fruit syrup a day before and chilling it so that you're ready to serve up cocktails the moment your brunch celebrations begin.
If you can't get fresh passion fruit, you can use frozen passion fruit pulp to make the simple syrup, but it won't be quite as clear as when you use the fresh fruit. That's ok. It's still wonderful.
Also be sure to check out my husband's favorite V8 Bloody Marys and these 14 Morning Cocktails For Easter (or Mother's Day… or any random Sunday).
Garlic & Zest is a participant in the Amazon Services LLC Associates Program an affiliate advertising program designed to provide a means for sites to earn advertising fees by advertising and linking to Amazon.com.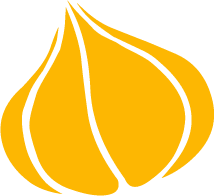 Tried this recipe? Leave a rating and review.
Your comments and shares are invaluable to me and the thousands of readers who use this site daily. If you've made the recipe, leave a star rating and review. We want to hear how you liked it.
We'd love it if you shared the recipe with your friends on social media!
Passion Fruit Bellini
Tropical and bubbly. Can you ask for anything more? The passion fruit simple syrup is sweet and seductive. You can use any type of sparkling wine for this one, but since the passion fruit is so sweet, counter-balancing with a Brut is the way to go.
INGREDIENTS:
1½

ounces

passion fruit simple syrup

recipe on this site

½

ounce

peach schnapps

optional

2

ounces

Brut sparkling wine

chilled

passion fruit seeds

for garnish (optional)
DIRECTIONS:
In a cocktail flute, combine the passion fruit simple syrup and peach schnapps if using.

Add the sparkling wine and garnish with 5 or 6 passion fruit seeds reserved from the passion fruit simple syrup or from a fresh passion fruit.
NUTRITION:
Calories:
178
kcal
|
Carbohydrates:
35
g
|
Sodium:
28
mg
|
Potassium:
49
mg
|
Sugar:
35
g
|
Iron:
1.8
mg
"Pin Champagne Passion Fruit Cocktails" For Later!