Did you hear about the bumper crop of mushrooms they're having out in California and the Pacific Northwest? Apparently all that rain has led to "Goldilocks" conditions ( just right)- and they are literally inundated with gorgeous fungi! I only wish I were there to forage, but I'm not… so I foraged a "wild mushroom blend" at my local market. They're not morels or hen of the woods, but this mix was perfect in this Wild Mushroom Asparagus Quiche.
If ever there was a dish that screamed Springtime, this is it! Tender asparagus and mild oniony leeks are meant to be paired with meaty mushrooms. I think it's like a food-destiny!
Tucking them into a flaky pastry doesn't hurt either. Ok, so I cheated and used the store-bought pie crust. Don't judge. My grandmother used to make her own — but when Pillsbury started selling it in the refrigerated section, she tried it and said, "Well, if they can make a crust as good as mine, why should I bother?" In my mind, this is now settled case law.
Press the crust into the bottom and sides of the pie dish — so it doesn't bubble or slide down when baking and prick it with a fork all over. Set a piece of parchment paper in the crust and fill it with pie weights or a 1 pound package of dry beans (removed from the plastic packing – duh). Blind bake for 8-10 minutes so the crust will set.
To clean the leeks, trim the root and dark green parts and discard them to the compost pile. Slice the leeks lengthwise and then crosswise into half moons. Transfer the leeks to a bowl of cool water and swish with your fingers to dislodge any dirt. Lift the leeks from the water into a salad spinner and spin dry… You'll see all the dirt and sand left behind in the water — it sinks to the bottom.
I left the pretty tips of the asparagus whole, but sliced the stems into bite sized rounds. Blanche the asparagus in boiling water for about 2-3 minutes, then transfer it to an ice bath to shock it and stop the cooking.
Saute the mushrooms, and then the leeks and set aside.
Whisk the eggs with the half and half, milk and spice until well blended and frothy.
Stir the veg and cheese into the egg mixture. Pour into your par-baked crust and arrange the asparagus spears on top. Sprinkle with reserved cheese.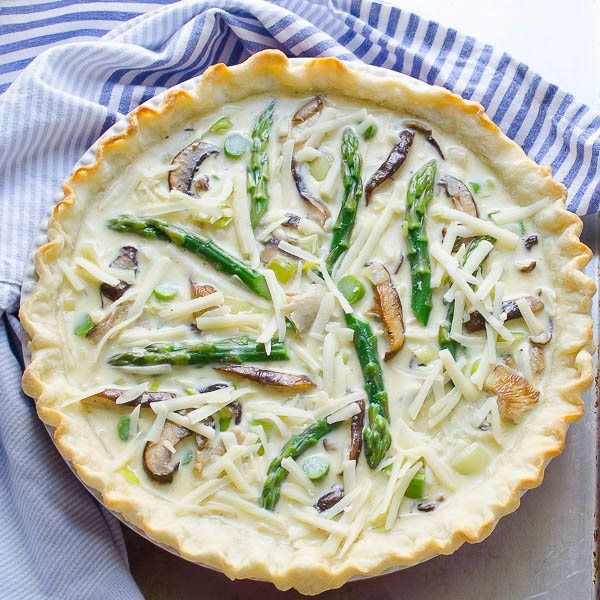 Place the pie pan on a baking sheet (just in case anything overflows). Also, to prevent the crust from browning too much (or burning, GASP) I loosely lay a piece of tin foil over the quiche for about half of the baking time.
The result is a gorgeous golden crust and fragrant, puffed filling. (The puff doesn't last – but it sure is impressive when you take it out of the oven.) Let the quiche rest for at least 10 minutes before serving.
If you're making this ahead of time, let it cool, then cover and refrigerate. The quiche can be served at room temperature or rewarmed for 20-25 minutes in a 300° oven.
"Pin It" For Later!
More Gorge-Ous Quiche:
Garlic & Zest is a participant in the Amazon Services LLC Associates Program an affiliate advertising program designed to provide a means for sites to earn advertising fees by advertising and linking to Amazon.com.