I can't believe Christmas is just over a week from now!!! I think I'm in denial, but ready-or-not, here it comes! With my South Florida family, our big celebration happens on Christmas Eve. We start with an early mass, followed by hors d'oeuvres and cocktails at my grandparents' house, then dinner and finally — opening presents. For a large group we usually have a prime rib or leg of lamb, but this year with a smaller gathering, I thought we'd get some beautiful filet mignons and top them with an outrageous sauce. On our menu: Pan-Seared Filet Mignon Bordelaise — with sautéed mushrooms!!!
Christmas Eve culminates the weeks of shopping, prepping, planning, decorating, wrapping and cooking — and I really want to enjoy it… not be tied to the stove the whole day. So, this dish takes advantage of a sauce that can be (and should be) prepared ahead of time (maybe even a few days before)!
The steaks get seared and finished in the oven just before you're ready to sit down to dinner. It's quick, easy and so satisfying.
The beauty of this dish is that the ingredients themselves are the star. Really good steaks from your butcher, a liquid-gold Bordelaise Sauce and golden sautéed mushrooms. The pan seared filet mignon is cooked first in butter and finished off in the oven. Frankly, I think pan-seared and oven-roasted is the best way to cook filet mignon – it's consistent, simple and flawless — and it will make any meal feel like a special occasion!
If you like your filet done to a specific degree, I recommend this ChefAlarm, so you can insert a small probe into the meat and you're alerted when it achieves the perfect temperature. This alarm is made by the same folks who make the famed Thermapen One, so you know it's a quality item. Check my affiliate links for discounts.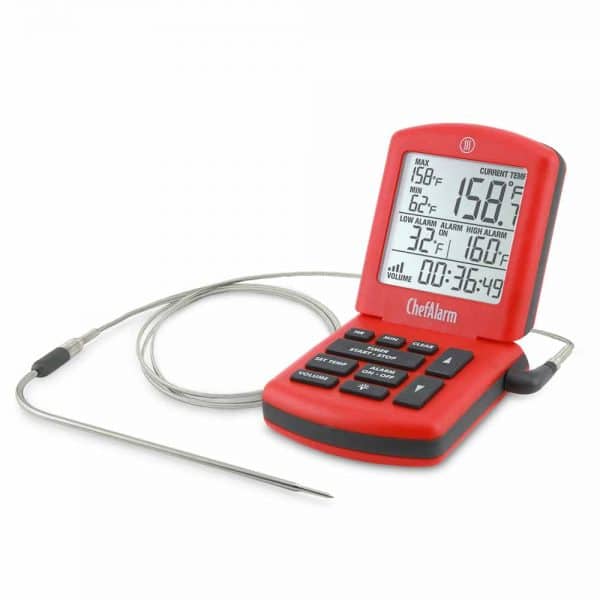 Garlic & Zest is a participant in the Amazon Services LLC Associates Program an affiliate advertising program designed to provide a means for sites to earn advertising fees by advertising and linking to Amazon.com.
Pan Seared Filet Mignon Bordelaise
Pan-Seared Filet Mignon Bordelaise is perfect for entertaining! Make the sauce ahead of time and sear the steaks at the last minute!
ingredients
2

tablespoons

butter

divided

8

ounces

button mushrooms

sliced

4 – 1 1/4

filet mignons

1″-1 1/2″ thick

1/2

teaspoon

kosher salt

1/2

teaspoon

black pepper

1

cup

Bordelaise Sauce

from this site prepared ahead of time
instructions
Preheat the oven to 450°.

Take the steaks out of the refrigerator about half an hour before cooking them.

In an ovenproof heavy skillet or cast iron pan, melt one tablespoon butter over medium high heat. Add the sliced mushrooms saute until they've given up their liquid and started to brown. Transfer the mushrooms to a bowl and set aside. (Can be made ahead).

Season both sides of the steaks with salt and pepper. In the same skillet, heat the remaining tablespoon of butter over high heat until foamy and add the steaks to the skillet. Sear the meat on one side for about 2 minutes. Use a pair of tongs to flip the steaks. Cook for an additional 1 1/2 to 2 minutes (for medium rare), then transfer to the hot oven and cook for 2-3 more minutes for medium rare. Remove the skillet from the oven and transfer the steaks to a cutting board or serving platter to rest for five minutes before serving.

While the steak rests, heat the bordelaise sauce and stir in the mushrooms. Spoon the sauce over the steaks and serve.
Nutrition
Calories:
224
kcal
|
Carbohydrates:
18
g
|
Protein:
17
g
|
Fat:
8
g
|
Saturated Fat:
3
g
|
Cholesterol:
15
mg
|
Sodium:
1526
mg
|
Potassium:
180
mg
|
Sugar:
6
g
|
Vitamin A:
175
IU
|
Vitamin C:
1.2
mg
|
Iron:
2.2
mg
Pin "Pan Seared Filet Mignon with Bordelaise" For Later!