Bordelaise sauce is a classic French sauce that's like the love child of a rich beef demi-glace and an aromatic wine sauce. It's velvety and lush and just begging to be spooned over a slice of prime rib or filet mignon. Make this simple, straightforward bordelaise sauce recipe tonight in under an hour.
This post has been updated for content since its original publication in 2016.
The classic bordelaise sauce is actually not one recipe but is instead built upon several recipes and methods for coaxing a silky beefy goodness into one harmonious sauce.
It starts with a traditional mother sauce known as Espagnole (brown sauce) which is then reduced to a demi-glace. Demi-Glace is like liquid gold. An intensely meaty concentration of flavors that's more like a glaze than a sauce.
Bordelaise sauce, starts with demi-glace and is then mixed with a shallot, herb and red wine reduction (the wine coming from the famous French wine region of Bordeaux) and blended with bone marrow for the most divine, silky rich, umami laden sauce you can think of .
For this version, you can use a store-bought demi glace or my cheater's version.
What you'll need for this bordelaise sauce recipe:
Red Wine (such as a beaujolais)
Sprigs of thyme
Bay Leaf
Shallots
Beef Bone Marrow (ask your butcher for marrow bones)
Pepper

Never had Bordelaise? Think of it as gravy on steroids. It starts with a demi-glace and is combined with a syrupy wine/shallot/herb reduction and blended with unctuous beef bone marrow. Trust me, bordelaise sauce is transformative.
How to make bordelaise sauce:
In a saucepan, combine the red wine, thyme, bay leaf and shallots and bring just to the point of a boil and reduce to a simmer. Cook until the wine has reduced by about 1/3 cup and is syrupy.
Use the back of a wooden spoon to gently push the marrow out of the beef bones and transfer to another pot with the beef broth. Bring the broth to a low simmer, then cover and remove the pan from the heat to poach the marrow just until it turns grayish and is soft and gelatinous in texture. (Discard the beef broth).
Transfer the marrow with a slotted spoon or kitchen spider to a cutting board. Use a sharp knife to mince the poached marrow. Set aside.
After the red wine and shallot mixture has reduced and concentrated, combine it with the demi glace and simmer on low heat for 10-15 minutes.
Strain the bordelaise sauce through a fine mesh strainer to remove any protein solids.
Add the minced bone marrow to the bordelaise sauce and serve.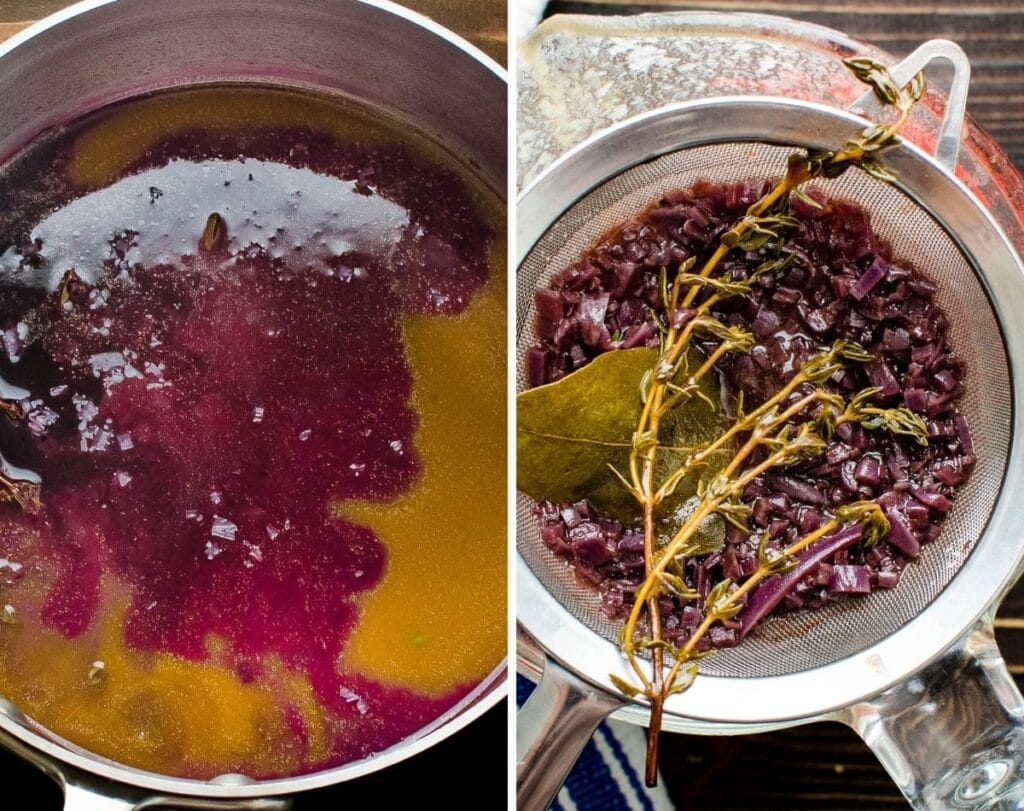 When straining the bordelaise sauce, press on the solids with the back of a wooden spoon to force as much of the sauce as you can through the sieve.
At this point, the Bordelaise Sauce is almost ready. It's silky and meaty, like a glaze of umami magic, enveloping your tongue with rich, beefy notes and a very slight acidity.
Pro-Tip:
Be sure to use a very fine mesh strainer to remove the solids and any denatured proteins from the bordelaise to give the sauce a silky, velvety texture.
About bone marrow:
As a kid, I can remember my grandfather sucking the marrow out of the veal bones of my grandmother's slow cooked osso bucco and being kind of grossed out. Now, however, I know that he was savoring the best part.
Think of bone marrow like beefy butter. It's rich and melts in your mouth. In fact, one of my favorite ways to enjoy bone marrow is spread on a toasted or grilled crostini. Trust me, you HAVE TO try it.
Adding softly poached bone marrow to the Bordelaise sauce recipe is adding another layer of goodness to the sauce. You don't want to cook the marrow so that it completely melts, just so that it warms enough to have a gelatinous quality.
After adding the minced bone marrow to the sauce, give it a stir to blend and serve the bordelaise over a fine cut of meat.
Finished Bordelaise has a dark, rich burgundy wine color and soft, velvety texture with a robust meaty-beefiness.
What goes with Bordelaise sauce?
This classic French sauce will pair well with any roast, steak or cut that you want to treat with care. It's particularly delicious spooned over prime rib, pan seared filet mignon or roasted beef tenderloin. Just remember, this isn't gravy. It's a rich, concentrated sauce, so a little goes a long way. Don't drown your meat in it.
But don't think that you can only serve this rich Bordelaise sauce with beef. It good with other things too.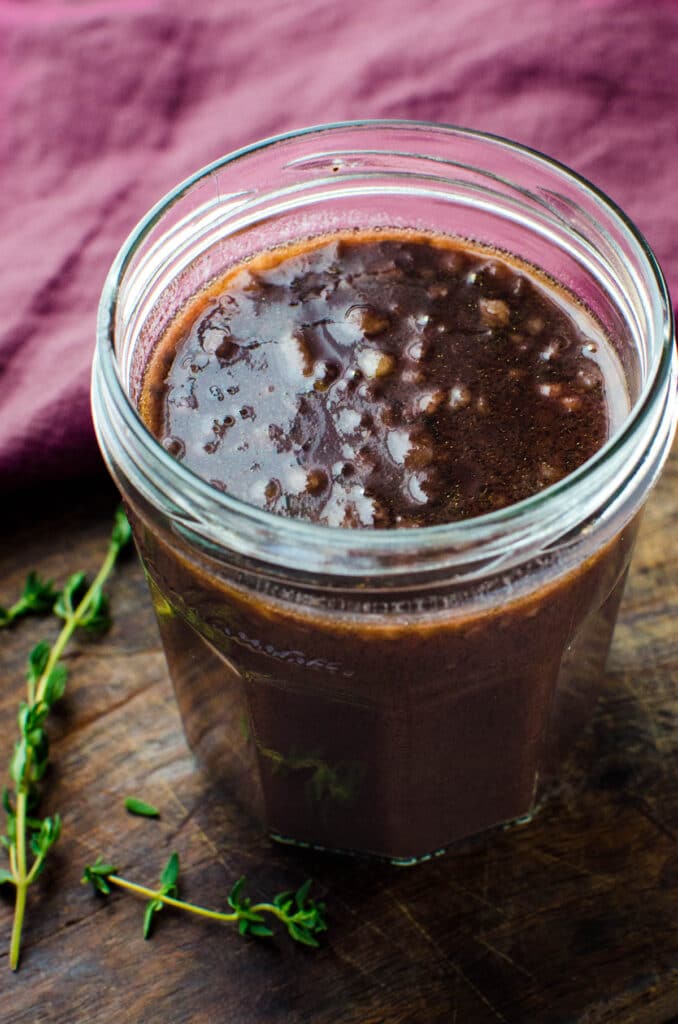 FAQ's
Can I make the bordelaise sauce ahead of time?
Yes. You can make it 3-4 days in advance and keep the sauce covered in the refrigerator. When reheating, do so very gently in a saucepan over a very low heat, stirring occasionally until the sauce is warmed through. Don't boil the bordelaise.
Can I freeze bordelaise?
Yes. Freeze it in small containers (about 1/2 cup) and defrost before reheating. It should keep in the freezer for up to 3 months.
More homemade sauces and gravies you'll love:
Bordelaise Sauce
Bordelaise is a rich, velvety French wine sauce that elevates anything you add it to. Made with demi glace, red wine and bone marrow, this luscious Bordelaise Sauce is perfect to garnish fine roasts and steaks.
INGREDIENTS:
1

cup

Demi-Glace

store bought or Cheater's Demi Glace From This Site

1 ¼

cups

red wine

such as Beaujolais

1

sprig

thyme

1

bay leaf

2

tablespoons

shallot

minced

2

ounces

marrow

from about 1 pound beef bones

1 15

ounce can

low sodium beef broth

1

pepper

freshly ground
DIRECTIONS:
In a medium saucepan add the wine, thyme, bay leaf and shallots. Heat to boiling and reduce to simmer. Cook until the wine has reduced to about 1/3 cup.

While the wine simmers, use the end of a small spoon to push the marrow out of the bones and transfer to a small saucepan. Add the beef broth to the marrow and bring to a simmer. Cover the pan tightly with a lid and turn off the heat. Poach the marrow in the liquid until it becomes gray – just a few minutes. Use a slotted spoon to remove the marrow and transfer to a cutting board. Mince the marrow and set aside.

When the wine has reduced, add the demi-glace and a grind of fresh pepper. Simmer on a medium low heat for 10-15 minutes.

Strain the sauce through a fine mesh strainer set over a small bowl or glass measuring cup. Stir in the diced bone marrow. Serve with steaks or roasts.
NOTES:
You can add sautéed mushrooms to the sauce — saute until browned, making sure there's no excess liquid and stir into the sauce at the last minute.
NUTRITION:
Calories:
128
kcal
|
Carbohydrates:
9
g
|
Protein:
9
g
|
Fat:
2
g
|
Sodium:
697
mg
|
Potassium:
169
mg
|
Sugar:
3
g
|
Vitamin C:
0.4
mg
|
Calcium:
3
mg
|
Iron:
1.2
mg
Pin it for later!