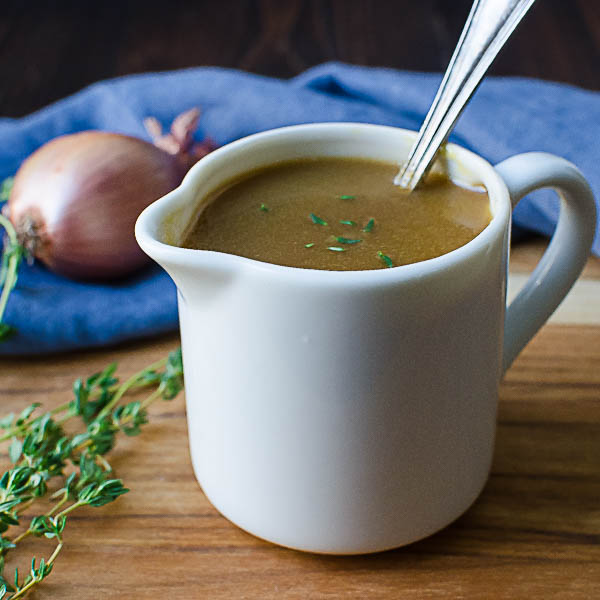 This post contains affiliate links, that means if you purchase something, I receive a small commission! I received product for this post.
When I think of demi-glace, I think of slow cooked, deeply flavored beef essence. That satiny quality that embellishes a pan seared, peppercorn crusted steak and enhances a velvety bordelaise sauce for your Christmas standing rib roast. Made with bones and water, some aromatics and veg…and time. Lots of time. That elusive commodity that we all find ourselves in deficit of. My solution? Cheater's Demi-Glace.
I'm using the word "cheater" loosely here. Because this sauce still requires a bit of simmering and reducing — but not the 2-3 days it takes to do it "right". More like a few hours. It starts with good bone broth (and this is where I shaved off at least a few days of prep). Good broth is one of those long-simmered affairs, and frankly, a good convenience brand can be hard to find. Look for ones with ingredients like beef broth from real beef bones, onions, carrots, celery, parsley, and maybe a few herbs – not the ones chock full of hard-to-pronounce ingredients and copious amounts of salt.
That's important because the demi-glace needs to reduce down further and you want the flavor to intensify without becoming a salt lick. For one cup of demi-glace, I used 32 ounces of bone broth. Adding additional aromatics like carrots, celery and onions, plus a sachet of whole peppercorns, thyme and parsley enhances the flavor. Three tablespoons of flour, stirred into the sautéed vegetables, creates a roux — and acts as slight thickener when adding the first half of the broth. Simmer it, uncovered for about half an hour, until its reduced by a third to half the original volume.
Use a fine mesh sieve to strain the reduced broth from the vegetables — and press the back of a spoon against the solids to get every bit of the precious liquid.
Return the strained sauce, the sachet and the remainder of the broth to the pot and heat to a bubbly simmer for 50 minutes to an hour, until the stock has reduced to about a cup.
Strain it again to remove any detritus and ensure a silky texture. A tiny amount of browning sauce will deepen the color, but that's completely optional. If you're using the demi-glace in another recipe, it's ready to go.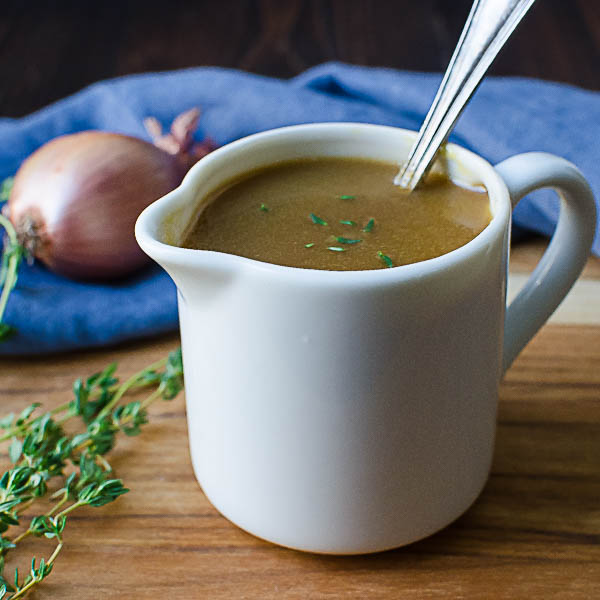 Cheater's Demi-Glace
A deep rich demi-glace in less than two hours, instead of two days! Get the cheater's secret to this rich, umami laden reduction!
INGREDIENTS:
1

bay leaf

7-8

sprigs

parsley

5-6

sprigs

thyme

10

whole peppercorns

2

tablespoons

clarified butter

1

small

stalk celery

diced

1

small

carrot

diced

½

medium

onion

diced

3

tablespoons

flour

32

ounces

beef bone broth

best quality

¼

teaspoon

browning sauce

optional

salt

to taste, optional
Special Equipment
cheesecloth and kitchen string
DIRECTIONS:
Place the bay leaf, parsley, thyme and peppercorns in the center of the cheesecloth, bring together the ends and tie into a sachet with the kitchen string. Set aside.

In a medium saucepan, heat the clarified butter over medium-medium high heat and add the diced onions, carrots and celery. Cook for 2-3 minutes until onions turn slightly translucent and vegetables soften a little.

Sprinkle in the flour and cook for three minutes, stirring constantly. You want the flour to brown, but not burn. Stir in two cups of broth and the sachet of herbs. Bring to a boil, reduce heat to a simmer and cook for about 20 minutes or until sauce is reduced by a third.

Transfer the sachet to a small plate and set aside. Set a fine mesh sieve over a bowl or glass measuring cup and pour the contents of the pot through the sieve, collecting the sauce in the bowl. Press on the solids in the sieve to extract as much sauce as possible, without shoving the soft vegetables through. Discard the vegetables.

Add the sauce and sachet back to the pot and add the remainder of the broth. Bring to a boil and reduce heat to simmer. Cook for an additional 50 minutes or until broth has reduced to about 1 cup. Remove the sachet (pressing out all the liquid) and discard.

For a darker demi glace, add 1/4 teaspoon browning sauce and season to taste with a little salt. If you're using the demi glace as the base for another sauce — you don't need to salt it.
NUTRITION:
Calories:
63
kcal
|
Carbohydrates:
3
g
|
Protein:
4
g
|
Fat:
3
g
|
Saturated Fat:
2
g
|
Cholesterol:
9
mg
|
Sodium:
50
mg
|
Potassium:
30
mg
|
Vitamin A:
1155
IU
|
Vitamin C:
2.6
mg
|
Calcium:
5
mg
|
Iron:
0.3
mg