Instant Pot Bone Broth with Beef Neck Bones
Want a quick and easy bone broth recipe that's perfect for your homemade soups and stews? This one uses beef neck bones which have a very high concentration of collagen and give a silky body and mouth feel to this luxurious broth. Though you can make this on the stovetop or in a slow cooker, I find that the Instant Pot (or pressure cooker) makes a clearer broth. This Beef Neck Instant Pot Bone Broth is the BEST.
Benefits of bone broth
Bone broth is a big thing these days, known for its nutritional benefits (high in iron, fatty acids, selenium, manganese etc. it's also attributed to protecting joints, fighting osteoarthritis and reducing inflammation. Read more about bone broth benefits here.
Best bones for broth
You can use any mix of beef bones for this broth, but I'm particular to beef neck bones. Why? They have a great concentration of cartilage and connective tissue (they're beef neck bones, after all) and the more cartilage, the more collagen. Collagen is what gives a good beef bone broth that satiny, coat-your-tongue feeling and is often described as adding "body" to a broth. You can tell a real bone broth from wannabes by refrigerating it. Broth made from bones will turn gelatinous when chilled.
How to make instant pot bone broth
Set the Instant Pot to sauté and add a bit of olive oil.
Season the beef neck bones with salt and pepper.
Working in batches, brown the bones on all sides. Turning every few minutes with a pair of tongs to flip them around.
Transfer the bones to a separate tray.
Add the roughly chopped vegetables to the Instant Pot and sauté until fragrant and slightly softened.
Add the neck bones back to the Instant Pot and cover with water and add a bay leaf.
Cook on high pressure for 1 1/2 hours.
Release the pressure naturally.
Strain the liquid
Use a pair of tongs to remove the bones and larger beef chunks. Transfer to a pan or dish. (Note: you can separate the meat from the bones and cartilage for use in soups, tacos, casseroles etc.)
Set a mesh strainer over a large bowl (large enough to fit all of the broth) and pour the remaining vegetables through the strainer. This will filter out the larger detritus from the bone broth.
Press on the vegetables with the back of a wooden spoon to squeeze out the last of the broth and get all of the flavor from the veg.
You'll find that natural beef bone broth is fairly light in color, to give it that traditional darker appearance, you can add a bit of browning sauce to the broth. A teaspoon or so should be enough to deepen the look of the bone broth.
Strain bone broth again
This may seem superfluous, because most of the vegetables, scum and protein solids will have been removed in the initial strain, but if you're a perfectionist, a second strain with a very fine mesh strainer will capture anything that remains.
Removing fat from Instant Pot bone broth
Transfer the broth to a storage container and watch as the fat rendered from the beef neck bones naturally rises to the surface (you can see it in the picture below). You can use a spoon to skim the fat off, but I've found the most complete and efficient way to discard the excess is by refrigerating the bone broth for several hours until the fat solidifies.
The image below shows you what it looks like when the fat has solidified after being refrigerated
The easy way to remove fat from stock
Simply spoon away the solids and discard (but don't put them down your drain — I just spent $200 on a plumber to clear a clog and he warned me not to put anything down the drain that doesn't dissolve in water. Heed his advice.) This will leave you with a rich tasting bone broth without the excess calories.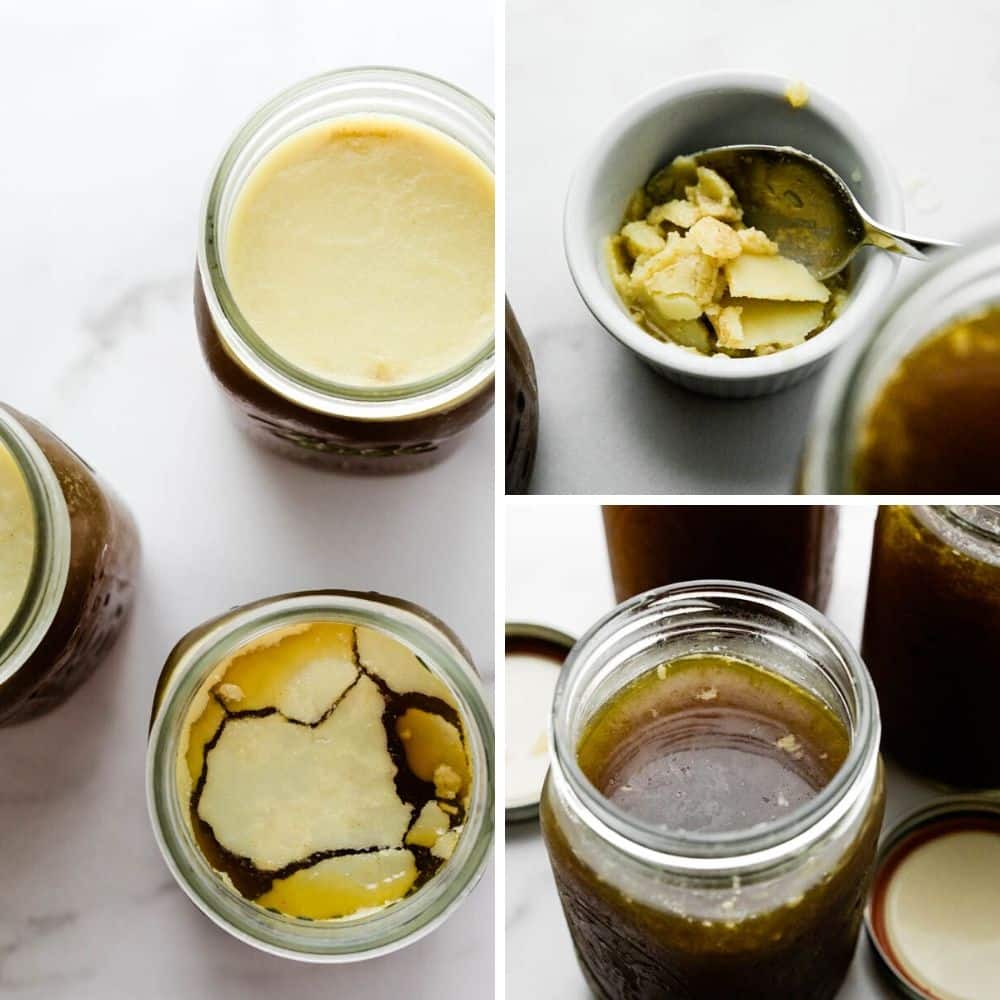 This is my go-to beef bone broth recipe because it's so easy to make and the flavor is pure and unadulterated. Plus, this homemade broth is lower in sodium than most store-bought version, better for your health, but also better for your cooking…
Why is lower sodium broth better for cooking?
Look, I get it. Salt is flavor — and in the absence of in-your-face flavors companies load up on salt, which is the case with many store-bought broths, stocks and consommés. A lower sodium broth is better for those types of recipes because with a long, slow simmer or braise, liquid evaporates and seasoning is intensified. So if you're starting with a highly seasoned (salted) stock it can easily become over-done. Start with a lower sodium broth like this one and season as you go through the recipe.
Recipes using Instant Pot bone broth
Garlic & Zest is a participant in the Amazon Services LLC Associates Program an affiliate advertising program designed to provide a means for sites to earn advertising fees by advertising and linking to Amazon.com.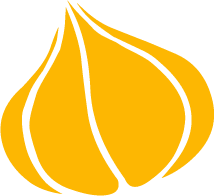 Tried this recipe? Leave a rating and review.
Your comments and shares are invaluable to me and the thousands of readers who use this site daily. If you've made the recipe, leave a star rating and review. We want to hear how you liked it.
We'd love it if you shared the recipe with your friends on social media!
Homemade Instant Pot Beef Stock
Make a rich, homemade stock for use in soups, stews and other favorite dishes.
SPECIAL EQUIPMENT:
Instant Pot or Pressure Cooker
INGREDIENTS:
2

teaspoons

kosher salt

divided

½

teaspoon

black pepper

3

pounds

beef neck bones

1

tablespoon

vegetable oil

divided

½

medium

onion

cut into rough chunks

1

large

carrot

cut into chunks (no need to peel)

1

large

celery stalk

1

large

garlic clove

roughly chopped.

1

bay leaf

10

cups

cool water

1

teaspoon

Kitchen Bouquet or other browning sauce

optional
DIRECTIONS:
Liberally season both sides of the beef neck bones with 1 teaspoon kosher salt and the black pepper.

Set the Instant Pot to the sauté function and add half of the vegetable oil. When the oil is hot add the beef neck bones in a single layer (you may have to do this in batches) and brown them on each side (about 5 minutes each). Transfer the beef bones to a sheet pan and continue browning the remaining neck neck bones.

Remove the neck bones to rest on the sheet pan and add the remaining vegetable oil to the Instant Pot. Stir in the chunks of onion, carrot, celery, garlic, remainder of salt and bay leaf. Sauté for 3-4 minutes or until fragrant and slightly softened.

Add the beef bones back into the pot and cover with water. Secure the lid on the pressure cooker (with the vent closed) and bring to pressure. Cook for 1 hour and 30 minutes, then let the pressure naturally release.

Transfer the beef neck bones and meat to a dish to cool.

Place a mesh strainer over a large bowl. Pour the broth through the strainer and discard the vegetables. Stir in the browning sauce, if using.

Strain the broth for a second time, this time using a very fine mesh strainer, to collect stray bits that may have gotten through the first time.

NOTE: You can use the beef in a recipe. Just let it rest until it's cool enough to handle and pull the meat from the bones. You can shred the meat for use in tacos, stews, casseroles and soups.

Broth can be kept refrigerated for up to 10 days (I like to use canning jars for this). Broth can also be frozen for up to 3 months in plastic containers or pour the bone broth into ice cube trays and store the cubes of broth in a zip top bag for use in everyday cooking.
NUTRITION:
Calories:
20
kcal
|
Carbohydrates:
2
g
|
Protein:
1
g
|
Fat:
1
g
|
Saturated Fat:
1
g
|
Sodium:
489
mg
|
Potassium:
48
mg
|
Fiber:
1
g
|
Sugar:
1
g
|
Vitamin A:
1232
IU
|
Vitamin C:
1
mg
|
Calcium:
14
mg
|
Iron:
1
mg
Pin "Instant Pot Bone Broth with Beef Neck Bones" For Later!