This cheesy tomato egg gratin is based on my grandmother's recipe and you'll love it because it's easy to assemble, make ahead and works as a starter, vegetarian main course, side dish or brunch entree. You have to appreciate that kind of versatility.
This is turning out to be a real comfort-food week. It must be the cold weather — I'm nesting. And for me there's nothing that screams comfort food more than this heavenly rich, cheesy tomato egg gratin courtesy of my grandmother, Madou.
She would fix this luscious egg bake as a first course for family dinners and it was always one of my favorites. I don't make it very often, but when I do, I generally serve it alongside a roast chicken or other protein, though, it would make a very satisfying Meatless Monday main course.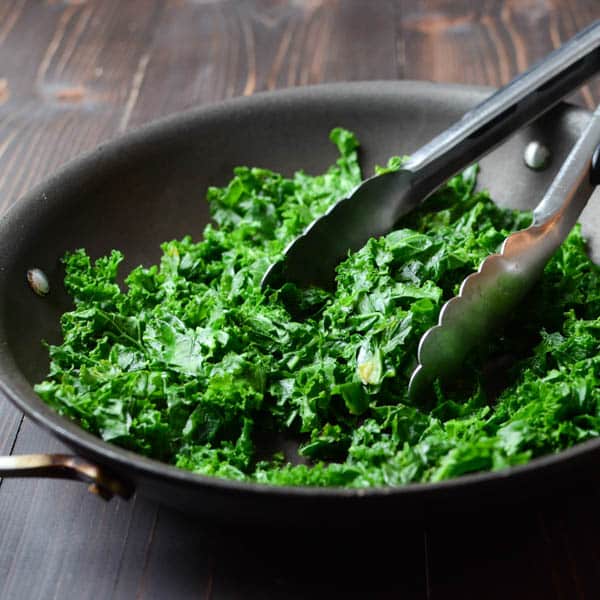 The cheese infused bechamel takes ordinary ingredients like tomatoes and eggs and elevates them into something really special.
My spin on this dish is the sauteed kale. Madou never added it, but it really works well in this combination.
The key to this gratin is the eggs. They can't be overcooked. They should be soft and a little wet. You can achieve this by cooking them on a very low (and I mean excruciatingly low) heat and stirring constantly. It took me 12 minutes to scramble these eggs.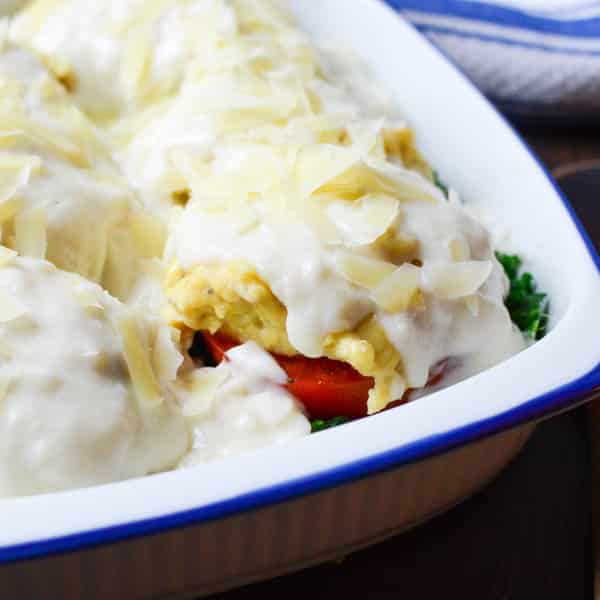 Layer the casserole starting with a smear of bechamel on the bottom of the dish, then the sauteed kale and tomatoes. Mound a spoonful of the egg on top of each tomato half and smother the whole thing in that savory cheese sauce. A few sprinkles of extra grated cheese will ensure a gooey, golden finish.
You can enjoy this tomato and egg gratin as a starter, side dish or a vegetarian meal. Though the combination sounds unusual, the flavors are amazing.
More gratin recipes:
Rich Tomato and Egg Gratin
This is a riff on a dish my grandmother has made all my life. She'd serve it as an appetizer for a large group, but I think it makes a great vegetarian meal, or a delightfully different brunch casserole!
INGREDIENTS:
4

tablespoons

butter

divided

3

tablespoons

flour

1

teaspoon

kosher salt

divided

¼

teaspoon

white pepper

1 ½

cups

milk

3

tablespoons

water

3-4

cups

kale

tough stems removed, chopped

3

medium

tomatoes

sliced in half crosswise

6

extra large

eggs

or 7 large eggs

1 ¼

cups

comte

gruyere or emmental cheese, shredded
DIRECTIONS:
Preheat the oven to 375°.

Spray a small casserole dish with vegetable spray and set aside.

In a small saucepan, melt two tablespoons of butter over medium high heat. Sprinkle the flour, 1/4 teaspoon kosher salt and the white pepper into the melted butter and whisk until well combined and bubbly. Gradually add the milk stirring constantly and scraping the sides. Heat until the mixture begins to bubble and cook for one minute, stirring constantly until it thickens. Remove from heat stir in 1 cup of the cheese until its melty and gooey. Spoon 2-3 tablespoons of the cheese sauce into the bottom of the casserole dish. Set aside.

In a medium pan with a lid, add the water to the pan and heat over medium high heat until water almost boils. Stir in the kale, sprinkle with 1/4 teaspoon salt, cover with lid and reduce heat to medium-medium low, cooking just until the kale wilts and water has mostly evaporated — about 2-3 minutes. Transfer the kale to the casserole dish, spreading it evenly over the bottom.

Remove the watery seeds from the tomatoes and arrange cut side up in the casserole dish. Sprinkle with 1/4 teaspoon salt.

Whisk the eggs and 1/4 teaspoon salt in a small bowl. Melt 2 tablespoons butter over medium low heat in the pan that you cooked the kale in and add the eggs. Continue to whisk the eggs until you have a very soft scramble, stirring constantly. (Eggs should be very soft and a little wet).

Evenly divide the scrambled eggs over the tomatoes. Spoon the cheese sauce over the gratin (note: sauce will be very thick) and sprinkle with remaining cheese.

Bake for 20 minutes, then turn the broiler onto high and cook for 3-4 minutes more until the top begins to brown. Let the gratin rest for 5 minutes before serving.
NUTRITION:
Calories:
330
kcal
|
Carbohydrates:
9
g
|
Protein:
19
g
|
Fat:
24
g
|
Saturated Fat:
12
g
|
Cholesterol:
264
mg
|
Sodium:
666
mg
|
Potassium:
381
mg
|
Sugar:
3
g
|
Vitamin A:
4370
IU
|
Vitamin C:
42.3
mg
|
Calcium:
431
mg
|
Iron:
1.7
mg
Don't Forget To "Pin It" For Later!