Farro Pomegranate Kale Salad has been updated since it's original posting in October of 2014.
Looking for fall salad ideas? This Farro Pomegranate Kale Salad is an easy vegan kale salad with bits of apple and a lemony vinaigrette. Fall side dishes don't have to involve squash — switch it up with this farro salad recipe.
Too often, fall side dishes tend to be on the heavy side laden with creamy sauces or buttery crusts. Not that there's anything wrong with that — but occasionally we need to mix in a salad. To me, fall salad ideas should straddle the line between main course and side dish and this Farro Pomegranate Kale Salad does just that.
The inspiration came from some beautiful pomegranates I found at our farmer's market this weekend. Pomegranates are a favorite of mine for several reasons — the first is that breaking into a pomegranate is like playing with your food — with the tasty kernels barely being held together by a thin white, papery membrane. Those seeds, which resemble tiny jewels, are sweet tangy and tart and bursting with juice. They really bring this farro salad recipe up a notch.
So let's get to the salad. While the farro is cooking, prep the kale, pomegranate, apples and green onions. One of the changes I made to this salad was the kale — originally I used lacinato kale, but for this one, I used regular, curly kale. Either will work — or you could use baby kale — just keep in mind that if you use baby kale, the salad won't hold up past the first day. With regular kale, this salad will last two or three days in the fridge. The lemony dressing, with garlic, dijon and a bit of maple syrup is tangy and zesty.
Add the farro to the rest of the mix and toss with about half of the dressing. If the salad seems dry, add more dressing one tablespoon at a time. You don't want it to be wet or gloopy — and any leftover dressing can go on another salad or on steamed asparagus (yum). As far as fall salad ideas go, this one is a winner. with lots of texture, colors and flavors — and don't forget the crunch factor… That's the other change I made… Toasted pecans sprinkled on top just before serving the pomegranate kale salad bring another dimension to this mix.
I've had this vegan kale salad for lunch and it's kept me full all afternoon, so if you're looking to lighten up, try packing this for a few days of lunches to fuel you up without filling you out. My husband loves pomegranate kale salad as a side dish to a rotisserie chicken for a healthy dinner option.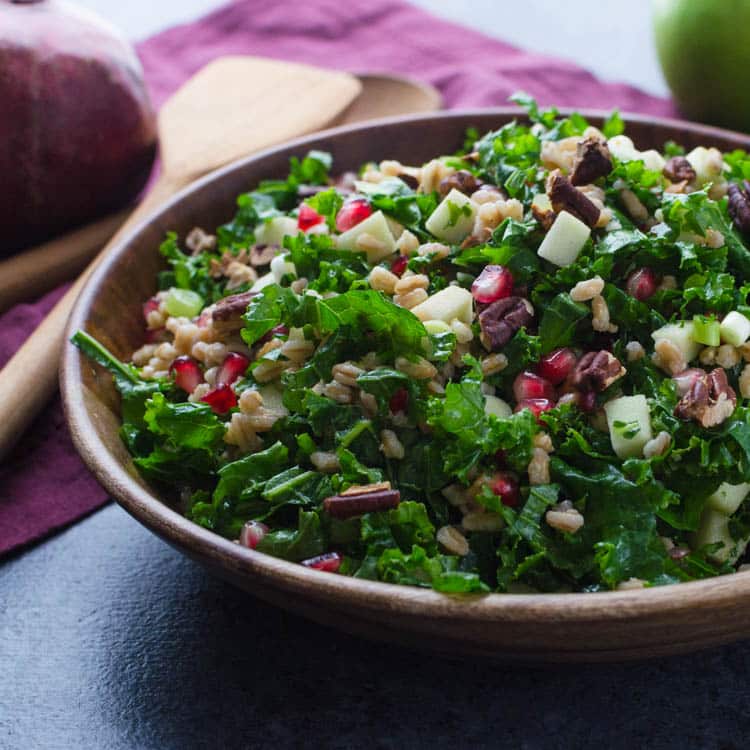 Want More Fall Side Dishes?
How About More Fall Salad Ideas?
Garlic & Zest is a participant in the Amazon Services LLC Associates Program an affiliate advertising program designed to provide a means for sites to earn advertising fees by advertising and linking to Amazon.com.
Farro with Pomegranate and Apple
This hearty salad is loaded with flavor with sweet tart apples and juicy pomegranate seeds.
ingredients
1/2

cup

pecans

1

cup

farro

1

pomegranate

peeled and seeded

1

large

granny smith apple

3

cups

kale

2

scallions

thinly sliced
For dressing
1

clove

garlic

minced

1

lemon

3

tablespoons

olive oil

2

teaspoons

dijon mustard

2

teaspoons

maple syrup

1/4

teaspoon

kosher salt

1/8

teaspoon

freshly ground black pepper
instructions
FOR THE SALAD:
Preheat oven to 375°. Place pecans on a baking sheet and toast until fragrant and browned, about 8-12 minutes.

Cook farro according to package directions. Let the farro cool, uncovered to room temperature.

In a large bowl combine the pomegranate seeds, apple, kale, scallions and farro. Toss to combine. Add 3 tablespoons of the dressing to the salad and toss. If the salad still seems a little dry, add an additional tablespoon of dressing at a time -- tossing and tasting along the way. I always end up with extra dressing, which I stick in the refrigerator and use for another salad or even over some steamed green beans or asparagus (Yum!)
MAKE THE DRESSING:
Zest the lemon with a microplane grater and transfer it to a small bowl. Add the garlic, mustard, the juice from the lemon, olive oil, maple syrup salt and pepper. Whisk to emulsify and set aside.

Remove the seeds from the pomegranate, discarding the pith and skin. Transfer the seeds to a large bowl.

Peel, seed and chop the apple into 1/2" dice. Add it to the pomegranate bowl.

Remove the tough stems from the kale leaves and discard. Massage the kale with your clean hands on a cutting board for 2-3 minutes until the kale smells grassy and fragrant and the leaves are a bright green. Take a handful of kale and bunch it up very tightly in one hand. Slice the tight ball of kale into thin ribbons. Continue with the remainder of the kale and transfer to a the pomegranate mixture .

Add the cooled farro to the salad and toss to combine. Add about half of the dressing, tossing well to coat. If the salad seems dry, add a bit more dressing a tablespoon at a time. (Note: any leftover dressing can be refrigerated for another salad).

Just before serving, add the toasted pecans.
Nutrition
Calories:
286
kcal
|
Carbohydrates:
38
g
|
Protein:
5
g
|
Fat:
13
g
|
Saturated Fat:
1
g
|
Sodium:
133
mg
|
Potassium:
367
mg
|
Fiber:
7
g
|
Sugar:
6
g
|
Vitamin A:
3405
IU
|
Vitamin C:
52.4
mg
|
Calcium:
78
mg
|
Iron:
1.8
mg
Pin "Farro Pomegranate Kale Salad" For Later!
More Kale Salads: