Maple Walnut Breakfast Muffins
Looking for a simple and easy muffin recipe that's great for fall weekends? These Maple Walnut Breakfast Muffins are lightly sweet with deep maple flavor and a satisfying crunch from toasted walnuts. Make full size maple muffins or parse them out into a mini muffin tin for bite sized treats with an optional maple glaze. To intensify the maple flavor in these walnut muffins, I use a combination of maple extract and maple syrup for a homey fall treat.
The maple walnut combination just screams fall to me. Of course, I don't have any qualms about enjoying these breakfast muffins in the middle of July, but they're really made for the fall and winter months. These muffins have a hearty crumb, satisfying crunch and the optional maple glaze is the icing on top.
Ingredients For Maple Walnut Breakfast Muffins
Flour
Baking Powder
Baking Soda
Salt
Butter
Sugar
Eggs
Maple Flavoring
Sour Cream
Buttermilk
Walnuts
Maple Flavoring Versus Maple Syrup
Normally, I'm a purist when it comes to flavors. I like pure vanilla, real zest from citrus and syrups made from the source. In most applications the natural ingredients work the best and yield an authentic flavor, but for these maple muffins, I use maple extract instead of syrup for a deeper, more pronounced flavor. I found this Southern Select Natural Maple Flavoring when I was at the Summer Fancy Food Show and it really delivers that maple aroma and flavor I wanted for this simple muffin recipe. I'm not an affiliate, just a fan. Feel free to use whatever maple extract you have.
These moist walnut muffins have buttermilk, eggs and sour cream in the batter for a sturdy dome and tender crumb. Making this simple muffin recipe is really a snap, too.
Making Easy Muffin Recipe
Combine the dry ingredients in a bowl and whisk to combine.
Beat the sugar and butter together until light and fluffy.
Add eggs one at a time and beat until fully incorporated before adding the next egg.
Add the sour cream, buttermilk and maple flavoring and beat to combine.
Stir the dry ingredients into the wet ingredients until just combined.
Add the toasted chopped walnuts.
Bake.
Standard Sized Muffins or Mini Muffins?
This easy muffin recipe makes about 18 regular sized muffins or about 45-48 mini muffins, depending on which you prefer. In this instance, I made a dozen regular sized muffins and the rest were done in a mini muffin pan, so that's an option too. Obviously, the smaller ones take less time to bake, but I've given baking times for both sizes of maple muffins.
Can I Enjoy Maple Muffins Straight From The Oven?
Maple Walnut Breakfast Muffins are delicious straight from the oven, slathered with butter or apple butter or even drizzled with a spoonful of maple syrup
Do The Walnut Muffins Need To Cool Before Adding Maple Glaze?
Yes. If you are adding the optional maple glaze, you'll want to let them cool to room temperature before icing. You'll also want to let them rest after you add the glaze so it can "set up".
Can You Freeze Maple Walnut Breakfast Muffins?
Yes. These muffins freeze very well and will last 2-3 months in the freezer. Pro Tip: If you're planning on freezing the muffins, don't glaze them before freezing. You can add maple glaze once they've defrosted.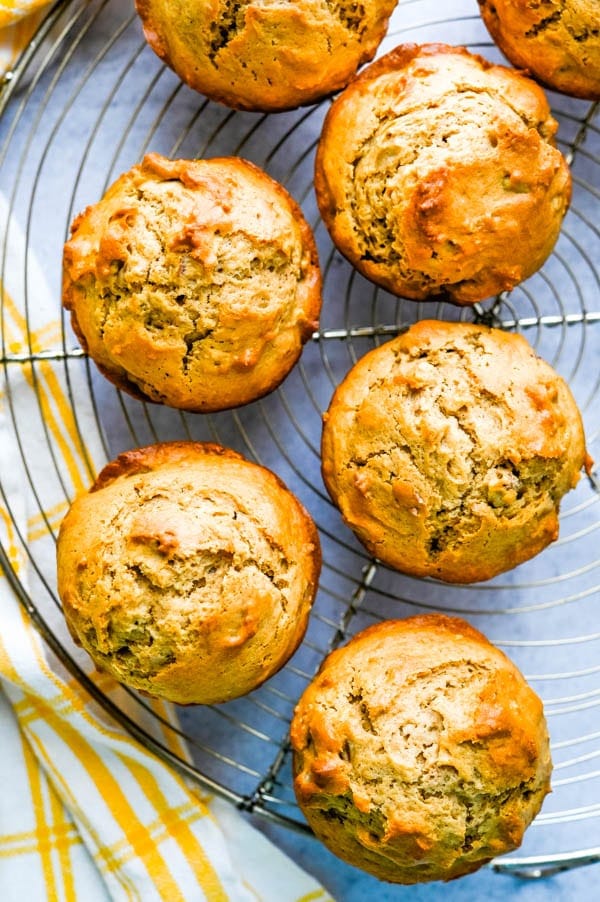 This batch of maple walnut breakfast muffins were taste tested by my nephews to rave reviews. Palmer and Carter (ages 9 and 13) devoured them over the course of just a few days. In fact, the rest of us were prompted to quickly claim our own treats because of the Hoover-like quality of the brothers' appetites.
Glazing Maple Walnut Mini Muffins
Whisk the ingredients for the maple glaze together until it's smooth and creamy.
For larger muffins, place the walnut muffins on a wire rack and drizzle the maple glaze over them in a swirly pattern. Let the glaze dry before storing.
For mini muffins, dunk the muffin top into the glaze and then set on a wire rack to dry before storing.
You May Also Like These Mini Muffin Recipes:
Maple Walnut Muffins
These Maple Walnut Muffins are perfect for big weekend breakfasts - with a deep maple flavor, speckled with toasted walnuts and topped with an (optional) maple glaze.
INGREDIENTS:
3 ½

cups

all purpose flour

2

teaspoons

baking powder

½

teaspoon

baking soda

1

teaspoon

salt

8

tablespoons

unsalted butter

1

cup

sugar

3

large

eggs

2

teaspoons

maple flavoring

½

cup

sour cream

½

cup

buttermilk

1 ½

cups

walnuts

chopped
For Optional Maple Glaze
1

cup

powdered sugar

½

teaspoon

maple flavoring

1

tablespoon

maple syrup

1

tablespoon

milk
DIRECTIONS:
Preheat the oven to 400°. Spray your muffin tins with vegetetable spray or line them with paper liners and spray the liners. Set aside. Note, you can use regular muffin tins or mini muffins. This will make 18 large muffins or about 36-40 mini muffins.
Toast The Walnuts
Place the walnuts on a baking sheet and toast them in the hot oven for 5-7 minutes or until fragrant and lightly browned. Remove from heat to cool. Chop the walnuts and set aside.
Make the Muffins
In a medium bowl, whisk together the flour, baking powder, baking soda and salt. Set aside.

In a large bowl, combine the butter and sugar. Use a hand mixer to beat until the two are very well incorporated, about 2 minutes.

Add eggs one at a time and beat until the egg is fully mixed into the butter mixture before adding the next egg.

Add the maple flavoring, sour cream and buttermilk. Mix until well blended.

Add the dry ingredients and mix on low speed until they are just moistened.

Stir in the walnuts and scoop the batter into the prepared muffin tins.
Bake The Muffins
For Large Muffins: bake for 18-22 minutes or until a cake tester comes out clean when stuck into the middle of a muffin.

For Mini Muffins: bake 12-15 minutes or until a cake tester comes out clean when stuck into the middle of a muffin.
Make The Glaze (optional)
In a small bowl, combine the powdered sugar, milk and maple flavoring. Stir until there are no lumps and the glaze is smooth.

When the muffins have cooled to room temperature, drizzle the glaze over the top and let set. For mini muffins, turn them upside down and swirl the muffin tops in the glaze to coat. Transfer to a cooling rack to dry before serving.
NUTRITION:
Calories:
297
kcal
|
Carbohydrates:
38
g
|
Protein:
6
g
|
Fat:
14
g
|
Saturated Fat:
5
g
|
Cholesterol:
53
mg
|
Sodium:
187
mg
|
Potassium:
145
mg
|
Fiber:
1
g
|
Sugar:
19
g
|
Vitamin A:
255
IU
|
Vitamin C:
0.2
mg
|
Calcium:
55
mg
|
Iron:
1.6
mg
Pin "Maple Walnut Breakfast Muffins" For Later!