This post contains affiliate links which means if you make a purchase, you'll pay no more for the item and I receive a small commission. Win-win!
Craving a traditional king cake to celebrate Mardi Gras? That famous New Orleans cake is a must for Fat Tuesday and this King cake recipe is the original, authentic, from the master himself, John D. Folse.
What is King cake?
Classic New Orleans King Cake is essentially a sweet yeasted dough with a buttery cinnamon sugar swirl ribboned throughout the crumb.
Lacquered with an easy almond glaze and festooned with traditional green, purple and gold Mardi Gras colored sprinkles, this delicious New Orleans cake is great for breakfast or brunch with a cup of strong, hot chicory coffee or café au lait.
King cake is a de rigeur recipe for any Mardi Gras or Carnivale bash.
Master of Cajun & Creole cuisine
John D. Folse is the legendary Louisiana chef, restauranteur, television personality and local authority on Creole and Cajun cuisine. His tome, The Encyclopedia of Cajun and Creole Cuisine, is my bible for authentic recipes from this region.
The book itself must weigh 12 pounds and is filled with history, lore and recipes from the Pelican state. If you're serious about Cajun and Creole cooking, it's a must have.
The history of the famous New Orleans King cake
King cake has been a fixture at New Orleans Mardi Gras celebrations for scores of years, but this dessert isn't just for Fat Tuesday revelry.
New Orleans King cake season starts on January 5th (a.k.a. Twelfth Night or 12 days after Christmas) and runs to Ash Wednesday.
The "King" in King cake
Into each traditional king cake, the baker tucks a small plastic baby figurine. It can represent the New Year or the baby Jesus who was visited on the Twelfth Night by the Magi.
Everything from porcelain charms and figurines to a dried bean or pea were tucked into the cake to represent the baby Jesus.
Current custom crowns the person who gets the "baby" as "king of the revelry" and he/she must bring the next King Cake or host the next Mardi Gras party.
King Cake isn't just for New Orleans
King cakes are popular all over the world in some form or another. Dating back to Roman times, where they chose the "King of Saturnalia" by baking a bean into the cake.
Additionally, the practice of eating a cake with a bean tucked into the dough is also found in France (galettes de rois), Italy (pannetone), Portugal (Bolo-Rei) and England (fruitcake), and those traditions began countless years before Mardi Gras was celebrated in the Big Easy.
Season of celebration
Though King Cake is typically consumed exclusively on the Twelfth Night throughout the rest of the world, New Orleans has put their own spin on custom and consumption.
Rather than enjoying it solely on the twelfth night, traditional New Orleans King cake is considered a pre-Lenten indulgence that's enjoyed during the entire Carnivale season.
What you'll need to bake traditional King cake
Instant Yeast
Warm Water
Granulated Sugar
All Purpose Flour
Powdered Milk
Iodized Salt
Eggs
Melted Butter
Cinnamon
From these seemingly humble ingredients, comes a flaky, rich, sweetened pastry that reminds me of a danish coffee cake. It's not difficult to make and just takes a little time and patience.
I recommend using a stand mixer with a dough hook to make this New Orleans cake. The dough is kneaded for 8-10 minutes in the stand mixer or until the dough separates from the bowl.
Kneading the King cake dough for this recipe would take much longer to do by hand.
After kneading, the dough needs to proof (rise). Butter a clean bowl and transfer the plush dough to the bowl. Cover with a clean dish towel and let it rise until doubled in size, for about 1 hour.
I found this dough very easy to work with. It's soft and pliable, just be sure to liberally flour your work surface and the the top of the dough to prevent any sticking.
Rolling out and assembling King cake dough
Use a rolling pin, roll the dough into a 9″ x 12″ rectangle.
Brush the dough with melted butter.
Sprinkle liberally with cinnamon sugar
Cut the King cake dough into 3 even, lengthwise strips.
Slightly overlap and pinch together 3 ends of dough.
Braid the 3 strips of dough together and gently transfer to a baking sheet lined with parchment paper or a silicone mat.
Shape the braid into a circle, pinching the ends together.
If you're using a plastic baby, trinket or bean, gently lift one section of the dough and tuck the figure into the underside. The baby will bake into the cake.
Brush the surface of the cake with an egg wash and transfer the pan to a warm, draft free place for the second rise.
Pro-Tip #1:
Use a pizza cutter to cut the dough into strips. It makes it so much easier.
Pro-Tip #2:
To create a warm, draft free environment for proofing, turn your oven on to 200° and let it warm up for 5 minutes. Turn the oven off and place the dough in the oven.
Once the dough has finished it's second rise, it's time to bake.
Preheat the oven to 350° and bake the New Orleans King cake for 20-25 minutes or until it's golden brown.
Set the cake aside to cool, while you assemble the glaze.
Almond glaze ingredients:
Powdered Sugar
Salt
Almond Extract
Making glaze for King cake recipe
To ensure a smooth glaze with no lumps, use a whisk or electric hand mixer to combine the ingredients until creamy.
Unlike standard powdered sugar glaze recipes, the King cake glaze uses water instead of milk or cream.
It's also flavored with almond extract and cinnamon, which will enrobe the cake with its distinctive King cake flavor.
Of course, there's another reason for the glaze… It's how you get the sprinkles to stick! And if there's one thing that a King cake recipe demands… Mardi Gras hued sprinkles.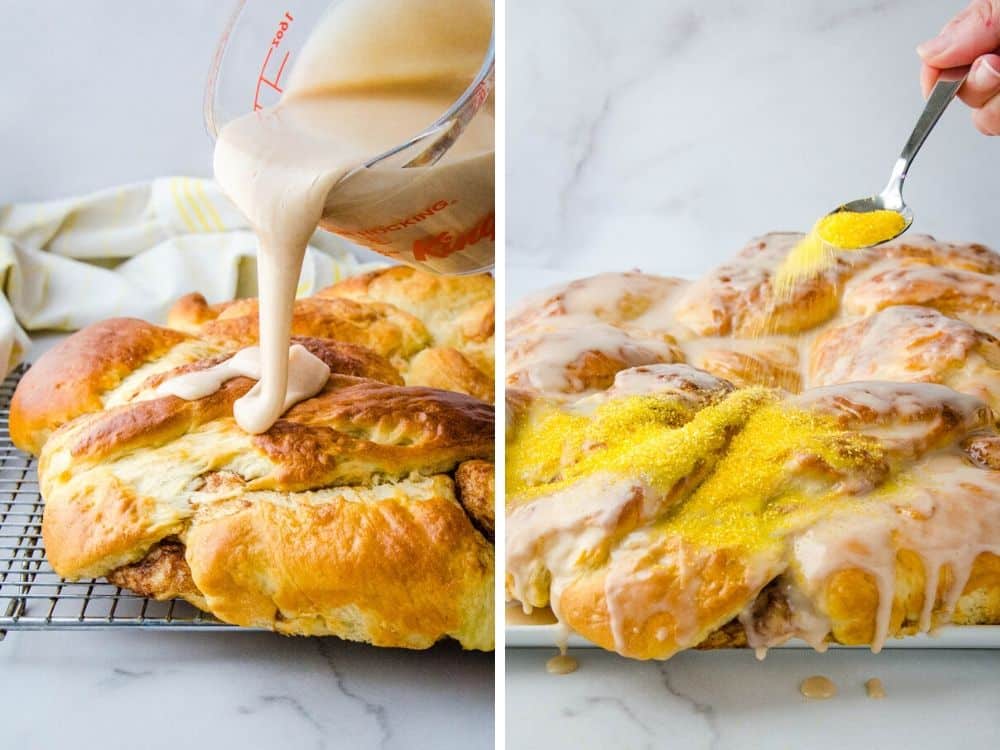 Mardi Gras colors
Traditional Mardi Gras colors are green, purple and gold and they hold special meaning. Green stands for faith. Purple is for justice and Gold represents power.
Every New Orleans King cake recipe showcases those colors with sparkling sugar or sprinkles.
The main rule when it comes to King cake sprinkles is that you must have A LOT OF THEM.
I initially thought that my 3 in 1 container of Mardi Gras sparkling sugar would be ample for the cake. NOT.
Before you start on this, make sure you have 3 individual jars of colored sparkling sugar. (There's an affiliate link for sprinkles and baby figurine just above the recipe card at the end of the post.)
Decorating with sprinkles
I recommend transferring the sparkling sugar to 3 individual prep bowls (it's easier to scoop and spoon the sugar that way and your not stuck shaking the jar over the cake, while the glaze dries too fast).
As soon as the glaze is spread over the top of the King cake, dip your spoon into one of the bowls and sprinkle the sparkling sugar liberally over one segment of the cake.
Go to the next color, scoop and sprinkle over another section. Continue in this manner until you've coated the King cake in a blinding shock of green, purple and gold.
How to serve a New Orleans King Cake
This might seem like a no-brainer, but there is a tradition behind doling out a King cake.
The New Orleans cake is usually the end to a big Mardi Gras bash (i.e. lots of revelers) and custom dictates that the entire cake be consumed.
Therefore, it's traditional that the King Cake is sliced all at once, into as many slices as there are people at your celebration… plus one extra slice for God.
King Cake Recipe FAQ's
Can I make the cake ahead of time?
Yes, with a caveat. Make the cake, but wait until the day you plan to serve it to glaze and add the sprinkles.
Can I freeze King cake?
Yes. You can wrap and freeze the King cake for up to 3 months. If you're freezing the whole cake, I'd recommend glazing and decorating after the cake has thawed completely.
However, you can also freeze slices of decorated leftover king cake. Wrap them in plastic wrap and then in freezer paper.
What's the best way to store leftover King cake?
Didn't you read above, where you're supposed to eat the WHOLE THING in one sitting? Kidding… Place the cake in an airtight cake container. It can be left out on the counter or refrigerated. If refrigerating, let the cake come to room temperature before enjoying.
More Mardi Gras recipes you'll love:
Helpful items for this recipe:
Mardi Gras King Cake
This recipe makes an authentic Louisiana King Cake with a lightly sweet crumb and crunchy colored sugar topping. Great with café au lait or rich chicory coffee.
SPECIAL EQUIPMENT:
stand mixer with dough hook attachment

1 small plastic baby or 1 large dried bean (like a kidney bean)
INGREDIENTS:
FOR DOUGH:
¼

ounce

Instant Yeast

(one packet) be sure it says Instant, not Fast Acting

¾

cup

warm water

divided

½

cup

sugar

divided

2 ½

cups

all purpose flour

¼

cup

dry milk powder

1

teaspoon

salt

2

large

egg

divided

½

cup

melted butter

melted, divided

1 ½

teaspoons

cinnamon

2

tablespoons each

purple, green and gold decorating sugars
FOR GLAZE:
1

pound

powdered sugar

(about 4 cups)

1

pinch

salt

1 ½

teaspoons

almond extract

6

tablespoons

water

½

teaspoon

cinnamon
DIRECTIONS:
FOR DOUGH:
In a small bowl, combine yeast and 1/4 cup water and set aside for the yeast to bloom.

In the bowl of the stand mixer, combine 1/4 cup sugar, all purpose flour, dry milk powder and salt. Whisk well to combine. Secure the bowl in the stand mixer and insert the dough hook.

In a separate bowl, combine one egg, 6 tablespoons melted butter and remaining 1/2 cup water and whisk well to combine.

Slowly pour egg mixture and bloomed yeast into the flour mixture while mixing on low speed. Gradually increase speed to medium and mix for 8-10 minute sor until dough starts to pull away from the sides of the bowl. Note if dough doesn't pull away, add more flour a heaping tablespoon at a time and incorporate fully before adding more. (Depending on the humidity of the day, it will affect how the flour absorbs liquids…(I had to add about half a cup more flour because of the humidity here in South Florida.)

Brush a large stainless steel bowl with butter and transfer the dough to the bowl. Cover with plastic wrap and let proof for about an hour or until the dough doubles in volume.

Line a baking sheet with parchment paper or a silpat and set aside.

When dough has risen, generously flour a work surface and transfer the dough. Sprinkle with a little extra flour and knead 10-12 times until smooth. Roll the dough out into a rectangle, about 9" x 12".

Combine the cinnamon with the remaining 1/4 cup of sugar and mix well.

Brush the remaining melted butter over the dough. Sprinkle the cinnamon sugar evenly over the melted butter.

Using a pizza cutter or sharp knife, cut the dough into 3 equal sections (3" x 12"). Pinch the dough together at the top, so that it holds. Braid the 3 pieces of dough to the end and lightly pinch together.

Carefully transfer the dough to the prepared baking sheet and form into a circle, pinching the two ends together to stick.

In a small bowl mix together the egg and a teaspoon of water. Brush the egg wash over the dough and set in a warm, draft free place to proof and double in size again.

While the dough proofs, heat the oven to 350°. When dough has risen, bake for 20-25 minutes or until cooked through and golden brown. Remove the King Cake from the oven to cool.
MAKE THE GLAZE:
In a medium bowl, combine the powdered sugar, salt, almond extract, water and cinnamon and whisk until smooth.

Transfer the cake to a cake plate and pour the glaze liberally over the top of the cake. (Note: for a neater appearance, you can also place the cake on a wire rack to glaze, so that excess runs off the cake. Then gently transfer the glazed cake, while the glaze is still wet, to a cake plate and decorate with sprinkles as instructed below.)

Place the sprinkles into 3 separate small bowls. Use a spoon to sprinkle the colored sugar in patches of each color over the cake, covering the entire cake with sparkling sugar. Tuck the baby or bean, underneath the cake, but don't tell anyone where it is. Slice and serve. (Remind people to be on the lookout for the baby — and don't eat it.) Whomever gets the baby (or bean) is responsible for bringing the King Cake the following year.
NUTRITION:
Calories:
380
kcal
|
Carbohydrates:
70
g
|
Protein:
5
g
|
Fat:
9
g
|
Saturated Fat:
5
g
|
Cholesterol:
56
mg
|
Sodium:
294
mg
|
Potassium:
94
mg
|
Fiber:
1
g
|
Sugar:
49
g
|
Vitamin A:
346
IU
|
Vitamin C:
1
mg
|
Calcium:
47
mg
|
Iron:
1
mg
Pin " King Cake Recipe" for later!