Learn how to make healthy granola naturally sweetened with organic apple juice and maple syrup. It's a customizable, low sugar granola that's subtly sweet. A crunchy granola that's great for breakfast and snacks. #sponsored #NorthCoastOrganic
As we approach back to school time, I thought I'd lend a hand to parents who want a lower sugar option for their kids' breakfasts and snacks. An easy, delicious and customizable vegan granola recipe, that's naturally sweetened. A crunchy granola topping for morning yogurt or satisfying hand-to-mouth muncher after school.
I got the idea from a string of fun family days spent with my nieces, nephews and cousins this summer. Between them, there's 10 kids in our family going back to school. But there's 20 parents facing that frantically paced, lunchbox-packing, homework-checking, car-pooling, sports practicing, club meeting, teacher conferencing whirlwind that comes each fall. For all you superhero Moms and Dads I'm sharing this healthy, all natural, organic DIY granola recipe that makes an easy breakfast or low-sugar snack to keep the kids going all day long.
My no-sugar added granola starts with North Coast Organic Apple Juice. Why North Coast? Leveraging an expertise that spans over 90 years, North Coast makes delicious, wholesome products while preserving agricultural traditions of its community. North Coast's mission begins, first and foremost, with sourcing fruit of exceptional flavor and quality, which are grown by skilled, responsible organic farmers with simple ingredients: water, earth and air. The moms and dads in my family appreciate that.
In fact, when consumers purchase any of North Coast's products, they can be sure that what they are eating is:
100% Organic certified

Non-GMO Project Verified

Using only USA-grown apples

Cleanly produced, with about 50% by solar energy

BPA-Free certified

Fresh pressed, never from concentrate

No added sugar, no preservatives

KSA Kosher certified
This crunchy granola gets its natural sweetness from North Coast organic apple juice and real maple syrup. That's it. No other sweeteners. My family loves this low sugar granola because it's subtly sweet with pops of dried fruit and crunchy oat and nut clusters.
Mix-Ins For Crunchy Granola:
IMO, the best granola is one that you can customize to your particular tastes. Here are some popular mix-ins that you can substitute for the walnuts or dried fruit normally called for in this recipe:
Nuts
Pecans
Peanuts
Macadamia nuts
Cashews
Hazelnuts
Pine nuts
Pistachios
Dried Fruits:
Apples
Apricots
Bananas
Blueberries
Coconut
Cranberries
Cherries
Dates
Figs
Goji berries
Gooseberries
Kiwi
Mango
Papaya
Peaches
Pears
Pineapple
Raisins
Strawberries
Kids are more likely to eat something if they've participated in some way, so giving them a little "say" in what fruits and nuts they want in their granola is key.
How To Make Healthy Granola:
Mix the rolled oats, sunflower seeds and nuts
Heat the maple syrup, coconut oil, North Coast organic apple juice and spices over low heat until the coconut oil melts.
Toss the oat mixture with apple juice mixture
Bake for 45 minutes, stirring every 15 minutes so it browns evenly
Cool the granola completely.
Toss with your choice of dried fruit.
Store in an airtight container.
It's easy to get the kids involved in making the crunchy granola. Depending on the age of the child, they can mix the dry oats together (younger kids), or stir the apple juice mixture on the stove (older kids), coat the dry ingredients with the wet ingredients or just add the dried fruit at the end.
We like a variety of dried fruit in this natural granola including golden raisins, dried blueberries, tart cranberries, dried peaches and dried apples.
The oatmeal granola gets crisper as it cools — which incidentally is the hardest part about this recipe— letting the granola cool completely before adding in the dried fruit and reaching in for some nibbles. To me the subtle combination of pure maple syrup, spices and organic apple juice make this naturally sweetened crunchy granola a welcome departure from the sugar-bomb cereals, pastries and cavity inducing sweets normally found in kids' breakfasts and snacks.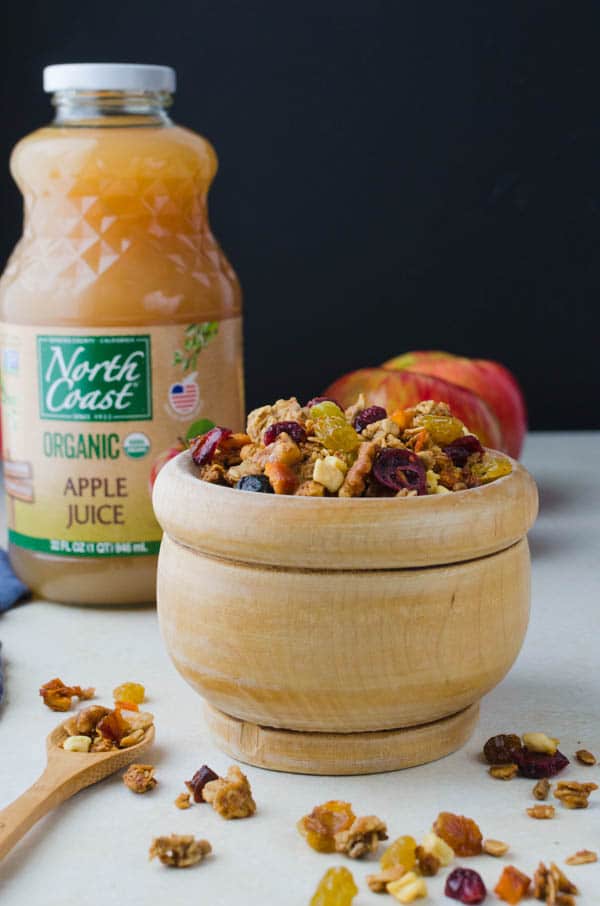 Ready to taste the difference? From tree to table,
North
Coast
's wide range of healthy apple products will suit all of your needs, whether you are on the go or looking to prepare a nutritious meal for you or your family:
Apple Juice: Jump-start your morning with

North

Coast

's apple juice line, which includes single varietal juices from Honeycrisp, Gala and Gravenstein apples, in bottles that range from 10, 32, 64 and 128 fluid ounces.

Applesauce:

North

Coast

's applesauce flavors range from traditional cinnamon to tangy apple apricot, apple with berries, strawberries, or even pumpkin spice apple. Their applesauce comes in cups, jars and even convenient pouches, which are perfect for school lunch boxes or for a healthy snack on the go.

Apple Cider:

North

Coast

's apple cider, spiced apple cider, and pumpkin-spiced apple cider all make the perfect treat, whether enjoyed chilled or warmed up for a cozy moment.

Apple Cider Vinegar is well-known for its wonderful flavor and health aids. Explore the many ways of adding it to your meals and recipes, in order to make the most of its benefits!
North Coast wants to see your best apple juice, apple cider vinegar and apple sauce recipes. Check out the North Coast Facebook page for an opportunity to win a $250 Prepaid Visa card.
Naturally Sweetened Crunchy Granola
A light, crispy granola that's loaded with whole grains, fruits and nuts. Great over yogurt or for snacking.
INGREDIENTS:
3

cups

old-fashioned rolled oats

1

cup

walnuts

or other nuts, roughly chopped

½

cup

sunflower seeds

¼

cup

wheat germ

½

cup

North Coast apple juice

¼

cup

coconut oil

½

cup

maple syrup

½

teaspoon

cinnamon

½

teaspoon

apple pie spice

¼

teaspoon

kosher salt

1 ½

cups

mixed dried fruit

(I used cranberries, apples, peaches & blueberries) cut larger fruit into bite sized pieces.
DIRECTIONS:
Preheat the oven to 325°. Line a half sheet pan with parchment paper and set aside.

In a large bowl, stir together the oatmeal, walnuts, sunflower seeds and wheat germ.

In a small saucepan over low heat, combine the North Coast Apple Juice, coconut oil, maple syrup, cinnamon, apple pie spice and kosher salt until coconut oil is melted.

Pour the apple juice mixture over the oat mixture and stir until well coated.

Spread the oatmeal mixture in a single layer on the sheet pan. Bake for 45 minutes, stirring the granola every 15 minutes to ensure even baking.

Cool the granola to room temperature (granola will become crunchier as it cools. Add the dried fruit to the granola and toss to combine. Store in an airtight container for up to one week.
NUTRITION:
Calories:
161
kcal
|
Carbohydrates:
21
g
|
Protein:
2
g
|
Fat:
7
g
|
Saturated Fat:
2
g
|
Sodium:
35
mg
|
Potassium:
112
mg
|
Fiber:
1
g
|
Sugar:
12
g
|
Vitamin C:
0.2
mg
|
Calcium:
22
mg
|
Iron:
0.8
mg
"Pin It" For Later!
More Granola Goodness: