Baked Stuffed Chicken Breast
This isn't your average ham and cheese stuffed chicken because despite having two kinds of cheese, it's a healthy stuffed chicken breast that also happens to be loaded with veggies. Baked Stuffed Chicken Breast with Ham, Peas and Mushrooms is a low-carb, savory blend that's easy to make and is ready to eat in 40 minutes.
Sometimes boneless, skinless chicken breasts can seem uninspired, however, they don't have to be. In the case of these oven-baked stuffed chicken breasts with a filling of ham, peas and mushrooms with cream cheese and mozzarella the blend tastes rich and decadent, but is surprisingly NOT.
These healthy stuffed chicken breasts only use a few tablespoons of cream cheese and mozzarella to bind it all together, but it makes a difference.
This ham and mushroom stuffed chicken is so flavorful it's going to become a regular in your dinner rotation.
Filling Ingredients For Ham and Mushroom Stuffed Chicken
Sliced Mushrooms (white button or crimini)
Shallots
Thyme
Olive Oil
White Wine
Cream Cheese
Shredded Mozzarella
Diced Ham
Frozen Peas
Salt & Pepper
Assembling The Ham, Peas and Mushroom Filling
Heat olive oil in a large skillet over medium high heat.
Add sliced mushrooms and spread out in an even layer to brown, stirring occasionally.
Once the mushrooms are browned and have given up most of their liquid add the shallots and fresh thyme. Saute until tender, 1-2 minutes.
Deglaze the pan with drinkable white wine (2-3 tablespoons is all you need). Once most of the wine has evaporated, remove the pan from the heat and set aside.
Combine the softened cream cheese, shredded mozzarella, diced ham, salt and pepper into a bowl and mix.
Add the mushroom mixture to the ham and cheese blend and combine well so that the ham and vegetables are lightly coated with cream cheese (It may be easier to mix with your clean hands). Add the peas and gently toss to combine.
How To Make a Pocket and Fill Chicken Breasts
Pat chicken breasts dry with a paper towel.
Lay the chicken breast on a cutting board and press your non-dominant hand flat on the chicken to hold it steady and prevent it from slipping.
Use a sharp paring knife to slice a pocket into the side of the chicken breast about 3 to 4 inches long (depending on the size of your chicken breast). Do not slice completely through the other side of the chicken. Instead, try to leave about 1/2″ border on the other three sides.
Turn the chicken breast so that the pocket faces up and fill the chicken breasts with the stuffing. Do not press the stuffing into the breast, just fill it loosely.
Use a few toothpicks to fasten the pocket and transfer the ham and mushroom stuffed chicken to a baking sheet.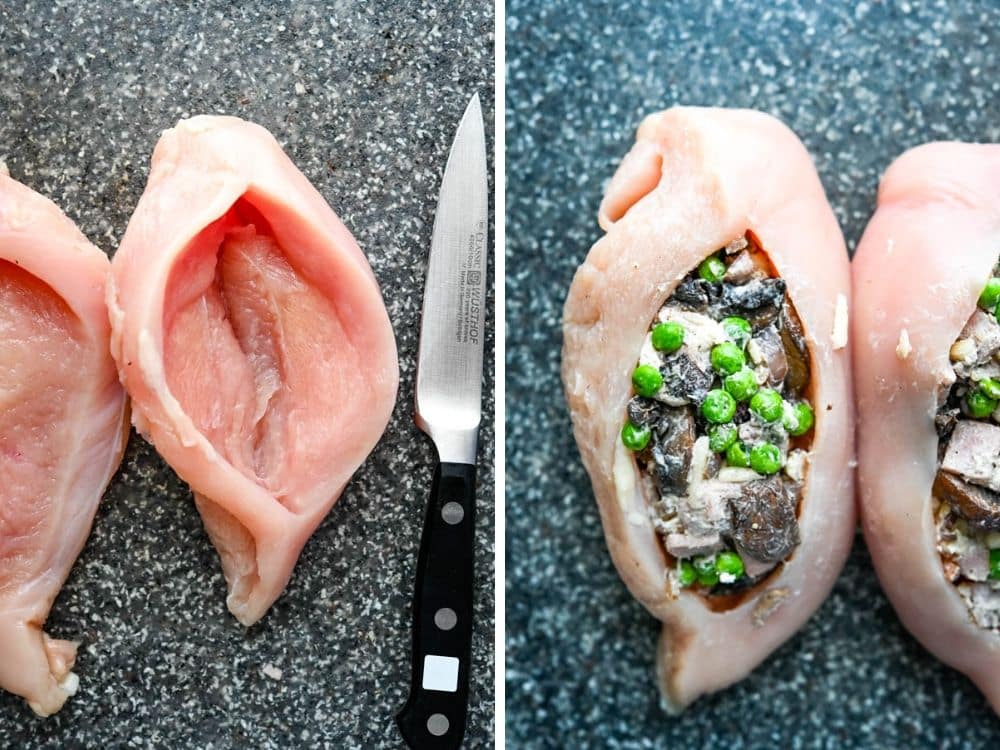 Breading and Cooking Baked Stuffed Chicken Breasts
Brush the ham and cheese stuffed chicken breasts with olive oil and sprinkle lightly with dried bread crumbs.
Transfer the pan to a preheated oven and roast for 25-30 minutes or until golden and cooked through.
If your chicken isn't as brown as you'd like, place the pan directly under the broiler element and turn it on to "broil". Watch the chicken closely so that it browns but doesn't burn. This shouldn't take longer than 1-2 minutes.
OMG – the aromas coming from the oven are irresistible while the ham and mushroom chicken is baking. It smells rich and savory. My stomach was growling like crazy and when I finally took it out of the oven, I barely had time to snap the photo below before I scooped up some of the drippings on a spoon to enjoy. (Between you and me — those little browned bits and pan juices are just THE BEST.)
This dish is seriously drool-worthy. From the light, golden crust to the savory, not-too-oozy filling. The combination of the ham, peas and mushrooms with the cream cheese and mozzarella is really rich and will have you smacking your lips in anticipation of your first bite of the vegetable and cheese stuffed chicken breast. Guaranteed!
Best Side Dishes For Ham and Cheese Stuffed Chicken Breasts:
More Healthy Chicken Recipes: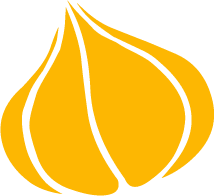 Tried this recipe? Leave a rating and review.
Your comments and shares are invaluable to me and the thousands of readers who use this site daily. If you've made the recipe, leave a star rating and review. We want to hear how you liked it.
We'd love it if you shared the recipe with your friends on social media!
Baked Stuffed Chicken Breast with Ham, Peas and Mushrooms
These savory stuffed chicken breasts are a family favorite. They're easy to make and are ready in about 40-45 minutes. We love them with mashed cauliflower or mashed potatoes.
INGREDIENTS:
FOR FILLING:
2

teaspoons

olive oil

8

ounces

button or portabella mushrooms

sliced

1

large

shallot

thinly sliced

1

teaspoon

fresh thyme

chopped

¼

teaspoon

black pepper

½

teaspoon

kosher salt

3

tablespoons

white wine

optional

¼

cup

softened cream cheese

½

cup

shredded mozzarella cheese

½

cup

finely diced ham

½

cup

frozen peas
FOR STUFFED CHICKEN:
6

5 ounce

boneless skinless chicken breasts

2

teaspoons

olive oil

¼

cup

dried breadcrumbs

sprinkle

salt and pepper
DIRECTIONS:
Preheat the oven to 400°. Spray a baking sheet with vegetable spray and set aside.

Heat olive oil in a large skillet over medium high heat and add the mushrooms. Cook for 3-4 minutes, stirring occasionally until mushrooms have browned and given up some of their moisture. Stir in the shallots, thyme, salt and pepper and saute for 1-2 minutes until shallots are softened and mixture is fragrant.

Add the white wine, cook and stir until most of the liquid has evaporated. Remove from the stovetop to rest.

In a medium bowl, combine the cream cheese, mozzarella, diced ham and frozen peas. Add the mushroom mixture. Use your clean hands to blend the filling ingredients together and set aside.

Use a sharp paring knife to cut a pocket into the thick side of the chicken breasts that runs the length of the chicken, leaving about a 1/4 to 1/2″ border around the edges.

Divide the filling among the chicken breasts and secure the openings with toothpicks.

Brush the chicken breasts with olive oil. Season with a sprinkle of salt and pepper and divide the breadscrumbs over the tops, lightly patting them into the chicken with your finger tips.

Bake the chicken for 25-30 minutes, or until cooked through. Remove from the oven and let rest for 3-4 minutes before transferring to a platter or plates to serve.
NUTRITION:
Calories:
330
kcal
|
Carbohydrates:
8
g
|
Protein:
40
g
|
Fat:
14
g
|
Saturated Fat:
5
g
|
Cholesterol:
122
mg
|
Sodium:
633
mg
|
Potassium:
835
mg
|
Fiber:
1
g
|
Sugar:
2
g
|
Vitamin A:
345
IU
|
Vitamin C:
7.5
mg
|
Calcium:
82
mg
|
Iron:
1.4
mg
Pin "Baked Stuffed Chicken Breast" For Later!