These easy to make drunken cherries are boozy and intense. Made with just 3 ingredients and 15 minutes of prep this simple pickling method infuses sweet cherries with vodka while simultaneously steeping the cherry's flavor and ruby red hue into the spirits. They're great for a tipsy snack or enhancing craft cocktails.
This post has been updated for photos and content since its original publication in 2015. The recipe hasn't changed.
What are drunken cherries?
My friend, Nola, introduced me to the concept of soaking fruit in alcohol several years ago with this easy drunken cherries "recipe". I use quotation marks because it's less of a specific recipe and more loosey-goosey assembly. This is such an easy DIY to do at home and you won't believe the results!
Sweet cherries, fortified with sugar and your favorite vodka make for awesome adult snacking. Put out a bowl of these cherries for snacking while you're playing Euker with your friends and let the fun begin.
These cherries are POTENT and the longer they soak, the more soused they become.
3 Ingredients for vodka soaked cherries
Fresh Cherries
Sugar
Vodka
Yup. That's it. 3 ingredients. Easy peasy.
Spiking summer fruit in order to preserve it isn't a new concept. It's been around since the 18th century and were known simply as "brandy fruits" to be served after a meal as dessert. Conversely, soaking fruit in alcohol and sugar also infuses the liquor with the flavor and aromas of the fruit making a tasty liquor that can also be sipped at the end of a meal, like a digestif. Italian limoncello is a prime example.
How to make boozy cherries
Trim the stems of the cherries to about 1/2″ long.
Pack the cherries tightly into clean jars.
Fill the jar 1/3 full with granulated sugar
Pour vodka to the top of the jar and seal tightly with a lid.
Shake the jar until the sugar dissolves.
Put the drunken cherry jar in a dark space to rest for at least two weeks (or longer).
How much sugar, vodka and fruit do I need for drunken cherries ?
I haven't specified the amount of cherries, vodka or sugar — for a reason. It all depends on the size of the jar you're using. Let's call it the "eyeball" method.
Pick your jar (or jars). You can use 8 oz. pint jars, 16 oz. pickle jars (very well cleaned), quart sized canning jars — or larger liter or gallon sized containers. Just make sure they have tight fitting, screw on lids.
Make sure you have enough cherries to fill the jar(s) with snugly packed fruit.
After trimming the cherries (you don't have to remove the seeds), pack the fruit into the jars so that they're full of the fruit.
Pour the sugar over the cherries, so that it comes about 1/3 way up the jar). Sugar amounts will vary depending on the size of your jar. For a small 8 ounce jelly jar, you might only need 1/3 to 1/2 cup of sugar, whereas a quart sized jar, could take anywhere from 1 1/4 to 1 1/2 cups of sugar.
Add the vodka until it covers the cherries and reaches the top of the jar. (Again, the amount will vary depending on the size of your containers).
The waiting game
Place the boozy cherries in a cool, dark spot and wait. The longer they soak, the more infused the fruit becomes — and the more of the color will leach into the spirits, turning the vodka a deep crimson color.
I'm recommending at least a two week soak. It's enough time to flavor the vodka and make the fruit taste like a cherry shot. Note, the cherries won't be sweet — at least, not in the way you might be expecting. They're more boozy than anything.
My friend, Nola, soaks her cherries in the vodka and sugar solution for 6 months. That means she makes them in July and doesn't open her jars until Christmas. (In fact, she gives them as Christmas gifts).
The longer the fruit soaks, the more color is given up. In fact, I've let my drunken cherries stew in the back of my closet for the better part of 6 months and the fruit actually shrinks and turns a mottled grey-purplish color, while the vodka turns a dark ruby red. Though the drunken cherries don't look like their former selves, they can still be eaten.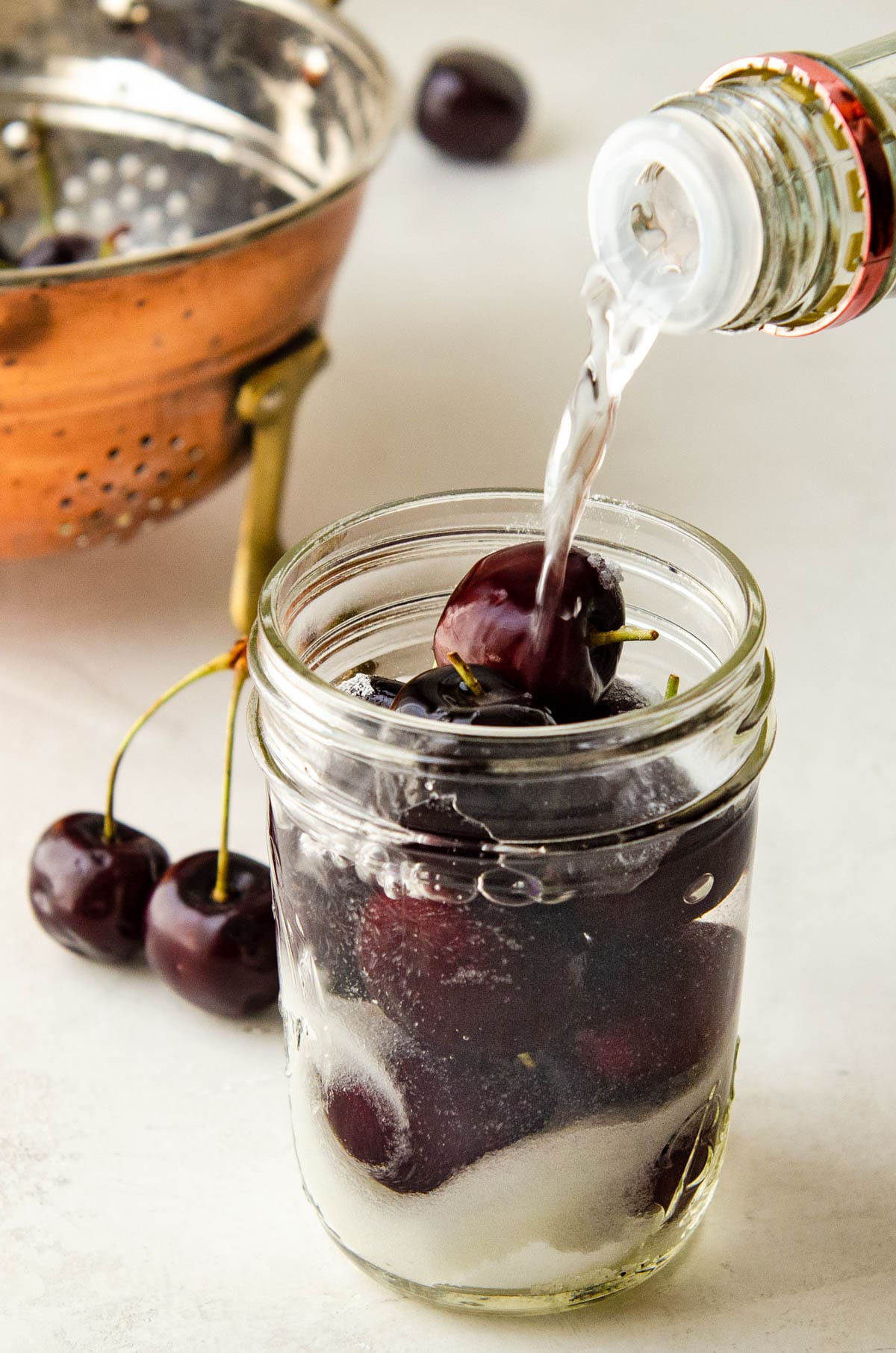 Best cherries for alcohol preserved fruit
Where I live in South Florida, we don't have bumper crops of fresh cherries, so my cherry choices are limited to sweet black cherries or Bing cherries. If you have broader availability, also try:
Ranier
Morello
Queen Anne
Montmorency (sour) cherries
Best vodka for drunken cherries
Everyone has their preferences from Smirnoff to Absolut, Grey Goose to Tito's, so I recommend going with whatever brand of spirit you're accustomed to sipping. I used Tito's for this batch.
Use a vodka that you like to drink.
Do I need to refrigerate the drunken cherries?
I get this question A LOT. People are naturally skittish about letting fresh fruit sit at room temperature — especially for weeks or months at a time. I get it.
Keep in mind that these cherries are covered in two ingredients that are specifically used for preserving foods… Sugar and alcohol (a third preservative is salt). Using alcohol that's at least 40 proof will ensure that the cherries don't spoil.
I found a related response to that question on ChowHound in an article titled Brandied Cherries Mishap? and thought it appropriate to share with you.
"Nonsense to the naysayers. They don't need to be refrigerated. You are not going to get ANY bacterial growth in bourbon (or vodka)*. 40% alcohol is enough to kill any bacteria or funghi (I work with microbiologists). They are perfectly safe to eat as well. That said, they will lose some of their natural color. Which is why commercial cherries, even the fancy Italian ones, are always died a dark color. The alcohol alone leaches out the color even on red cherries, though they still taste great."
Heck, pop one in your mouth. If it tastes even slightly bad (it won't) spit it out.
The fridge won't hurt them either, if it makes you feel better.
You don't have to worry so much about sterile jars. This ain't jam or pickles, it's booze. Nothing bad could survive in there.
— via ChowHound from StriperGuy July 23, 2009
FAQ's
Can I use other types of fruit?
Yes! Try this with peaches, apricots blueberries, pineapple or other types of fresh fruit.
Can I use other types of alcohol?
Absolutely! Try with gin, bourbon, rum and tequila.
Can I use frozen cherries?
Theoretically, you could, but I wouldn't recommend it. Frozen cherries have already been through one transformation (freezing) and they aren't as firm as fresh, ripe fruit. If you do use frozen cherries, I'd go with a shorter soak time (up to 2 weeks) and enjoy them sooner.
Why did my cherries turn colors?
The longer the cherries soak, the more purplish gray they become. They're still fine to eat.
After just two weeks, these drunken cherries are happily infused with the vodka. They're not overly sweet, but they do have a bit of tacky syrupy film that settles over them. You can eat these cherries out of hand or use them in some outta-bounds cocktails.
I have a few ideas on that front… coming soon. In the meantime, grab some fresh cherries and get them soaking now.
More ways to preserve fruit you might like:
More boozy fruit combos you might like: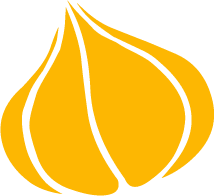 Tried this recipe? Leave a rating and review.
Your comments and shares are invaluable to me and the thousands of readers who use this site daily. If you've made the recipe, leave a star rating and review. We want to hear how you liked it.
We'd love it if you shared the recipe with your friends on social media!
Drunken Cherries
This easy 3-ingredient recipe makes the booziest cherries ever. Soak the fruit for at least two weeks (or longer — like WAY longer) for totally buzzed fruit and cherry infused liquor, that's perfect for your craft cocktails.
INGREDIENTS:
Special Equipment
glass jars with tight fitting lids

small funnel
DIRECTIONS:
Rinse the cherries and pick out any bruised, soft or damaged fruit.

Use a pair of kitchen sheers to trim the stems to about 1/2″ long.

Pack the cherries into a jar, filling it tightly and to the top.

Use a funnel to fill the jar about 1/3 of the way with sugar.

Fill the jar to the top with vodka and seal the lid on tightly.

Shake and roll the jar in your hands until the sugar has dissolved.

Place the jar in a cool dark spot for at least two weeks or longer (My friend Nola goes a full six months). Shake or roll the jar every so often a few times if you're going with a shorter soak and at least once a month if you're going for longer.
RECIPE VIDEO:
NUTRITION:
Calories:
184
kcal
|
Carbohydrates:
23
g
|
Potassium:
81
mg
|
Sugar:
22
g
|
Vitamin A:
25
IU
|
Vitamin C:
2.6
mg
|
Calcium:
5
mg
|
Iron:
0.1
mg
Pin "Drunken Cherries" for later!