Soaking fruit in alcohol and sugar has long been a way to stretch your favorites into the next season. These drunken cherries do just that. With about 15 minutes of overall prep, give these cherries a long soak (in a cool dark place, like your pantry or closet and let time and patience do the rest.
Don't get weirded out on me. Have I ever steered you wrong? I know that this may remind you of a biology class where all manner of thing is pickled in formaldehyde, but that's not what we're doing here. Though these drunken cherries are going to get a good, long soak!
Prologue on drunken cherries:
My friend Nola has some tried and true recipes that she swears by! Like her sausage white bean and kale soup, the hearty green chili or those spicy dark chocolate truffles. In fact, when we were making the truffles, she mentioned her drunken cherries. My ears perked. I love cherries – probably my favorite fruit.
I wanted to make them right then, but it was February – no fresh cherries. I had to wait. So I've been anxiously drumming my fingers on the counter since then, waiting for cherry season to come around. Perhaps a small exaggeration. I did have it in the back of my mind, though. And on my calendar. July. Circled in black marker — "ask Nola for drunken cherries recipe".
She stopped by the house with cleaned pickle and jelly jars and told me, there really isn't a "recipe" per se – just approximations.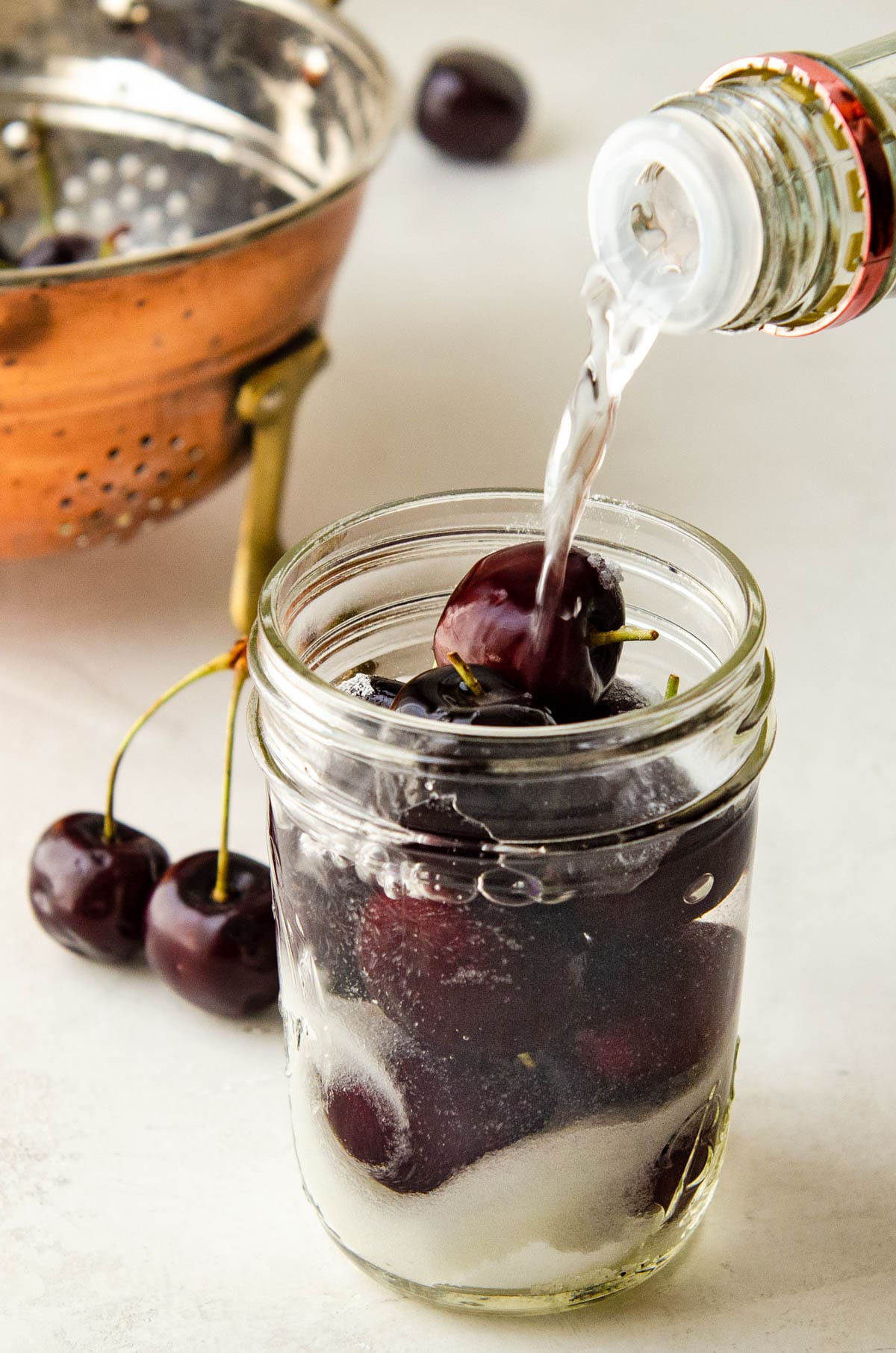 Her instructions were to trim the cherry stems to about half an inch, pack them tightly into a jar, pour in sugar to fill about 1/3 of the jar and fill the rest of the jar with vodka. Seal the lid tightly and shake until the sugar has dissolved. Then stick it in your closet for 6 months! Whaaaaa??? Yes. You heard right. This method is actually just a way to preserve fruit with alcohol.
She also advised me to rotate the jars every month or so. By the time they're ready, the cherries will be utterly soused, about 1/2 of their normal size, and the vodka will be a gorgeous and Christmas-appropriate ruby red. The cherries will be perfect for holiday cocktails, spooned over sponge cake and ice cream or nibbling straight from the jar. You can even use the liquor as a syrup for drinks. Maybe a boozy cherry trifle? Don't give me that look!
So these should be ready just in time for the holidays. I'll just stick a bow on top and gift them to all of my lush friends — you know who you are!
I promise to keep you updated on the progress of the fruit, but I think you should do this too! We can compare notes in December!
More boozy favorites you might like:
Drunken Cherries
Make these cherries in the summer when the fruit is abundant! Enjoy them at Christmas!
ingredients
Special Equipment
several large

clean ball canning jars, pickle jars or jelly jars with tight fitting lids

small funnel
instructions
Rinse the cherries and pick out any bruised or damaged fruit.

Use a pair of kitchen sheers to trim the stems to about 1/2" long.

Pack the cherries into a jar, filling it tightly and to the top.

Use a funnel to fill the jar about 1/3 of the way with sugar.

Fill the jar to the top with vodka and seal the lid on tightly.

Shake and roll the jar in your hands until the sugar has dissolved.

Place the jar in a cool dark spot for six months, rolling or shaking the jar every month.
Nutrition
Calories:
184
kcal
|
Carbohydrates:
23
g
|
Potassium:
81
mg
|
Sugar:
22
g
|
Vitamin A:
25
IU
|
Vitamin C:
2.6
mg
|
Calcium:
5
mg
|
Iron:
0.1
mg
Don't Forget To "Pin It" For Later!