Simple Healthy Bircher Muesli
If you're looking for a tasty, easy and healthy breakfast idea, this simple homemade bircher muesli is versatile and satisfying. Made with old fashioned oats and your choice of yogurt, milk or juice, a mix of fresh and dried fruits, seeds and/or nuts and the sweetener of your choice this delicious mix is savory and sweet, creamy and chunky, fresh and wholesome. In other words, this customizable muesli cereal recipe is absolutely delicious and has so many flavorful variations, you'll never get bored.
What is muesli?
I mentioned muesli to my husband, Scott, the other day, he scrunched his nose and said "gesundheit". ?
He'd never heard of it, but bircher muesli has been around over a hundred years.
Credit for the original muesli recipe goes to Dr. Maximillian Bircher-Benner, who enjoyed something similar while hiking with his wife in the Swiss Alps. Later, he served this blend of apples, oats, lemon juice, cream and sweetener to his patients to promote health and wellness.
Originally served as a precursor to dinner, bircher muesli gradually became known as a healthy breakfast option.
While it has gone through periods of acclaim for its obvious health benefits, muesli (a.k.a. Swiss oatmeal) has been associated with socially liberal health consciousness types and back-to-nature attitudes giving rise to the terms muesli belt (Britain) and granola-type (America).
Regardless of politics, this Swiss oatmeal is a pleasure to eat.
The whole grains blended with a creamy element, juicy fresh fruit, chewy dried fruits and crunchy, rubbly seeds and nuts is a textural treat in every bite.
Basic ingredients you'll need to make standard bircher muesli
Cooked Old Fashioned Rolled Oats.
Milk or Yogurt — or other liquids/creamy elements.
Chopped or Grated Tart Apples or other fresh fruit.
Dried Fruit such as raisins, dates or dried cranberries.
Toasted Nuts – like almonds, walnuts, pecans, hazelnuts or pistachios.
Seeds – we like sunflower, pumpkin, hemp or chia.
Sweetener of your choice.
Optional: nut butter (like peanut butter, almond butter or sunflower butter).
Optional: Spices (like cinnamon or apple pie spice)
This list is more of a starting point than actual requirements for making your own Swiss oatmeal. You can mix and match based on what you have in your pantry.
If you've got two kinds of nuts and no seeds, no problem. Lactose intolerant? Use almond milk or fruit juice. Any type of dried and fresh (or frozen) fruit is fine.
Traditional Swiss muesli was a cold oatmeal dish, so making a pot of steaming oatmeal right before serving doesn't make sense. The easiest way to cook the oats is the night before in an easy 2-step process. Toasting the oats, then hydrating them. Here's how:
How to cook oatmeal for perfect breakfast muesli
Spread the oatmeal on a rimmed baking sheet and toast in a 350° oven for about 10 minutes, stirring once.
Transfer the oatmeal to a medium bowl.
Boil 1 cup of water, add 1/4 teaspoon salt.
Pour the boiling water over the oatmeal, cover with plastic wrap and let rest overnight on the counter.
The oatmeal absorbs the water and rather than being loose and runny the way standard oatmeal can be, it's a soft, but textural whole grain that holds its shape.
How to assemble Swiss oatmeal:
Layer or mix together:
| | |
| --- | --- |
| Amount | Ingredient |
| ~ 1/2 cup | Oats or other cooked whole grains |
| up to 1/2 cup | Milk, Yogurt or other creamy element. |
| up to 1/4 cup | Dried fruits (can use a combination) |
| up to 1/4 cup | Fresh fruit (such as diced apple, pineapple, bananas or oranges) |
| up to 2 tablespoons | Toasted Nuts (such as almonds, pecans, walnuts, hazelnuts, pistachios) |
| up to 2 tablespoons | Seeds (such as sunflower seeds, pumpkin seeds, flax or chia) |
| up to 2 tablespoons | sweetener (such as honey, maple syrup, brown sugar or fruit jam) |
Basic bircher muesli recipe
Oatmeal + Yogurt + Diced Apple + Toasted Almonds + Sunflower Seeds + Dried Cranberries + Maple Syrup
This simple bircher muesli blend is one of my favorites. It's sweet, tart, creamy, chewy and full of satiating textures.
Pro-Tips
Toast nuts in a 350° oven for 8-10 minutes or until lightly browned to give them extra crunch.
Apples brown quickly after chopping, so add those at the last minute.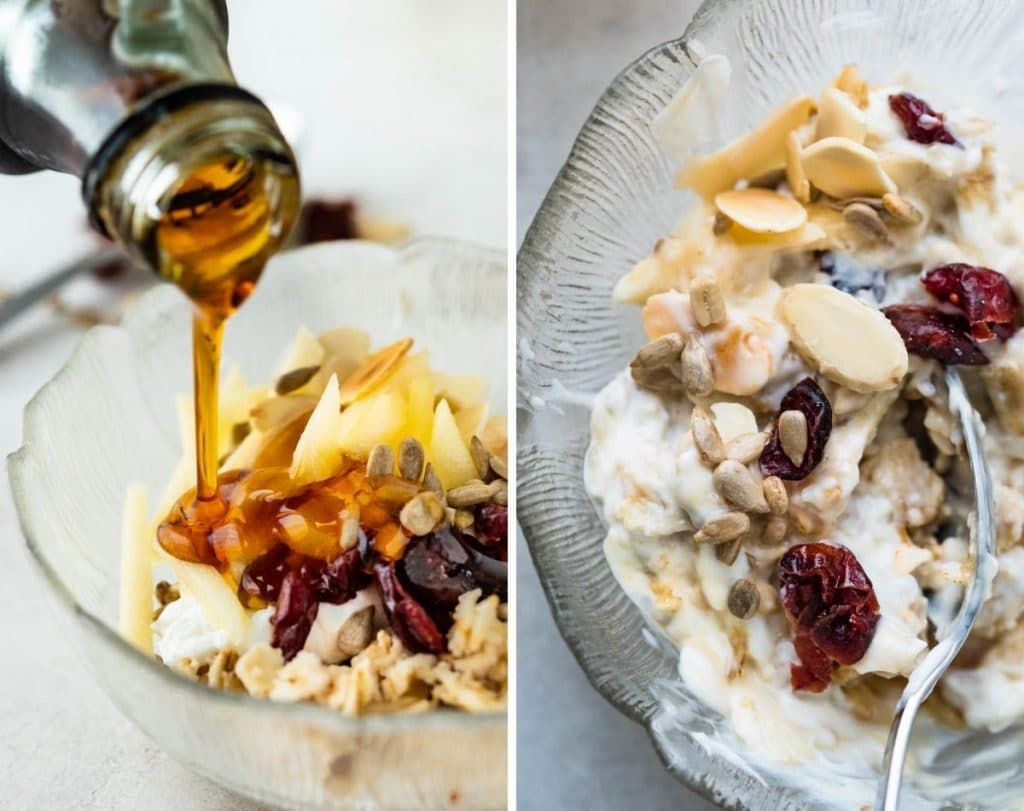 Eating the same thing day after day can get monotonous, but the beauty of this Swiss oatmeal is that there's an endless variety of swaps and substitutions you can easily make.
From the type of grain you use, to skipping the dairy and making it vegan with nut milks or a swirl of nut butter, this healthy breakfast recipe can be different every time you make it.
Here are just some of the multitude of things you can include in your Swiss muesli.
Pick a grain along with a "creamy element" that you like, then add in your favorites.
DIY variations
| | | | | | |
| --- | --- | --- | --- | --- | --- |
| Grains | Creamy Element | Dried Fruit | Fresh Fruit | Nuts/Seeds | Sweeteners |
| Old Fashioned Oats | Milk/Half and Half | Raisins/Craisins | Chopped Apples | Sunflower Seeds | Honey |
| Cooked Barley | Yogurt | Dried Mango/Pineapple | Pineapple | Pumpkin Seeds | Maple Syrup |
| Cooked Quinoa | Almond or Cashew Milk | Dates/Figs | Pears | Almonds/ Pine Nuts | Brown Sugar |
| Cooked Brown Rice | Apple Juice | Dried Berries/Cherries | Berries | Walnuts/Pecans | No-Calorie Sweeteners |
| Cooked Khorasan Wheat | Cottage Cheese | Flaked Coconut | Oranges | Pistachios/ Hazelnuts | Jams/Preserves |
| Cooked Wild Rice | Sweetened Condensed Milk | Dried Apples | Bananas | Macadamias | Spices/Spice Blends |
| Cream of Wheat | Peanut or Almond Butter | Dried Fruit Blends | Mangos/ Papayas | Flax/Chia Seeds | Mini Chocolate Chips |
Swiss Oatmeal FAQ's
Is muesli the same as granola?
No, although they share many of the same types of ingredients. Granola is a crunchy, toasted topping with dried fruits, nuts, seeds and sometimes chocolate chips. It's meant to be a crispy topping or mix in for yogurt or eaten as a snack out of hand. Muesli is moist (if not, wet) and eaten with a spoon.
Is bircher muesli cereal gluten free?
It can be. If you use (certified) gluten free oatmeal or use a different type of whole grain, like brown rice or quinoa.
Will eating muesli help me lose weight?
Theoretically, yes. Enjoying muesli for breakfast will keep you fuller, longer, making it less likely that you'll make a mid-morning snack of the doughnuts sitting in the break room.
Is bircher muesli vegan?
It can be. Use dairy free milks or nut butters in place of regular dairy products and skip honey for other sweeteners like maple syrup or brown sugar.
Is muesli cereal considered low-carb?
No. It's made with oatmeal or whole grains and contains fresh and dried fruits plus sweeteners, so this is not a low-carb food. However, depending on the amounts used of individual ingredients, you can modify muesli cereal to be lower carb.
Can I make muesli ahead of time?
Depending on what you're putting in your muesli, you could. Skip using fruits that brown easily (apples, pears, bananas) or watery fruits (like orange or mango). Use hearty toasted nuts or seeds that won't get soft overnight, and use Greek yogurt instead of milk or looser yogurts. Pre-made muesli will keep overnight and still have texture the next day.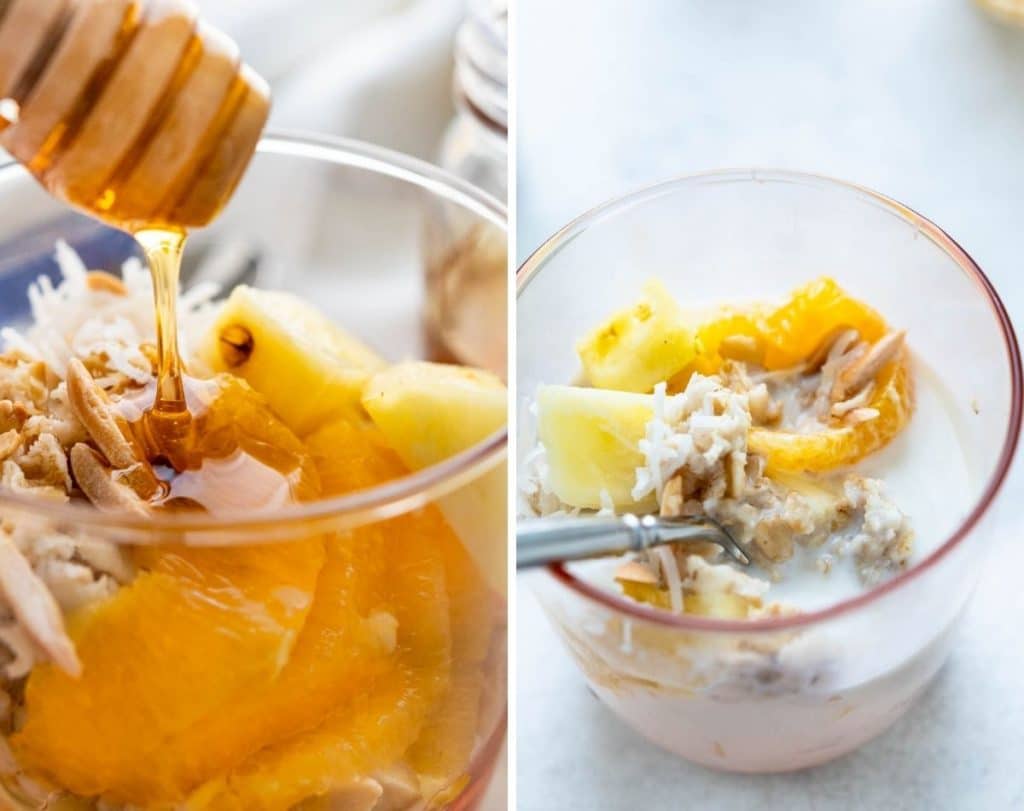 More easy oatmeal breakfast recipes you'll love: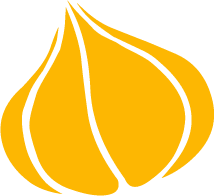 Tried this recipe? Leave a rating and review.
Your comments and shares are invaluable to me and the thousands of readers who use this site daily. If you've made the recipe, leave a star rating and review. We want to hear how you liked it.
We'd love it if you shared the recipe with your friends on social media!
Easy Overnight Muesli
Muesli (a.k.a. Swiss Oatmeal) is hearty and delicious, not to mention, customizable. With a host of variations, you'll never get bored with this healthy, homemade breakfast. Mix up the oatmeal the night before and enjoy a bowl of Bircher Muesli the next morning.
INGREDIENTS:
FOR THE MUESLI:
1

cup

old fashioned rolled oatmeal

¼

teaspoon

kosher salt

1

cup

boiling water
FOR EACH PORTION, SERVE WITH:
⅓ – ½

cup

yogurt, milk or half and half
FOR EACH SERVING, USE THESE SUGGESTED TOPPINGS:
~ ¼

cup

dried fruit

of your choice

~ ¼

cup

fresh fruit

of your choice

2

tablespoons

toasted nuts

of your choice

1-2

tablespoons

seeds

such as sunflower, pumpkin, flax, hemp, chia, etc.

2

tablespoons

sweetener

such as honey, maple syrup, brown sugar, white sugar, jam or sugar substitute.
DIRECTIONS:
MAKE THE MUESLI:
Mix the oatmeal and salt in a medium bowl. Add the boiling water to the oatmeal and cover with a piece of plastic wrap. Let rest overnight at room temperature.

In the morning you can serve the muesli warm by heating in the microwave or at room temperature with any combination of toppings. We like to choose 1 or two from each category for variety.
NUTRITION:
Calories:
137
kcal
|
Carbohydrates:
22
g
|
Protein:
4
g
|
Fat:
7
g
|
Saturated Fat:
2
g
|
Polyunsaturated Fat:
1
g
|
Monounsaturated Fat:
3
g
|
Cholesterol:
7
mg
|
Sodium:
172
mg
|
Potassium:
171
mg
|
Fiber:
2
g
|
Sugar:
6
g
|
Vitamin A:
98
IU
|
Vitamin C:
1
mg
|
Calcium:
75
mg
|
Iron:
1
mg
Pin it for later!