Cucumber Pioneer (vodka and cucumber cocktail)
Want a light, refreshing cucumber cocktail that's easy to make and perfect for all occasions? This cucumber pioneer is my pick. It's made with fresh cucumber juice, vodka, mint and ginger beer for a zippy, fizzy finish. You'll love this crisp cucumber vodka drink.
This post has been updated for recipe, photos and content since it's original publication in 2016.
Cucumber drinks
When you think of cucumber drinks, you might think spa water, like those infused herb and cucumber pitchers they display as a "fancy" refreshment when you're checking in to a hotel or waiting to be called for a facial at a local day spa. But this cucumber cocktail isn't a watered down wannabe.
Ingredients for cucumber vodka cocktail
Cucumber Juice
Vodka
Simple Syrup
Mint Leaves
Ginger Beer
Canton (or other ginger liqueur, optional)
Garnish (optional)
How to make cucumber juice
According to Healthline.com, cucumber is 95% water, so unlike some fruits and vegetables that require a special juicer to extract the liquid, cucumbers practically come with a spigot.
To make cucumber juice at home, all you need is a vegetable peeler and a box grater and it's so easy to do. I recommend using a standard cucumber, instead of the no-seed English or hothouse variety. There's more flesh to extract the cucumber juice from Here's how to make it:
Peel the cucumbers and discard the skin.
Cut the cucumber in half horizontally.
Use the large holes of a box grater and grate the flesh of the cucumber, turning the cucumber once you get to the seeds in the center and continuing until all the flesh is grated and you have a seed cylinder. (This is the same method I use for making my Shredded Cucumber Salad & there's photos to show you how.
Transfer the shredded cucumber to a fine mesh strainer set over a bowl.
Let the cucumber drain for 20-30 minutes.
Incidentally, I encourage you to make the cucumber salad at the same time you make this cucumber cocktail (or at least save the grated cucumber for later) so you don't waste food. Makes sense, right?
How much juice can I get from a cucumber?
Figure that 1 cucumber will yield about 1/4 to 1/3 cup of juice, so if you're planning on making multiple vodka cocktails, you may want to double up on the amount of cucumber juice.
You don't need any special Boston shakers or other equipment for this cucumber drink. Just use a highball glass.
Garnishes are optional, kind of…
Garnishes are optional for this zippy cucumber vodka and mint drink, but I think a little bit of decorating is what makes a cocktail special.
There are a few ways you can go with this, but for this particular look, you'll want to prep the garnish ahead of time.
For mine, I used a miniature English cucumber (the seedless variety). The reason I like this is that the skins are very thin and edible and their are no seeds, just a feint pattern of translucent cells. Beautiful.
You can also use a large English cucumber if you can't find the minis.
Creating the garnish
Lay the seedless cucumber flat on a work surface.
Run a vegetable peeler in one long, smooth motion along the length of the cucumber. Discard the first piece, because it's all skin.
Continue to run the peeler along the side of the vegetable, so that you get long, thin, flexible cross-sections.
You can use these long pieces of cucumber to rim the inside of the glass, or bunch them up (accordion style) and secure with a fancy cocktail pick.
For rimming the inside of the glass
To rim the inside of the glass, curl the sliced cucumber into a cylinder just slightly smaller than the glass. Insert it into the glass and let it naturally open up. It will have enough moisture and turgidity that the cucumber will adhere to the inside of the highball glass.
For the accordion style
Gently fold the thin sliced cucumber back and forth so that it bends, but doesn't break. Secure with a cocktail pick.
Assembling the cucumber vodka cocktail
Add the vodka, cucumber juice, simple syrup, Canton and ice to the highball glass.
Fill the glass with crushed ice and top with ginger beer.
Garnish with extra cucumber and fresh mint leaves.
How does it taste?
If a cocktail can be quenching, this one IS. Instead of being overly sweet and cloying, this sipper is light and zippy. The ginger beer adds just the right fizzy, nose tingle. You can really taste the cucumber and the soft chartreuse color of the juice gives this easy sipper a springtime or summer vibe.
We make these ginger cucumber vodka drinks for enjoying on the patio in summer at dusk, when the sun is just starting to fade. They're so crisp and light, it's the perfect way to end a day — and lead into a tasty meal.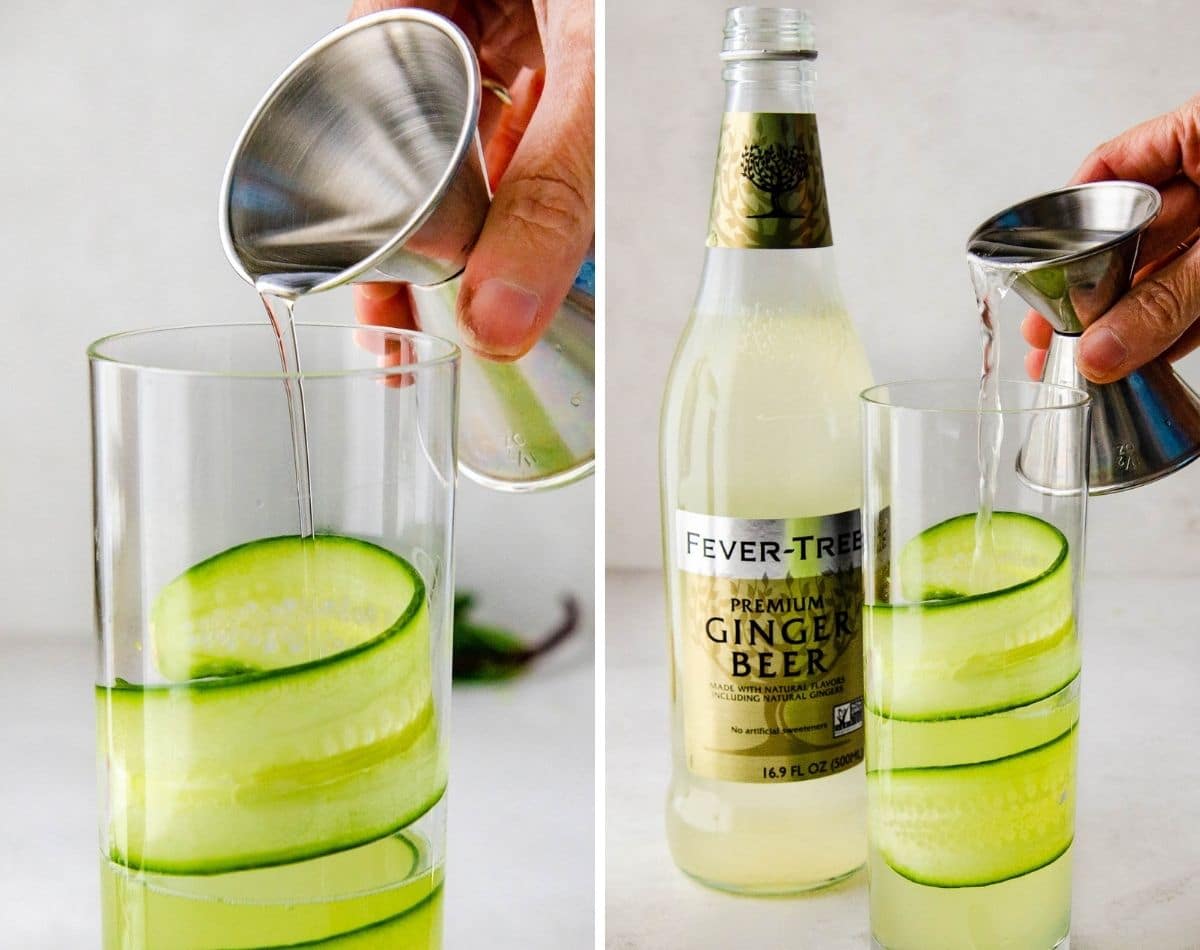 FAQ's for cucumber vodka cocktails
Can I make the cucumber juice in advance?
Yes. You can make the cucumber juice up to a day in advance. Store in an airtight container in the refrigerator. If the juice separates while sitting, just give it a shake to redistribute.
Can I make the cucumber cocktails by the pitcher?
Yes. Combine the cucumber juice, vodka and simple syrup in a pitcher and stir together. Keep refrigerated until serving. Pour the cucumber and vodka drink into glasses, then top with the ginger beer. (You don't want to add the ginger beer until you're ready to drink the libation, otherwise it will go flat.)
Can I blend the cucumber in a blender and strain out the juice?
Yes. I've found that when you do that, the skin tends to really color the drink a very dark Kelly green (which can be pretty). It's your choice.
Can I use any vodka for the cocktails?
Yes. Use what you'd normally drink — we like Tito's.
Hors d'oeuvres that go with a cucumber pioneer cocktail:
More refreshing vodka cocktails you'll love: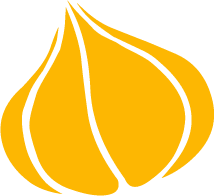 Tried this recipe? Leave a rating and review.
Your comments and shares are invaluable to me and the thousands of readers who use this site daily. If you've made the recipe, leave a star rating and review. We want to hear how you liked it.
We'd love it if you shared the recipe with your friends on social media!
Cucumber Pioneer
This cucumber vodka cocktail is a perfect spring and summer drink. It's light, refreshing with a zippy ginger beer kick. Grate the cucumbers and strain the juice earlier in the day before making these cucumber vodka drinks.
INGREDIENTS:
For Cucumber Juice
2

large cucumbers

not English
For Each Cocktail
1 ½

ounces

vodka

I used Tito's

1 ½

ounces

cucumber juice

1

teaspoon

simple syrup

1 ½

ounces

ginger beer

¼

ounce

Canton (Ginger Liqueur)

optional

miniature English cucumber

or regular cucumber for garnish, optional

mint leaves

for garnish, optional
DIRECTIONS:
FOR THE CUCUMBER JUICE
Peel the cucumbers with a vegetable peeler. Cut the cucumber in half and scoop out the seeds.

Place a sieve over a bowl or glass measuring cup.

Use the large holes on a box grater to grate the cucumbers and transfer to the mesh sieve. Transfer the grated cucumber to the sieve and set aside for 20-30 minutes to drain. This is the cucumber juice. (use the grated cucumbers for this grated cucumber salad).
FOR THE CUCUMBER COCKTAIL:
If you're using the cucumber garnish, use a vegetable peeler to cut thin strips, lengthwise from the cucumber. Place 1 or 2 slices into a tall, thin rocks glass and press the slices to the sides of the glass, so they stick.

Add crushed ice to the glass, then pour in the vodka, cucumber juice, simple syrup and Canton (if using). Stir to combine, then top with the ginger beer.
NOTES:
For extra ginger flavor, add 1/4 ounce Canton ginger liqueur.
NUTRITION:
Calories:
141
kcal
|
Carbohydrates:
11
g
|
Protein:
1
g
|
Fat:
1
g
|
Saturated Fat:
1
g
|
Polyunsaturated Fat:
1
g
|
Sodium:
10
mg
|
Potassium:
96
mg
|
Fiber:
1
g
|
Sugar:
10
g
|
Vitamin A:
257
IU
|
Vitamin C:
3
mg
|
Calcium:
21
mg
|
Iron:
1
mg
Pin it for later!