Simple syrup is an essential ingredient for sweetening cocktails, tea and other drinks easily, without the grit of granulated sugar. I'll show you how to make this quick and easy homemade sugar syrup recipe for pennies per serving in only 5 minutes.
What is simple syrup and what is it used for?
Simple syrup (or sugar syrup) is the ubiquitous sweetener made from equal parts sugar and water that's used in countless cocktails, hot and cold drinks alike. Bakers even use it to moisten layer cakes.
It's a versatile ingredient because simple syrup adds sweetness without adding any particularly distinct flavor unlike honey or maple syrup. If you've ever tried to stir a packet of sugar into ice tea, you know the real reason this sweetener is indispensable — it dissolves easily when mixed with other liquids without endless stirring or the grit and crunch of granulated sugar.
I use this neutral sweetener to make craft cocktails like this Cucumber Pioneer, gorgeous Blood Orange Martini and Cara Cara Margarita Mocktail. The pure simple sweetness lets the other ingredients shine, and full strength Sparkling Cara Cara Margarita. Simple syrup is the sweetener for this lip-smacking Winter White Cosmo, and this brunch-inspired Guava Tangerine Fizz.
Sugar syrup is absolutely essential to make a classic gin French 75 and this one made with cognac.
What is rich syrup?
Rich syrup (a.k.a double syrup) is a popular ingredient with craft bartenders. The only difference is that rich syrup uses double the amount of sugar to water, in a 2:1 ratio. This makes the double syrup thicker, more viscous and adds body to drinks and cocktails.
Where to buy simple syrup?
You can find it at liquor stores and some grocery stores, but once you see how quick and easy it is to make at home (not to mention less expensive) you'll never buy sugar syrup again. The store-bought brands go for anywhere from $3.50 to $5 per bottle (about 12 ounces each), or you can make your own sugar syrup recipe at home for about 34¢. Seriously.
What do you need to make a basic sugar syrup recipe at home?
Just two ingredients.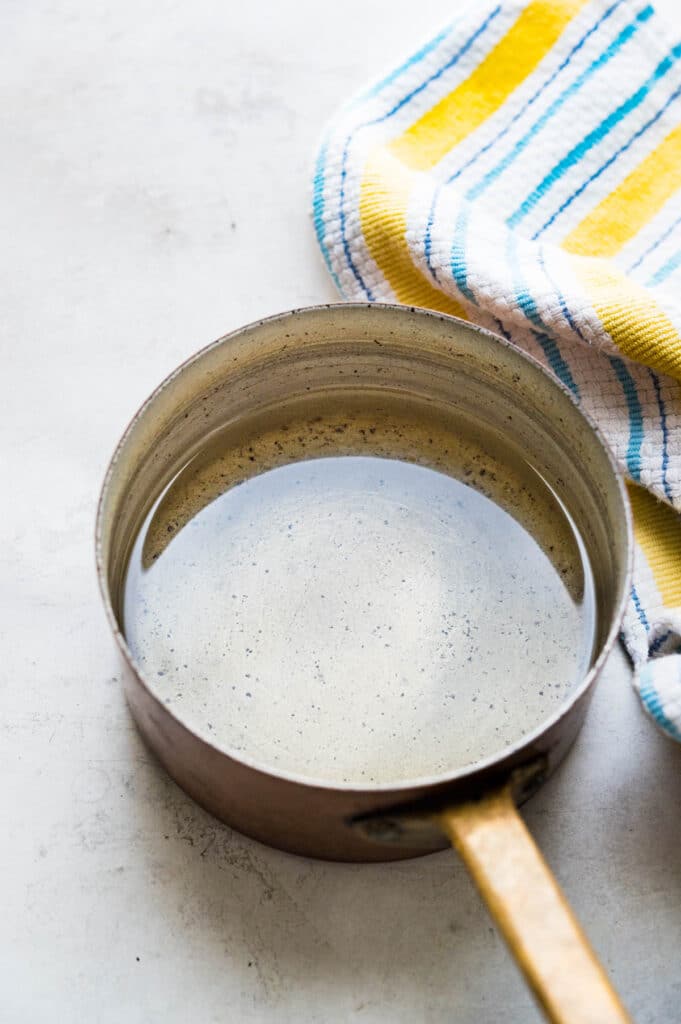 How to make simple syrup:
Combine equal parts sugar and water in a small saucepan.
Heat the sugar and water over medium high heat, stirring occasionally until the sugar granules dissolve completely.
Cool to room temperature and store in a jar or bottle with a tight fitting lid.
Want to make rich syrup?
For homemade rich syrup just add two parts of sugar to water and follow the same directions as above. Note: it will take longer for the sugar granules to dissolve. Just be patient, and stir frequently.
Does it need to be refrigerated?
It depends. Sugar (like salt) is a natural preservative, it generally doesn't spoil. Once made, it can be stored it at room temperature for about 2-3 weeks.
If you don't think you'll use the simple syrup in a month, you can store it in the refrigerator and the sugar syrup will keep for up to 2-3 months.
pro tip
When storing in glass jars or bottles, it's helpful to use a funnel to pour the sugar syrup into the container without spilling and making a mess.
How do you know when it's going bad?
If the sugar syrup starts to turn cloudy or if you start to see crystals forming on the surface, , that can be a sign that it's turning. However, it doesn't mean that you'll get sick from using it, especially if it's strictly a sugar and water mixture without additional ingredients or flavorings.
How do I use simple syrup in everyday recipes?
If you're substituting simple syrup for granulated sugar in a drink recipe, you'd typically use 1/4 ounce syrup for 1 teaspoon of sugar. It adds instant sweetness without the constant stirring of straight sugar.
Use it in cocktails, iced or hot tea or in cold or hot coffee drinks.
Brush the rim of your cocktail glass with a little sugar syrup, then dip it into salt or other seasoning blend for a decorative and tasty rim that sticks better than simply wetting the rim with water.
Use it to add a touch of sweetness to veggie smoothies.
Use a pastry brush to add moisture to sponge cake layers.
Macerate cut up fruit, like strawberries in a few tablespoons of simple syrup and let rest for about 30 minutes. Then spoon the sweetened berries over ice cream or pound cake.
Add one or two spoonfuls to oatmeal in place of brown sugar, honey or maple syrup to sweeten without a distinct flavor.
Can I flavor sugar syrup with other ingredients?
Absolutely! That's the best part. Once you're comfortable with making your own, branch out with other flavors.
You can infuse the sugar and water solution with botanicals, herbs, fruits, spices and just about anything else you can think of… hmmm, bacon??? Here are some of our favorites:
Flavored syrups you'll love and ways to use them:
Simple Syrup
Simple syrup (a.k.a. sugar syrup) is quick and easy to make and it's a bartender's essential ingredient for all types of drinks and cocktails. Make it as plain simple syrup or double strength rich syrup. I'll show you how.
instructions
INSTRUCTIONS FOR SIMPLE SYRUP & RICH SYRUP:
Combine the sugar and water in a small saucepan over medium high heat, stirring occasionally until the sugar is dissolved. Let the simple syrup cool then transfer to an airtight storage container or glass jar.

Store at room temperature for 2-3 weeks or in the refrigerator for 2-3 months.
Notes
Makes about 1 1/2 cups of simple syrup
Nutrition
Calories:
97
kcal
|
Carbohydrates:
25
g
|
Sodium:
2
mg
|
Potassium:
1
mg
|
Sugar:
25
g
|
Calcium:
1
mg
|
Iron:
1
mg
Pin it for later!