Creamy Lemon Poppy Seed Dressing
Want a creamy, tangy, slightly sweet salad dressing? My homemade lemon poppy seed dressing is easy to make with a few everyday ingredients. Great over a simple green salad, it's a delicious departure from the everyday vinaigrette.
Sometimes, there's nothing as good as a simple green salad, especially when it's napped with a luscious, tangy dressing. I've said it before, homemade salad dressing is far superior to the bottled and jarred varieties (including the ones you get in the refrigerated section) and you can make it in a flash Plus, you won't find anything like this lemon poppy seed dressing in the market aisles.
Many poppy seed dressing recipes are clear, like a vinaigrette, however, this one is a creamier version that I prefer. My tangy buttermilk poppy seed dressing drapes and coats lettuce leaves with a bright tangy and slightly sweet flavor.
This recipe isn't in my regular salad dressing rotation, but when I do make a batch, salads become a daily occurrence in our house.
Ingredients for Creamy Lemon Poppy Seed Dressing
Sweet Onion (such as Vidalia)
Sugar
Mayonnaise
Buttermilk
Dry Mustard
White Wine Vinegar
Poppy Seeds
Lemon
Salt
Pepper

About poppy seeds
Let's address the elephant in the room.
Yes, poppy seeds come from poppies, but no worries. You won't get high from poppy seed dressing.
That's because the seeds used in this recipe (and virtually all others) are cultivated from the seed pod of the poppy plant and aren't ripe until the pod is dried (see photo above).
Opium, on the other hand, is harvested from the seed pods when they're green and the seeds have just begun to grow (thank you Wikipedia). That's a whole different ball game — and one I have no experience with.
How long do poppy seeds last?
Poppy seeds, like other seeds and spices, have a shelf life. If yours have been sitting in your pantry for more than a year, I advise tossing them out and buying fresh. That's because the oils in poppyseeds go rancid after a long time and will give your recipes an off-putting flavor. If you live in a warmer climate (like me, in South Florida), they can turn even faster.
Pro Tip: To get more life out of your poppyseeds, store them in the refrigerator (or freezer) to prevent them from going bad.
I start this dressing recipe with grated sweet onion, I prefer Vidalia, but white onion would work as well or even shallots. Don't substitute yellow or red onion, as they have a sharper flavor that will compete with the other ingredients.
You don't need much onion for the dressing recipe (only about 1/4 cup), so just cut off a little chunk and run it over the large holes on a box grater to make quick work of it. Grating the sweet onion actually exposes more of the surface area and releases more of the sweet onion flavor than chopping.
If you don't want to use the grater you can also finely mince the onion (~ 1/4″ dice).
I actually think it's the lemon zest that's lacking in most poppy seed dressing recipes. For me, they're too sweet and almost cloying.
I use both lemon zest and lemon juice for this poppy seed dressing. It adds a double dose of brightness and tang to the dressing that I really enjoy.
Pro-Tip: Use a microplane for the finest whisper of lemon zest to blend with the other ingredients.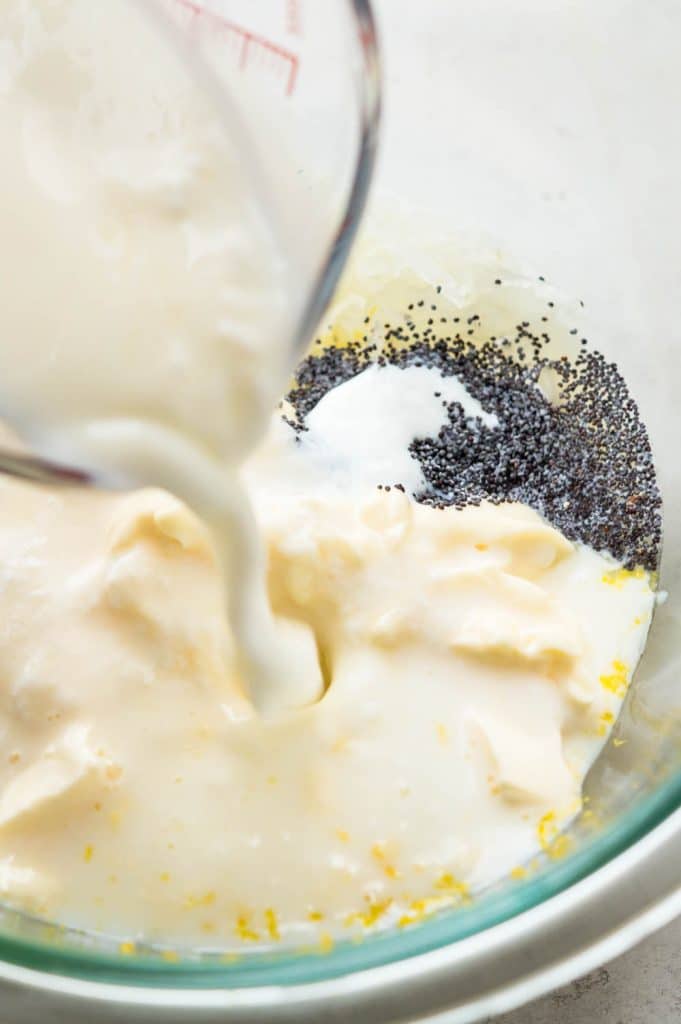 What makes poppy seed dressing creamy?
To give the dressing its lush, creamy texture, use equal parts mayonnaise and buttermilk. The combination gives the poppy seed dressing body and when it's refrigerated, it thickens up even more.
If you don't have buttermilk on hand, make your own!
To make your own buttermilk, just add 1 tablespoon of distilled vinegar or lemon juice to one cup of regular milk, stir and set aside for 10-15 minutes. The acid curdles the milk and yields a thicker consistency. This simple trick works just like buttermilk in your baking and cooking recipes, including this one.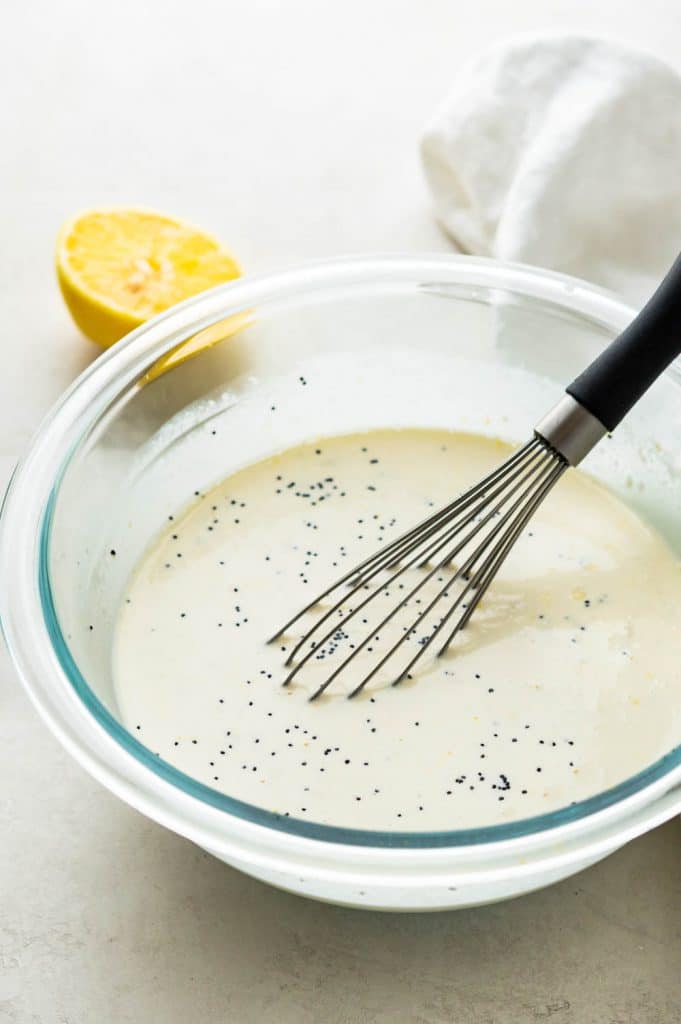 How to make lemon poppy seed dressing
In a small bowl, combine all of the ingredients and whisk together until blended.
Taste for seasonings. If you like it sweeter, add a bit more sugar; for more tanginess, add more lemon juice, etc.
Cover with plastic wrap and refrigerate for at least 30 minutes to thicken and for the flavors to marry.
That's it. Pretty simple, right?
This simple lemony dressing coats every part of your tongue without being overly thick, cloying or forward. The poppy seeds add subtle texture and flavor to the creamy dressing and you'll love how the fresh lemon zest and juice give the dressing recipe a tangy brightness.
You can store the lemon poppy seed dressing for up to 10 days in the refrigerator. Stir before serving.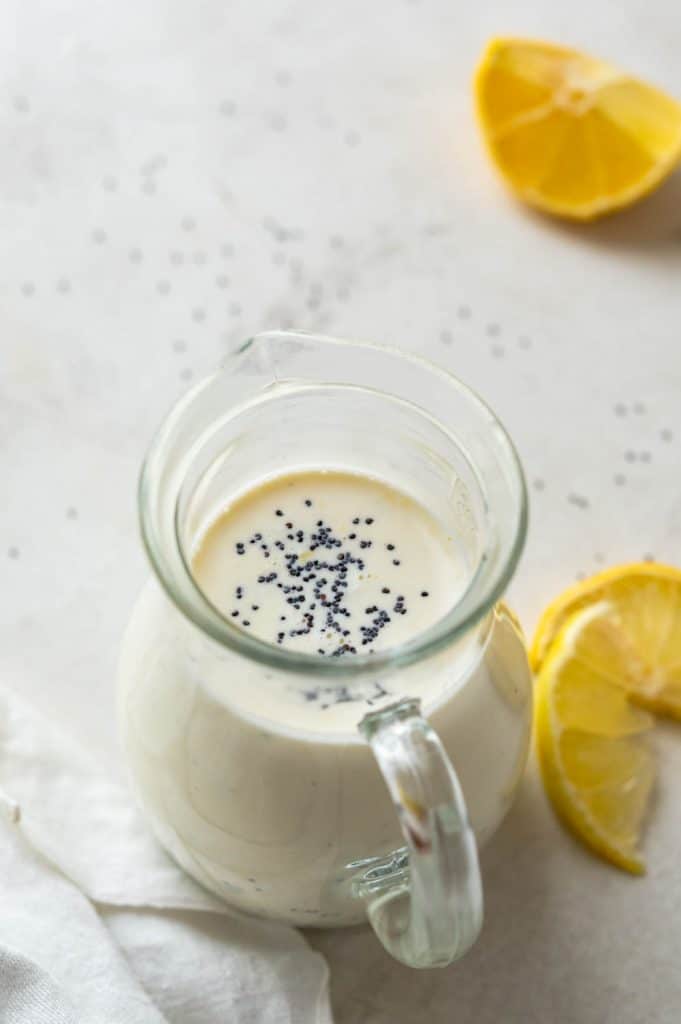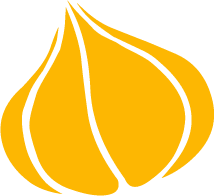 Tried this recipe? Leave a rating and review.
Your comments and shares are invaluable to me and the thousands of readers who use this site daily. If you've made the recipe, leave a star rating and review. We want to hear how you liked it.
We'd love it if you shared the recipe with your friends on social media!
Creamy Lemon Poppy Seed Dressing
This creamy, tangy, lightly sweet buttermilk dressing is so easy to make with a handful of everyday ingredients. This dressing thickens as you chill it, so make it a few hours ahead of time for the best texture. Makes about 1 3/4 cups of the best lemon poppy seed dressing that keeps up to 10 days in the refrigerator.
INGREDIENTS:
¼

cup

sweet onion

grated or minced

2

teaspoons

sugar

2

teaspoons

poppyseeds

(make sure they're fresh)

1 ½

tablespoons

white wine vinegar

¾

cup

mayonnaise

(we like Duke's or Hellman's)

¾

cup

buttermilk

well shaken

¼

teaspoon

dry mustard

1

lemon

¼

teaspoon

kosher salt

¼

teaspoon

black pepper
DIRECTIONS:
Zest the lemon with a microplane grater and set aside.

Squeeze two tablespoons of lemon juice (depending on how juicy your lemons are, it could be 1/2 to 1 whole lemon.

In a medium bowl, combine the grated onion, sugar, poppyseeds, dry mustard, white wine vinegar, lemon zest, lemon juice, mayonnaise, buttermilk, salt and pepper.

Whisk to combine. Cover and refrigerate for several hours to thicken.

Stir the poppyseed dressing before serving.
NUTRITION:
Calories:
114
kcal
|
Carbohydrates:
3
g
|
Protein:
1
g
|
Fat:
11
g
|
Saturated Fat:
2
g
|
Polyunsaturated Fat:
6
g
|
Monounsaturated Fat:
3
g
|
Trans Fat:
1
g
|
Cholesterol:
8
mg
|
Sodium:
154
mg
|
Potassium:
44
mg
|
Fiber:
1
g
|
Sugar:
2
g
|
Vitamin A:
36
IU
|
Vitamin C:
5
mg
|
Calcium:
29
mg
|
Iron:
1
mg
Pin "Lemon Poppy Seed Dressing" for later!