Looking for cold rice salads for summer? My curried rice salad is it. This simple, vibrant side dish is perfect for cookouts and potlucks. The easy curry dressing with fresh ginger and turmeric add a zippy punch to the dish. Finish the salad with toasted pine nuts and fresh herbs for a deliciously irresistible vegetarian side.
This easy curried rice salad recipe has been in the works for a while now. I wanted something refreshing and light to go with anything we'd thrown on the grill or just a simple deli rotisserie chicken. This zingy side dish is it. And cold rice salads for summer cookouts are the perfect yin/yan. They're cool, light and so versatile, you can serve it with chicken, pork, lamb, beef, or seafood. It's even good as a vegan/vegetarian main course.
Ingredients for curried rice salad
Long Grain Rice
Golden Raisins
Red Bell Pepper
Green Onions
Red Onion
Garbanzo Beans
Pine Nuts
Fresh Mint
Fresh Parsley
The ingredient list doesn't have anything out of the ordinary, and if you've got an herb garden, you probably have just what you need to whip up this simple rice salad, but here are some substitutes you can use.
Simple substitutions
If you don't have golden raisins, you can substitute regular raisins, dried currants or even finely chopped dried apricots.
If you're out of pine nuts, swap them for sliced almonds, pistachios or chopped cashews.
You can use yellow or orange bell pepper for the red (but don't use green peppers – they give a very different flavor).
Steamed rice is the main component of this summer side dish and while it's not difficult to do, it's important to do it right. The rice has to be steamed, drained and cooled to room temperature before adding it to the rest of the ingredients. The texture of the rice should be slightly sticky and dry. Here's how to do it:
How to steam rice without a steamer
Fill a medium saucepan with water and bring to a boil. No need to measure the water — just make sure you've filled the pot to about the 3/4 level.
Stir in the rice and return the water to a boil.
Boil the rice for 15 minutes, stirring occasionally (without the lid on the pot).
Transfer the rice to a fine mesh strainer and drain off as much liquid as possible.
Add the rice back to the same pot you cooked it in and add the raisins. Put the lid on the pot and set aside for 10 minutes. (This will steam the rice and plump the raisins.)
After 10 minutes, remove the lid and let the rice cool until it's at room temperature. If you want to cool the rice faster, transfer it to a sheet pan and spread into a single layer. The rice should be cooled and ready to use within 10 minutes.
Why does the rice have to cool?
Making the steamed rice for this curried rice salad isn't hard, but the steps need to be followed. Please don't skip letting the rice cool to room temperature.
If you add hot rice to the salad and curry dressing, you'll steam the vegetables and they'll lose their crispness.
Additionally the dressing combined with hot rice will create a sloppy, goopy mess. Don't say I didn't warn you.
While the rice is steaming and/or cooling, you can assemble the rest of the curried rice salad. Dice the vegetables and add them to a large bowl, along with the drained garbanzo beans. Set the veggies aside and make the ginger curry dressing.
This zippy curry dressing is what gives this summer rice salad its distinctive flavor. Fresh ginger adds spice and heat, while a good curry powder creates that smoky depth and tingle you normally associate with curries. Turmeric is responsible for the golden hue and fresh mint and parsley pep up the freshness factor.
Ginger curry dressing ingredients
White Wine Vinegar
Dijon Mustard
Fresh Grated Ginger
Honey
Curry Powder
Turmeric
Kosher Salt
Black Pepper
Fresh Chopped Mint
Fresh Chopped Parsley
Extra Virgin Olive Oil
Not only is this curried ginger dressing good for summer rice salads, you can also drizzle it on steamed veggies or grilled chicken, pork or seafood. It's so versatile.
Once the rice has cooled to room temperature and the moisture has evaporated, it's time to mix it with the vegetables.
Add the rice to the chopped veggies and toss to combine.
Pour the dressing over the curried rice salad and gently toss to coat.
Add additional fresh herbs and pine nuts and toss again until the mixture is well combined.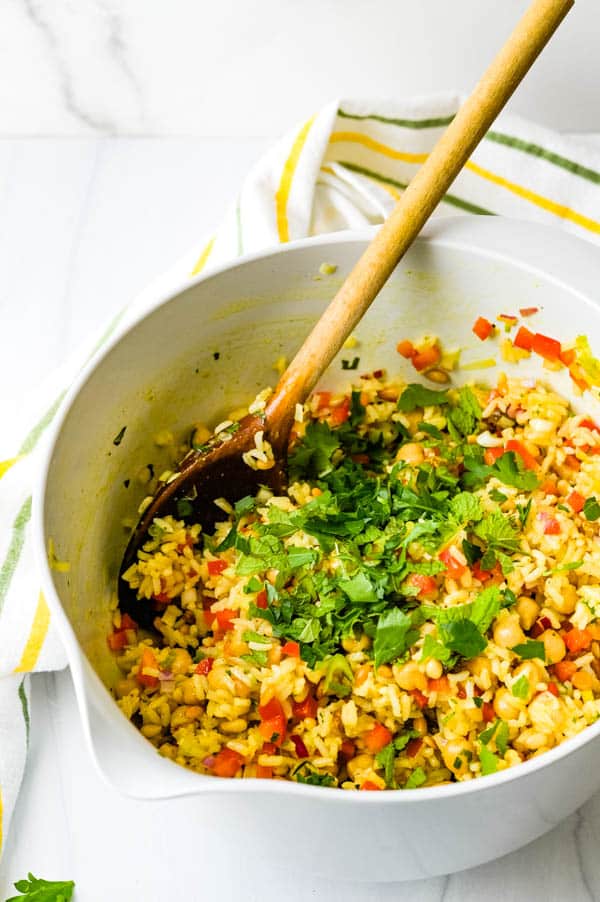 You can serve this summer rice salad chilled or at room temperature. I love this dish because there's no mayonnaise, so it has more staying power than typical potato salads and coleslaws, making it great for cookouts and potlucks.
How long will curried rice salad last?
This salad should hold up for about 5-7 days, covered in the refrigerator.
How long will the ginger curry dressing last?
If you don't add the fresh herbs to the dressing, it will stay fresh for 1 week, however if you've added the fresh herbs, they will start to lose their freshness and potency within a few days. If you're making the dressing ahead of time, I'd recommend adding the mint and parsley at the last minute.
More Cold Rice Salads For Summer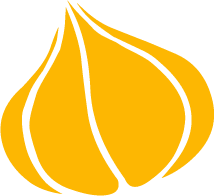 Tried this recipe? Leave a rating and review.
Your comments and shares are invaluable to me and the thousands of readers who use this site daily. If you've made the recipe, leave a star rating and review. We want to hear how you liked it.
We'd love it if you shared the recipe with your friends on social media!
Curried Rice Salad
This cool, refreshing rice salad has crunchy veg, toasted pine nuts, sweet golden raisins, fresh herbs and a tangy curried ginger dressing to tie it all together. Best served cold or at room temperature.
INGREDIENTS:
FOR CURRIED RICE SALAD
1

cup

long grain rice

½

cup

golden raisins

1

red bell pepper

finely diced

3

green onions

finely diced

¼

cup

red onion

finely diced

15

ounce

can garbanzo beans

drained

⅓

cup

toasted pine nuts

2

tablespoons

fresh mint leaves

torn

2

tablespoons

parsley leaves

torn
FOR CURRIED GINGER DRESSING:
2

tablespoons

white wine vinegar

1 ½

teaspoons

dijon mustard

¾

teaspoon

freshly grated ginger

1

tablespoon

honey

can substitute maple syrup to make it vegan

1

teaspoon

curry powder

¼

teaspoon

turmeric

½

teaspoon

kosher salt

¼

teaspoon

black pepper

1 ½

teaspoons

chopped fresh mint

1 ½

teaspoons

chopped fresh parsley

6-7

tablespoons

extra virgin olive oil
DIRECTIONS:
MAKE THE RICE
Fill a large saucepan three-quarters full with water and bring it to a boil. Add the rice and stir occasionally for 15 minutes. Do not cover the pot.

Drain the rice in a fine mesh strainer to drain as much liquid off as possible. Transfer the rice back to the same pot it was cooked in and add the golden raisins. Cover the pot tightly with the lid and set aside for 10 minutes to steam. (This will plump the raisins).

Remove the lid and let the rice cool and come to room temperature. Rice will cool and dry out a bit. To accelerate this process you can spread the rice and raisins on a sheet pan in a thin layer and it will take about 5-8 minutes to cool/dry. The rice needs to be dry and at room temperature before adding it to the salad, otherwise the salad will be mushy.
FOR THE SALAD:
While the rice is cooking/cooling, prep the salad ingredients. Into a large bowl add the red bell pepper, green onions and garbanzo beans. Toss to combine. Add the cooled rice and raisins and toss gently to combine.
FOR THE CURRIED GINGER DRESSING:
In a medium bowl or glass measuring cup, combine the vinegar, dijon mustard, ginger, honey, curry powder, turmeric, kosher salt and pepper. Whisk to combine. Slowly whisk in the olive oil, whisking constantly until the dressing has emulsified. Stir in the mint and parsley. Set aside.
ASSEMBLING THE CURRIED RICE SALAD:
Add the dressing to the rice salad and toss to coat. Add the pine nuts and fresh herbs. Toss and serve at room temperature or chill in the refrigerator and serve cold.
NUTRITION:
Calories:
309
kcal
|
Carbohydrates:
38
g
|
Protein:
6
g
|
Fat:
16
g
|
Saturated Fat:
2
g
|
Sodium:
309
mg
|
Potassium:
268
mg
|
Fiber:
4
g
|
Sugar:
9
g
|
Vitamin A:
656
IU
|
Vitamin C:
22
mg
|
Calcium:
38
mg
|
Iron:
2
mg
Pin "Curried Rice Salad" for later!