17 Easter Egg Recipes For Brunch
Last week, I focused on the sweet side of Easter brunch options and today I'm going savory. It's all about the Easter egg — not coloring and hiding them, but using them as the star of our brunch menu. I asked my fellow bloggers to come up with some of their favorites and again, they've obliged me. So here's 17 Easter Egg Recipes For Brunch. With baked egg casseroles, poached eggs, eggs in cups, simmered eggs in sauce or eggs in a crust (my personal favorite), I think this collection has something for everyone. Enjoy!
Egg-Stravaganza
Stratas, in my opinion are the ULTIMATE make-ahead brunch dish. They're savory and filling and go with so many easy sides from salads, to sliced ham, fruits, muffins and more. This Easy Egg Strata with Bacon, Mushrooms and Caramelized Onions is a winner!
Any dish that starts with the word, "cheesy" is a winner in my book and this Cheesy Baked Egg Casserole – via Beyond The Chicken Coop doesn't disappoint.
Overnight dishes are some of my favorites… Prep the night before and bake the morning of…Sallie's Overnight Easy Breakfast Casserole by The Seasoned Mom is a winner.
This is more than an egg dish, with sausage, peppers and onions, it's a meal! Serve with muffins, bagels or toast! Oven Baked Eggs with Sausage, Peppers & Onions from Innocent Delight would be a beautiful addition to your holiday gathering.
This beautiful Sausage and Caramelized Onion Quiche via Erica's Recipes is a delicious and decadent way to celebrate Easter. Perfect for breakfast or brunch.
Spicy Chorizo Hash by Garlic & Zest is like having your favorite breakfast joint in your own kitchen.
Moroccan Eggs in tomato Sauce (Shakshuka) via The Delicious Crescent is rich and hearty, not to mention beautiful.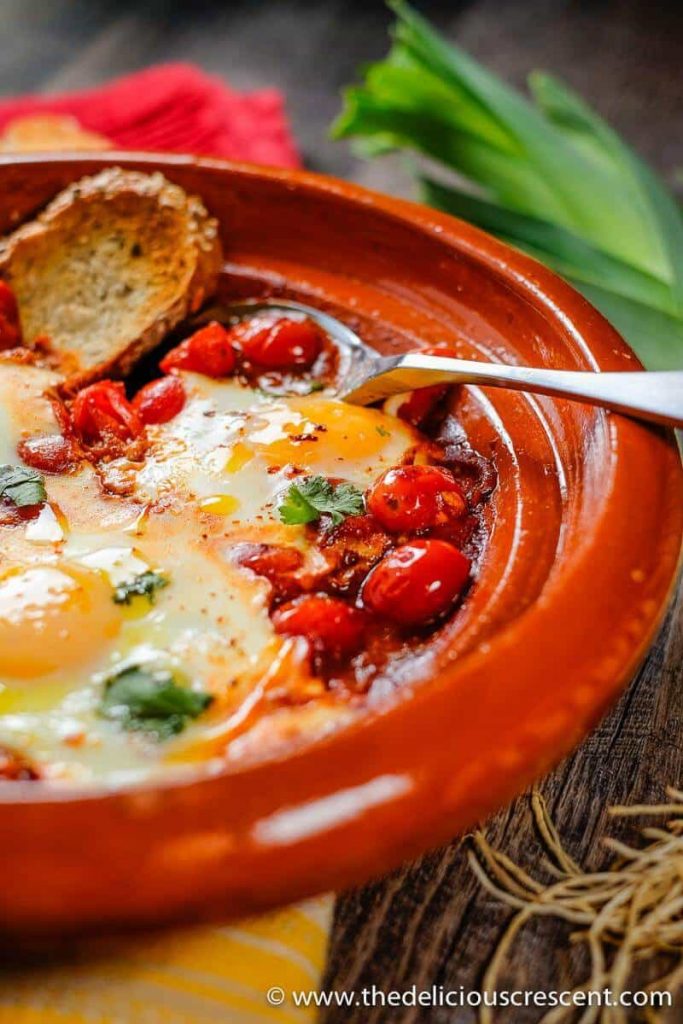 This flavors in this egg bake are umami on umami. It's a dish that screams to be dipped into with crispy toast soldiers. Try Creamy Gruyere and Mushroom Eggs en Cocotte (Mushroom Baked Eggs) from The Flavor Bender.
Like quiche? You'll love this Quiche with Leeks and Pancetta by Foodie Girl Chicago.
For all you Denver omelet lovers — try this easy, flavorful Loaded Baked Denver Omelet Casserole from Simple Seasonal.
This lovely quiche is LOADED with fresh veg — the perfect thing to offset the chocolate bunnies lurking in that basket. Crustless Zucchini Bacon Quiche via Pass Me Some Tasty.
If you like spice, try these Spicy Turkish Style Baked Eggs (Shakshuka) by Salted Mint – aside from gorgeous photography, don't you just want to grab a toast point and go to town?
If you've got a crowd, these fun Ham and Cheese Mini Quiches would be a fun idea. They're made in mason jar lids by Unsophisticook.
If you're looking for something really different, this Asparagus Salad with Prosciutto, Eggs and Dijon Vinaigrette is flavorful, light and very spring-y. Thanks to Taste and See for sharing.
If you like the idea of "individual" servings, these easy Muffin Tin Hash Brown and Scrambled Egg Cups are for you. Via Valerie's Kitchen — the bonus is that they resemble little nests…awww…..
Speaking of egg cups, these Super Easy Baked Eggs For Breakfast from Curry Trail are simple and lovely.
This Ratatouille Quiche from Garlic & Zest has the colors of springtime, tucked into a flaky crust — it's vegetarian too.
This Farmer's Baked Omelette with cream cheese and Monterey Jack is studded with vegetables and a delicious chipotle seasoning. Via Buy This Cook That.
That's it for this installment. My next Brunch focus will be on COCKTAILS — so get your muddler/blender/and Boston shaker ready — and make sure you've got a DD (Designated Driver).
"Pin 17 Easter Egg Recipes" For Later!
SaveSaveSaveSaveSaveSave
SaveSaveSaveSaveSaveSave
SaveSave
SaveSave
SaveSave
SaveSave
SaveSave