Smoked Salmon Pizza with Goat Cheese
Looking for an elegant pizza appetizer? Goat cheese crumbled over a smoked salmon pizza with thin slices of zucchini and tomato makes a tasty and impressive starter, and it's easy to assemble with store-bought pizza dough.
Instead of the dish of nuts and olives or the standard cheese and crackers, switch up your hors d'oeuvres menu with something a little different — like this smoked salmon pizza. It's easy to assemble, and the salmon pizza can be sliced into smaller portions to nibble with a cocktail.
Why you'll love this recipe:
You can use store-bought pizza dough to keep it simple.
It's not a heavy appetizer and one salmon pizza yields 4-6 appetizer portions.
It's not heavy with cheese. Instead, this restrained pizza pie is sprinkled with soft, creamy goat cheese crumbles (a.k.a. chèvre).
Thin slices of tomato and zucchini add just the right freshness and moisture to every bite so it's not too dry.
You can slice it into wedges or planks for easy handling, or make mini smoked salmon pizzas to serve on a tray.
Ingredients:
Store-bought pizza dough – or use your favorite homemade yeast pizza dough recipe.
All Purpose Flour – for rolling out and shaping the dough.
Cornmeal – for sprinkling on the pizza stone to prevent the salmon pizza from sticking.
Extra Virgin Olive Oil – Because the ingredients are so simple, I recommend using a decent EVOO. It doesn't have to be an expensive finishing oil, but you want an oil with some flavor and a nice green color.
Zucchini – This summery squash doesn't have a distinctive flavor, but it's got gorgeous green color and provides a layer of moisture on the pizza dough, which is important since this pie doesn't have a pizza sauce.
Campari or Plum Tomatoes – when thinly sliced on the pizza, the tomatoes also add moisture and the traditional flavor without being too concentrated. The tomatoes taste light and fresh with the olive oil and zucchini.
Cold Smoked Salmon – You can use smoked Sockeye salmon, Norwegian salmon or Scottish salmon for this pizza recipe. Just look for something thinly sliced and very buttery. I use Costco smoked salmon.
Goat Cheese – also known as Chèvre, this soft, creamy cheese has a distinctive flavor that pairs well with cold smoked fish.
Fresh Thyme – I use this not only for a pretty garnish, but it adds a lemony herbal flavor to the smoked salmon pizza.
Black Pepper – Goat cheese pairs well with a grind of fresh black pepper. Don't use a lot; just a pinch will do.
To simplify this recipe, I start with store-bought pizza dough. If you're feeling ambitious, here's a recipe for homemade crust, but I won't wag my finger at you for picking up some premade dough from your market's bakery department.
If you've never rolled out, tossed or otherwise formed your own pizza dough to cook, here are a few tips.
Working with pizza dough:
Prepare a non-porous work surface with a combination of flour and cornmeal to prevent the pizza dough from sticking.
Use the pads of your fingers to press on the ball of dough to flatten it and remove the air bubbles.
Flip the dough over and continue to flatten the pizza dough.
Flip the dough back over and bend your non-dominant hand into a "C" shape. Position it ½" from the edge of the dough, pressing against it to form a distinct edge to the crust, as you press and rotate the pizza dough. Do this until you've created a round shape with a slightly raised perimeter.
Place your fingers in the center of the dough and spread them to stretch the crust until you have formed the shape and size to fit your pizza stone.
Press, pat and form the dough into a respectable round. You can even have some fun with it by giving it a few tosses in the air! Just catch the dough on your knuckles so there are no inadvertent puncture wounds to your crust.
Once the pizza dough is formed, it's time to assemble the pie. Since it's a smoked salmon pizza – made with cold smoked salmon, you don't want to cook the fish in a hot oven because it would transform it from a buttery soft texture to flaky and fully cooked. That's not what you want.
Instructions:
Place your pizza stone in the oven and preheat to 500°F.
Form the pizza dough into a round as described above.
Once the pizza stone is preheated, use a pair of oven mitts to transfer it to a work surface (protected with a trivet so you don't burn your countertop) and arrange the pizza dough on top of it.
Drizzle dough with extra virgin olive oil.
Top the pizza crust with very thin slices of fresh zucchini followed by thinly sliced tomato, half of the fresh thyme and black pepper. Drizzle on more olive oil, brushing the crust with the oil to help it brown.
Bake the pizza for 7-8 minutes or until the crust is browned.
Remove from the oven and let the pie cool for several minutes before draping the salmon slices on the pizza.
Sprinkle with crumbled goat cheese and finish with the remainder of the thyme and black pepper.
Pro-Tips:
Ensure that your oven and pizza stone are preheated before you assemble the pizza. Putting the pizza dough onto a cold stone won't get that crispy browned crust and the salmon pizza will be soggy. Eww.
Allow the baked pie to rest for about 5 minutes after removing it from the hot oven before adding the sliced smoked salmon to keep the fish supple and buttery.
You can serve salmon pizza warm or at room temperature, so it's ok to make it before guests arrive.
You can easily swap other pizza toppings on this pie. Here are a few suggestions.
Variations and Swaps:
If you don't have pizza dough, you can use another flatbread or naan bread for the crust.
You can use other types of smoked fish in this pizza recipe. Flaked smoked trout is delicious.
Use other thinly sliced vegetables like summer squash or eggplant.
Sprinkle fresh corn kernels over the pie to bake, then finish with torn basil and swap the goat cheese for spoonfuls of whole milk ricotta.
Add fresh clams or shrimp instead of smoked salmon and bake until the seafood is cooked.
Dress arugula with a little champagne vinaigrette and top the smoked salmon with the peppery greens.
Swap the goat cheese for creme fraiche and fresh dill or caviar for a fancier version of the salmon pizza recipe.
Add sliced avocado with the salmon and sprinkle with lemon zest.
Sprinkle with a flurry of mixed fresh herbs like dill, mint, tarragon, Italian parsley or fresh chives.
FAQ's
Who created smoked salmon pizza?
Wolfgang Puck is credited for this creative pizza phenomenon. It began at his restaurant Spago in Los Angeles, when Joan Collins ordered smoked salmon with brioche. Out of the buttery bread, he improvised by creating a pizza complete with red onions and traditional bagels and lox toppings. The rest is history.
How many calories are in salmon pizza?
There are about 300 calories per serving for this smoked salmon pizza recipe.
Can you eat cheese with smoked salmon?
In New York delis, smoked salmon is famously served with cream cheese on bagels, so cheese and smoked salmon are definitely a "thing". We like to stack ours with capers, lemon juice, red onion and even a fried egg.
These items are helpful for making homemade pizzas in your kitchen. The links are affiliate links which means if you make a purchase, you'll pay no more for the product, and I receive a small commission.
Helpful equipment:
Pizza Stone: Pizza stones have a porous surface, which helps them absorb moisture and give your pizzas a crisp crust. Preheat the stone in a hot oven before adding the pizza dough and toppings.
Pizza Peel: A good pizza peel is usually made from wood. Sprinkle the peel lightly with cornmeal, then build your pizza on top of it. To bake, place the peel on the hot pizza stone and in quick, short back-and-forth jerks, transfer the dressed pizza onto the hot stone to bake.
Pizza Cutter: These devices are worth their weight in gold for slicing through pizzas without marring the toppings and cutting through any pie dough or pastry. They don't tug on the dough but rather act as an extension of your hand to cut through it.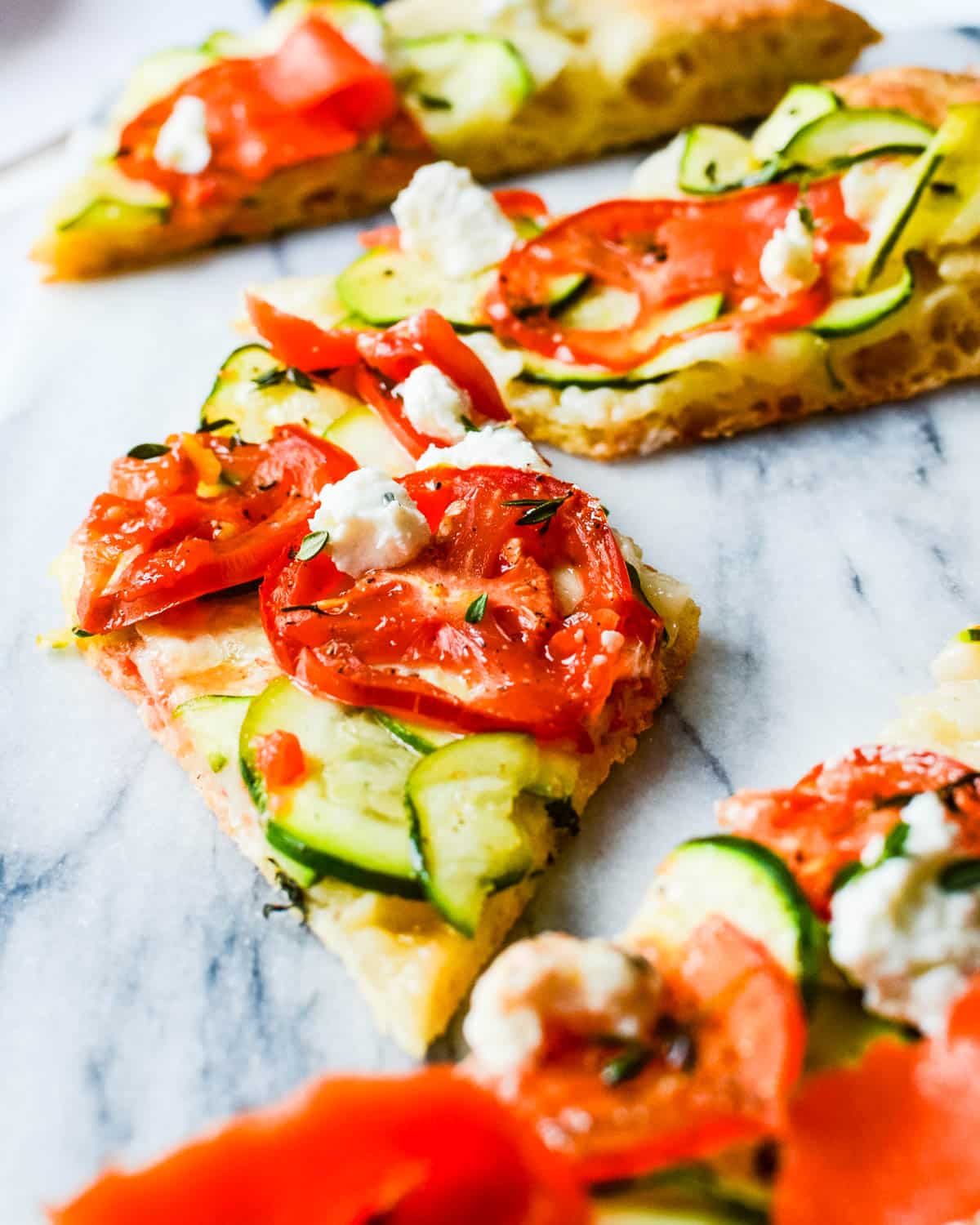 How do you serve the pizza?
You can cut it into thin pie-slices or slice the pizza in half and then cut each half into 6 or 8 strips. I like this because they're small 2-3 bite nibbles that go perfectly with a cocktail.
Additionally, you can roll out individual mini-pizzas about 1″ to 3″ in diameter and serve them on a tray or buffet table.
What goes with salmon pizza?
Since we serve this as an appetizer, I like to pair the salmon pizza recipe with a bubbly rosé or sparkling wine. The bubbles make it a festive starter to a larger meal.
Also try a crisp, chilled Sauvignon Blanc, Sancerre or Fumé Blanc with salmon pizza.
Storage:
Wrap any leftovers in an airtight container or loosely wrapped in aluminum foil for 2-3 days and keep them in the refrigerator.
Leftovers can be eaten at room temperature or served slightly warmed; preheat an oven to 300° F and warm on a perforated baking sheet or wire rack set over a sheet pan for 5-8 minutes until warmed through. (the rack will help the pizza crust heat evenly and keep it crisper).
More smoked salmon appetizers you'll love: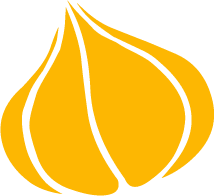 Tried this recipe? Leave a rating and review.
Your comments and shares are invaluable to me and the thousands of readers who use this site daily. If you've made the recipe, leave a star rating and review. We want to hear how you liked it.
We'd love it if you shared the recipe with your friends on social media!
Fresh Smoked Salmon Pizza
A fresh, deliciously different pizza with thinly sliced zucchini and tomato, lush smoked salmon and creamy goat cheese.
INGREDIENTS:
1

pound

pizza dough

2

tablespoons

flour

2

tablespoons

cornmeal

3

tablespoons

extra virgin olive oil

divided

1

medium

zucchini

sliced into 1/8″ rounds

2

medium

campari or plum tomatoes

very thinly sliced, seeded and pat dry

¼

pound

smoked salmon

very thinly sliced

2

ounces

goat cheese

crumbled

1½

teaspoons

fresh thyme leaves

pinch

black pepper

freshly ground
DIRECTIONS:
One hour before assembling pizza, remove pizza dough from the refrigerator and let it rest.

Place a pizza stone in a cold oven. Preheat the oven to 500°.

Mix the flour and cornmeal together and sprinkle over a non-porous work surface, like marble, granite or laminate. Place the ball of dough on top of the cornmeal mixture and use the pads of your fingers to push down on the dough, to flatten it and remove excess air bubbles. Flip the dough over and continue to flatten the center of the dough with your fingers.

Flip the dough back to the original starting point and form your non-dominant hand into a "C" shape. Place the "C" about ½" from the edge of the dough and press against the dough with the outside of your hands to create a distinct edge while pressing and rotating the center of the dough with your dominant hand.

Rest your fingers inside the edge of the dough and gently spread them out to stretch the dough. These actions are meant to thin the dough slightly and give the dough a form… If you want to get fancy and toss the dough to thin it further, rest the stretched dough over your knuckles and fingers. Toss the dough a few inches into the air, spinning as you toss. Catch the dough on your knuckles. Do this several times until the dough reaches the desired thickness.

Using oven mitts, remove the pizza stone from the oven and rest it on a heat safe surface (you don't want to burn your counter tops). Arrange the dough on top of the pizza stone. Drizzle with 1 ½ tablespoons of olive oil and brush over the dough to cover.

Layer the dough with thin rounds of zucchini slices, overlapping them as you go. Top the zucchini with thin slices of tomato and drizzle with the remaining olive oil. Sprinkle with half of the thyme leaves and a sprinkle of pepper. Using oven mitts, transfer the pizza stone back to the hot oven and bake for 7-8 minutes or until crust is browned and crusty.

Use a pizza peel or a very large heat-resistant spatula to transfer the pizza to a cutting board. Let the pizza rest for several minutes to cool. While the pizza rests, crumble the goat cheese and separate the salmon into thin slices. Top the pizza with salmon, goat cheese and the remaining thyme leaves.

Use a pizza cutter to slice the pie into strips or wedges and serve with a chilled Gloria Ferrer sparkling rose wine.
NOTES:
Best enjoyed the day you make it.
NUTRITION:
Calories:
330.25
kcal
|
Carbohydrates:
43.13
g
|
Protein:
12.4
g
|
Fat:
12.57
g
|
Saturated Fat:
3.18
g
|
Polyunsaturated Fat:
1.71
g
|
Monounsaturated Fat:
6.04
g
|
Cholesterol:
8.69
mg
|
Sodium:
734.56
mg
|
Potassium:
234.49
mg
|
Fiber:
2.4
g
|
Sugar:
6.72
g
|
Vitamin A:
544.68
IU
|
Vitamin C:
12.26
mg
|
Calcium:
27.31
mg
|
Iron:
2.96
mg
"Pin It" For Later!