Red White and Blue Sangria
If you need pitcher cocktails for your 4th of July celebration or Summer barbecue, this white sangria with brandy is a great option. Not only is Red White and Blue Sangria a beautiful, tasty 4th of July cocktail, but wine spritzer recipes are so quenching on a hot day.
If you browse through the past 10 years of this blog, you won't find much in the way of "literal" translations of holiday recipes. While I do have several iterations of pumpkin bread for Thanksgiving and Christmas cookie recipes galore, not to mention tasty food inspiration for Memorial Day, 4th of July and Labor Day, there aren't any "pilgrim" decorated cupcakes or Grinch-y cookies and to date, I've avoided flag-inspired food. Until now. Red White and Blue Sangria is delightfully patriotic without being cartoonishly literal.
I'm not opposed to those crafty folks who can make a deviled egg look like an Easter chick but since my daughter is grown up, there just doesn't seem to be any point to doing that in our house. However, my fuddy-duddiness ends now with this Red White and Blue Sangria. This white wine sangria recipe makes 4th of July cocktails that are simultaneously patriotic and refreshing.
Making Red White & Blue Sangria:
Start your Red White and Blue Sangria several hours before serving or even the day before so the fruit and liquors can infuse.
Into a large pitcher, add a good, drinkable white wine (I like a sauvignon blanc, but a pinot grigio, sancerre or vouvray would be nice too).
Add a sweetener. This could be in the form of simple syrup (equal parts water and sugar), agave, or honey. For this version, I use a honey simple syrup .
Add the brandy. For this one, I like Calvados — a French apple brandy that I think is pretty special. It can sometimes be hard to find, not to mention a bit expensive. You can substitute another good sippable brandy if you can't find Calvados.
Cut the fruit – if you're using the star cutters, slice the fruit into 1/4″- 1/2″ slices and use the cutters to create the star shapes.
Otherwise, chop the fruit into bite sized chunks (leave berries whole) and add them to the pitcher.
Chill the sangria for several hours until well chilled or overnight.Just before serving add the sparkling water to the pitcher, or individually to each glass of Red White and Blue Sangria.
Red, White and Blue Fruit Ideas:
Here are some ideas for the red white and blue fruit (note, not all fruit really work for cutting out star shapes).
RED
Watermelon (cut into bite sized chunks or into star shapes)
Strawberries (cut into bite sized chunks depending on how large)
Raspberries
Cranberries
Pomegranates
Cherries
WHITE
Granny Smith Apples (peeled, cut into bite sized chunks or star shapes)
Dragon Fruit (peeled)
Rambutan (peeled)
Lychee (peeled)
Guava – White Fleshed (peeled, cut into bite sized chunks)
Peaches – White Fleshed (peeled, cut into bite sized chunks)
BLUE
Blueberries
Blackberries
Blue or Violet Plums (quartered)
While you can certainly use any red fruits you like in your 4th of July cocktails, I'm particular to watermelon for two reasons. First, it's really easy to cut into shapes (here's my affiliate link for star shaped cutters) – the flesh yields easily to the cutter and it holds its shape beautifully. The second reason is osmosis. You know, molecules flowing across a semipermeable membrane until a homeostatic state is created.
In food talk — the watermelon gives it's flavors to the sangria — and the sangria gets soaked up into the watermelon.
Even better if you've added the sparkling water to the mix — because then the watermelon takes on an effervescent quality.
Don't believe me??? Put a slice in your next gin and tonic and let it soak for a few minutes — then try the watermelon…
The osmosis effect is less noticeable with apple slices, but apples are certainly the perfect tart, white fruit for the star cut out.
Another idea that would be really eye-popping is to use dragon fruit with their little black seeds.
After the fruit and liquor have had a good soak, they're ready for a party.
To make it extra festive, I used these star-shaped ice cube trays to keep this white sangria with brandy cold. I got these at Ikea several years ago, so I'm not sure if they still have them, but click on my affiliate link to get something similar.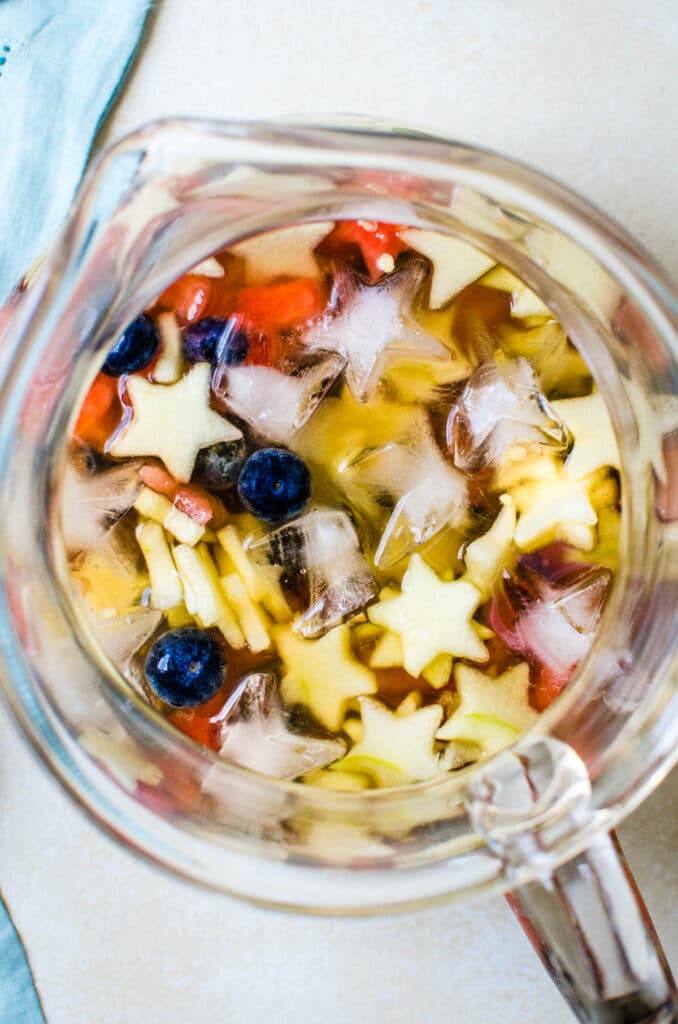 This 4th of July cocktail is perfect as it is, but if you like a little fizz, add the sparkling water for effervescence. We like La Croix in one of the citrus flavors like lemon, lime or grapefruit.
You'll love this red white and blue sangria all summer long because it's so tasty and refreshing. And you'll just love having some fruit to nibble on while you sip.
More refreshing summer drinks you'll love: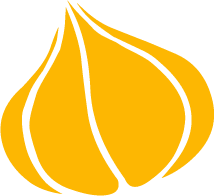 Tried this recipe? Leave a rating and review.
Your comments and shares are invaluable to me and the thousands of readers who use this site daily. If you've made the recipe, leave a star rating and review. We want to hear how you liked it.
We'd love it if you shared the recipe with your friends on social media!
Red White and Blue Sangria
This light, refreshing white sangria is a delicious summer cocktail that you can make by the pitcher. Cut fruit into star shapes for occasions like Memorial Day and 4th of July, or just use your favorite chopped fruit. Add a splash of bubbly water to each drink for an effervescent buzz.
INGREDIENTS:
4

tablespoons

honey

2

tablespoons

water

1

750 ml bottle

sauvignon blanc or other dry white wine

½

cup

Calvados

or other apple brandy

2

green apples

1 ½

cups

blueberries

6-7

slices

watermelon

cut into 1/2″ slices

2

cups

club soda

or sparkling water
DIRECTIONS:
If you have the star ice cube molds, fill them with water and freeze until you have about 3 cups of star shaped ice cubes.

In a small saucepan combine the honey and water over medium heat and cook, stirring constantly until mixture becomes a honey simple syrup. Remove from heat to cool.

Add the calvados, honey simple syrup and bottle of wine to a large pitcher.
Prepare the fruit:
Slice the apple into 1/4″ thin slices. Use the star cutter to press out stars in the apple flesh until you have about 1 cup of apple stars. Add the stars to the sangria.

Use the star cutter to press out stars in the watermelon slices and add them to the sangria. Add the blueberries to the sangria, stir and refrigerate for 3 hours or until very cold.
To Serve:
Add the sparkling water to the pitcher along with the star shaped ice cubes and serve.
NUTRITION:
Calories:
227
kcal
|
Carbohydrates:
46
g
|
Protein:
2
g
|
Sodium:
38
mg
|
Potassium:
421
mg
|
Fiber:
3
g
|
Sugar:
39
g
|
Vitamin A:
1680
IU
|
Vitamin C:
29.5
mg
|
Calcium:
34
mg
|
Iron:
0.9
mg
"Pin It" For Later!