When my daughter wakes up (around 10:30) breakfast doesn't appeal to her. She would prefer to skip it all together, unless I can give her a reason to want to eat it. For Emily — that means carbs. Breakfast in the form of yogurt and fruit or an omelette??? Pass. Breakfast in the form of waffles, pancakes or French toast? She's ALL-IN!!!
So, this was Emily's idea. In fact, she practically insisted on it when I told her I was doing a breakfast post. "No omelettes or frittatas" she said. "You need to make pancakes. Blueberry pancakes."
That's Emily-speak for "I want you to make blueberry pancakes for me."
So, while she slept, (it was only 9:30 after all) I began assembling the batter. It's a thick one with creamy buttermilk, fresh lemon zest and a little cornmeal for some texture. I added fresh blueberries and started heating up the griddle.
After the pat of butter started to splutter and spit, I ladled on scoops of pancake batter and patiently waited to flip them — looking for those telltale bubbles on top of the batter.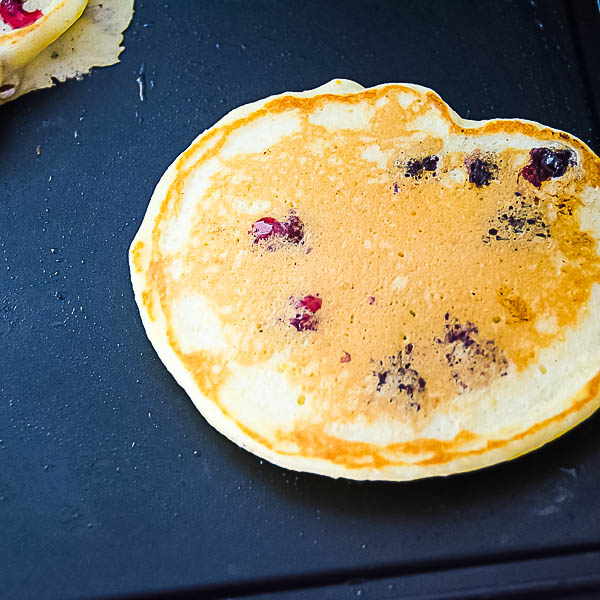 At about this time, Emily shuffled into the kitchen with a big grin on her face. "Pancakes!"
Indeed. The fluffy cakes were lightly browned and oozing purple juice from the ripe berries. We piled some on a plate and topped them with a pat of butter, which quickly slid across the surface and melted down the side of the stack. So much for presentation.

She bathed her plate in warm maple syrup and contentedly dug her fork into the pile.
That's it. Happiness on a plate. I think you'd agree.
Blueberry Lemon Cornmeal Pancakes
Ingredients
1 1/2

cups

all purpose flour

1/2

cup

cornmeal

1

tablespoon

sugar

2

teaspoons

baking powder

3/4

teaspoon

salt

2

cups

buttermilk

2

large eggs

1/4

cup

unsalted butter

melted

zest of one lemon

1

cup

blueberries

butter for frying
Instructions
Preheat oven to 250 degrees. In a large bowl whisk together the flour, cornmeal, sugar, baking powder and salt. In a medium bowl whisk together the eggs, buttermilk and melted butter. Slowly pour the liquids into the dry ingredients mixing to combine -- don't over mix, some small lumps are ok.

Heat griddle or nonstick skillet over medium heat. Add a small pat of butter to the griddle and swish it over the surface. Ladle pancakes onto hot griddle in about 1/3 cup increments to make 4" pancakes.

Cook pancakes 2-3 minutes or until lightly browned on the bottom. Carefully flip with a spatula and cook for an additional 2-3 minutes. Transfer pancakes to a baking sheet and keep them warm in the oven while you finish off the rest of the pancakes