Oven French Toast with Sausage, Apples & Cranberries
Looking for an easy, delicious baked oven french toast recipe that's not too sweet? This is the answer. A sausage apple french toast that straddles the line between sweet and savory. It's a great make ahead brunch idea for Christmas or whenever you have to feed a crowd.
Sweet and savory oven french toast
Some people like sweet breakfast, others prefer savory. This easy make ahead oven french toast is the best of both worlds.
The idea came to me one year when I was making my traditional apple and sausage stuffing. I had the stale bread in one bowl and the combo of sausage and apples in another.
It reminded me of the brunch stratas that my Mom used to make at the holidays. I put the idea in my tickle file… and a few weeks later, I made it.
Of course, the recipe morphed because I had some seasonal cranberries at the ready — and I kept thinking that apples and cheddar cheese were another classic flavor combo…
Ingredients for oven french toast with sausage apples & cranberries
Sausage
Onion
Apples
Cranberries
Sage
Day Old Bread
Cheddar Cheese
Eggs
Milk
Brown Sugar
Cinnamon
You'll love this make ahead brunch recipe for the Christmas holidays. Everything can be assembled the day before, then covered and refrigerated until french toast casserole is ready for the oven. (that's my kind of no fuss breakfast).
How to make sweet and savory oven baked french toast:
Start by browning the breakfast sausage in a large skillet then adding the onions and stirring until they've softened and become slightly translucent.
Add the cranberries and apples and cook until the apples start to soften and the fresh cranberries begin to burst.
Remove from the heat and stir in the grated cheddar cheese. Set aside.
In a large bowl, whisk together the eggs, milk, brown sugar and cinnamon. Set aside.
Add the sausage and apple mixture to the cubed bread and toss well.
Transfer the strata mixture to a prepared casserole dish and pour the egg custard evenly over the top. Press lightly on the casserole to help the bread soak up the egg mixture.
Cover and refrigerate until ready to bake.
Say cheese!
Cheddar cheese and apples are one of my favorite pairings, however, in this oven french toast the cheddar cheese acts as a supporting cast member.
It's not dominant and doesn't become stringy or gooey in the oven baked french toast casserole. Instead its like the exclamation point on the savory part of this recipe.
You can use any type of bread for the sausage apple french toast, but it's best if it's STALE.
I bought my loaf 2 days before assembling this breakfast strata to give it time to firm up. On the day I assembled the casserole, I trim the crusts from the bread and cut it into 1/2″ – 1″ pieces.
If your bread is fresh, not stale:
If you have a fresh loaf, you can cut it into small cubes and place it on a baking sheet. Bake it at 300°, for 30-40 minutes, stirring occasionally. This will dry out the bread and give it more structure.
Best types of bread for oven french toast
Look for sturdy, hearty breads from the bakery such as:
Italian Bread
Sourdough
Whole Wheat
Rye
French Boule
Raisin
Multigrain
Brioche
This oven french toast recipe is open to many swaps and substitutions. You can make it according to what you have on hand and your own taste preferences.
The key parts are the bread and egg custard ratios.
Swaps and Variations:
Swap apples for pears.
Use dried cranberries for more concentrated flavor.
Use a pound of cooked and crumbled bacon instead of sausage.
Don't like nuts? Skip the pecans.
Go dairy free by skipping the cheese and using almond milk or other milk substitute.
Make it gluten free by using a gluten free bread.
Make it vegetarian by skipping the traditional sausage and using a vegetarian sausage.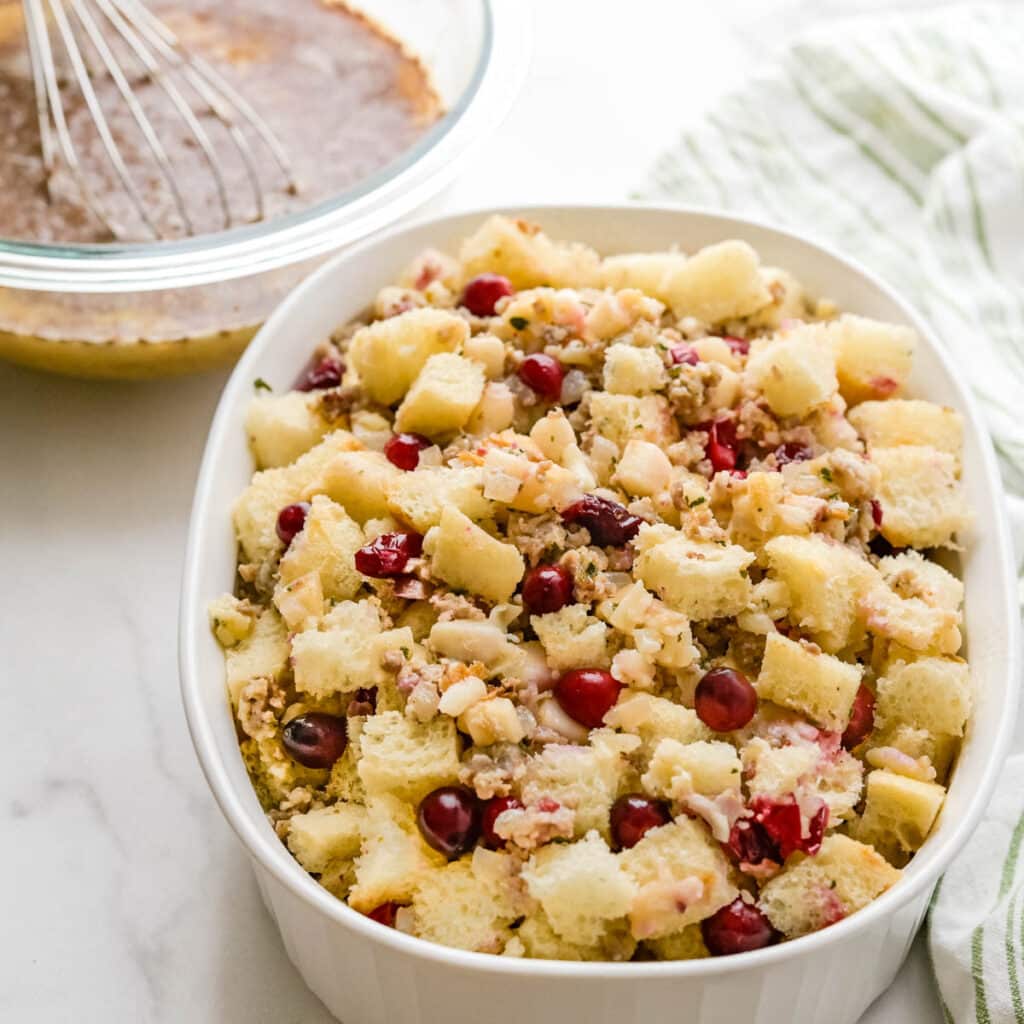 FAQs
How long will leftover sausage apple french toast bake last?
Leftovers will last for 3-4 days and should be reheated in the oven to get that crusty top that makes this recipe so enticing.
Can I freeze the apple sausage strata?
You can freeze it after it has been baked, but I wouldn't freeze it before cooking.
Is overnight french toast soggy?
The top and edges will be crusty, toasted and delicious. The interior is soft and creamy (not soggy) because you use a sturdy, stale or toasted bread. Flimsy Wonder bread doesn't work in this recipe. Use a good bakery loaf.
How does the sausage apple cranberry baked french toast taste?
In a word, it's heavenly. It's sweet and savory and very holiday-ish.
The sausage, cheddar and sage take this make ahead brunch recipe into savory territory, while the cinnamon spiced, lightly sweet egg custard gives it a decidedly sweet breakfast flavor.
You'll love the crusty, puffed bread dome and the lush, creamy interior. Drizzling the oven-baked french toast with good maple syrup is a MUST.
The thing I like most about this make ahead apple french toast is that it's already got sausage in it… So adding another breakfast meat would be redundant.
You don't need any sweet rolls or coffee cakes because the sweetness is in there (especially when you add the maple syrup).
Essentially, this oven baked french toast is a meal in itself. But here's a few ideas on what else will go with it.
What to serve with sweet savory strata:
More easy breakfast casseroles: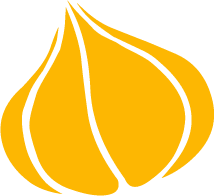 Tried this recipe? Leave a rating and review.
Your comments and shares are invaluable to me and the thousands of readers who use this site daily. If you've made the recipe, leave a star rating and review. We want to hear how you liked it.
We'd love it if you shared the recipe with your friends on social media!
Oven French Toast with Sausage Apples & Cranberries
This is no ordinary oven french toast. It's sweet and savory. Like a cross between an apple french toast and Thanksgiving stuffing. It has pops of cranberry, crunchy toasted pecans and grated sharp cheddar cheese. Serve with maple syrup.
SPECIAL EQUIPMENT:
1 large casserole dish

about 2 quarts.
INGREDIENTS:
For bread pudding
1

lb

breakfast sausage

such as Jimmy Dean

1

medium

onion

chopped

3

apples

peeled, cored, seeded and diced

1

cup

cranberries

2

tablespoons

fresh sage

finely chopped

4-5

cups

day old french bread

crusts removed, cut in one-inch cubes

1

cup

white cheddar cheese

grated

4

large

eggs

1½

cups

whole milk

¼

cup

brown sugar

1

tablespoon

cinnamon
DIRECTIONS:
In a large skillet over medium high heat, brown the sausage, breaking it up into small bits with the back of a fork. Add the onion and cook until translucent, about 3-4 minutes. Drain most of the excess fat from the pan.

Add apples, sage, and cranberries. Cook for an additional 5-6 minutes or until the apples start to soften and the fresh cranberries start to burst.

Remove the sausage mixture from the heat and stir in the cheese.

Place bread in a large bowl. Add sausage mixture and toss to combine.

In a medium bowl, combine eggs, milk, brown sugar and cinnamon. Whisk together.

Spray a large casserole dish with vegetable spray. Add the sausage mixture. Pour the egg mixture evenly over the sausage. Cover and refrigerate at least 2 hours or overnight.

Preheat the oven to 350 degrees. Cover the casserole with tin foil and place in the oven for 45 minutes. Remove the foil and continue cooking for an additional 30-45 minutes or until set. Allow bread pudding to rest for 10 minutes before serving.

Serve with maple syrup on the side.
NUTRITION:
Calories:
240
kcal
|
Carbohydrates:
30
g
|
Protein:
10
g
|
Fat:
10
g
|
Saturated Fat:
5
g
|
Cholesterol:
125
mg
|
Sodium:
224
mg
|
Potassium:
257
mg
|
Fiber:
4
g
|
Sugar:
18
g
|
Vitamin A:
443
IU
|
Vitamin C:
6
mg
|
Calcium:
220
mg
|
Iron:
2
mg
Pin "Easy Make Ahead French Toast" for later!