Cutting boards are a staple kitchen tool, but when was the last time you upgraded yours? Experts say, that most plastic cutting boards should be replaced annually, especially if you use them on a daily basis. Here's my tips on how to select the right cutting boards for you as well as an exclusive reader discount.
Disclosure: I received free product in exchange for my honest review of this product.
People are always asking me, "What's the one thing in your kitchen you can't do without?"
That's easy. I can't live without my knives and cutting boards. Knives are personal as they act as an extension of your hand, so what's good for one person may not work for another.
But good cutting boards are something that every kitchen needs, universally.
If I'm honest, it had been a few years (read: 5) since I last replaced my cutting boards and frankly I was overdue for new ones. Here's what I was dealing with…
Plastic cutting boards
My old plastic boards were worn and stained.
Despite being run through the dishwasher on the "sanitize" setting, you can still see the orange-ish stain in the center.
Also evident are the scores and cuts left by my blade.
My plastic board didn't have any grooves for catching drips and even though I wasn't using this one specifically for meats, I did use it for fruits and vegetables, which can be juicy.
Additionally, none of my boards matched (aesthetically not pleasing).
Wooden cutting boards
My favorite wooden board was so used, there were gouges in the surface and the boards were actually starting to split at the seams.
Obviously, my cutting boards needed to be replaced. ASAP.
Before I ran out to grab whatever was on sale at my discount home store, I made a few notes on what I wanted.
Things to look for when buying cutting boards:
It had to be durable – something that would stand up to daily use.
They had to be relatively thin as my storage space is only about 2″ wide.
Lightweight – some cutting boards, especially wooden ones are heavy and cumbersome. I wanted something light enough to hold comfortably, with one hand.
They had to be dishwasher safe. I don't always wash my cutting boards in the dishwasher, but I want the option.
The cutting boards should be heat resistant. I can't tell you how many times I've had a hot pan bump up against a plastic variety and melt the surface or side into a wholly different shape.
I needed different sizes, but preferred to have one homogenous look, instead of a hodgepodge of mismatched styles.
Opportunity knocks
At the same time I was weighing my options, an affiliate representative contacted me about a product she thought would fit well into my cooking niche…
You guessed it. Cutting boards.
I agreed to try them out, so she sent out a shipment of Elihome cutting boards to me. They arrived the next week.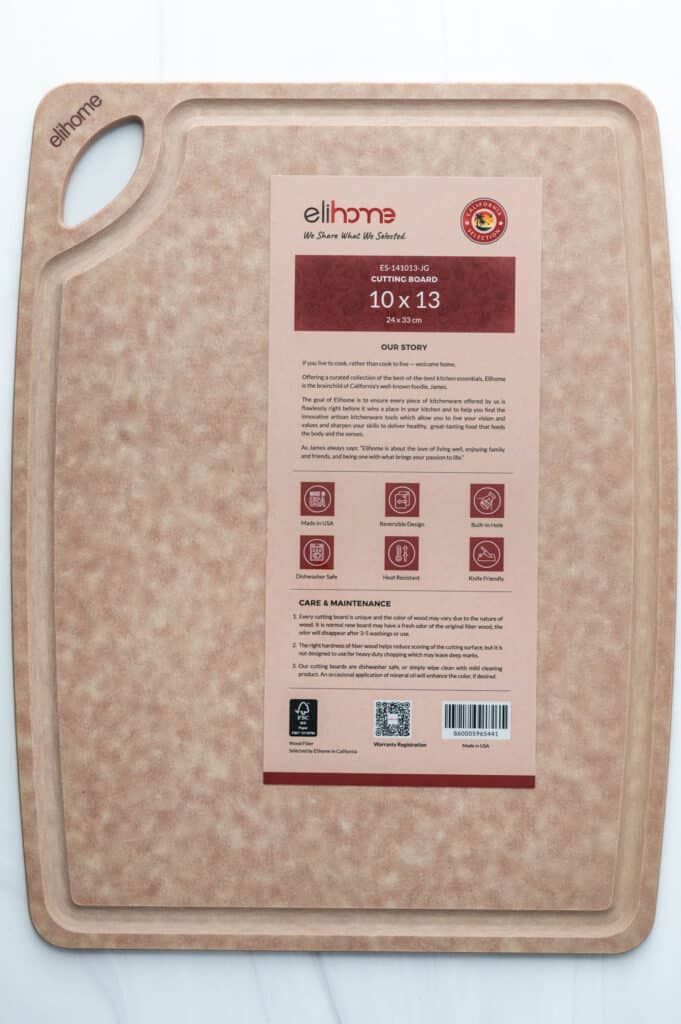 Elihome cutting boards
After using the Elihome cutting boards for a week, I have to say, I was hooked. As in, I tossed out my old worn out ones and replaced them all with these. Why?
Not only are they lightweight and durable, they're a lot better looking than the ratty, old, stained and warped plastic and wood ones I'd been using.
What are Elihome cutting boards made of?
Elihome Cutting Boards are designed in California and made in the USA from high-density pine leaf sustainable material, pressed wood developed by using high temperature and pressure, creating a board that is safe and healthy, NSF Certified.
About Elihome cutting boards
Non-slip and designed with a thumb hole for easy grip and storage.
The reversible design allows you to use both sides for maximum efficiency.
The nonporous material will not absorb odors or harbor bacteria.
Knife-friendly to resist deep cut marks and protect your knives.
The deep groove catches flour, liquid, or other drippings from spilling onto your counter.
Heat resistant up to 350°F / 176°C, so you can use the board as a trivet without leaving any trace.
Maintenance-free, easy to clean, stain resistant, cleans with a wipe and 100% dishwasher safe.
Lots of size options:
7 x 10 x ¼
10 x 13 x ¼
12 x 16 x 3/8
14 x 19 x 3/8
Why I love them (and you will too)
Elihome Cutting Boards, ideal for slicing, cutting, and serving, the options are endless.
The 10 x 13 cutting board is the one I use most for chopping vegetables and light food prep, while my husband likes the smaller 7 x 10″ board (pictured above) for bar prep of lemons, limes, herbs and other garnishes.
The medium sized 12 x 16 board handles all of our grilled favorites from burgers and spatchcocked chickens to a smoked pork butt. It's perfect for transferring food from the grill, resting the meat and carving. We even serve on these boards because they have that convenient well to corral any juices meat juices that seep onto the board.
The 14 x 19 size is large enough for carving a turkey handling a few racks of Kansas City ribs. I also love the little non-slip feet that make carving easier and safer.
FAQ's
How long should you keep cutting boards?
Inexpensive plastic varieties should be replaced every year. Wooden ones should be replace when they have excessive wear, begin to warp or split.
What cutting board material is best?
To me, this is a personal question. Wood, especially maple or beech are easiest on your knives, but they're heavy and do require upkeep with a mineral oil rub to keep them in top shape. Additionally, they don't go in the dishwasher. Traditional boards are lightweight, but are also quickly denuded with micro cuts and slices allowing bacteria to fester and not all of them are dishwasher safe. Elihome cutting boards offer the best of both.
Do cutting boards dull knives?
Not compared to cutting on a stone counter top. The fiberwood material of Elihome products are soft enough not to dull the blade of your knives quickly.
Can cutting boards be stained?
Yes. I've found both plastic and wood varieties can be stained by food and food residue, however, I've used these new ones for a solid two months and have been pleasantly surprised how well they've held up without staining.
Get Elihome for your home and save 15%
I liked these boards so much that I became an affiliate for them and they gave me my own special discount code: GARLICANDZEST to share with my readers so you can save 15% on your order.
They're constantly adding new products like heatproof spatulas and color coordinated boards, so be sure to check them out and get the ones that are right for you.
Use the code: GARLICANDZEST to save 15% on your order.