Here's an easy pasta dish that will satisfy everyone's appetite, a sheet pan sausage, vegetable and pasta wonder that doesn't need a fancy sauce to make it sing. This Italian roasted vegetable and sausage pasta is brimming with garden fresh vegetables, savory Italian sausage, garlic, briny bits and fragrant herbs for a savory, satisfying meal you'll make again and again.
This post has been updated for content since its first publication.
If easy dinner prep is your thing, you'll appreciate this sheet pan sausage and vegetable medley. Seasoned summer squash, peppers, zucchini, and onions roasted with bites of Italian sausage (you can use hot or mild) tossed with hot pasta and seasoned with olives, capers and a bevy of fresh herbs. It's got a little bit of something for everyone and the oven does most of the work.
Main Ingredients For Italian Roasted Vegetable and Sausage Pasta
Grape Tomatoes (multi-colored if you can find them)
Red Bell Pepper
Yellow Bell Pepper
Orange Bell Pepper
Red Onions
Zucchini
Summer Squash
Italian Sausage
Kalamata Olives
Capers
Short Tubular Pasta (I used corkscrew pasta)
The sweet vegetables and sausage are just the tipping point. To really make this sheet pan sausage and vegetable dish, you need some in-your-face seasonings. Not your standard wall-flower sprinkling of Mrs. Dash seasoning, but instead a heavy handed blend of dried herbs and spices. Bite sized chunks of Italian sausage gets added to the mix and as the vegetables and sausage roasts, the sausage renders some of its fat and the tomatoes split and leak their juices, creating a tempting saucy coating that makes this easy pasta dish with Italian roasted vegetables, so mouthwateringly good.
What's In The Spice Blend For Roasted Vegetables?
Fresh Chopped Garlic
Crushed Red Pepper Flakes
Dried Basil
Dried Oregano
Whole Fennel Seed
I have to be honest, I never used to like fennel. I always found it strong and overpowering, but I tried some in a pasta sauce at a local restaurant and that sauce changed my mind. I've even sought it out as an ingredient in my plank grilled salmon. Since then, the taste of fennel has grown on me and the anise flavor plays really well in this easy pasta dish. Crush the fennel seeds in a mortar and pestle before adding them to the veggies so the flavor really develops.
Toss the fennel, garlic, crushed red pepper and dried herbs over the vegetables and toss them with a liberal dose of olive oil. So far, so good, right?
Then comes the sausage. I like spicy Italian sausage for this recipe, but if you prefer less heat, then by all means use a milder Italian sausage or for an even healthier bent, use Italian turkey sausage for the flavor without the extra calories.
Rolling Italian Sausage
The Italian sausage that I buy typically comes in large links. Instead of chopping the sausage with the casing, I run a sharp knife vertically down each link and remove the casings. Then, pinch off a bite sized chunk and roll it into a little meatball. (rolling the sausage is a great task for pint-sized helpers). Evenly spread the meatballs around the vegetables to roast.
Now let's talk about the sweet bell peppers — after all we're using 3 whole peppers and there hasn't been so much as a whisper about them yet, so I'm sure you're wondering why I didn't slice them up and toss them with the rest of the roasted vegetables. Here's why…
The skins of the bell peppers are tough and papery and maybe it's me, but they always seem to get stuck in my throat. They're much better when roasted whole.
To Roast Sweet Bell Peppers
Place the peppers in a hot oven.
Roast until the outside is puffed and blackened and the flesh is soft.
Transfer the roasted peppers to a small bowl and cover with plastic wrap.
Let the peppers cool until they're soft enough to handle.
Peel the skins (they come off so easily) and remove the core and seeds.
Slice the peppers into strips.
When the Italian roasted vegetables are done, mix the pepper strips in with them — and if there's any juices left in the bowl, they can be mixed in with the rest of the veg.
When the roasted vegetables are done, assemble the rest of the dish. I like to use a large, wide pasta bowl for this, because it makes a lot and it's easier to toss the ingredients together with a wider dish rather than a deep one.
Add Kalamata olives, capers and fresh herbs to the sheet pan sausage and roasted vegetables and toss well to combine. The combination should be a bit slick with pan juices, but if you need to add a few teaspoons of olive oil, that's ok.
Toss until well combined and add the cooked pasta.
Use Short, Tubular Pasta Or Bite Sized Ruffled Varieties Such As
Cavatappi (this is what I used)
Elbow Macaroni
Penne
Campanelle
Farfalle
Radiatore
Though this looks like a sauceless pasta recipe, the juices given off by roasting the vegetables and sausage actually moisten and coat the pasta. If you feel it needs more, just add a few tablespoons of chicken or vegetable broth – or even a bit of the pasta water.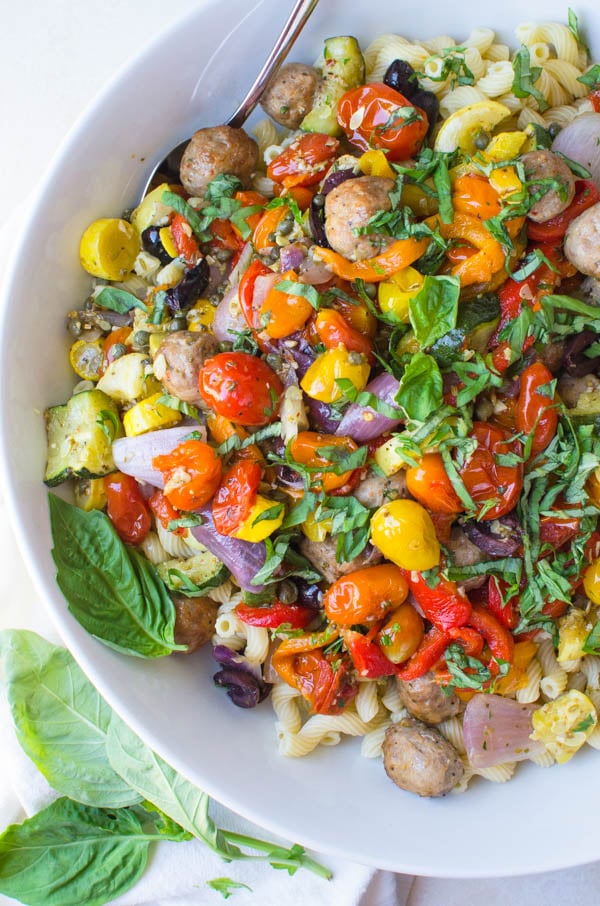 A few fresh shaves of parmigiano reggiano or grana padana would be a delicious final touch to this easy pasta dinner. Now pour some wine and enjoy!
More Easy Pasta Dinners:
If you love sauceless pasta, also try Italian Sausage with Pasta and Sun Dried Tomatoes.
Garlic & Zest is a participant in the Amazon Services LLC Associates Program an affiliate advertising program designed to provide a means for sites to earn advertising fees by advertising and linking to Amazon.com.
Mediterranean Pasta
Hearty, savory, meaty and 100% satisfying!
Ingredients
3

cups

grape tomatoes

I used red and yellow

1

red bell pepper

1

yellow bell pepper

1

orange bell pepper

1

medium

zucchini

sliced vertically, then crosswise into 1/2" pieces

1

medium

yellow squash

sliced vertically, then crosswise into 1/2" pieces

1

small

red onion

cut into 1" chunks

3

cloves

garlic

minced

1

teaspoon

dried basil

1

teaspoon

fennel seed

1

teaspoon

dried oregano

¼

teaspoon

red pepper flakes

3

tablespoons

olive oil

¾

teaspoon

kosher salt

½

teaspoon

black pepper

1

pound

italian sausages

casings removed and cut into 1" chunks

1

pound

corkscrew pasta

cooked to al dente

½

cup

kalamata olives

seeded and halved or quartered

2

tablespoons

capers

rinsed and drained

1

tablespoon

red wine vinegar

2

tablespoons

parsley

freshly chopped

2

tablespoons

basil

freshly chopped
Instructions
Preheat oven to 425 degrees.

Place bell peppers into oven and cook until skin is papery and blackened, about 35-45 minutes. Remove and transfer peppers to a bowl. Cover with plastic wrap and let the peppers steam in the bowl.

On a large baking sheet combine the tomatoes, zucchini, squash, onion, garlic, basil, fennel, oregano, red pepper flakes, olive oil, kosher salt and black pepper. Toss the vegetables until well coated with the oil, herbs and spices. Add the sausage and spread everything into an even layer on the baking sheet. Roast for 35-40 minutes. (Note the vegetable/sausage mixture can roast in the oven at the same time the peppers are cooking)

While vegetables are roasting, prepare the pasta and cook until al dente. Rinse with cool water to stop the cooking process and drain. Set aside.

When the peppers are cool enough to handle, remove the skins, stems and seeds and cut the peppers into thin strips. Transfer peppers to a large bowl. Add the roasted vegetables and sausage to the peppers. Scrape the pan to get all of the juicy goodness into the bowl. Add the olives, capers and red wine vinegar. Toss to combine.

Transfer the pasta to a large serving bowl. Top with the vegetables and all the juices. Sprinkle with fresh basil and parsley. Serve.
Nutrition
Calories:
402
kcal
|
Carbohydrates:
53
g
|
Protein:
17
g
|
Fat:
13
g
|
Saturated Fat:
3
g
|
Cholesterol:
30
mg
|
Sodium:
1191
mg
|
Potassium:
581
mg
|
Fiber:
4
g
|
Sugar:
6
g
|
Vitamin A:
1300
IU
|
Vitamin C:
82.5
mg
|
Calcium:
62
mg
|
Iron:
7.1
mg
"Pin It" For Later!
More Pasta Pleasure: