Oysters with Thyme Mignonette
I grew up in Virginia and the mainstays on the holiday table were always foods indigenous to the Tidewater region. Smithfield hams, of course, blue crab from the Chesapeake Bay and Rappahannock oysters. These oysters with a simple, bracing thyme mignonette are a great way to enjoy the seafood bounty.
The first time I ever had an oyster I was about 5 or 6 years old. I was with my parents at one of their friends' homes. They were serving raw oysters on the half shell as an appetizer. I remember my Dad offering one to me.
His earnest grin made me want to do it. I took the shell and let the oyster slip into my mouth. I chewed once or twice and swallowed. My father beamed! I think he was proud that I hadn't made a face or pronounced it, "gross". I was thrilled to receive his approval!
Thus, my love of the oyster began! And this year, when we received a large box of fresh Rappahannock oysters from Myne, Uncle Buck and Aunt Lynne, I giggled with greedy anticipation. Thank you soooo much!
Scott got an oyster shucking primer on You Tube (give the guy a break, he's from Minnesota — nary a bivalve in sight) and we were ready!
I served the first delicate morsels on Christmas night. I made Oysters Rockefeller. I didn't have Pernod and the stores were closed, so I skipped it. While many recipes called for cheese, I ended up topping them with a few spoonfuls of hollandaise sauce leftover from our morning benedicts. Not too shabby.
But this is the way I prefer them. Raw, on the half shell, with a simple mignonette. They're delicate, briny and utterly delicious! This is the perfect way to ring in the New Year — don't forget the champagne!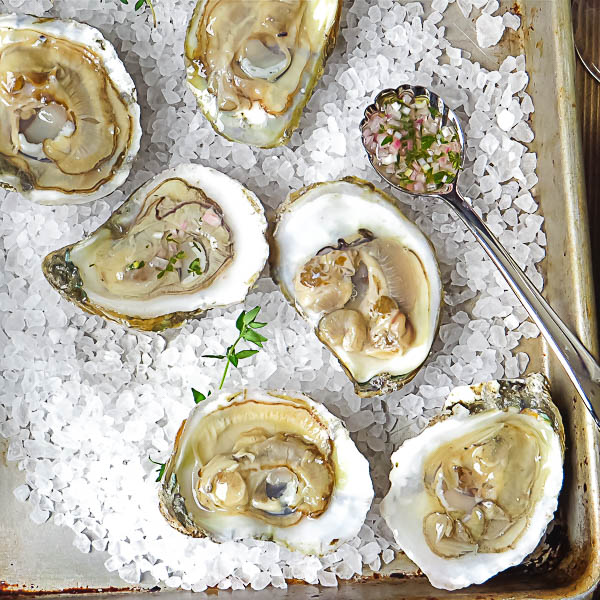 More oyster recipes you'll love: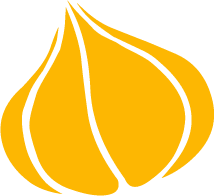 Tried this recipe? Leave a rating and review.
Your comments and shares are invaluable to me and the thousands of readers who use this site daily. If you've made the recipe, leave a star rating and review. We want to hear how you liked it.
We'd love it if you shared the recipe with your friends on social media!
Oysters with Thyme Mignonette
Shucking oysters isn't difficult, it just takes some practice. The mignonette is ready in minutes.
INGREDIENTS:
1

shallot

minced

1

teaspoon

pink peppercorns

crushed with a mortar and pestle or pulsed in a coffee grinder

4

tablespoons

white wine vinegar

4

tablespoons

unseasoned rice wine vinegar

½

teaspoon

sugar

¼

teaspoon

kosher salt

1

teaspoon

fresh thyme leaves

minced

3

dozen

oysters

shucked, on the half shell
DIRECTIONS:
Combine shallots, peppercorns, vinegars, sugar, salt and thyme leaves in a small bowl. Stir until sugar and salt are dissolved. Set aside.

Shuck oysters. Hold the oyster with a clean dish towel and insert the oyster knife into the hinge of the oyster, twist until it pops. Run the blade of the knife along the top and bottom of the shell to dislodge the oyster, being careful to preserve the liquor in the shell.

Spread the rock salt on a serving platter. Nestle the oysters in the rock salt for stability (so you don't lose any of the liquor).

Set the oysters on a bed of crushed ice to keep them chilled.

Spoon a little mignonette onto an oyster – and slurp!
NOTES:
If you're unfamiliar with oyster shucking, check out the link I embedded in the article. After two or three, Scott felt comfortable with his task.
NUTRITION:
Calories:
8
kcal
|
Carbohydrates:
1
g
|
Protein:
1
g
|
Fat:
1
g
|
Saturated Fat:
1
g
|
Polyunsaturated Fat:
1
g
|
Monounsaturated Fat:
1
g
|
Cholesterol:
1
mg
|
Sodium:
74
mg
|
Potassium:
23
mg
|
Fiber:
1
g
|
Sugar:
1
g
|
Vitamin A:
15
IU
|
Vitamin C:
1
mg
|
Calcium:
6
mg
|
Iron:
1
mg