This pecan sandies recipe has been "adult-ified" with deeply toasted pecans and a light sprinkle of sea salt for an irresistibly crunchy, nutty, pecan cookies recipe everyone will love. Bonus that the dough actually comes together in the food processor, so dirty dishes are kept to a minimum. Because the buttery shortbread needs to be shaped and refrigerated before baking, the dough can be made several days ahead or even frozen for up to a month. When you're in the mood for rich pecan shortbread, just slice and bake. If you want an exceptional butter pecan cookie recipe, this is the one.
These butter pecan cookies stand out for their deep toasted pecan flavor and noticeable restraint when it comes to sugar. Instead of the traditional sugar-bomb, the sweetness in these pecan cookies is subtle, instead of in-your-face. I consider this a more refined pecan sandies recipe than the ones made by elves n' magic and trust me, you're gonna love 'em.
Pecans
Brown Sugar
Confectioners Sugar (powdered sugar)
All Purpose Flour
Salt
Butter
Egg
Demerara Sugar (can use sparkling sugar)
Flaky Sea Salt
Why do you toast the pecans before making the cookie dough?
The flavor difference between a raw and toasted pecan (or any nut) is real and noticeable. Raw pecans are slightly softer and taste a bit grassy, while toasted pecans are richer and more maple-y as well as being far crunchier. No contest. We want flavor and crunch for our pecan cookies, right?
Processing pecans for shortbread
Once the pecans are toasted, cool the nuts to room temperature before proceeding with the recipe.
In the bowl of a food processor, combine the pecans, brown sugar and powdered sugar and pulse several times until you have a fine crumbs. This should take about 8-12 pulses, but remove the lid to check every 3-4 pulses to gauge your progress. The crumbs should resemble the photo above.
Don't over-process the nuts, otherwise you'll wind up with nut butter… which is good, but not what we want for pecan sandies.
Just a few helpful hints…
BUTTER – Make sure your butter is COLD. Room temperature butter won't cut into the dough, it will cream (that's ok for most cookies, but not this recipe). For these flaky, crunchy pecan cookies, the butter should be chilled. Cut the butter into cubes and refrigerate it until you're ready to add it to the food processor.
FLOUR – Use the fluff, scoop and sweep method to measure flour. This is important. Flour settles in the bag (or whatever container you choose to store it). Before measuring out a cup, fluff the flour with a spoon to aerate it, then gently scoop flour from the spoon into a measuring cup until it's mounded over the top. Use the flat side of a knife to sweep away the excess. This will give you a more accurate measurement. In baking, that's the difference between buttery, flaky crumbly pecan shortbread and hockey pucks. You've been warned.
EGGS – If you're not a pro at separating egg yolks from egg whites, get yourself one of these handy tools or use your clean hands for this simple trick: Crack the egg into a small bowl. Cup the fingertips of one hand loosely over another small bowl. Pour the egg into the well of your fingers and let the albumin (egg whites) pass through into the bowl. Deposit the yolk into the now empty bowl. Voila!
Butter pecan shortbread dough comes together very quickly in the food processor. Here's how to do it:
Add the flour and salt to the ground pecan mixture and pulse to combine. (You may need to run a spatula along the bottom and edges of the bowl to fully incorporate the ground pecans. You'll be able to see them if their stuck in the corners, so have a look.)
Cut the butter into the pecan mixture by pulsing several times. The mixture should resemble wet sand and start to ride up the sides of the bowl.
Finally, add the egg and pulse until just combined. The dough will be soft.
Divide the pecan cookie dough in half. Shape each one into a log, about 2″ in diameter.
Wrap each pecan sandies log in parchment paper or plastic wrap. Twist the ends to seal.
Refrigerate the dough for at least 2 hours until well chilled. (If you don't want to bake the cookies on the same day, the shortbread dough will keep for up to a week refrigerated or it can be frozen for up to a month.)
Slicing pecan shortbreads
Use a very thin, sharp knife to cut the dough into 3/8″ rounds. I like to use a carving knife for making very thin slices.
Transfer the rounds to a prepared baking sheet lined with parchment paper or a silpat).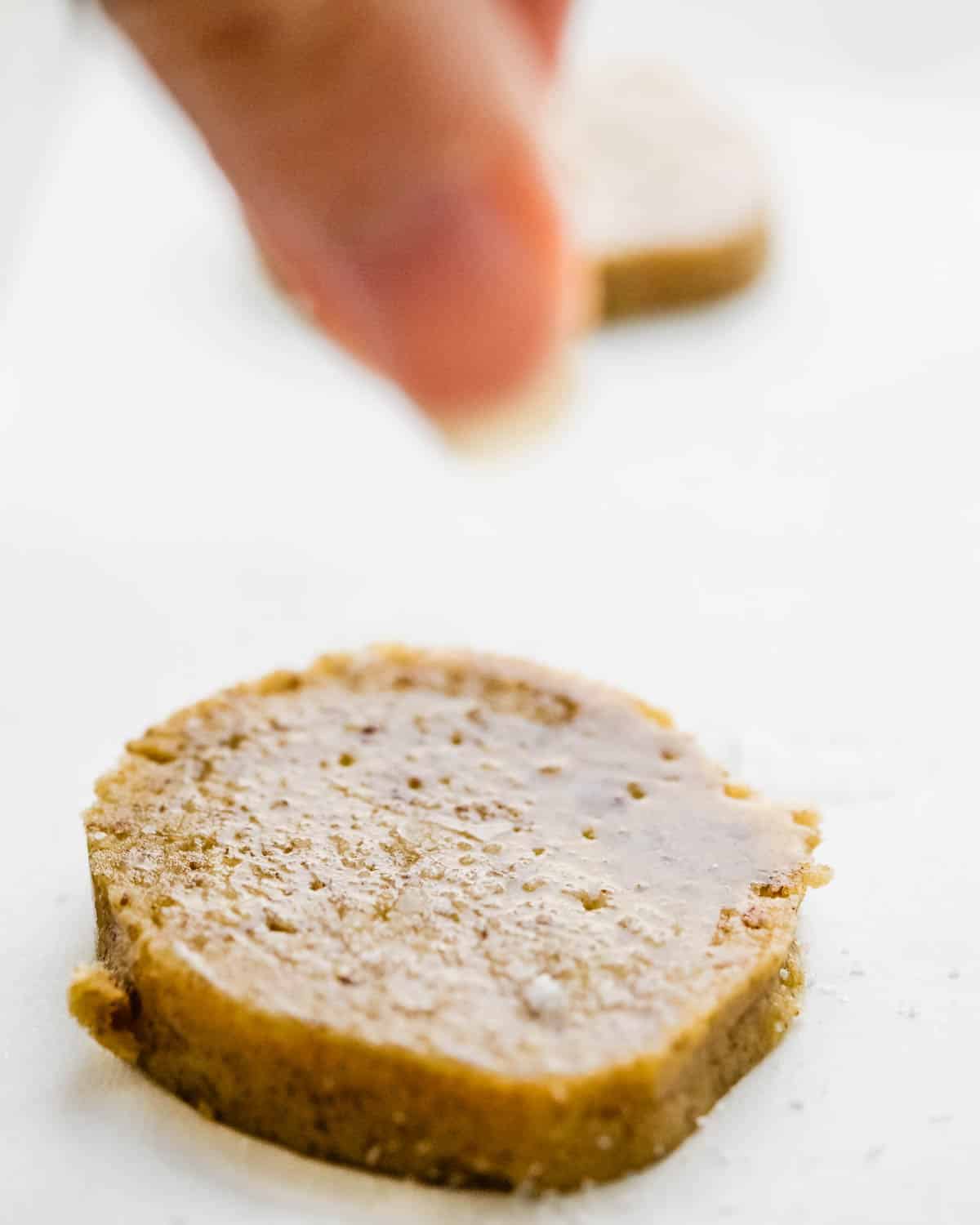 I'm gonna be honest here, you don't HAVE TO do these final steps. The cookies will taste fine without. However, since it doesn't take much more time or effort, and these last second flourishes make an impact, WHY WOULDN'T YOU?
Final touches and baking
Egg Wash – gives the cookies a feint sheen and highlights the rubbly nature of the pecan shortbread
Fat Sugar – What is fat sugar? I'm talking about demerara or sparkling sugar. Something with a little heft. It adds crunch and sparkle.
Flaky Sea Salt – a light sprinkle adds pops of interesting (and delicately crunchy) flakes that make each bite of these pecan sandies positively swoon-worthy. Seriously, my taster, couldn't stop munching.
Chopped or whole pecans – I like chopped pecans on top, but I've also used my prettiest whole pecans to top this shortbread. Either works well and if you don't have any leftover pecans, you can skip it for a simpler look. (Note: the pecans that you're garnishing with should be raw, because they will toast in the oven as the cookies bake.) After adding the pecans, lightly press them into the dough (this helps them stick to the surface of the cookies).
How long do pecan sandies take to bake?
Depending on how hot your oven runs, the pecan cookies should be perfect in about 12 minutes or so, but there are always variables. I start checking mine around 10 minutes. They should be lightly browned and smell like maple.
Cooling to room temperature
Let the butter pecan cookies rest on the baking sheet for about 3 minutes before moving them to a wire rack to cool completely. This allows the crumb to set up. When they're hot from the oven, the shortbread will still be quite malleable. Giving them the opportunity to cool will firm and stabilize the nutty gems, so they don't bend or crumble.
That said, if you've got one or two not-so-pretty shortbreads (I usually find that happens with the end-cuts), I consider them to the the spoils of baking and the official chef's tasters. You don't have to share.
More shortbread cookies you might like: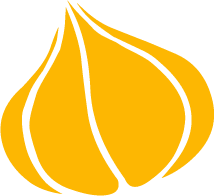 Tried this recipe? Leave a rating and review.
Your comments and shares are invaluable to me and the thousands of readers who use this site daily. If you've made the recipe, leave a star rating and review. We want to hear how you liked it.
We'd love it if you shared the recipe with your friends on social media!
Butter Pecan Cookies
These buttery shortbread cookies have a pecan base with a sprinkle of sea salt and more toasted nuts. You'll love these slice and bake cookies.
INGREDIENTS:
2½

cups

pecans

divided

½

cup

light brown sugar

¼

cup

confectioners sugar

1½

cups

all purpose flour

½

teaspoon

salt

1½

sticks

unsalted butter

cut into 1/2″ pieces

1

large

egg, divided

¼

cup

demerara sugar

can use sparkling sugar or plain white

1

tablespoon

flaky sea salt
DIRECTIONS:
Preheat the oven to 350 degrees. Lay 2 cups of pecans in a single layer on a baking sheet and toast for 8-12 minutes, stirring once mid-way through baking until fragrant and browned. Remove from the oven and cool to room temperature.

Place the toasted pecans, brown sugar and confectioners sugar in the bowl of a food processor and pulse until the nuts are finely ground. Add the flour and salt and process to combine.

Add the butter and process until the mixture resembles wet sand and the mixture begins to ride up the sides of the bowl. Add the egg yolk and process until combined.

Cut a 15″ long piece of parchment paper and place on a work surface. Transfer half the dough to the plastic wrap and roll it into a log shape, about 2″ in diameter. Roll up to seal in the parchment and twist the ends gently to seal. Repeat with the remaining dough. Place cookie dough logs in the refrigerator and chill for 2 hours (or overnight) until firm.

When the dough is chilled and you're ready to bake, preheat the oven to 325°.

Arrange the oven rack to the center of the oven and line a sheet pan with parchment paper or a silpat.

Whisk the egg white with 1 teaspoon of water until frothy. Set aside.

Chop the remaining ½cup of pecans finely. Set aside.

Working with 1 dough log at a time, remove from plastic wrap and use a sharp chef's knife to cut the dough into 3/8″ slices, rotating the log as you go so that the log doesn't become misshapen, from the weight of the knife. Place rounds 1″ apart on the cookie sheet.

Use a pastry brush to lightly swab each cookie with egg white to coat the top. Sprinkle the cookies with chopped pecans, a sprinkle of sugar and light sprinkle of sea salt.

Bake cookies for 10-15 minutes or until cookies are lightly browned and crisp.

Cool cookies for 3 minutes on a baking sheet before transferring them to a wire rack to cool completely. Store in an airtight container.
NUTRITION:
Calories:
110
kcal
|
Carbohydrates:
9
g
|
Protein:
1
g
|
Fat:
8
g
|
Saturated Fat:
3
g
|
Cholesterol:
14
mg
|
Sodium:
32
mg
|
Potassium:
37
mg
|
Fiber:
1
g
|
Sugar:
5
g
|
Vitamin A:
116
IU
|
Vitamin C:
1
mg
|
Calcium:
9
mg
|
Iron:
1
mg
Pin "Butter Pecan Cookies" For Later!