Spicy Sausage and Spinach Lasagna
When you're craving the ultimate in Italian comfort food, you want this spicy sausage and spinach lasagna. It's truly a thing of beauty! Layered with a rich, homemade marinara infused with Italian sausage and meaty mushrooms, layered between sheets of pasta and a savory ricotta and parmigiano reggiano blend. This sausage lasagna recipe is the best!
This post is sponsored by Parmigiano Reggiano and I have been compensated for it. All opinions are my own. Thank you for supporting the brands that support Garlic & Zest! #ad #theonlyparmesan
I very seldom make lasagna. The time commitment alone makes me scurry for the pizza delivery phone number. There are occasions, however, that mandate the effort, like when your daughter comes home from college for the weekend and she's craving Mom's Spicy Sausage and Spinach Lasagna. Time to roll up your sleeves.
My not so secret trick is to build up to making the lasagna. I don't EVER make it in one day, instead I go in stages.
I don't make my own pasta (tongue sticking out emoji) but that's about the only thing I short-cut on. And I always insist on using real Parmigiano Reggiano cheese. You can tell it's the real deal by the tell-tale PIN DOTS on the rind. If you were to see an entire wheel – those dots would spell out: PARMIGIANO REGGIANO.
There are many ways to grate parmesan – you can toss a chunk in the food processor and give it a whirl, or use a fancy cheese grater. My personal preference is just running it along a microplane for fluffy, light parmesan perfection.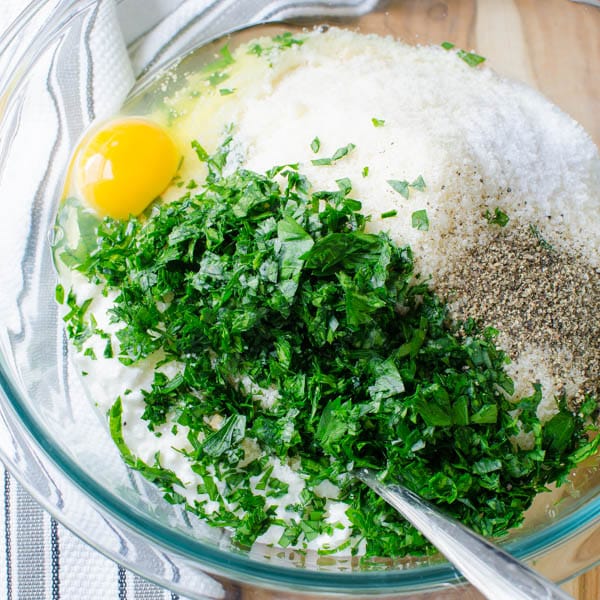 The parmesan goes into the cheese filling with eggs, parsley, salt and pepper.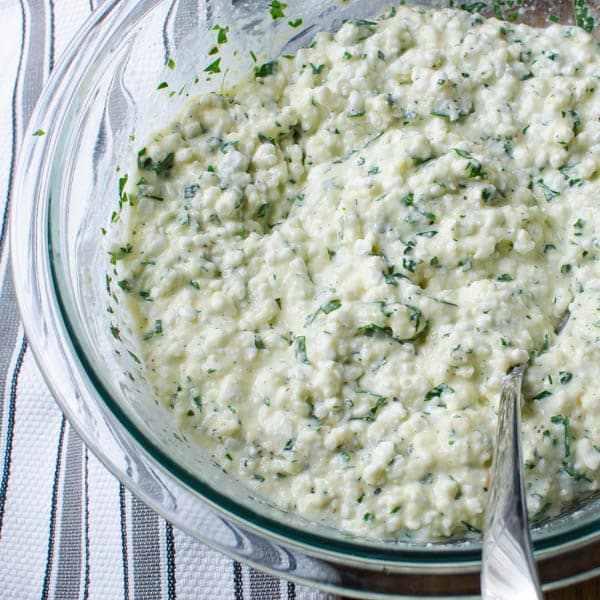 Stir until blended and then start the assembly. In the past, I've used both regular lasagna noodles that you cook as well as the thinner, no cook lasagna sheets and I have to say, I prefer the no cook variety.
Aside from the fact that it saves you a step, those sheets are also thinner and more delicate, providing just the right structure for this lasagna.
Frozen chopped spinach that's completely thawed and squeezed dry is a great way to add vegetables to this casserole — you know, in between those layers of mozzarella cheese and sauce…
Finish off the lasagna with more sauce, mozzarella and plenty of parmesan and bake!
This is enough to feed a crowd, so either invite a group (and have them bring the wine, bread and a salad) or divvy it up into smaller portions and freeze in heavy duty aluminum foil for a night when you DON'T feel like cooking, but DO feel like eating!
More lasagna recipes you'll love: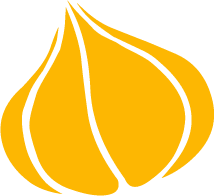 Tried this recipe? Leave a rating and review.
Your comments and shares are invaluable to me and the thousands of readers who use this site daily. If you've made the recipe, leave a star rating and review. We want to hear how you liked it.
We'd love it if you shared the recipe with your friends on social media!
Sausage and Spinach Lasagna
This layered sausage and spinach lasagna makes a huge casserole to feed a crowd. There's a few moving parts, so I like to spread out assembly over several days.
INGREDIENTS:
1

package lasagna noodles

either the kind which require boiling first or the ready-to-use variety

2½

cups

cottage cheese

or ricotta cheee

1

egg

¼

cup

chopped fresh parsley

2

cups

freshly grated parmesan cheese

divided

10

ounces

frozen chopped spinach

I wrap it in a clean dish towel and use all my strength to ring out the liquid over the kitchen sink, completely thawed and all excess moisture squeezed out

4

cups

grated part skim mozzarella
DIRECTIONS:
Preheat oven to 375 degrees.

In a medium bowl add cottage cheese, egg, 1 cup of the parmesan cheese and the parsley. Stir to combine.

In a 13×9 ceramic or glass baking dish, add a half cup of sauce and using a spoon or spatula, spread it thinly over the bottom of the dish.
Layer the lasagna as follows
Arrange about 5 pasta noodles on top of that so that they cover the bottom of the dish.

Spread a quarter of the ragout over the pasta

Spread about one half of the cottage cheese mixture evenly over the noodles.

Spread 1 cup of mozzarella over the cottage cheese mixture.

Top with half of the spinach.

Repeat the layering: pasta, ragout, cottage cheese, mozzarella, spinach.

Top with pasta noodles (if using pre-cooked noodles, tuck the ends down into the side of the casserole – you won't have that option with ready-to-use noodles) Top with remaining ragout and mozzarella cheese. Sprinkle evenly with the remaining parmesan cheese.

Bake for 30-40 minutes, until cheese is melty and crust turns golden.

Serve.
NOTES:
The prep time listed is 25 minutes — this is assuming that you've already made the ragout.
NUTRITION:
Calories:
351
kcal
|
Carbohydrates:
7
g
|
Protein:
31
g
|
Fat:
20
g
|
Saturated Fat:
11
g
|
Cholesterol:
59
mg
|
Sodium:
1026
mg
|
Potassium:
157
mg
|
Sugar:
2
g
|
Vitamin A:
650
IU
|
Calcium:
768
mg
|
Iron:
0.5
mg
Don't Forget To "Pin It" For Later!